Film
Open Roads and Dead Ends on a Native American Reservation
7.22.16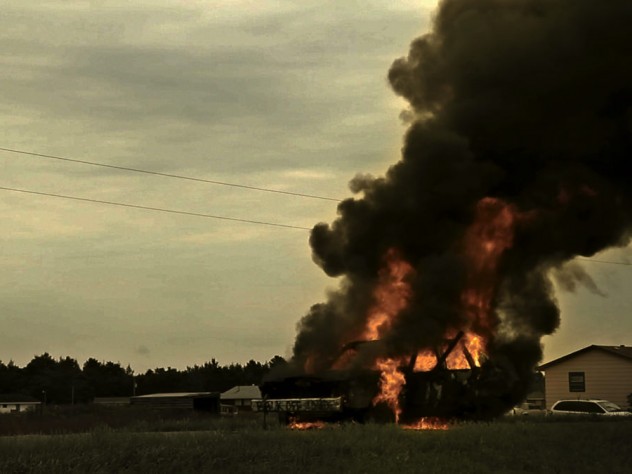 A scene from The Seventh Fire, executive produced by Terrence Malick '65 and directed by Jack Pettibone Riccobono '03, premiering July 22 in New York City at the Metrograph
Photograph courtesy of Film Movement
A scene from The Seventh Fire, executive produced by Terrence Malick '65 and directed by Jack Pettibone Riccobono '03, premiering July 22 in New York City at the Metrograph
Photograph courtesy of Film Movement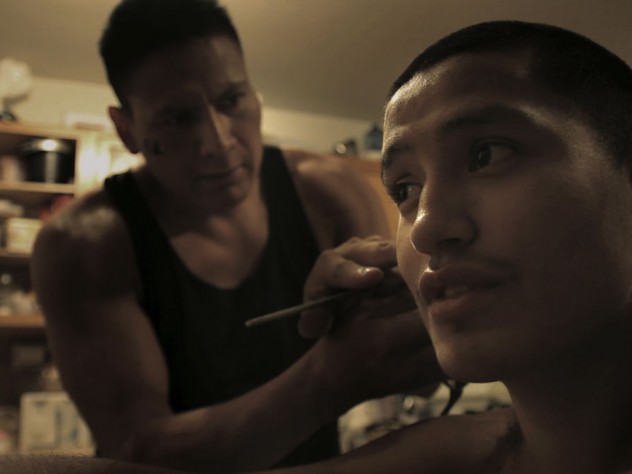 Photograph courtesy of Film Movement
Photograph courtesy of Film Movement
The Seventh Fire opens with an image of a road in the dark, pulling the audience into a harsh and little-seen world: the White Earth reservation in northern Minnesota. The documentary's 71 minutes are largely confined to the town of Pine Point, and its grim sights: houses covered in boards and graffiti, kids doing drugs, a car ablaze in the street. There seems to be no way out, least of all for the film's central characters. Rob Brown, a onetime leader of the Native Gangster Disciples, confronts his violent past as he prepares for his fifth stay in prison. Meanwhile, Kevin Fineday Jr., a teenager who looks up to Brown, is beginning to be drawn into gang life.
Photograph courtesy of Film Movement
Director Jack Pettibone Riccobono '03 first went to the White Earth reservation while working on a short film about an Ojibwe community's fight against genetic modifications to wild rice. When he became interested in the spread of gangs on Native American reservations, a professor at the tribal college introduced him to Brown, then a student in her sociology class. Brown had a troubled history, including 39 foster homes, three group homes, and 12 years in prison. He also had dreams of being a published writer.
"It was apparent right away that Rob was an amazing presence," says Shane Slattery-Quintanilla '04, a writer, producer, and cinematographer for the film. "He was clearly someone you could collaborate with, as opposed to just document." 
Brown and Fineday became the filmmakers' liaisons to the town's criminal element.  ("I didn't know I was a lifesaver until I had the responsibility to keep these guys alive on the rez," Brown later joked at a special screening at the White House last March.) They also let the camera into their homes, with their friends and families offering up wry, candid assessments: "With Rob, there's always a new low," his brother observes. As a result, scenes of addiction and fistfights are followed by ones of vulnerable tenderness, as a mother cradles her newborn in the hospital, or Rob's young daughter shyly turns away from the camera to take a phone call from her father, calling from jail. 
Even as events jump across months and even years, the narrative seems to move only in fits and starts, with little momentum. There is no obvious path forward for these men, only dead ends and cycles of violence. The characters narrate their predicaments with matter-of-fact lucidity. "I'm still debating, man," Fineday tells the filmmakers. "I still have the idea of being a big-time drug-dealer…but I wanna get a job and do sh-t somewhat the right way." He just needs to get started, or something, he explains—but on which path, he doesn't make clear. In another scene, Brown reviews his plea agreement with a self-ironizing fluency—"Convicted, convicted…looks like they missed something on that DWI, in 2004, huh? 'Cause they could've used that for a first-degree." Neither sees himself as a victim of circumstance. But as events in the older man's history repeat in his protégé's—pregnant girlfriends, diluted dope, tearful phone calls with fathers—there's an overwhelming sense that their lives are becalmed. 
The Seventh Fire shows more than it tells; it also knows more than what it chooses to present. The filmmakers sat down with gang members, community leaders, Native activists, prison wardens, and special Native gang investigators at the Department of Corrections, but chose not to include such interviews in the film itself. Larger historical forces shadow the documentary, never explicitly outlined but powerfully felt, constraining the lives of the characters. The camera keeps an intent, intimate focus on Brown and Fineday.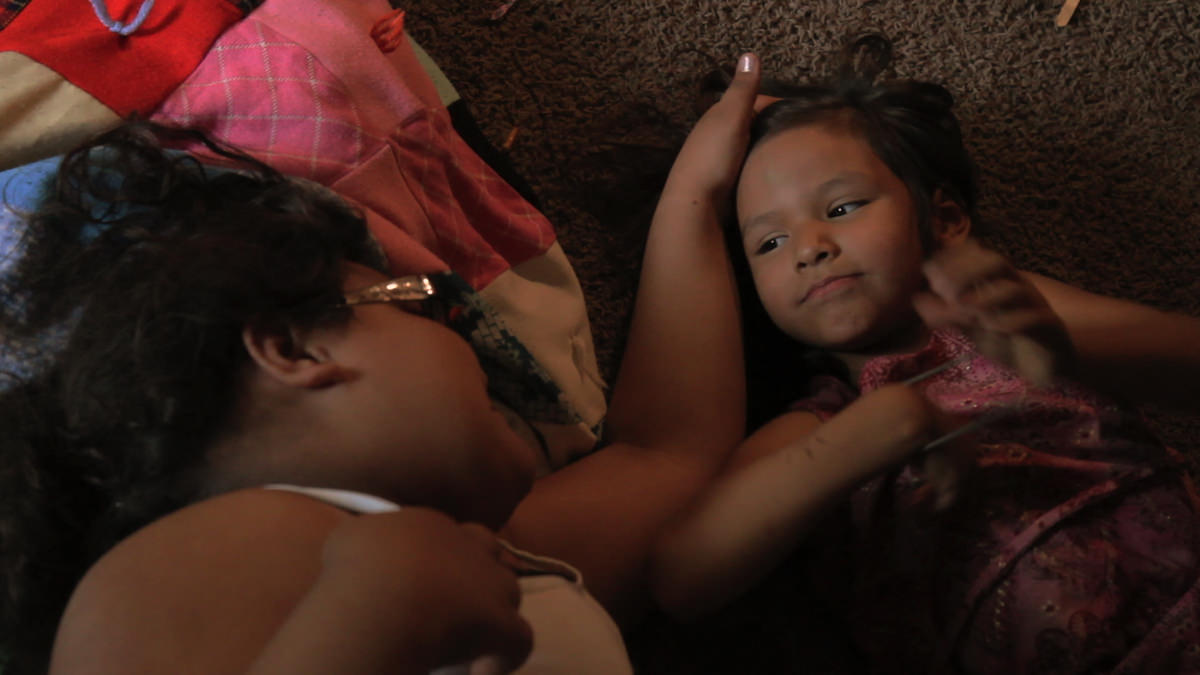 Jack Riccobono, Courtesy of Seventh Fire LLC
"We wanted to create a film that was built around real people, and we never set out to pretend that we were making this authoritative film on Native American life," says Slattery-Quintanilla. Riccobono explains the approach this way: "We hope that the film can be received on different levels—that it might serve as a gateway for people who don't know so much about this history, and for those who do know things about the boarding school era, and land allotment-policies, and the influence of Christian missionaries, that they'll be able to see that history playing out in this story."
It's surprising that the film ends as it begins, with an image of the road. This time it's a symbol of freedom: Brown rides his motorcycle under open sky. When filming wrapped up, he still had a year left of his sentence. From prison, he periodically mailed Riccobono pages from the journal the director had asked him to keep, also writing poetry and participating in an addiction-treatment program. 
"We didn't want to end the film with him behind bars, because we felt like his story wasn't going to end there, and that there was more for him to do," says Riccobono. "It wasn't to let the audience off the hook—it just felt like it wouldn't have been fair to his story."
Brown is joining the filmmakers in New York and Los Angeles for The Seventh Fire'stheatrical release this month. Riccobono hasn't been in touch with Fineday for a few months, but last heard that he had moved away from Pine Point, and was now working fast-food and construction jobs: "I wouldn't say that he's out of the woods, but he's been making some choices to change his life." 
Reviewing the documentary's events remains difficult, Brown told the White House audience last spring. "I've watched it seven times, and it gets harder and harder." He added that he wanted to continue to work on his art—on telling his own stories, and more of them. "Writing gives me a chance to escape from the current situation," he said. "When I write, I'm not a mascot. I'm not dehumanized. I can actually create individuals who interact with each other, and it gives me a chance to go back in time and do things that I was never allowed to do, but wanted to do."
The Seventh Fire premiered at the Berlin Film Festival in 2015, and opens in New York on July 22. Other alumni involved with the documentary include executive producers Terrence Malick '65 and Natalie Portman '03, editors Michael J. Palmer '03 and Adelaide Papazoglou '02, and associate producer Henry Rich '02. A profile of composer Nicholas Britell '03 appears in the September-October 2016 print issue.