Montage
Off the Shelf
Recent books with Harvard connections
Someone is going to be president; the winner might consult We Wanted Workers: Unraveling the Immigration Narrative, by George J. Borjas, Scrivner professor of economics and social policy (W.W. Norton, $26.95), to concur with or rebut his findings that immigration depresses domestic workers' wages, is probably a fiscal wash, and introduces social challenges to the receiving society—and to devise policy responses. Turning to the planet, Energy and Climate: Vision for the Future, by Michael B. McElroy, Butler professor of environmental studies (Oxford, $34.95), similarly digests complex data to lay out the climate challenge, and the steps the United States and China could take (as they have agreed to do) toward a low-carbon energy future.
Turning to matters international, Once within Borders, by Charles S. Maier, Saltonstall professor of history (Harvard, $29.95), is a sweeping overview of territorial boundaries; it reminds any new commander in chief, contemplating, say, Syria, Turkey, Iraq, and the Kurds, that "The importance of spatial governance and…contestation has not diminished." Capital without Borders, by Brooke Harrington, Ph.D. '99 (Harvard, $29.95), points to governments' revenue problem as "wealth managers" help the one percent shield their capital from taxation and even basic scrutiny.
As the president faces pressing issues, expertise is at hand: Negotiating the Impossible, by Deepak Malhotra, Goldston professor of business administration (Berrett-Koehler, $27.95), ranges from the Cuban missile crisis to professional football owner-player differences to explore how to "resolve ugly conflicts," which are in huge supply. Managing in the Gray, by Joseph L. Badaracco, Shad professor of business ethics (Harvard Business Review Press, $35), pivots from negotiating to "resolving your toughest problems at work"—those gray areas where judgment comes into play, and the stakes challenge not your skills but "your humanity."
The Poem Is You, by Stephen Burt, professor of English (Harvard, $27.95), is a gift tutorial for those phobic about contemporary poetry. Burt selects 60 examples, from 1981 (John Ashbery '49, Litt.D. '01) to 2015 (Ross Gay, RI '16), and succinctly analyzes each. Lay readers will latch on to such lucid ideas as that Louise "Glück's style evolved by subtraction." In Naming Thy Name (Farrar, Straus and Giroux, $27), an altogether different sort of work, Elaine Scarry, Cabot professor of aesthetics and the general theory of value, mines text, criticism, and history to advance "sweet Henry Constable" as the beautiful youth beloved by Shakespeare and extolled in his sonnets.
The Market as God, by Harvey Cox, Hollis research professor of divinity (Harvard, $26.95). Inspired by Pope Francis, the theological scholar probes the "self-divinizing" excesses of The Market, and the potential for a "reverse apotheosis," reducing it to the market again.
In The Content Trap (Random House, $28), Bharat Anand, Byers professor of business administration and faculty director of the Business School's online HBX venture (described within), argues that digital strategy and success are decisively driven by connections, not content. The flip side, argues Tim Wu, J.D. '98, in The Attention Merchants: The Epic Scramble to Get Inside Our Heads (Knopf, $27.95), is the relentless success of advertisers and marketers (increasingly so, given everything digital) in ensnaring consumers and shaping their perceptions.
Urban Forests, by Jill Jonnes (Viking, $32). "A natural history of trees and people in the American cityscape" (the subtitle) not surprisingly includes much on the very significant horticultural work of the Arnold Arboretum. The author probed some of that work in "The Living Dinosaur," on wild ginkgoes (November-December 2011).
"Keep the Damned Women Out," by Nancy Weiss Malkiel, Ph.D. '70 (Princeton, $32). Lest we forget, a professor of history emerita at Princeton and past dean of its college delivers an authoritative history of the coeducation of elite institutions in the United States and the United Kingdom between 1969 and 1974. Invaluable history, beginning with Harvard, Yale, and Princeton, and enlivened with such vivid illustrations as Jim Berry's 1967 cartoon of two clubmen conferring from their wing chairs: "Confused—of course, I'm confused! I have a son at Vassar and a daughter at Yale!"
How Men Age, by Richard G. Bribiescas, Ph.D. '97 (Princeton, $24.95). The author, at Yale, applies anthropological and evolutionary biological lenses to a sweeping, succinct review of the phenomenon, and does so with good humor: there is a chapter on "Getting a Handle on Love Handles." Aging, rather than the alternative, means males may hang around to help care for offspring. In Do Parents Matter? (PublicAffairs, $25.99), Larsen professor of education and human development emeritus Robert A. LeVine and Sarah LeVine, Ph.D. '02, also range widely, beginning with kin-avoidance practices among the Hausa, in Nigeria, to offer reassurance that there are different ways to bring up youngsters—so "American families should just relax."
In Welcome to the Universe (Princeton, $39.95), the Hayden Planetarium's Neil deGrasse Tyson '80 and Princeton astrophysics professors Michael A. Strauss and J. Richard Gott '69 provide a lively, accessible guide to their (and our) capacious neighborhood. "Everything you think about the universe is less exotic than it actually is," Tyson begins—and reassuringly makes his first reference to Buzz Lightyear rather than to Einstein. In The Glass Universe (Viking, $30), Dava Sobel, bestselling author of Longitude, tells the story of the "calculators"—the women who interpreted astronomical observations and glass photographic plates made by the Harvard College Observatory, transforming comprehension of stars and the universe.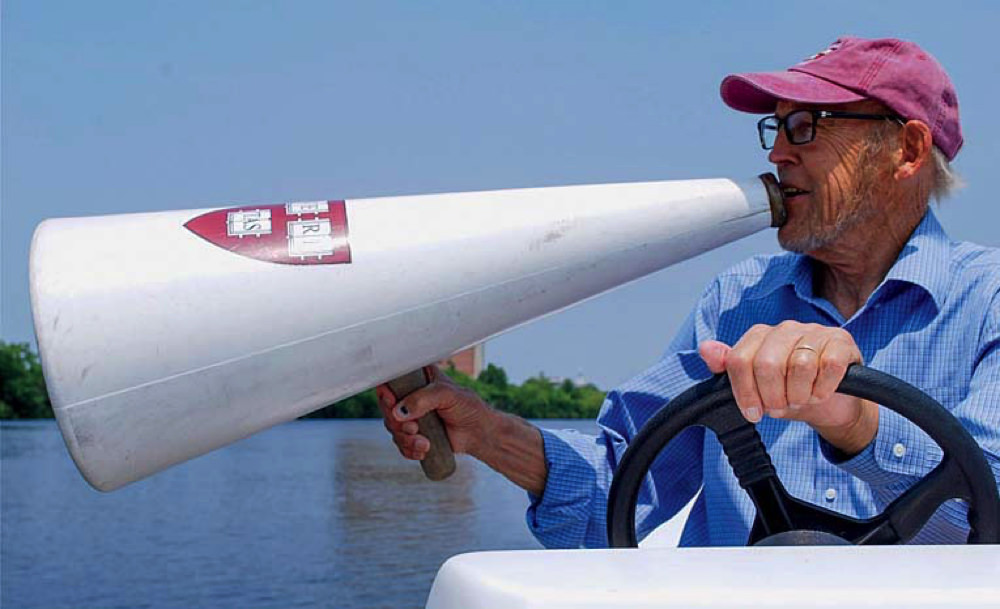 Legendary crew coach Harry Parker on the water, where he belonged
Photograph by Susan Wood/Row2k.com
Harvardiana. The Sphinx of the Charles, by Toby Ayer (Lyons, $22.95), chronicles legendary coach Harry Parker and the Crimson crew during 2008-2009. The Best of The Harvard Lampoon: 140 Years of American Humor (Touchstone, $26), goes back to early Gluyas Williams, A.B. '11, Fred H. Gwynne '51, and other golden-age figures, and some of their very funny successors.