Logic Is a Little Magazine That Asks Big Questions about the Tech Industry
Four alums foster Logic, a new magazine focusing on a complex tech world on fire.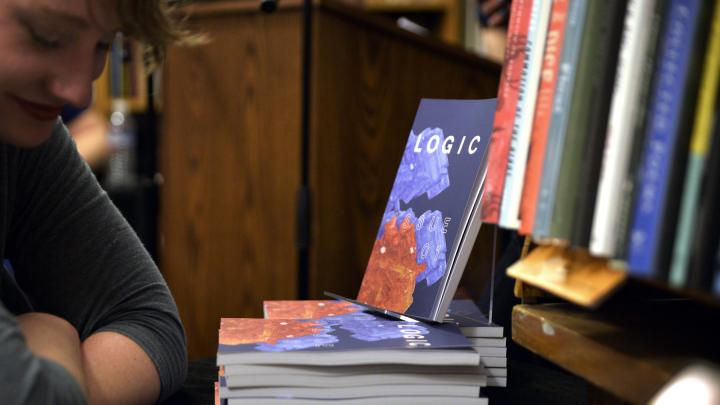 Logic is a newcomer to the world of little magazines, seeking to join the likes of n+1, The New Inquiry, and The Baffler, but its masthead isn't filled with the predictable English majors and pundits. Three of its four editors—Ben Tarnoff '07, Christa Hartsock '10, and Jim Fingal '06—come from various backgrounds in the tech space. The outlier is Moira Weigel '07, who is completing her Ph.D. in comparative literature and film and media studies at Yale and recently published Labor of Love, a book about the invention of dating. "As a writer, in the past year or so, without really even noticing, I had started writing about technology more, and the aesthetics, culture, and sociology of technology," she says. 
This shift in editorial interests coincided with a move to San Francisco so Tarnoff, her husband, could take an engineering job. Meanwhile, Fingal found himself in the Bay Area by way of an internship at The Believer. Uninspired by the growth potential at that magazine, he decided to move to a music software recommendation company founded by a friend from Harvard's WHRB radio station. It was there that he became wedded to the idea—he calls it "D.I.Y. small spirit"—that he identified with in music and in publishing. Fingal knew he wanted to be one of the people starting something, rather than someone who joins in five years later.
That "something" would be Logic, a collection of essays, interviews, and articles from people in tech space who are not ordinarily given an opportunity to share their experiences and thoughts about their industry in writing, according to the editors. Just as n+1 and Jacobin had applied nuanced thinking to the worlds of literature and politics, Logic, its creators decided, would seek to build a more nuanced space in which to examine the tech world, while asking complex questions about its evolving role. From Logic's manifesto:
Most tech writing is shallow and pointless. It's nobody's fault; everyone is just doing their job. Communications teams feed reporters winning anecdotes about their founders that explain exactly nothing. ("One day, Chad was eating a ham sandwich and realized....") The reporters are overworked and underpaid and need to file a new story by EOD. Who can blame them for taking the bait?
While the magazine began to take form in the start-up friendly environment of the Bay Area, the 2016 election cycle was ramping up to be one of the most brutal races in American history—and its ferocity made the shortcomings of existing media outlets, including those focused on technology, increasingly difficult to overlook. "I feel as if, without belittling anyone, often in mainstream tech reporting and writing I would miss the nuance and complexity you see in academic writing," says Weigel. "But at the same time, the timeliness and engagement of tech journalism is really important to me."
Although Logic isn't as outwardly political as magazines like Jacobin (which advertises itself as the "leading voice of the American left, offering socialist perspectives on politics, economics, and culture"), Fingal says politics is very much at the core of their operation. "We're committed to fairly compensating writers for their work and that in itself is a pretty political statement," he says, citing the undermining culture that expects writers to work for exposure alone—something all four of the editors have dealt with in their careers. In fact, more than 60 percent of the magazine's total expenses from the first issue reflected payments to writers.
Logic is currently financed by the editors' personal savings, and they are looking for creative ways to sustain their operation. They recently became incorporated as a nonprofit organization, and are launching a Kickstarter to fund a new project called Tech Against Trump: a "small book chronicling the rising tide of anti-Trump resistance by technologists and tech workers" that asks critical questions about how tech workers can ensure their companies' products aren't enabling the Trump administration's agenda. Ultimately, Logic aims to raise enough money to commission more content to roll out online on a regular basis, and to have enough funds to eventually commit at least one member of the editorial staff to curating the magazine as a full-time job (all the editors and their designer currently still have full-time jobs).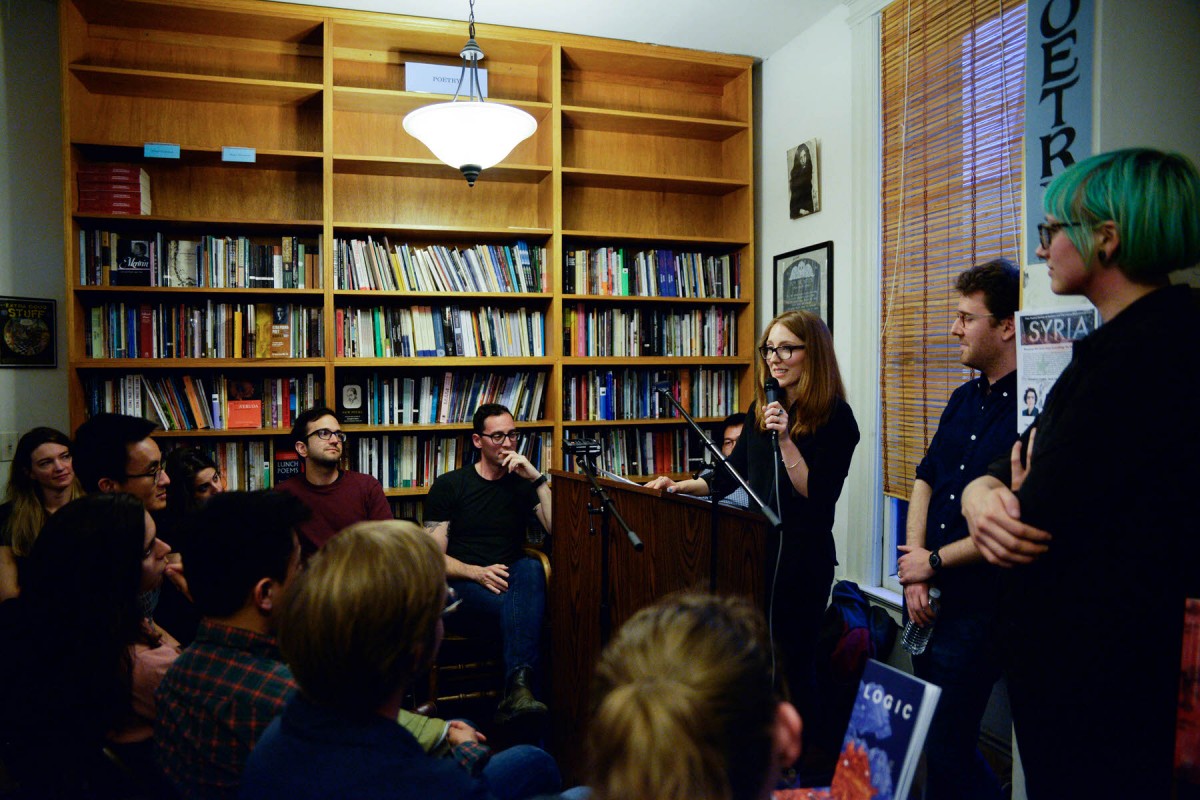 Photograph by Joy Ding
The magazine is off to a strong start toward its ambitious goals. The editors had to turn away almost 30 people from the San Francisco launch event of their first issue, Intelligence, which had a print run of 500 copies. Its highlights include a four-part conversation with an anonymous data scientist who has a lot to say about what "data science" actually means (among other things), and an essay by Miriam Posner, coordinator of the Digital Humanities program at UCLA, about the differing standards women in tech are held to and hindered by. And they already have many pieces lined up for the second and third issues, entitled Sex and Justice, respectively. Weigel credits much of the influx of content to co-editor Christa Hartsock, a Developer Fellow at the nonprofit organization Code for America who has brought in writers from her feminist coding networks in the area.
Despite these early wins, both Fingal and Weigel say they're grappling with the financial realities of running a print publication at a time when relatively few publications remain print-first, and even fewer are launching with the mission of living predominantly in paper instead of on the Web. Weigel explains, "We spent a lot of time studying the business models of small magazines, and it turns out that, counterintuitively, the only way to make a thing like this sustainable is to actually have a print product." That's why the magazine is considering implementing a model similar to that of n+1, in which online content is unlocked on a regular basis only after the print issue is launched.
It's worth noting that although a number of the editors have connections and experience in publishing, they did not choose to join the editorial staff of an old-school, glossy publication. Instead, they are essentially asserting that the state of affairs in 2017 offers their small magazine opportunities to elevate, expand upon, and pick apart the conversations happening in industries like tech, finance, and surveillance. Reflecting on the spark among the four editors at Logic, Fingal says, "It felt very much like there was something missing (in the tech space), where all of us were in this position of simultaneously feeling like both insiders and outsiders. It really felt like there was something we could add there."
You might also like
The Crimson springs a major upset.
Harvard officially installs Claudine Gay, its thirtieth leader.
A half-dozen symposiums feature Harvard research on AI, climate change, inequality, and more
Most popular
A community letter as the new administration begins
Solving legal challenges at MoMA
More to explore
A test can identify these productivity-boosting personnel.
Ancient history professor studies coins, ceramics, and Zelda.
Anwar Floyd-Pruitt's wildly profuse art