News
Harvard Aims to Reinvent Business-Engineering Education
6.13.17
The most interesting new collaboration at Harvard—between the schools of business (HBS) and engineering and applied sciences (SEAS)—took a significant step forward today when their deans unveiled a joint master's degree aimed at equipping students with the engineering, management, and design skills to drive innovation in new or established technology companies. The two-year, full-time program will begin to enroll students in August 2018. That cohort would be eligible to receive their joint master of science in engineering sciences and master of business administration (S.M./M.B.A.) degrees at Commencement in May 2020—even before the new SEAS complex, home to about two-thirds of the school's faculty, is scheduled to open that summer.
The students themselves will have to fulfill three criteria to gain admission:
an undergraduate degree in engineering, computer science, or a related technical field (the so-called STEM disciplines of science, technology, engineering, or math);
at least two years of full-time work experience—preferably in designing or developing technology-intensive products; and
satisfying the separate requirements for admission to the HBS and SEAS degree programs.
In a bit of fitting symbolism, HBS dean Nitin Nohria and SEAS dean Francis Doyle III met last week to talk about the new program above the Harvard iLab—the venue for student entrepreneurship—in the third-floor "hive" classrooms (the home to the business school's FIELD program, where students add hands-on learning experiences to their traditional case-method instruction). The iLab is just across Western Avenue from the SEAS construction site, where a huge crane had been assembled and the first structural steel for the engineering complex had been delivered days earlier.
The science and engineering facilities will both accommodate SEAS's growing faculty ranks and student appeal, and make tangible the possible connections between the two schools. If anything, their academic relationship—committing to joint teaching, and a joint degree program, in advance of the physical co-location—is even more significant, since it involves the currency of the University's educational mission. As such, announcing the S.M./M.B.A. accelerates the developing HBS-SEAS partnership:
In May 2016, the two faculties held a joint research symposium in Allston—described as a formal "first date" to introduce their unique pedagogies and research interests and methodologies, and spark opportunities for collaboration. At that time, the deans forecast that curricular partnerships might require a few years' gestation, so their focus was on research.
Last November, they convened again, at the Northwest Building science complex in Cambridge, for a research "mixer" featuring presentations by both faculties.
And in his annual "priorities" letter to colleagues this past January, Nohria hinted about "finding areas of mutual benefit—ultimately, perhaps, culminating in a new degree proposal."
Five months later—the blink of an eye by academic standards—both faculties and the Corporation have blessed the S.M./M.B.A., and plans are proceeding to teach the initial class of 30 matriculants.
The announcement also underscores the rapid change at SEAS: it follows the 2015 launch of the design engineering master's program with the Graduate School of Design (read about the curriculum and initial students here), and the new data-sciences master's degree (also enrolling students in 2018). For a large school like HBS, the new joint degree is an incremental addition to its teaching program (each M.B.A. class enrolls more than 900 students). But for a much smaller entity like SEAS, each new master's degree represents a significant expansion of its decade-long growth spurt—and its enlarging role in the surrounding network of research and business enterprises. 
The S.M./M.B.A. also signals the known and prospective expansion of the broader Harvard presence in Allston (see "The Allston Agenda," below).
"A Holistic Approach": The New Degree Program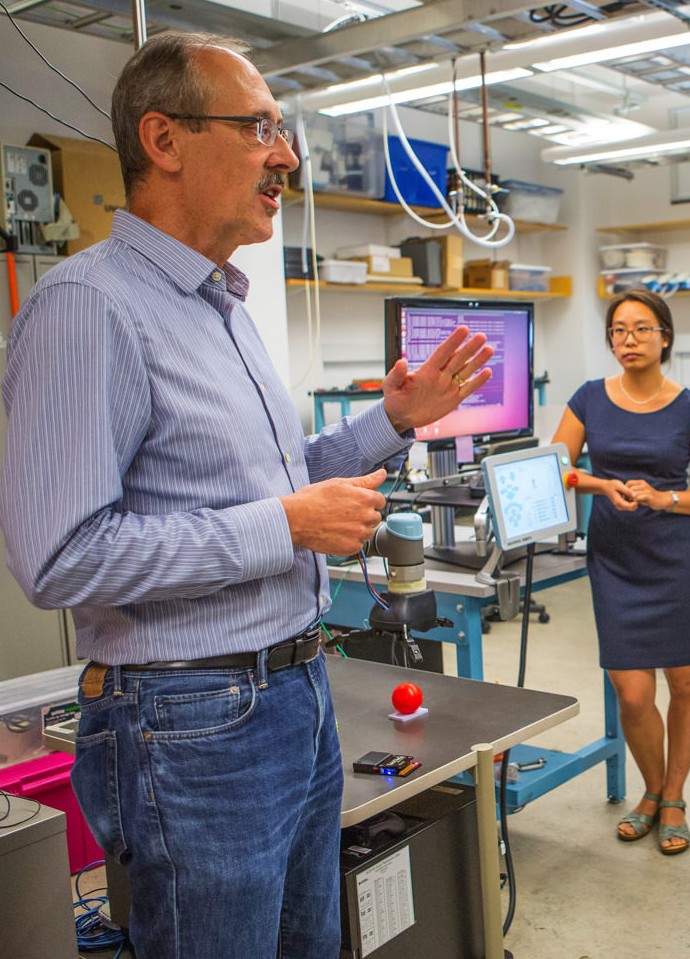 Courtesy of SEAS
Because the S.M./M.B.A. program aims to train "the next generation of leaders," as Nohria put it, "the set of leaders the world looks to" in technology enterprises, HBS and SEAS have distinguished their nascent program from somewhat similar offerings at other leading research universities—in particular, MIT's suite of integrated design and management and system design and management programs and one at Northwestern's Kellogg School. The Harvard students' combined prior undergraduate studies, required work experience, and two-year curriculum—with its deep immersion in engineering, much of HBS's management curriculum, and design disciplines applicable to both products and enterprises—differentiate the new joint degree.
Once they arrive on campus, students will follow this curriculum:
a three-week summer course in "system engineering": an SEAS-taught, quantitative course that will, according to Lawrence professor of engineering Robert D. Howe, refresh students' quantitative skills and then deepen their understanding of methods for analyzing and designing complex systems across engineering domains, whatever their prior field (mechanical engineering, computer science, etc.);
the HBS first-year M.B.A. required curriculum (covering finance, marketing, financial reporting and control, leadership and organizational behavior, operations, strategy, ethics and accountability, and more), complemented by a seminar series aimed specifically at the joint-degree students;
an intensive January "Technology Venture Immersion," a jointly taught entrepreneurship experience in which teams take an idea through assessment of customer needs, design and prototyping, testing of the business model, and intended marketing—and then present it to a panel (typically involving a faculty member, an entrepreneur, and an investor) for feedback and assessment;
internships or a Harvard-supported entrepreneurship experience during the summer between the two class years; and
a second year consisting of both electives in HBS and SEAS, and two jointly taught, purpose-built courses. The fall offering on "integrated design," aimed at achieving advanced skill in human-centered design (see "The Vision," below), project management, visualization, and business analytics, intends to be "a holistic approach to understanding both the end users' needs, the constraints on delivery of solutions, and creative engagement with the huge range of solutions," Howe said during a conversation at Pierce Hall. Its foremost goal is making students comfortable with prolonged uncertainty, in the interest of broadening the range of possible solutions they may consider—and finding better ones than the first idea that comes to mind. The January-term and spring "capstone" are centered on a team project, proceeding from idea through design and possible prototyping, culminating in a report, business plan, or other suitable product that precedes awarding of the masters' degrees.
In outlining this course of study, Doyle said, "our faculties have found a perfect balance" of management and technical-engineering training, yielding a program that should equip "individuals who have the best of both" disciplines. Nohria noted that the proportion of M.B.A. candidates who enter HBS with an undergraduate STEM (science, technology, engineering, and mathematics) background has risen steadily, to perhaps more than one-third of the student body, but they have enrolled in a management program because they have become "less interested in remaining technical experts." In contrast, he said, candidates for the new master's program are likely to be "self-selected students who are inspired by wanting to have deeper technical training than just from their undergraduate degree," and deeper business skills: people committed to management leadership in an explicitly technological context.
The Vision: Capturing "the World's Imagination"
"If you think about the leaders who have captured the world's imagination" in the past two decades, Nohria continued, citing Amazon, Google, and Facebook, most have come from a technology background and have developed managerial skills along the way.
Conversations with company leaders (Nohria cited Amazon) confirm an interest in hiring "people who could have this deep technical expertise along with general management" preparation. HBS faculty members, he noted, might well understand an organization involved in machine learning or other computer and artificial-intelligence disciplines, but are in no position to educate students about writing algorithms. Advances in life sciences and information technology represent "gigantic business opportunities," he said—playing to the intellectual expertise of SEAS researchers. Doyle pointed to the life sciences, robotics, the "Internet of things," and cloud computing as fields that "will accelerate in Boston" as ideas emerge from university and other laboratories, and new ventures and existing businesses organize to apply them.
Ultimately, as HBS and SEAS become physical neighbors, Nohria said, Harvard's planned 36-acre "enterprise research campus" (ERC) will be created "adjacent to both of us," extending east along Western Avenue toward the Charles River. "My ultimate hope," he said, is that the next Google or Facebook will be led by a graduate of the new program, joining the two schools and anchored in the ERC—a result he called "the trifecta."
First things first: why would engineers aspiring to senior management, or management trainees hoping to master enough technical content, interrupt their careers for two years to get a new degree? Business skills "can be learned through experience," Nohria conceded—­but doing so is time-consuming, and success is hit-or-miss. Formal management education results in graduates who are "much better prepared" and who have "much better odds" of success in leading business enterprises.
Doyle noted that "the dynamic nature of fast-moving sectors in technology these days" means that even engineers with undergraduate training may find their technical knowledge becoming rapidly obsolete in face of discoveries in cell biology, computing, or other fields. They may wish to tune up that side of their expertise as well.
Then there is the challenge of coping in any business organization with highly technical products or services. Nohria (whose undergraduate training was as a chemical engineer) pointed out that it can be much easier for someone with technical credentials to have a credible conversation with engineers or other technologically expert colleagues. In such enterprises, the business leaders "benefit immensely" from their engineering backgrounds or related training.  
Inside "the Head of a Single Founder": Designing the Degree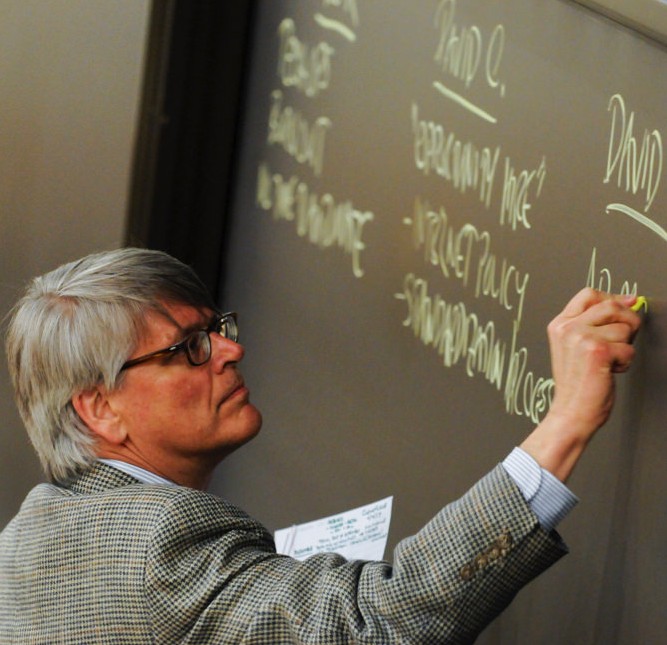 Courtesy of Harvard Business School
Although Doyle and Nohria reported sharing common views on these matters from conversations that preceded Doyle's appointment as SEAS dean two years ago, the template for the S.M./M.B.A. venture arose from their faculties. A case study prepared to facilitate the schools' research symposium in May 2016, written by Stevenson professor of business administration Thomas R. Eisenmann, noted the vision for a "design and entrepreneurship" master's degree advanced by Howe, of SEAS, whose research encompasses biorobotics and biomedical robotic devices and procedures. (For a recent, promising commercial application, see the Righthand Robotics website; the firm, which recently completed a venture-funding round, hopes to enable e-commerce companies, which use robots to pick goods from shelves, to employ robots for the final stage in shipping: selecting the picked items for each customer's package. A "proud papa," Howe has one of the company's demonstration videos on his smartphone.)
Eisenmann, a member of HBS's entrepreneurial management unit, co-created the elective M.B.A. course "Product Management 101" (how to know what to build), and leads a January "startup boot camp" for first-year students. As he explained in a conversation at HBS's Rock Center for Entrepreneurship, much of his research and teaching focuses on venture formation or product development as "a design process." He illustrates a two-stage sequence of "problem-finding" (casting a wide net to find out how customers define an unmet want or need, before narrowing the possible specifications) and "solution-finding" (again, generating lots of prototypes, screening them in a structured way, determining what features to include or eliminate, and determining the best business model to produce that solution).
This process—"problem-finding before you generate solutions," and guarding against isolating a solution too soon, or falling in love with a catchy product before determining demand—embeds all kinds of teachable skills: rigorously human-centered design; rapid prototyping and evaluation; maintaining as lean an organization as possible while these tasks are being carried out, to minimize excessive financial commitments; and so on. And the best way to teach them, he noted, is in learning-by-doing courses (like the two noted above), as opposed to case-method instruction. Some of that learning, obviously, requires the M.B.A. product manager to think about the technical contents and specifications of many kinds of products and services.
After the inception of the product-management course, in 2012, through January-term trips to technology companies in Silicon Valley and New York, Eisenmann met SEAS faculty members who include design in their teaching—among them Howe; Beth Altringer, senior preceptor in innovation and design; Fawwaz Habbal, senior lecturer on applied physics and executive dean for education and research; and McKay professor of computer science Krzysztof Gajos.
Doyle described design courses—integrating the elements of a technical problem to present a solution—as the capstone to an engineering education. And in fact, the depth of teaching related subjects at SEAS may have come as a revelation to HBS professors. A quick glance at the engineering-sciences course list turns up "How to Create Things and Have Them Matter," "The Innovator's Practice: Finding, Building, and Leading Good Ideas with Others," "Design Survivor: Experiential Lessons in Designing for Desirability" (those two by Altringer), "Humanity and Its Challenges: Systems Thinking and Engineering Design," "Startup R&D," "Engineering Problem Solving and Design Project," "Engineering Design Projects," "Medical Device Design," and several others. Said Howe, who has taught design courses at Harvard for 25 years, accreditors have required engineering schools to teach design classes, but during the past decade, the realization has set in that design thinking, broadly, is "a key approach in many different areas." And of course, these are hands-on, doing courses, not simply lectures; "It's hard to teach design in a lecture or case format," Howe said. "It's like teaching clinical medicine." And so each school finds its pedagogy evolving, in ways that turn out to be complementary.
Sensing the intersection of engineering and management in design—of products and of the organizations that make and market them—"is very powerful when they are grouped together," he continued—a notion he and Eisenmann discussed long before idea for the joint degree took shape. And then, of course, devising it became a design problem.
Late last December, Doyle and Nohria formed a faculty committee, led by Eisenmann and Howe, to determine how to bring these disciplines together in a teaching program. Early in the new year, they were joined by Altringer and Smith professor of computer science Margo I. Seltzer of SEAS, and Novartis professor of leadership and management Amy C. Edmondson, Carter professor of business administration Sunil Gupta, and M.B.A. Class of 1949 adjunct professor of business administration Alan D. MacCormack of HBS. Their work, Eisenmann said, began on January 16 and, assisted by several administrative-staff members from the schools, proceeded "really fast."
The faculty members tried to determine how to "combine what we've respectively learned" about project-based, hands-on learning, Eisenmann said. Although many M.B.A. candidates with STEM backgrounds "do know enough technology" to develop a technology-based business, or to find a technologically savvy co-founder, a large number do not—and many of the tech experts, of course, lack desired business training. The SEAS members of the committee found the inverse problem. Both problem-finding and solution-finding involve "constantly making tradeoffs," he said: differentiating a product and its features, refining a business organization from its initially sketchy, chaotic start-up phase toward a more orderly, stable entity with specialized roles.
Accordingly, the curriculum they settled on has significant doses of both management and engineering (consistent with Dean Doyle's observations on keeping current in rapidly changing fields like machine learning, artificial intelligence, and bioengineering)—and the third, distinctive element that helps define this degree: the iterative design processes from which successful products or services and the businesses that supply them are most likely to emerge. Students will therefore design, built, and launch several products or services during their two-year program, at increasing levels of sophistication, preparing them to found their own ventures or assume senior innovation roles managing and engineering products within larger enterprises.
"We see this as combining entrepreneurship" in new ventures with product management in technology companies like Google or GE, Howe said. "You're the person in charge of marketing, production—everything about that product." The joint degree's mix of training in engineering, management, and design, Eisenmann hopes, will attract applicants with technological backgrounds who seek such roles but would never have considered seeking a management degree.
Combining "graduate-level technical knowledge with business fundamentals," Howe said, means that early in a product's life cycle, when there is an intimate connection between its technical features, how to make them, and the resulting cost to market the result to customers, "We're putting all that into the head of a single founder"—a huge advantage.
To realize that broad educational goal, the planning committee's faculty members intend to teach in the new program, joined by colleagues like Gajos.
The committee looked seriously at boiling down the year-long HBS required curriculum, Eisenmann said, but determined that almost all the contents were essential for future company leaders—and that the case-method classes were a very effective complement to the hands-on-learning students will encounter in their other courses. "You shouldn't hurry this," the committee heard in its interviews and focus groups with students, alumni, and business leaders.
The complete two-year curriculum yields about 80 percent of the academic credits required by the two schools' separate S.M. and M.B.A. programs, Eisenmann said: about the same proportion required in the joint J.D.-M.B.A. and M.P.A./M.P.P.-M.B.A. programs the Law School and Kennedy School offer with HBS.
Even before the new program begins, its creators can imagine synergies with its parent schools. Given the fraction of current HBS students with prior STEM degrees, perhaps just a few dozen also have the required work experience to qualify for the new master's degree, Eisenmann estimated. Seeding them into the first-year required M.B.A. courses should enliven and enrich those classroom case discussions. Thus, even as their separate trajectory aims at "educating future leaders of technology ventures," as he put it, their participation in half of the M.B.A. course of study ought to benefit that much larger cohort.
Over time, if the new program's courses catch on, and can be staffed to scale up, students pursuing other HBS and SEAS degrees, and those from other Harvard schools, might be able to cross-register. For SEAS, where graduate education aims less at terminal master's degrees than doctorates, the new program might eventually yield more elective courses for all the school's students. And as Nohria noted, having their faculty members teach jointly is a powerful bridge to research collaborations, too. (When Howe met to discuss the new program, he had just returned from a robotics conference in Singapore, and was about to return there, joining an HBS faculty group who are visiting Southeast Asia to explore a wide range of manufacturing businesses; at least at this level, the research connections are under construction, too.)
"Finally, the Time Is Ripe": The Bigger Picture
In broader perspective, Dean Nohria noted, HBS has been on its side of the Charles River, along with Harvard athletics, for a century. With the new engineering facility finally under construction, "Now we have this great opportunity of having SEAS as our academic neighbor." The joint S.M./M.B.A. degree, he said, is "the first concrete manifestation of what our partnership might be."
Given converging business and engineering interests in fields ranging from cloud computing to informatics, Dean Doyle said, at the two 2016 research symposiums, "You [couldn't] tell who's who" as faculty members from the two schools spoke about their interests. Nohria amplified, observing that there was "more overlap than we or our faculty may have imagined," even as professors from each school have "deep respect for the independent expertise of each" (for example, the HBS scholars' reliance on SEAS experts for creating and testing algorithms).
Boston is "one of the most longstanding innovation districts in American," Nohria continued, from the ideas that animated the American Revolution through mill-based industries like textiles and shoe manufacturing to contemporary fields such as life sciences, robotics, and cybersecurity. Silicon Valley notwithstanding, he said, "I don't think we should underestimate what Boston has historically been, what it is, and what it can be.
Doyle, who came to Harvard from the engineering school at the University of California, Santa Barbara, said that compared to the spread of people and resources in the west, in Boston they are "very proximal," making for a "close, collaborative ecosystem" of universities, hospitals, and technology enterprises. Boston has the "highest density of research universities on the planet," Nohria said, creating powerful opportunities for synergies and for linkages among the clusters of expertise in Kendall Square (near MIT), the Seaport innovation district in Boston, along the circumferential routes 128 and I-495—and, emerging, in Allston.
Student entrepreneurs at work in the iLab may be pointing the way forward, he continued, reaching out to peers at MIT. "Those are early signs that if we can pull these innovation districts in Boston together," he said, the opportunities to commercialize promising science (from the Medical School and affiliated hospitals, Wyss Institute, and elsewhere) are enormous.
More generally, both deans said, their alumni broadly are excited about the potential SEAS-HBS collaboration, and this initial sign of its potential. Fully 170 years after the predecessor to SEAS sprouted (the Lawrence Scientific School, in 1847), and a century-plus after HBS came into being, Doyle said, "Finally the time is ripe for this" commitment to applied science and commercialization, together.
The Allston Agenda
In that context, the drama attending the construction of the engineering and applied sciences facility ought not overshadow other Allston developments in the offing. Among them, it would be reasonable to expect news on some or all of these fronts when the academic year resumes in late summer and into the fall semester:
a gift announcement (or several) for the SEAS building—a billion-dollar project for which gifts have not yet been disclosed, but are being ardently sought as a high priority during The Harvard Campaign (scheduled to end in June 2018) [Updated June 19, 8:10 A.M.: The University today announced a small piece of the larger Allston SEAS puzzle: a gift from Cihang Foundation, affiliated with HNA Group, the Chinese tourism, logistics, and financial-serices conglomerate, to fund the 5,000-sqare-foot "maker space" in the new complex.];
more concrete plans for an Allston-based data-sciences institute, perhaps at the site designated for the "Gateway" building near the intersection of North Harvard Street and Western Avenue—a priority identified as part of the data-sciences initiative unveiled last March. (In his January 2017 letter, Nohria noted that HBS, having achieved its $1-billion campaign goal, would seek to raise an additional $300 million, in part to help realize "the vision of One Harvard by supporting work across the University and advancing Harvard's (and our own) aspirations in Allston." Data science would clearly fit.);
an enhanced arts presence, beginning with the installation of The Grove, a Graduate School of Design student project (at the park at the North Harvard-Western Avenue intersection), perhaps to be followed by an art-innovaton and -making space; and
at some point, preliminary plans and initial regulatory proceedings for the enterprise research campus farther east along Western Avenue.
After three decades of land acquisition and planning in Allston, and the seven-year delay in constructing the engineering complex in the wake of the financial crisis at the end of the prior decade, there is more than enough going on to merit paying close attention in the months ahead, as Harvard's future across the river, and perhaps the wider Boston community's, begins to take shape.
Read the news announcement here. HBS's program description appears here.