News
Harvard TPS Workers at Risk
2.27.18
Photograph by Marina Bolotnikova/Harvard Magazine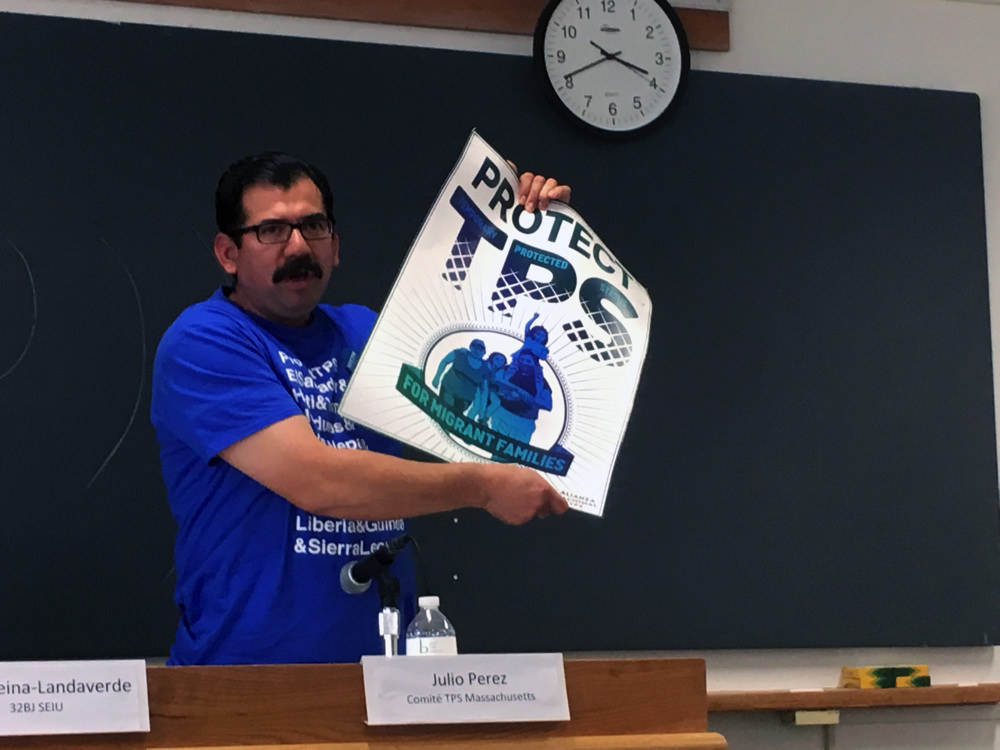 Photograph by Marina Bolotnikova/Harvard Magazine
Photograph by Marina Bolotnikova/Harvard Magazine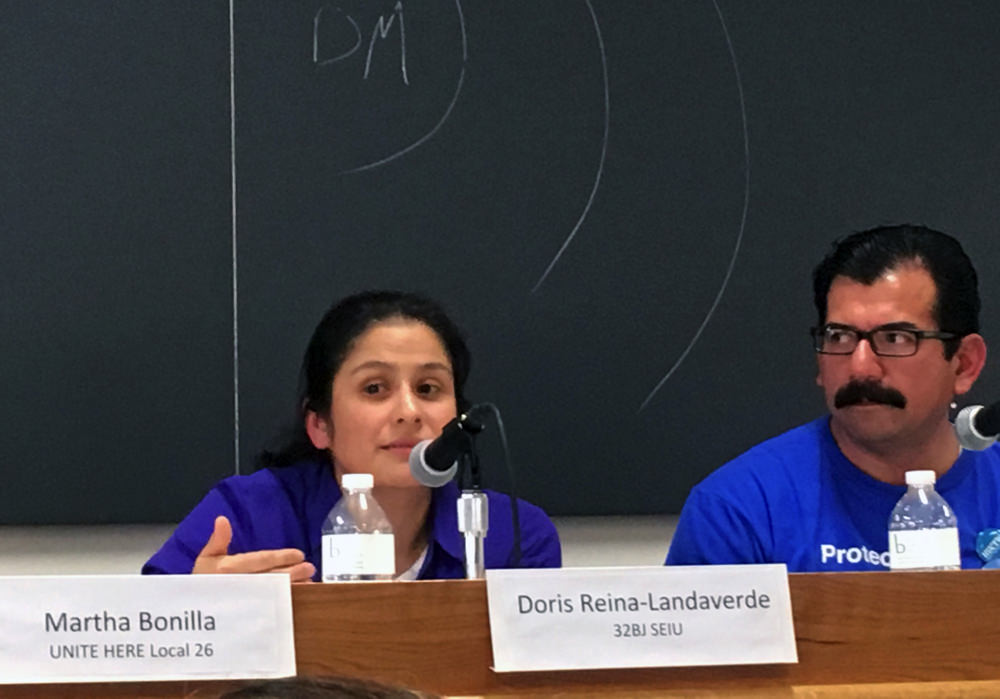 Photograph by Marina Bolotnikova/Harvard Magazine
In September 2019, when their Temporary Protected Status (TPS) is terminated, Salvadoran immigrants will be faced with two choices: "Leave the country, or remain here under the shadow," targets for deportation or detention, said Julio Perez, a custodian at the Harvard Graduate School of Design, Monday afternoon at "The Impact of the TPS Repeal on Campus: Harvard Workers' Stories," a panel organized by the Harvard DACA Seminar. Perez has lived in the United States since 1994 and, like fellow speakers Martha Bonilla, a dining hall worker, and Doris Reina-Landaverde, a custodian, hold TPS status. All three have built lives and families in the this country and have children who are citizens; Perez and Bonilla earned their high-school diplomas through the Harvard Bridge Program, which Perez calls his proudest accomplishment. When asked what it would be like to have to return to El Salvador, Perez said, "It would be like immigrating to another country and starting from zero….It would be just like the first day when I got to the U.S. Devastating."   
Over the last several months, the Trump administration has announced that it would revoke TPS for the vast majority of immigrants who benefit from the program: Haitians, Nicaraguans, Sudanese, and Salvadorans. More than 200,000 people across the United States will be affected, including 8,000 in Massachusetts, and several dozen Harvard affiliates.
Reina-Landaverde, who has three daughters and whose husband is not Salvadoran, said she doesn't know what her family would do if her TPS is revoked: "It's a difficult decision to go to my country, because we know over there it's violent and dangerous." El Salvador has one of the highest homicide rates in the world, and may be destabilized further by the sudden arrival of tens of thousands of deportees.
TPS was created by Congress in 1990 as a humanitarian program to grant temporary legal status to citizens of certain countries affected by circumstances like war and natural disasters. Salvadorans, for example, were granted TPS in 2001, after a devastating earthquake. Neither TPS nor Deferred Action for Childhood Arrivals (DACA), the Obama-era program that shields from deportation about 700,000 "dreamers" brought to the United States illegally as children, provides permanent residency or a path to citizenship. Last September, the Trump administration announced it would also terminate the latter program (which affects about 60 Harvard students), placing the onus on Congress to pass a legislative solution for those affected.
Perez, Bonilla, and Reina-Landaverde, along with panel moderator Genevieve Butler, a faculty assistant in the sociology department and member of the Harvard Union of Clerical and Technical Workers, are among the founders of the Harvard TPS Coalition, a group of workers from across Harvard's labor unions that advocates for TPS holders on campus. The coalition was formed in January, "in anticipation of the potentially devastating impact these decisions would have on Harvard unions," said Kirsten Weld, Loeb associate professor of the social sciences, in her introductory remarks. 
Members of the Harvard TPS Coalition, and immigration advocates more broadly, have called for a solution that provides permanent residency for both the TPS and DACA populations. A federal class-action lawsuit filed earlier this month by the American Immigration Council argues that some TPS holders should be able to apply for green cards. TPS and DACA should be addressed together, Bonilla said, because many families are affected by both programs. Many TPS holders have children with DACA status, so terminating either program could also force out immigrants affected by the other. "It's going to destroy our families completely," she said. "What the president wants now is for the DACA [population] to have some benefits," but DACA recipients can't petition for their parents to stay.
All three speakers are active in their respective labor unions and stressed the link between immigrant rights and the strength of unions at Harvard and elsewhere. "The termination of TPS is going to ruin the unions," said Perez, a member of the Service Employees International Union (SEIU). Reina-Landaverde said that "70 percent" of SEIU Local 32BJ members in Boston have TPS, and she views anti-immigrant policies as inseparable from the movement to unravel unions through right-to-work laws.
Earlier this month, Harvard president Drew Faust wrote to members of Congress to pass legislation that would shield TPS holders from deportation, after the Harvard TPS Coalition urged her to support members of the Harvard community put at risk by the terminations. "Today, more than 400,000 TPS recipients live, work, and invest in the United States. As noted…several dozen of these individuals work across multiple departments at Harvard and are highly valued and productive colleagues," she wrote. The letter echoed Faust's many public statements in support of the dreamer population.  
"I've had the privilege to have all three of these panel members in my classes," said one audience member, an employee at the Harvard Bridge Program. "There's no three other people that are [as] worthy to be part of this community…working two jobs, taking care of their families, getting high-school diplomas, improving their computer skills—the motivation is really, really incredible."
The panelists are active in Comité TPS Massachusetts, an advocacy group that was formed last May, after the Trump administration announced it might terminate TPS for Haitians. Because TPS recipients have not been as visible and politically organized as other groups such as the dreamers, Perez believes, many Americans haven't heard of the program and don't know the stories of those affected. "We have been quiet and silent for 16 years, and that was our biggest mistake," he said. The group hopes to change that, through public actions (the Harvard TPS Coalition will hold a rally in Harvard Yard Wednesday afternoon) and efforts to get the support of university leaders throughout Boston. 
Above all, the speakers urged fellow TPS holders not to proceed as though the fight has already been lost. Talking to her colleagues and members of her union, Bonilla said, "I heard a lot of people who have TPS are packing, sending their stuff back home. We would like to tell them to not do that. We have to fight together." People are very scared, Perez said; one man he spoke to had already sent a shipment of his things to El Salvador. Perez told him: "We are not seeking compassion from the government…We are here because we have a right to live legally in this country, to work. We pay taxes…and many of [our children] are teachers, they are starting in universities—their contributions will be more valuable than ours." After hearing his words, Perez said, the man decided to stay.