Harvard Names Lawrence S. Bacow Twenty-Ninth President
The former Tufts president and MIT chancellor emeritus will succeed Drew Faust on July 1.
Lawrence S. Bacow, J.D.-M.P.P. '76, Ph.D. '78—president emeritus of Tufts University, chancellor emeritus of MIT, and a member of the Harvard Corporation since 2011—will become the twenty-ninth president of Harvard University on July 1. He was elected today by the Corporation, Harvard's senior governing board, with the consent of the Board of Overseers. The election falls 11 years to the day since the election in 2007 of Drew Gilpin Faust, Harvard's first woman leader.
This post has been revised extensively to report on the announcement news conference; see below.
The governing boards' decision concludes a search begun last June, when Faust announced her intention to step down at the conclusion of this academic year.
In a statement, William F. Lee '72, senior fellow of the Corporation (he was an Overseer and served on the search committee that selected Faust), who led the search (its organization and members are reported here), said:
Larry Bacow is one of the most accomplished, admired, insightful, and effective leaders in American higher education. This is a pivotal moment for higher education—one full of extraordinary possibilities to pursue new knowledge, enhance education, and serve society, but also a time when the singular value of higher education and university research has too often been challenged and called into doubt. Such a time calls for skillful leadership, strategic thinking, and disciplined execution. Larry will provide just that.

He will bring to the task not only wide experience, deep expertise, and an intimate familiarity with Harvard's opportunities and challenges, but also a passionate commitment to helping universities, and everyone within them, serve the larger world. He is ideally positioned to hit the ground running and keep Harvard moving ambitiously forward.
Bacow said, "I am humbled and honored by the opportunity to lead this remarkable institution—and to succeed Drew Faust, whom I have been privileged to count as a friend and an inspiration since we met over a decade ago." He continued:
The Harvard I have known has always stood for at least three things: the pursuit of truth, an unwavering commitment to excellence, and opportunity. In a nation divided, these guiding ideals have never been more important. We should never shy away from nor be apologetic about affirming our commitment to making the world a better place through our teaching and scholarship and our commitment to truth, excellence, and opportunity for all. And we should always recognize that, for all of our progress toward realizing these ideals over decades and centuries, there is much more we can learn, more we can contribute, more we can do better.
The University news release provided this background on the new president:
Currently the Hauser Leader-in-Residence at the Harvard Kennedy School of Government's Center for Public Leadership, Bacow served with distinction for 10 years as president of Tufts University, where he was known for his dedication to expanding student opportunity, fostering innovation in education and research, enhancing collaboration across schools and disciplines, and spurring consideration of how universities can best serve society.

Bacow's decade of leadership at Tufts followed 24 years on the faculty of the Massachusetts Institute of Technology, where he served as chancellor, chair of the faculty, and the Lee and Geraldine Martin Professor of Environmental Studies.

A native of Pontiac, Mich., and the son of immigrants, he attended college at MIT and went on to earn three degrees from Harvard – a J.D. and M.P.P. in 1976, and a Ph.D. in public policy in 1978. With scholarly interests that range across environmental policy, bargaining and negotiation, economics, law, and public policy, he is a recognized expert on the resolution of environmental disputes, and more recently has turned his academic focus to issues facing higher education. 
The announcement was made in a news conference introducing the new president, beginning at 3:15 in the Thompson Room of Barker Center—the same venue where the Faust administration was unveiled.
In a message to the community, Lee wrote:
The son of immigrants, with three degrees from Harvard including a Ph.D. in public policy, Larry was a longtime faculty leader at MIT, his undergraduate alma mater. There, he rose to become the Lee and Geraldine Martin Professor of Environmental Studies, the Chair of the Faculty, and then the institute's Chancellor – a role in which he had responsibility for undergraduate education, graduate education, research initiatives, international and industrial partnerships, and strategic planning.

After MIT, he served for a decade with great distinction as President of Tufts University. Known for expanding student opportunity, catalyzing innovation across disciplines, and enhancing universities' civic engagement, he worked tirelessly to advance Tufts' excellence in teaching, research, and public service, and to weave new ties among the university's eight schools. With colleagues, he embraced diversity as a cornerstone of excellence; he strengthened Tufts' connections with its host communities as well as alumni; he engineered a new partnership with what is now Tufts Medical Center; and he led the most ambitious fundraising drive in Tufts history, while adroitly steering the university through the Great Recession. At Larry's final Tufts commencement in 2011, Charles Vest, president emeritus of MIT, saluted him as "perhaps the most respected university president in the country." And the graduating students chimed in with their by-then-familiar chant of "Larry, Larry, Larry."

For the past six-plus years, Larry has continued his focus on higher education and leadership, with Harvard as his principal professional home. He served as President-in-Residence at our Graduate School of Education from 2011 to 2014, then took up his current post as the Hauser Leader-in-Residence at the Harvard Kennedy School's Center for Public Leadership. He has devoted himself to advising scores of new and aspiring higher education leaders, mentoring students interested in careers in education, teaching in executive education programs, and writing and speaking widely on major issues facing higher education – from online learning to the economics of universities, from innovations in teaching and academic freedom to university leadership and governance.

At the same time, he has played an integral role in Harvard's own governance, as a member since 2011 of the university's principal governing board, the Corporation. His wisdom, perspective, and counsel have been invaluable, and he has become well acquainted with the full range of strategic imperatives facing the university – from planning future developments in Allston to bolstering support for university research across all disciplines, from envisioning new modes of learning to fostering academic collaborations focused on society's most complex challenges, from realizing the full potential of our growing diversity to assuring that Harvard continues to attract faculty, students, and staff whose talent and promise can change the world.

Larry's extraordinary professional accomplishments take root in equally extraordinary human qualities – of integrity and collegiality, intelligence and compassion, humility and high standards, openness and warmth. He is someone who inspires trust in others, who motivates people to do their best work, who sees the exciting possibilities amid pressing challenges, who constantly reminds us to set our sights on something larger than ourselves. He radiates a deep conviction in the importance of what universities do, yet does so without a hint of self-importance. He is not just a remarkable leader, scholar, and educator, but a terrific human being.

Larry, of course, began the search as a member of the search committee. From the summer through late last year, as we reached out widely to solicit advice and nominations, increasingly many people within Harvard and beyond – faculty, students, staff, alumni, institutional leaders here and elsewhere – encouraged us to consider Larry for the presidency. We ultimately decided to ask him if he would consider becoming a candidate. After pondering the request, he agreed to step down from the search committee in mid-December. In doing so, he emphasized his deep belief in the university's mission and values and his desire to do everything he can to enable Harvard to be the best it can be.

Today's announcement concludes a wide-ranging search that, since its launch last summer, benefited from the helpful counsel of a great many people across Harvard and beyond. With my colleagues on the search committee, I thank all of you who offered your thoughtful advice. Our gratitude goes especially to the members of the three advisory committees – of faculty, students, and staff – who worked so hard and contributed so much to informing the search committee's deliberations, both by sharing their own views and by eliciting robust input from many others. We owe particular thanks to the advisory committee chairs – Robin Kelsey, Jyoti Jasrasaria, and Katie Lapp. Finally, I want again to salute Drew Faust for her outstanding leadership and service, which will leave her successor with so strong a platform to build on. With her, we will do our best to make her final spring in Mass Hall both memorable and productive.

For today, please join me in congratulating and welcoming Larry Bacow as Harvard's next president. He is someone who leads by giving credit rather than taking it. And he knows that what Harvard can accomplish for its students and for the world in the years ahead will depend foremost on all of you.
Updated 7:30 p.m.: The following sections of this report cover the news conference and after.
The news conference—attended by President Faust and her husband, Charles Rosenberg, now emeritus, and former President Neil Rudenstine and his wife, Angelica Zander Rudenstine, plus a goodly number of Corporation members, Overseers, and senior administrators (executive vice president Katie Lapp; senior vice president and general counsel Robert Iuliano; vice president for alumni affairs and development Tamara Elliott Rogers; former Alumni Association executive director Jack Reardon; and a very relaxed and relieved looking Marc Goodheart, vice president and secretary to the Corporation and therefore the chief staff person for the search—and chief worrier that it remain confidential)—bowed to both Harvard tradition and the twenty-first century: the lectern and crimson Harvard University backdrop were placed in front of a towering portrait of Theodore Roosevelt, A.B. 1880, one of Harvard's U.S. presidents, and a Republican one (and a Harvard Overseer for many years); and the proceedings were broadcast live on Harvard's Facebook page.
Following the brief, damp walk over from Loeb House, where the governing boards had convened, vice president for public affairs and communications Paul Andrew outlined the proceedings. (He did not say so, but he and his staff could celebrate their skill, and presumably luck, in keeping the outcome of the search from premature release by The Harvard Crimson, which broke the news of the Larry Summers appointment, in 2001.)  He then introduced William Lee, who spoke at 3:22 p.m.
The Senior Fellow's Remarks: "He is someone who loves Harvard, but whose love isn't blind."
Lee described Bacow as an "extraordinarily accomplished, admired, and forward-looking university leader, a respected scholar and a respected educator, and a truly wonderful human being. Harvard's future will be in excellent hands."
He then summarized the search, first thanking Drew Faust "for her extraordinary service and her extraordinary leadership." Faust, he said, "has been a visionary leader, she has been a leader of the values and culture that represent Harvard's best."
As the search proceeded, he said, it came increasingly to focus on three characteristics judged most important for the next University president:
 "broad and deep experience with the many, many challenging issues confronting universities today";
 the ability to see clearly "the huge opportunities before us in education, in research, and in serving the world broadly"; and
 someone "who also clearly sees and is ready to confront the great challenges facing us at a moment when the value of higher education is being questioned, at a moment when the fundamental truth of fact-based inquiry is being questioned and called into doubt."
And Lee said, "We wanted someone who could hit the ground running, because neither we nor higher education have time to spare."
The point about external context echoed repeatedly during the news conference. When Bacow's name kept coming before the search committee, and it came time to ask him whether he would consider becoming a candidate (thus removing himself from the committee itself, on which he served as a Corporation member), Lee said that Bacow cited the present moment as critical for higher education in general and Harvard in particular, which motivated him to agree.
Lee noted that at Bacow's final Tufts commencement, in 2011, MIT president emeritus Charles Vest said Bacow was "perhaps the most respected university president in the country."
And, Lee said, during Bacow's service as a Harvard Corporation member, and through his past six years at the Kennedy School and the Graduate School of Education—where he has written about higher-education issues and mentored presidents, deans, and students—Bacow has "become intimately familiar with Harvard and the strategic imperatives critical to the University's future."
Beyond his résumé, Lee added, the president-elect "inspires trust. He is not just smart, but wise. He is innovative and entrepreneurial. He has high academic standards and excellent judgment in people. He has a strong moral compass and extraordinary emotional intelligence. He relates easily to all different kinds of people and motivates them to commit to something larger than just themselves. He is deeply curious—intellectually curious, highly interdisciplinary, and naturally collaborative. He has the confidence to set priorities and to make the hard choices to implement them.  He is a person whose natural instinct is to give credit but not to take it—and as a result, he is all about the institution and the people in the institution, not about himself. He is someone who loves Harvard, but whose love isn't blind, who is always asking how Harvard can do better, not just for Harvard, but for the wider world."
President-Elect Lawrence Bacow's Remarks: "This is the place…"
Bacow responded with a warm grin to the introduction, deeming himself "honored and humbled" to succeed Faust, to whom he gestured, and her predecessors including Rudenstine, whom he also acknowledged.
Recalling his arrival on campus in 1972, as a 20-year-old newly equipped with an MIT economics degree, Bacow said, "I was in awe of this place." Wondering whether he was an admissions mistake, he came to find that, like so many other arrivals, "Harvard made me better."
Continuing in highly personal terms, he said, "It was here I learned that I was a teacher at heart. It was here that I discovered that I wanted to devote my life to scholarship. It was here that I nurtured my passion for higher education. And it was here that I discovered who I really was. Now I'm grateful for the opportunity to give back to an institution that helped to make me the person that I am today. I know of no place on earth with greater potential to help change people's lives for the better. And I can think of no more exciting time [for] doing all I can, indeed I would say all we can, to help Harvard achieve that potential, not just for the good of our students but for the good of the world that we aim to serve."
Drawing on his life story, Bacow recalled growing up in Pontiac, Michigan, the son of immigrants: a father who fled the pogroms in Eastern Europe, a mother who arrived at age 19 among refugees on a Liberty ship—the only family member to survive Auschwitz, and the only Jew from her town to survive the war. "It was higher education that made all this possible," he said, referring to rising in a single generation from literally nothing to enjoyment of a full and rewarding life. As president of Harvard, he said, he aims to see that future generations have the same "opportunity to experience the American dream."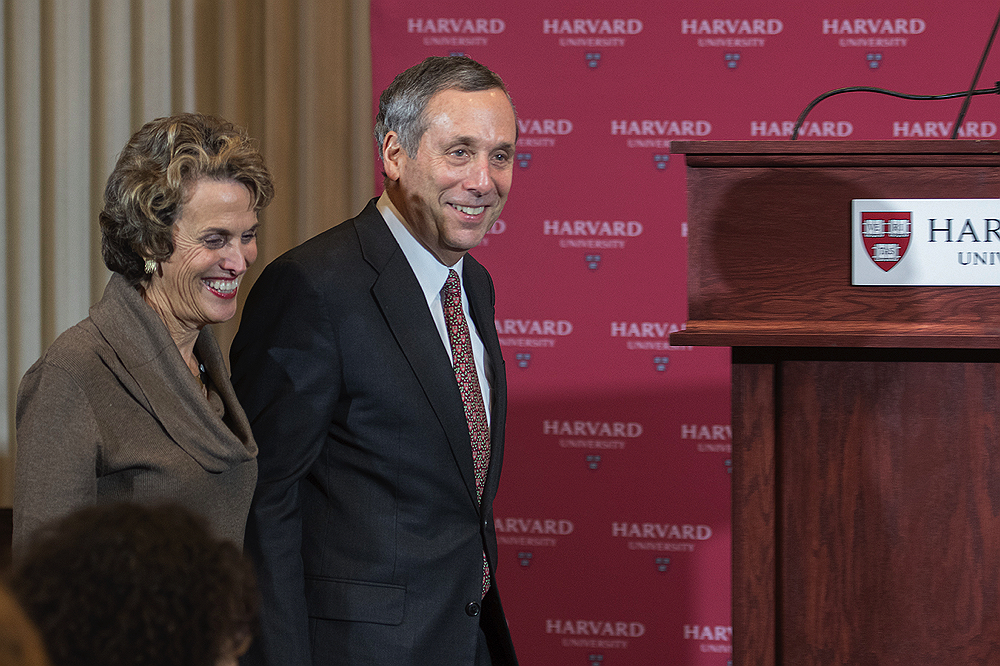 Photograph by Stu Rosner
Harvard has always stood for three things, he continued: the pursuit of truth—Veritas; an unwavering commitment to excellence; and opportunity.
"In a nation divided," he continued, "these guiding ideals have never been more important. We should never shy away from nor be apologetic about affirming our commitment to make the world a better place through our teaching, through our scholarship, but also to our commitment to a search for truth, a commitment to excellence, as well as a commitment to opportunity for all. And we should also recognize that [despite] all of our progress toward realizing these ideals over decades, even centuries at a place like Harvard, that there is still much we can do, much that we can learn, and more that we can contribute to making the world better together."
He stressed that "These are challenging times for higher education in America." He joked that "everybody who went to college thinks that they can run one." There are many criticisms of higher education, he noted, and said, "candidly, I think some of the criticism is fair," ticking off the need to do a better job of controlling costs, operating efficiently, collaborating with peer institutions and industry—and being "vigilant to ensure that our campuses are always open to new ideas, that they are places where our members feel free to express themselves and also where every member of this community feels that he or she belongs."
Citing the extraordinary students, faculty, and staff—"an amazing collection of people"—Bacow extolled the opportunities before the University and its community. "I'm particularly excited by the extension of our campus that's taking shape in Allston," he said, sounding a note of continuity with present plans (as might well be expected; drawing on his academic background in urban and environmental planning, his interests, and his institutional experience, Bacow's Corporation service has included chairing the finance committee and, previously, the committee on facilities and capital planning).
Noting the breadth of Harvard's expertise across all its schools as a singular strength, he also stressed the opportunity to enhance those strengths by combining them to address world problems. That emphasis is also consistent with Faust's "One Harvard" theme, as evidenced in proliferating interdisciplinary programs, joint degree programs, and more.
In a sort of peroration, Bacow said,
When our faculty and students and staff think of Harvard, I want them to think,

"This is the place where I can do my best work.

"This is the place where I can pursue opportunities beyond those that might be available to me anywhere else.

"This is the place that whatever my background, wherever I came from, whatever I look like, whatever my academic focus, whatever my point of view, that I can have the greatest chance not only to succeed personally, but even more importantly, to make a difference in the lives of others."
For the next several months, as he learned the place, he said, "I also look forward to being a Harvard student again. I still have much to learn, and I know from my prior life here, that there is no better place in the world to learn than at Harvard."
Perspective
In turning to Lawrence Bacow, the Corporation has identified a successor to President Faust who has deep experience in higher education and substantial familiarity with Harvard—and thus a much swifter, shorter learning curve in assuming leadership of what is admittedly a very complex institution than would a candidate who has not previously led a university or been part of the Harvard community. This likely ensures that the new president and the governing boards have a common perspective on major priorities such as investing in Allston campus development and in the academic synergies attainable by linking Harvard people across internal school boundaries—Faust's "One Harvard" alluded to above. Bacow is also a familiar face in Greater Boston; he has previously referred to his "Red Line" career, along the MBTA subway from Kendall Square (MIT) to Harvard Square and then back to MIT, up to Davis Square (Tufts), and now back to Harvard Square—and did so again today.
Most distinctive was the focus on the external context and threats to higher education—the most emphatic of the points that arose in the search, as enumerated by Lee; and a point of Bacow's emphasis as well. In the questions and answers that followed the formal news-conference remarks, he talked about "tough times," and said that for the first time in his life—a life shaped entirely by the opportunities afforded by higher education—the value of attaining a higher education had come into question, as had the utility of giving support to higher education. "I wouldn't be standing before you" if not for higher education, he declared. Accepting the Harvard presidency, he said, was an opportunity to serve higher education, "and I hope serve the nation."
(In a brief private conversation later, he emphasized again, "I feel like I owe my entire life to higher education." Of the present circumstances, and the announcement of his presidency, he said, "This was not an opportunity I sought, but I also realized this was not an opportunity which I could turn away, because of the challenging times we face.")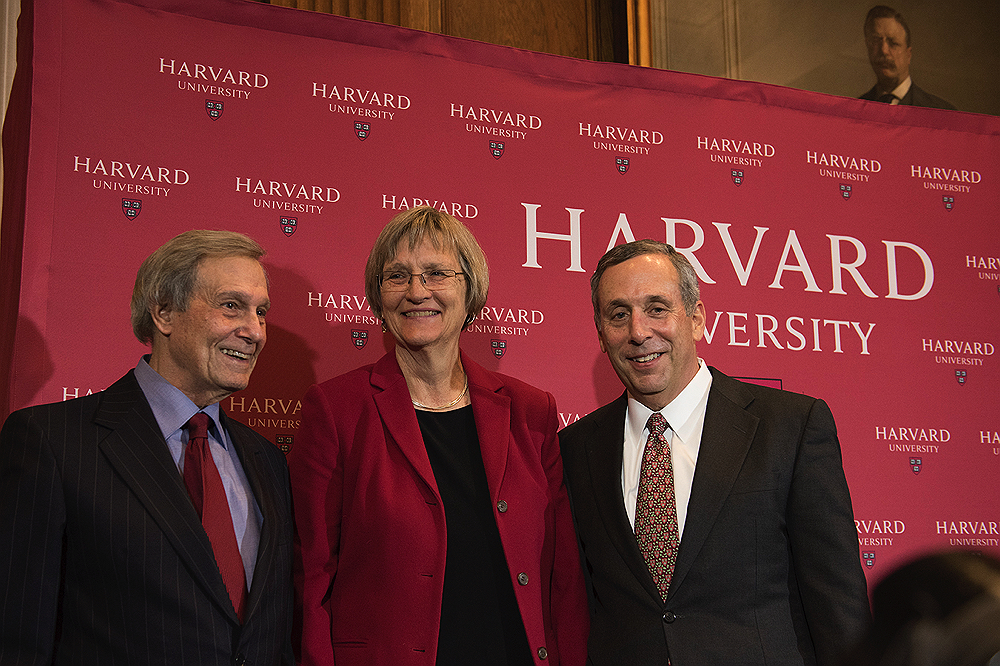 Photograph by Stu Rosner
Reverting to personal experience, he said that when he grew up in Pontiac, three General Motors plants provided reliable employment, and the seeming guarantee of a comfortable middle-class existence, to any high-school graduate. "That's all gone," he said. "Academic institutions, including Harvard, have to pay more attention to those in this economy who have been left behind."
And moving beyond economic concerns, and beyond the seeming threats to the university enterprise, he cited world challenges that present opportunities for solutions arising from higher education. The clash of fundamentalism and modernity (in the Middle East, the United States, Israel, and elsewhere), Bacow said, will become "informed in due time by humanists, by philosophers"—the sort of understandings to which Harvard can contribute. Similarly, he said of climate change that the science is "set," but debate continues about the responsibilities of one generation to another: that is, the policy questions are matters of ethics and values, where again a broad university has much to contribute. "That excites me."
The official Harvard Gazette coverage and a University video of the president-elect are accessible here. The text of his remarks is available here.
Follow John Rosenberg @JohnSRosenberg
Get more stories like this one every Friday. Receive a curated selection of our coverage on Harvard campus news, arts, culture, and research with our weekly email.
You might also like
Viet Thanh Nguyen urges moving beyond the "sob story."
The context for Harvard Management Company's 2023 results
The Crimson outlasts the Bears in an Ivy nighttime shootout.
Most popular
The Faculty of Arts and Sciences announces disciplinary actions.
The Undergraduate learns about making knowledge mutual.
Boston's Piattini Wine Café 
More to explore
A test can identify these productivity-boosting personnel.
Ancient history professor studies coins, ceramics, and Zelda.
Anwar Floyd-Pruitt's wildly profuse art