Emma Dench Named Harvard GSAS Dean
Interim leader of the graduate school now succeeds Xiao-Li Meng.
McLean professor of ancient and modern history and of the classics Emma Dench, who has served as interim dean of the Graduate School of Arts and Sciences (GSAS) during the current academic year, will assume that post on a regular basis, effective July 1. She succeeds Jones professor of statistics Xiao-Li Meng, who became GSAS dean in 2012 and is on sabbatical this year, pursuing research in statistics and data science and leading two statistics professional societies.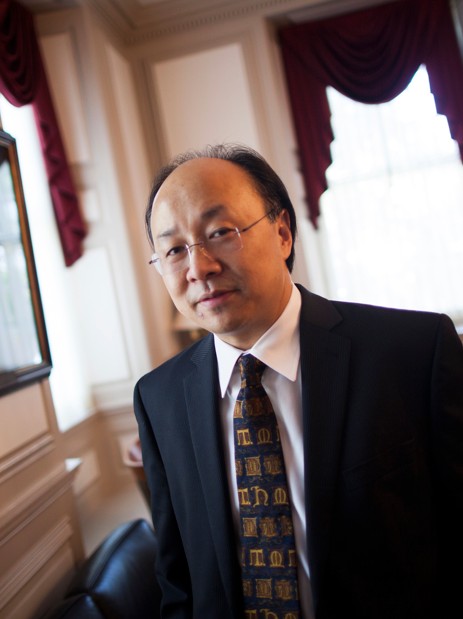 Photograph by Stephanie Mitchell/HPAC
According to an announcement by Faculty of Arts and Sciences dean Michael D. Smith, Meng will be engaged with the Harvard Data Science Initiative, where he will serve as founding editor-in-chief of a data-science journal to be launched next academic year; he will also begin his service as president of the Institute of Mathematical Statistics.
Dench has had to oversee the planned reduction in the cohort of students entering GSAS, reflecting constraints on the Faculty of Arts and Sciences' finances. During the faculty meeting on March 6, she was among those who spoke in favor of moving from a "shopping week" toward preregistration for undergraduate classes each term, in part to provide greater assurance to graduate students about their role and preparation for work as course teaching fellows—an important part of their own professional training. GSAS of course also faces a new student vote on possible unionization, now scheduled for April 18 and 19.
Earlier this week, she was able to convey the happy news that "those who receive stipends as part of their financial support packages will see a 3 percent increase in their stipends for the 2018–2019 academic year. I am thrilled to announce this increase and want to thank my colleagues at GSAS and our partners across the University for their efforts to continue enhancing support for our students." That figure is in line with historical increases, but will be welcomed by students following the 1.5 percent increase that was in effect for the current academic year.
Smith noted that Dench, a scholar of Roman republican and early imperial history, "is an outstanding mentor of graduate students, winning the Everett Mendelsohn Excellence in Mentoring Award in 2015 and serving for many years as director of graduate studies in the department of the classics. GSAS is in exceedingly good hands under her leadership."
He also noted that "Dean Meng has been a champion for GSAS, and I have asked him to continue his efforts to build philanthropic support for graduate education in partnership with Dean Dench. Our students and programs are fortunate to have two such able advocates for their important work."
Read the University announcement here.  
You might also like
Harvard officially installs Claudine Gay, its thirtieth leader.
A half-dozen symposiums feature Harvard research on AI, climate change, inequality, and more
A musical and poetic "prelude" to Claudine Gay's installation festivities
Most popular
President Bacow on humility, Prime Minister Jacinda Ardern on democracy and social media, and Attorney General Merrick Garland on civic engagement and threats to U.S. democracy
The new police chief introduces a new policing culture.
Recent books with Harvard connections
More to explore
A test can identify these productivity-boosting personnel.
Ancient history professor studies coins, ceramics, and Zelda.
Anwar Floyd-Pruitt's wildly profuse art