Commencement
Saluting the 2018 Centennial Medalists
5.23.18
Courtesy of the Graduate School of Arts and Sciences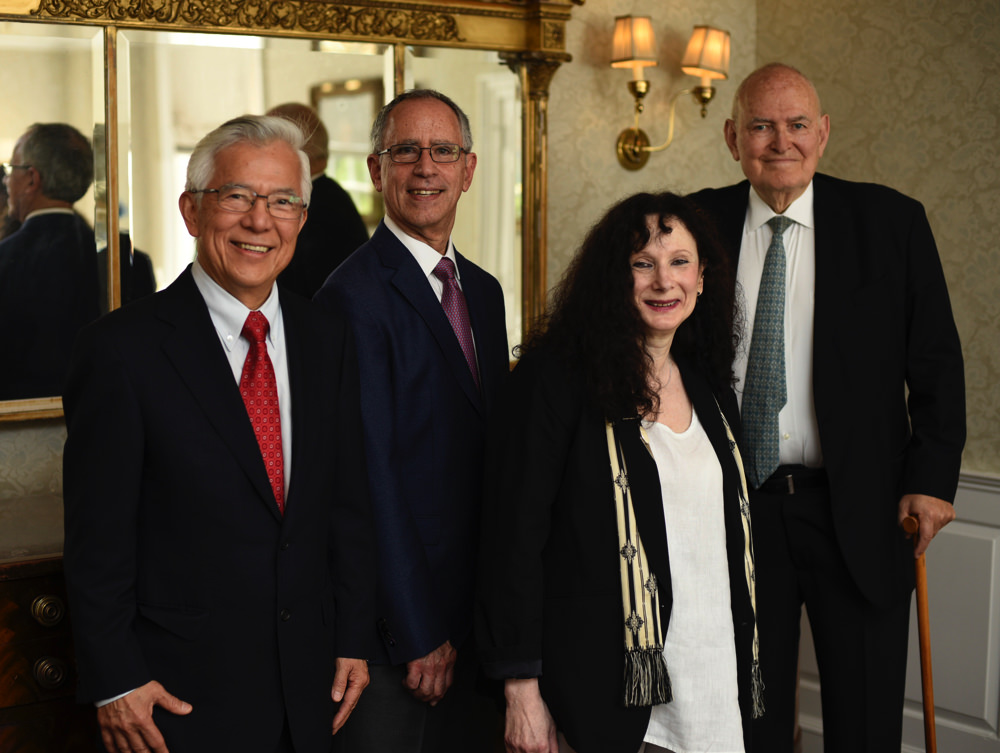 Courtesy of the Graduate School of Arts and Sciences
THE GRADUATE SCHOOL OF ARTS AND SCIENCES Centennial Medal, first awarded in 1989 on the occasion of the school's hundredth anniversary, honors alumni who have made contributions to society that emerged from their graduate study at Harvard. It is the highest honor the Graduate School bestows, and awardees include some of Harvard's most accomplished alumni. The 2018 recipients are:
Beth Adelson, A.M. '81, Ph.D. '83, Psychology
Beth Adelson is a professor emerita of psychology and computer science at Rutgers University. She has held positions at MIT, Carnegie Mellon University, and the National Science Foundation. A cognitive scientist studying insight and discovery phenomena, her current research in that field focuses on scientific problem-solving and conflict resolution.
An interdisciplinary scholar, she brings to this work in experimental and analytical cognitive science a deep knowledge of early Buddhist teachings in the meditation practices of kindness, compassion, empathetic joy, and equanimity. Adelson's Harvard classmate Jamshed Bharucha, Ph.D. '83, president emeritus of Cooper Union, says that she "has been able to take this very ancient study of the mind" and apply it to "…things that have validity and pertinence today."
Guido Goldman '59, Ph.D. '70, Government
Guido Goldman '59, Ph.D. '70, is the founding director of Harvard's Center for European Studies. Born in Zurich, Goldman fled Germany with his family in 1940 and immigrated to the United States, where he enrolled in Harvard College and studied with Stanley Hoffmann and Zbigniew Brzezinski.
While still a graduate student, Goldman helped Henry Kissinger develop the program that would eventually become the Minda de Gunzburg Center for European Studies, the oldest university center devoted to the study of Europe in the United States. In 1969, he became the Center's founding director, a role in which he served until 1994. He has fostered lasting transatlantic partnerships through his leadership of the German Marshall Fund of the United States and other organizations.
Harvard's program in European studies would not exist with Guido's work, according to Peter Hall, Krupp Foundation professor of European studies, and Henry Rosovsky, Geyser University Professor emeritus (and former dean of the Faculty of Arts and Sciences and acting president of Harvard).
Harold Luft, '68, Ph.D. '73, Economics
Harold Luft, '68, Ph.D. '73, is Esselstyn professor emeritus of health policy and health economics at the University of California, San Francisco, where he was also director of the Lee Institute for Health Policy Studies. He currently directs the Palo Alto Medical Foundation Research Institute, where, as a senior scientist, he works with physicians and clinical-care data to improve the practice of medicine, and studies how economic incentives for providers can be restructured to improve value for patients.
During his career, Luft has conducted research and taught in subjects including medical-care utilization, health-maintenance organizations, and health-care market reform. He has also led several programs dedicated to the training of postdoctoral students since 1973.
Luft's late mentor, Rashi Fein, the Harvard Medical School professor who has been called the father of Medicare, called him "the preeminent American health-care economist."
Choon Fong Shih, S.M. '70, Ph.D. '73, Applied Mathematics
Choon Fong Shih, S.M. '70, Ph.D. '73, is University Professor at the National University of Singapore (NUS), which he led as president from 2000 to 2008. He also spent five years as the first president of the King Abdullah University of Science and Technology in Thuwal, Saudi Arabia, shaping the institution, which is dedicated to research and graduate training, into a university known for high-quality work.
An expert in the mechanics of fractures in tough metals when subject to extreme stresses, Shih headed a group dedicated to this field at the General Electric Research Lab. He also taught at Brown for 15 years, before being recruited to serve as founding director of Singapore's Institute of Materials Research and Engineering, and as a professor at NUS.
Mallinckrodt professor of engineering sciences and geophysics James Rice describes him as a great leader, saying it was a "tremendous benefit to Saudi Arabia…to have had Fong as the first president, because he has fantastically good judgment in recognizing quality in people."