Commencement
Valedictory Mixtape
5.31.18
Photograph by Casey Bayer/Harvard Graduate School of Education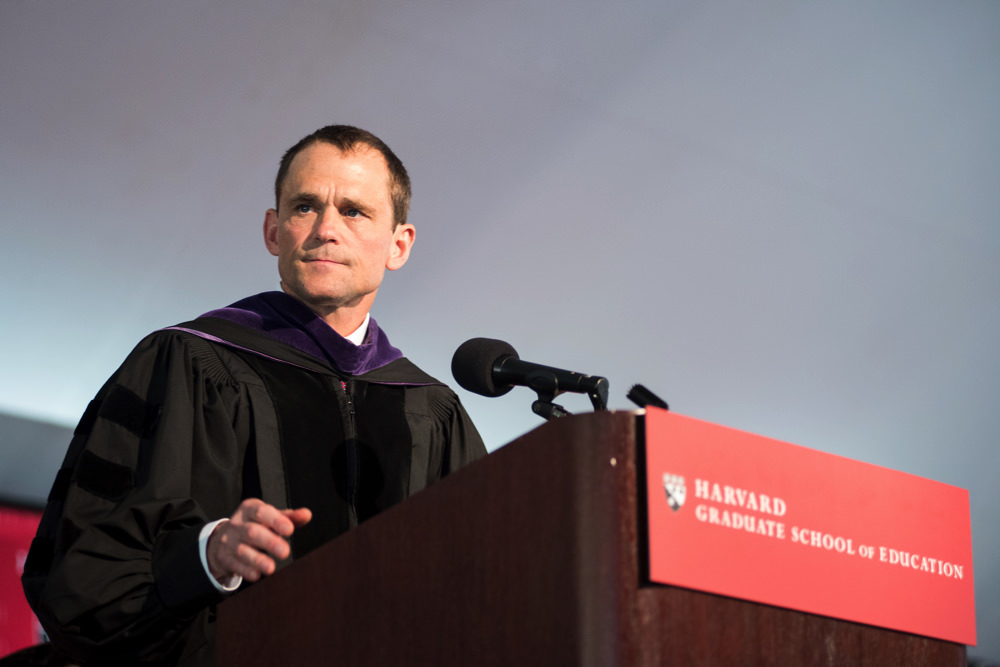 Photograph by Casey Bayer/Harvard Graduate School of Education
For his last Commencement as the dean of the Graduate School of Education, James Ryan presented a mixtape, not a "typical graduation speech," to the class of 2018. Titled Grounded, it explored themes such as sadness, joy, and friendship and served as a reminder to students to remember who they are and want to be, where they come from, and why they do what they do—helping them "maintain the calm strength of mind and heart to connect with, and serve, others."
The songs spanned various genres, beginning with "Gabriel's Oboe," performed by Yo-Yo Ma '76, D.Mus. '91, which Ryan used to represent sadness, a feeling he called a "profound and surprisingly productive emotion." Sadness, he said, allows us to open ourselves up to the sorrow of others, which gets us thinking about "how to alleviate suffering." But he followed sadness with joy, playing a clip from "Girl On Fire," by Alicia Keys. It's at the "intersection of sadness and joy," he told the crowd, that one feels the "deepest currents of life," because without joy, it would be impossible to move forward while still being aware of the sorrows of the world. "Joy is necessary because sorrow is inevitable," he reflected. 
Moving on, Ryan urged students to remember their roots, playing "Thunder Road" by Bruce Springsteen, because to stay grounded it is important to find something that "connects who you are now to who you were then." The next song, though, was meant to remind students not just of who they are, but also of who they want to become. He quoted lyrics from "Ain't No Man" by The Avett Brothers to insist that students act out of love rather than fear as they move forward and are shaped by those actions. "Read All About It, pt. III," by Emeli Sandé, which followed, reminds him, said Ryan, of all the "committed, passionate, and soulful teachers" out there and "captures the essence of education." He asked the graduating class to always remember why they do what they do, and to follow a path that will lead them to their calling.
Turning to the B-side, he said his next message was to always "remain a little rebellious." Lyrics from "Wild Things," by Alessia Cara boomed through the air: "No mistakin', we make our breaks, if you don't like our 808s, Then leave us alone, 'cause we don't need your policies, We have no apologies for being…." Ryan urged students to maintain some of their rebellion so that they may "push boundaries and speak up when something feels wrong."
HGSE has always worked hard to create a sense of community for every individual who belongs to it, and Ryan alluded to that community with "Stand By Me," by Ben E. King—a number that got his audience singing the chorus long after the short audio clip ended. He spoke of friendship and its power to help one stay grounded, and the power of a few "solid friends." Finally, he arrived at his last song—"Nobody Knows," by The Lumineers. He quoted Fisher professor of education Sara Lawrence-Lightfoot, who writes in her book Exit that "getting goodbyes right matters both for those who are leaving and those who remain behind," and spoke of the uncertainty that always accompanies goodbyes—an uncertainty being faced by every new graduate out there that day. As he bid farewell to students and faculty, Ryan offered his hopes for the graduating class and used the lyrics from the song to remind them that "Nobody knows how the story ends," and that's okay.