Montage
Not "Mickey Mousing"
The rigors of accompanying silent films
A hundred years ago, a night at the movies meant live music. Even low-end joints had at least a violinist and pianist; grander establishments employed 50-piece orchestras (some of which, by the 1920s, were replaced by massive Wurlitzer organs that supplied surround-sound audio with less manpower). These days, most theaters upsell their couch-coddled viewers with whiz-bang visuals (IMAX and 3-D) and amenities fit for imperial Romans (dinner delivered to XXL reclining seats). Sound seems like nothing special. 
But decades after the talkie invasion and the mass die-off of silent movies, there are niches where the art of film accompaniment survives. In the Boston area, for example, these movies are shown at university art-houses like the Harvard Film Archive (HFA), or in special screenings at independent theaters. But they're also shown in retirement homes and town halls and other unexpected corners: for customers at the Aeronaut Brewing Company, silent films are served alongside IPAs as a hipster novelty; for members of the New England Vintage Society, watching a Harold Lloyd classic after their annual Jazz Age ball, they're a portal to a more graceful era. The silent-movie scene is a surprisingly diverse ecosystem, and its members aren't shy about approaching the accompanist afterward to say the music was too loud, or off-cue, or contained an anachronistic melody.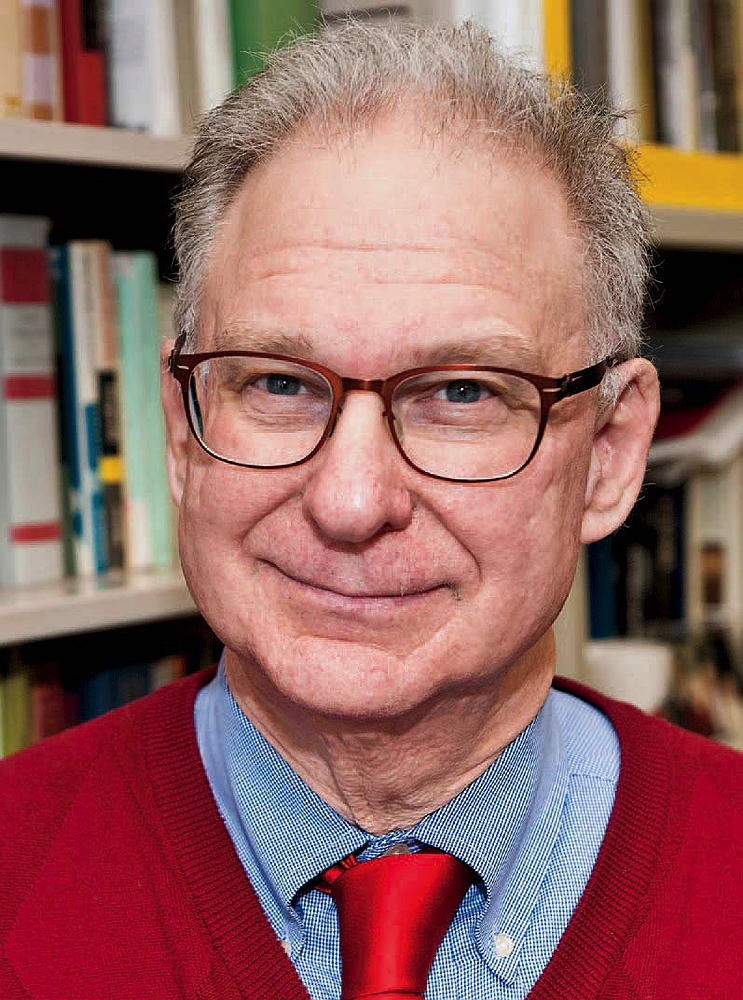 Photograph courtesy of Martin Marks
Martin Marks  '71, Ph.D. '90, might have had this in mind when, at the HFA last summer, he introduced his piano performance for Ernst Lubitsch's The Young Prince in Old Heidelberg with an apology. The first half of his score had been carefully prepared, he said: "The second half is molto improviso, and hopefully there are not too many disasters of forgetting what's coming up next." 
Marks's painstaking approach is an outgrowth of his scholarship: now a musicologist at MIT who has published widely on film music and contributed to DVD anthologies of classic movies, he started accompanying film while in graduate school, when the HFA's first curator asked him to supply music for Lubitsch's Lady Windemere's Fan. Marks likes to pair a film with its original score whenever possible. But at other times, much like the theater musicians of yore, he draws from his extensive repertoire of "incidental music" (short pieces whose titles range from "Andante Agitato, Number 23" to "At the Rodeo"), filling in a "cue sheet" of scenes and music that guides him through the film.
Robert Humphreville '80, also a regular HFA accompanist (and a professional freelance pianist, organist, composer, and conductor), does comparatively little prep. For his own Lubitsch performance, The Oyster Princess, he watched a screener, taking notes about the plot and finding period-appropriate melodies for the foxtrot scene in the middle, something peppy. He landed on a mix of "Ain't She Sweet" and "Hello, My Baby." "It was very 1920s," he muses in retrospect. "Almost a Charleston." In terms of hours worked, these performances are "wonderful distractions," he says. (Such gigs pay between $250 and $350.) Even then, he plays so many that he doesn't get attached to any particular film: "I don't develop a real fondness. They sort of come and go pretty fast." Still he, too, is strict about being historically correct. "Nothing—to me at least—is more distracting than somebody who all of a sudden takes some, you know, Beatles theme and sticks it into a silent movie."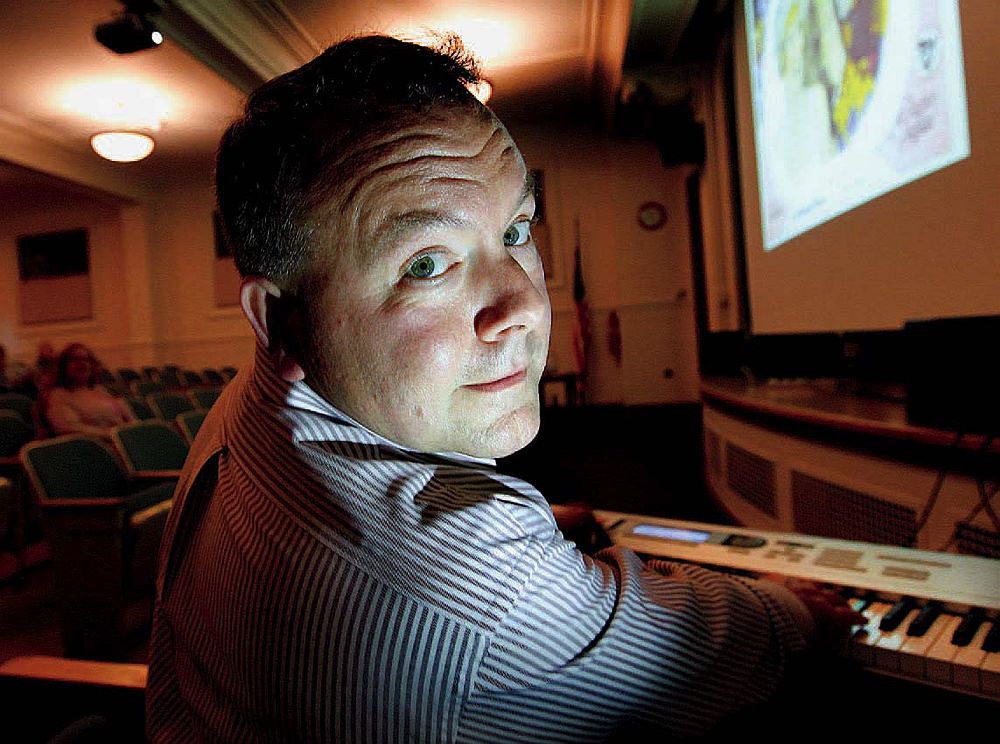 Photograph by Cheryl Senter
Jeff Rapsis takes an entirely different approach to his accompaniments at the HFA and elsewhere: rather than the traditional piano, he usually plays a "just barely portable" 75-pound synthesizer. He likes having more sonic tools within reach. With a delicate chime of bells or a deep, thrumming bass, a film "can be such an event," he says. "You can feel what's happening." At the same time, he tries to avoid being too illustrative or onomatopoetic. "If you do it too much, it's called 'Mickey-Mousing,'" he says, "It's considered bad form for an accompanist just to do that. But a little of it is really important."
If interpretation is an art, playing for a film's entire running time is an endurance sport. Humphreville reports that after a particularly long film, he feels the strain less in the fingers than in the neck, which gets sore from being craned toward the screen. "The last thing you want to do when you're playing is look at the clock," he cautions: it takes the mind off the action and timing. "The scene changes suddenly—you have to be ready for that," he says. "You also have to know when the movie starts and the movie ends. If you don't know when that will be, you can get caught flat-footed." Rapsis jokingly compares the experience to flying a plane. "You can't start thinking about the noise of the engine and where you are in relation to the ground. You have to stay in that zone until you come in for the landing." When "The End" flashes on the screen, "I can finally taxi to the gate and take a break."
Silent motion pictures can look baffling today. They seem to operate with an entirely different syntax of gesture and facial expression, antic physicality and sly suggestion. The jumps from scenes to intertitles, and the lack of synced, continuous dialogue, require viewers to exert their imaginations differently. Musical accompaniment, says Rapsis, can help viewers "read" these films. Still, he believes that people intuitively take to Buster Keaton's melancholic humor, or the almost operatic "Love with a capital L" emotions of silent melodramas. The audience isn't aging out, in his view: "If anything, it's getting younger." (And as New York Times writer Amanda Hess has pointed out, today's audience is continually awash in silent short films—in the form of the GIFs and memes eddying on the Internet.)
Marks advocates for silent film as a distinct art form: with it, "You can create an emotional depth and a rhythmic depth, and a feeling of life, really, and a sense of movement, a sense of time passing."  His music does not aim to translate that feeling for viewers; he wants to transport them. "Some scores tell you, you are here," he says. "But others tell you, you are there. They try to put you back there in that world."