Harvard in the Heartland
President Bacow listens (and builds partnerships) in Michigan.
Lawrence S. Bacow, the son of refugees, grew up in Pontiac: marinated in the University of Michigan Wolverines and Motown. His personal history figures in his professional life as an example of the trajectory enabled by higher education—a prominent part of the story he told about himself last February 11, when his appointment as Harvard's president was announced.
Now, during a two-day trip to Pontiac and nearby Detroit on September 13 and 14, Bacow has chosen his first major outing as president (other than a July visit to Washington, D.C.) to outline likely emphases of his nascent administration—shortly before he fills in some of the details during his inaugural address on October 5:
a commitment to areas, people, and problems not always seen as at the top of Harvard's agenda;
high-level academic focus on addressing real-world challenges like urban poverty and opioid addiction; and
partnerships with other institutions whose strengths complement—and augment—the University's.
The trip included a visit with teachers and students in Pontiac's school system; a social gathering with Detroit-area alumni; private meetings with Detroit's mayor, Mike Duggan, and new school superintendent, Nikolai Vitti, Ed.M. '06; and a discussion on higher education with Wayne State University president M. Roy Wilson, M.D. '80, at a Detroit economic-development forum. Setting the stage, collaborations with University of Michigan (UM) antipoverty and opioid experts were unveiled on September 12.
Taken together, the items on Bacow's agenda begin to sketch his interests and priorities for his presidency—and the kinds of actions he will take to pursue them.
Returning to Michigan, where he was born and grew up, underscored this president's strong interest in making a vigorous case for the university enterprise everywhere, at a time of skepticism about, or even hostility toward, elite higher education (much of which is embedded in the relatively flourishing coastal states). This indeed seems a central factor in his willingness to assume the Harvard presidency at this moment, and this first significant trip is thus a powerful expression of Bacow's determination, as he put it in February, to "help Harvard achieve [its] potential, not just for the good of our students, but for the good of the world that we aim to serve." Detroit, battered by the transformation of auto manufacturing, and other social changes, is commonly considered the poorest large U.S. city, and Pontiac ranks among the most economically damaged smaller cities in the state and even nationwide. Bacow's visit—much of it a listening tour—puts his personal and Harvard's institutional imprimatur on engaging in addressing real-world problems, much as he did as a scholar at MIT and during his earlier Tufts presidency.
The rapidly assembled partnerships with UM draw upon his wide and deep connections among higher-education leaders nationwide. They also suggest his bias for experimentation and action—and his belief that Harvard, for all its prowess and resources, can itself contribute to and learn from working with all sorts of other institutions and parties, in pursuit of its academic mission and the work of ameliorating social challenges.
"Education Changed Everything": The President and Education Dean in Pontiac
When he was growing up, Bacow frequently recalls, Pontiac was the sort place where one could graduate from the high school on a Friday and begin working at one of the three huge General Motors complexes the following Monday, fully expecting to be set up for good for a good life in the middle class; one-third of the city's working population were employed in those factories.
With the radical downsizing of the auto-manufacturing presence, those days are now gone. The city, its population reduced by about 30 percent during the past four decades (modest growth may have resumed), has just emerged from a dozen years of oversight by Michigan emergency managers, who stabilized its finances, according to Mayor Deirdre Waterman, by selling off its assets (for example, its water system), outsourcing core services (including policing and firefighting), and reducing the city workforce to a shell. The symbolic bottom, perhaps, was the sale of the Silverdome, for a quarter-century the home of the Detroit Lions football team, for $583,000 in 2009, and its implosion—after a failed first attempt—in late 2017 (the team now plays in downtown Detroit). The county treasurer remains the largest property owner in Pontiac, the mayor said—the result of tax foreclosures on so much of the housing stock.
The challenges are social as well as economic. As it happens, in 1969, as Bacow completed high school and enrolled in MIT, William Waterman (the mayor's late husband) began representing the plaintiffs in Davis v. School District of the City of Pontiac, and the following February won a precedent-setting order, for a northern school system, requiring that boundaries be redrawn and busing employed to desegregate the schools, where enrollment was 30 percent black.
Now, Mayor Waterman and school superintendent Kelley Williams, in her separate domain, but "joined at the hip," as Waterman put it, are doing their all to bring Pontiac back after "the terribly demoralizing" financial restructuring left the populace "morally undermined," their city "stripped economically to the marrow." The mayor has begun attracting new businesses, and Pontiac, having met initial financial goals, is no longer under strict state supervision. But long term, Waterman said, "Education is the way for people to succeed and have choices"—and for Pontiac to attract and retain families. (The mayor, an ophthalmologist, was educated at the University of Chicago and Meharry Medical College, and became involved in politics a decade ago when she rallied the city to keep Pontiac's library operating during the financial crisis.)
But the educational challenges are real. Although an LED signboard on the lawn read "Welcome Home Larry Bacow" over a Harvard crest, the school system's model honors program, the K-12 International Technology Academy (ITA), is housed in the cheerless Whitmer Human Resources Center complex. After students gave Bacow and Graduate School of Education (HGSE) dean Bridget Terry Long a tour of their robotics lab, and the two Harvard leaders met privately with teachers, high-school students from across the city filed into the auditorium with its "Phoenix Pride" banner and its stage decked out in purple and yellow chrysanthemums; the decorations could not conceal that the wall clock had stopped working.
Superintendent Williams said Bacow's visit symbolized the schools' focus on aiming students for higher education, and called their visitor "an awesome example of what we want our students to become."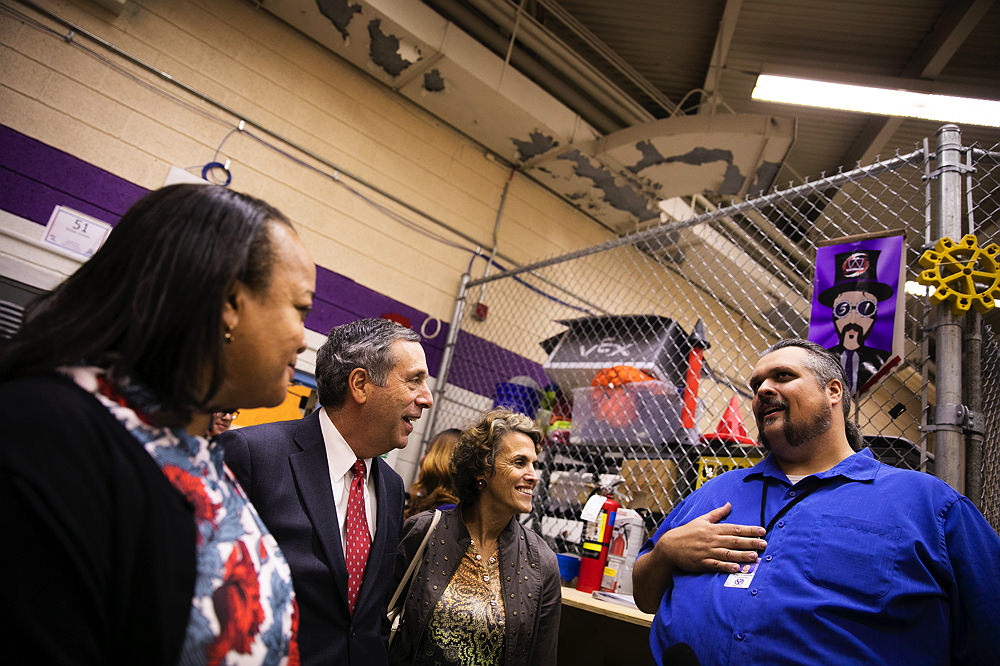 Photograph by Stephanie Mitchell/Harvard Public Affairs and Communications
Bacow said the day was indeed a homecoming, since he had grown up at the corner of Cherokee and Iroquois streets, within walking distance of his local elementary and high schools. (At a private moment later, he showed pictures he had taken that day of some of those earlier buildings now boarded up; others have been razed.) Although robotics instruction did not exist during his youth, Bacow continued, "Pontiac nurtured and supported my interests." He cited his third- and fourth-grade teacher, Shirley Chandler, for instilling lessons on the importance of listening (because "other people have really important things to say"); his sixth-grade teacher, Larry Beamer, for reinforcing his interests in science and math; a junior-high instructor, Gilbert Jackson, for interesting him in music (a realm in which, he hastened to add, he has absolutely no talent); and Walter Smith, a debate coach at Pontiac Central High, who "taught me how to think on my feet."
Supported by such teachers, he said, he learned "I could go anywhere…and you can, too." Recounting his MIT experience, where it was okay to be "smart in things I liked to do, like science and math," he urged the students not to let "anybody tell you you can't pursue your dreams." Higher education, he said, "can create pathways for you that are unimaginable," as they were for him, through an academic career at MIT to the presidencies of Tufts and now Harvard.
Speaking in her turn to the overwhelmingly majority-minority student audience and town officials present, Dean Long (one of a quartet of recently appointed Harvard deans who are African-American women) praised the collaborative learning she saw in the robotics lab, and said that in this, her first official trip as HGSE's leader, she, too, found herself in a role she could not have imagined growing up in Columbus, Ohio. "Education is the story of my family," she declared, recalling a great-grandmother born into slavery and grandparents who were sharecroppers. Her father, an Air Force veteran, went to college on a scholarship, and her mother, a secretary, went back to college and became a high-school teacher. "For both of them," Long said, "education changed everything. Education ended the cycle of poverty in my family." Speaking of segregation, Long recalled, her father said, "Education is the one thing they can't take away from you."
By that, she said, education meant something more than economic progress, because "It gives you choice" in life and in the pursuit of passions. She commended the ITA for its 100 percent graduation rate, and for the 96 percent of graduates who pursue postsecondary education, and urged the students to remember that they were also learning for "the communities you care about," in their families and in Pontiac. The key to their progress, she said, would be asking questions about substantive matters, and about how to pursue their next educational steps.
The students had questions aplenty, beginning with tuition. When Bacow said Harvard's annual bill was more than $50,000, there were gasps, but he quickly added that there is "lots and lots of financial aid," including, in the College, complete scholarships for students whose family income is less than $65,000 per year. (Pontiac's median household income is about $30,000—half the U.S. level.) He also explained what need-blind admissions meant, and said of the aid package, "It's a good deal. Many great institutions do this. Don't be scared away by that sticker price."
Long, whose research involves college admissions and access, said the students should focus on their academic work and "Let us help you." She urged them to look up colleges' aid offerings on line, and noted that UM now waives tuition for the students it admits from families with financial constraints. Bacow reinforced the message, saying, "You can get a great education anywhere," and cited the example of his father, who worked his way through Wayne State by parking cars.
There were questions about fields of study (ranging from art to cosmetology), and about how to present oneself in an application. "You're not expected to know what you want to do when you go to college" (at least a liberal-arts college), Bacow said—and Long confessed to deferring her choice of concentration at Princeton until the last possible moment. When ITA's principal asked how students could stand out on their applications, Long advised not trying to guess what the admissions staff wanted to hear; rather, "We want to hear your voice," to discern the applicants' characters and what and whom they love. Bacow said there was one kind of applicant Harvard never admits ("Somebody who doesn't apply") and urged the students to take the risk ("It's not a big risk") of aiming high.
Superintendent Kelley echoed that message, urging the students to "reach high, aim high, and you can achieve whatever you want." Nodding to the realities, she said, "It does not matter what zip code you may be. Just because we have some limits and lack of resources, that does not mean that we are boxed in." Among the Pontiac students, certainly, the ITA cohort are the least "boxed in"—but as Bacow observed later, only 36 percent of local students are pursuing postsecondary experiences of any sort upon finishing their Pontiac educations.
The community's success, in the mayor's view, depends on rebuilding the tax base, addressing public-resource constraints, and strengthening education. As she put it, "It's the only way we're going to rise."
Can Harvard Help?
The public appearances in Pontiac were acts of presence: an investment of the president's and dean's time to signal that someone is paying attention to those with minimal resources who are fighting to gain an education, and that places like Harvard care.
What more might Harvard do? In a brief conversation Friday, after the Detroit Homecoming economic-development conference, Bacow described much of his Michigan schedule as being "here to listen"—to leaders like the Pontiac superintendent and Wayne State's Wilson, the ITA teachers with whom he and Long conferred, and the Detroit officials he met. He was at pains to say that visiting did not mean "We're from Harvard and here's what we can do for you." Rather, in the spirit of his elementary teacher, Shirley Chandler, he said, "We can learn from others. Nobody has a monopoly on good ideas." Much as he loves Harvard, Bacow said, the universe does not revolve around the University he leads: there are opportunities to improve and to have greater impact on society.
The partnerships with UM announced on September 12 "absolutely" are of that sort: a way to move swiftly to engage with social problems, and to join with an institution that has already demonstrated its desire and ability to do so. (For details, see the sidebar, "The Applied Wisdom of the Heartland.")
"A More Generous Partner"
That even these nascent ventures have progressed far enough to be announced 10 weeks after Bacow assumed office is telling in other ways.
The University of Michigan's president, Mark Schlissel, an M.D.-Ph.D. biomedical researcher, interviewed in Detroit, said he had known Bacow for years—and that he reached out to Bacow for advice in 2014 when his appointment in Ann Arbor was announced. (Schlissel was previously provost at Brown). In fact, during Bacow's leadership residencies at the Harvard Kennedy School and HGSE, following his Tufts presidency, he counseled and advised new leaders throughout academia on the responsibilities they were about to assume. This cohort of colleagues and friends with whom he built relationships has now come into practical service again, given his unimagined (to tap the Pontiac theme) appointment to lead Harvard. When Schlissel read news accounts about Bacow's determination to "try to make a difference" in making Harvard "more valuable to society," he reached out to offer assistance. (Bacow confirmed this generous offer from Schlissel.)
Schlissel said they broached a half-dozen ideas, and after faculty consultations at Harvard, he and Bacow agreed on the poverty and opioid partnerships. UM's schools and graduate programs are equaled in breadth by only a few other institutions (among them Harvard, Berkeley, and Stanford) and the two universities' new agreements are a way of "tapping into that and applying it to problems of public import"—the two presidents' common goal. "The landscape over which we can do good," Schlissel said in a related remarks on universities' social role earlier in the day, "is unlimited."
Bacow, who can be self-deprecating, said of the partnerships that he was "making this up as I go along"—trying ideas, seeing what gets traction, and discovering, in a pragmatic way, "what works" (as described in this profile). In visiting Michigan, in listening (as well as speaking), and in embracing new engagements, he said, "I want to make Harvard a better partner, a more generous partner, an easier institution for others to partner with"—including universities, foundations, businesses, and leaders like Mayor Duggan, who helped make the connections that led to the poverty partnership.
Of Detroit, he said, "Places like this need human capital."
The Higher-Education Context
That need—and the role of higher education in meeting it—implicitly underlay Bacow's Michigan itinerary, but it was the explicit focus of his last formal event: the panel discussion with Wayne State's president, M. Roy Wilson. The two presidents appeared after two panels with Nikolai Vitti, Detroit's new superintendent of schools, who has taken on the challenge of elevating a public-school system that enrolls fewer students than do local charter schools (which operate with unusual freedom in Michigan, as reported here), and that is struggling, given its tattered reputation and brutal finances, to hire enough teachers for each classroom, and to retain them once hired.
Asked about the core issue of declining public confidence in higher education, Bacow noted that all institutions are facing similar challenges, but that "the rising cost of higher education has sparked public anger." He gave a ringing defense of public universities, like Wayne State, which have been savaged for raising tuition—but have done so in response to state governments' severe reductions in budgetary support. At the same time, he said, "Yes, the cost has gone up, but the return on that investment has never been higher." Citing college graduates' income and employment prospects as compared to those of peers who complete only high school, he said, "It's still a very, very good investment."
Wilson and Bacow were equally strong in defending access to higher education on the part of foreign students, DACA youths, and immigrants from other countries resident in the United States under Temporary Protected Status. Asked about K-12 teachers' status (probably in light of the Detroit system's struggles), Bacow recalled his own elementary and secondary teachers and replied, "We grossly undervalue teaching. We don't pay them enough. We don't thank them enough." He also pointed to the Harvard Teacher Fellows program and other University investments in developing educators as efforts to rectify the situation.
And asked about access and the perception that elite education is not affordable to those of lesser means, Bacow again spoke not only for Harvard but for education generally, saying, "You can get a great education at lots of places, and that's why it's important to support higher education broadly."
Drawing on his own elite education in the social sciences and in policy, he delivered a summary line that might apply to all the work he undertook, in public and in private, on his first extensive outing in the world as Harvard's twenty-ninth president. "Talent is flatly distributed," he said. "Opportunity is not."
The Harvard community can expect to hear more in that vein on October 5, and beyond.
You might also like
Harvard officially installs Claudine Gay, its thirtieth leader.
A half-dozen symposiums feature Harvard research on AI, climate change, inequality, and more
A musical and poetic "prelude" to Claudine Gay's installation festivities
Most popular
President Bacow on humility, Prime Minister Jacinda Ardern on democracy and social media, and Attorney General Merrick Garland on civic engagement and threats to U.S. democracy
The new police chief introduces a new policing culture.
Recent books with Harvard connections
More to explore
A test can identify these productivity-boosting personnel.
Ancient history professor studies coins, ceramics, and Zelda.
Anwar Floyd-Pruitt's wildly profuse art