"Building Strong Communities"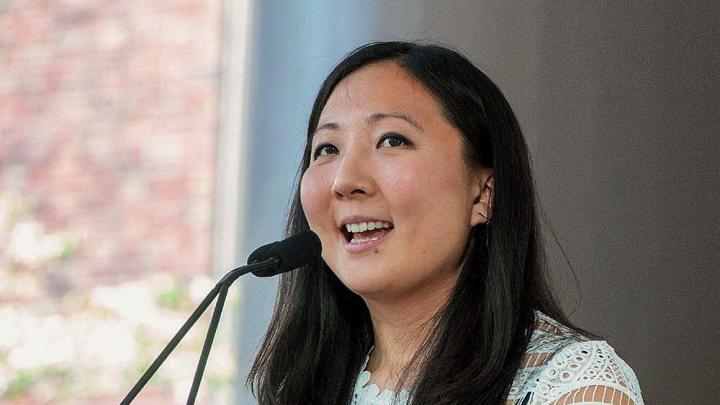 Margaret M. Wang '09, the new president of the Harvard Alumni Association (HAA), is the youngest person to take on that role in modern history. She has volunteered for the organization for nearly a decade, while working professionally in business strategy and development "across a number of different types and sizes of organizations—finance, tech, nonprofit—spanning a five-person startup to multinational corporations," she says. Wang holds an M.B.A. from Stanford Graduate School of Business, and recently joined Bridgewater Associates, of Westport, Connecticut, the world's largest hedge fund, as a manager of client service.
At the HAA, she plans to apply her breadth of experience to "the way in which we do our work, and how we are with each other. How might we drive more innovation, try new things, be lean and forward-thinking?"
Wang fully supports the HAA's global initiatives—its efforts to engage a wider range of alumni and foster Harvard-based networks—but also intends to integrate a focus on "personal stories" and relationships. "With the HAA," she says, "I found an organization that shares so many of my own values of building strong communities around the world, empowering and developing volunteer leadership skills—all rooted in meaningful relationships, ones that are intergenerational and global." Thus, even as she describes herself as a serious leader whose approach is "rooted in openness/vulnerability," she also plans to "have a lot of fun with my fellow alumni and the HAA team" throughout her year-long tenure.
Growing up in Boston and New York's Hudson Valley, Wang is the daughter of immigrants who dreamed of her going to Harvard. Once on campus, she says she "ran as fast as I could toward new experiences," starting with the preorientation Freshman Arts Program, then worked behind the scenes on theater productions every semester, and, during senior year, helped start the Harvard Student Art Show. And although she had never sailed before, Wang also broadened her skills as an athlete and team player through the varsity sailing team. She's clear that the risks she took, and the formative experiences gained through less-than-successful ventures ("periods of failure and rejection from both within and outside the classroom, as well as my own early self-doubt about whether I could cut it" at Harvard) were essential to developing her "resilience, empathy, and determination."
"Harvard widened my aperture," she explains. "During my four years at the College, I was able to learn so many new things, deepen pursuits in things that I loved, and develop what have now become truly lifelong friendships. I feel an incredible desire to give back to the place that gave me these."
You might also like
The Crimson springs a major upset.
Harvard officially installs Claudine Gay, its thirtieth leader.
A half-dozen symposiums feature Harvard research on AI, climate change, inequality, and more
Most popular
A community letter as the new administration begins
Solving legal challenges at MoMA
More to explore
A test can identify these productivity-boosting personnel.
Ancient history professor studies coins, ceramics, and Zelda.
Anwar Floyd-Pruitt's wildly profuse art