Food
No Such Thing as Just a Janitor
9.27.18
Photograph courtesy of Harvard University's Office of Career Services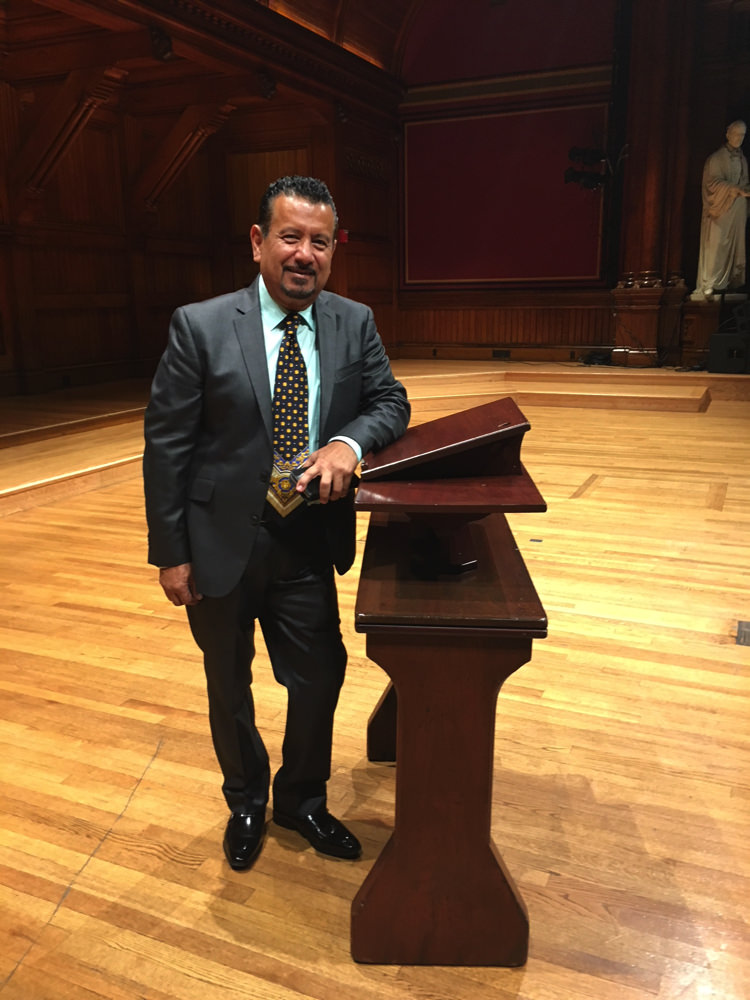 Photograph courtesy of Harvard University's Office of Career Services
It was Richard Montañez's many jokes, and the audience's appreciative, rolling laughter, that made the serious moments land with such force. Amid his winking boasts, self-deprecating jabs, and silly gags—all at least half-shouted from the Sanders Theatre stage—came deeper, quieter acknowledgements of pain and fear and vulnerability that sharpened the air and hushed the crowd.
Montañez is best known as the man who invented Flamin' Hot® Cheetos, the spicy, startlingly red, cult-favorite version of the classic cheesy snack. He is now the executive in charge of multicultural sales and community activation for PepsiCo North America, but before that he was a janitor at the Frito-Lay plant in Rancho Cucamonga, California. And before that, he was an eight-year-old boy struggling to learn the English his teachers spoke to him, the son of Mexican immigrants who picked grapes and lived in a farm-labor camp in San Bernardino County, with a communal kitchen and a bathroom down the hall.
This is a rags-to-riches story that Montañez has recounted many times before—in fact, it is the subject of a forthcoming biopic from Fox Searchlight Films—and on Wednesday evening, he came to Harvard to share it with students who'd crowded expectantly onto Sanders Theatre's dark wood benches. The event was presented by the Faculty of Arts and Sciences' Office of Career Services, with support from dean of the College Rakesh Khurana and the Office for the Arts. The talk was titled "The Importance of Diversity in Sparking Innovation," and Montañez told listeners about the fluky circumstances that led to the birth of Flamin' Hot Cheetos®: the flash of an idea while eating an elote—grilled corn on a stick, a popular Mexican street food—with all the fixings ("Oh my god, that looks like a Cheeto! What if we put chili on a Cheeto??"), and the night he and his wife, Judy, spent concocting the spicy seasoning and trying it out on a batch of plain Cheetos. The breathless phone call he made to Frito-Lay's CEO, Roger Enrico, and the executive assistant who actually put the janitor's call through to the top man. Then the meeting two weeks later, where Montañez  formally presented his snack idea to Enrico and other executives, after checking out a how-to marketing book from the public library and purchasing his first-ever necktie, for $3.50.
One of Montañez's side gigs is as a motivational speaker, and he peppered his talk with slogans and admonitions pitched directly to students in the audience ("Listen up, young people…"). Surround yourselves with those who encourage, not discourage, he advised. The antidote to fear is hunger. You get promoted not because of who you know, but because of who knows you. Achieving greatness sometimes requires a willingness to look ridiculous. Be open to revelations. Don't always stand in the line that others assign to you. There's no such thing as "just" a janitor. 
But the evening's most poignant moments, and perhaps its most persuasive, emerged from Montañez's memories of feeling frustrated or lonely or scared. As a grade-schooler in the 1960s, he was bused across town to an integrated school, where he felt out of place among the white faces and lost amid the English he didn't yet speak. The ugly green bus that carried him there every morning seemed intended to convey just how much he and the other Latino kids didn't belong and weren't good enough to be there. The burrito his mother packed him for lunch drew stares and marked him as an outsider. "I was mad because I was going to this school, I was mad because I was this color, I was mad because I spoke Spanish," he said.
And despite the rapid upward trajectory of his life later on, that feeling of being painfully different, never quite knowing the drill, kept recurring. On Montañez's first trip in company's private jet, not long after his Flamin' Hot triumph and promotion to an executive office, he mistakenly sat in the CEO's seat. No one mentioned it during the flight—the CEO chose another seat—but when he found out later about the faux pas, "my heart dropped." He felt like the little boy on the ugly green bus again. On a commercial flight home to California by himself two days later, he sat by the window at the back of the plane and cried. "I said, 'I'm so tired of embarrassing myself, so tired of not fitting in. Why can't I be like everyone else?' But that little voice that's bilingual, because it speaks to you in a language that you understand, said this to me: 'Don't you remember I told you when you were a little boy, you were never created to fit in? You were created to stand out.'" He looked out into the faces in the audience, many of whom were also Latino or Latina. "That was many years ago," Montañez said, "and I'm still learning those things today." It's the same lesson his mother gave him when he came home from school demanding a baloney sandwich for lunch instead of a burrito. "No, baby," she said. "This is who you are."
A few jokes later, a standing ovation, and then as Montañez was presented with a Harvard jacket, Andrew Pérez '20, one of the students who'd introduced him at the podium, thanked him for his frankness and, turning to his own peers in the audience, summed up, "For all of us, especially Harvard students: Don't forget where you come from."