Treasure
"Party Animals"
Drinking in style, from antiquity to the 1960s
Animals are ever-present in the human imagination; their images have inspired tenderness, awe, levity, and violence. Painted terracotta drinking mugs shaped like the heads of eagles, pigs, braying donkeys, and other animals animated ancient Greek symposia, or drinking parties, doubling as masks for the increasingly inebriated guests. "As the cup gets emptier and you lift it further, you essentially transform into a donkey," says Susanne Ebbinghaus, head of Asian and Mediterranean art at the Harvard Art Museums. These objects and others are on view through January 6, part of the museums' exhibition "Animal-Shaped Vessels from the Ancient World: Feasting with Gods, Heroes, and Kings," comprising drinking, serving, and pouring vessels from around the world.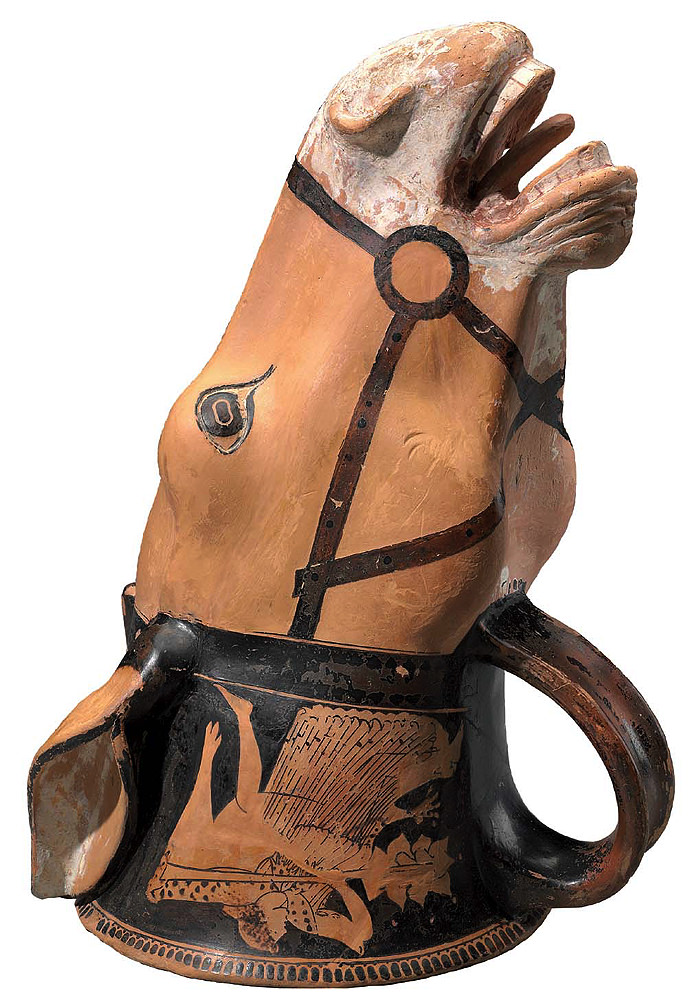 Museum of Fine Arts, Boston, 1900TL41961.1
Image courtesy of the Harvard Art Museums
"Animal vessels are inherently playful," Ebbinghaus says, inviting people to try out different identities and behaviors. "But they're also very serious." Where the Greeks' animal-head mugs appear almost cartoonish, other vessels, made of bronze or precious metals, are careful and intricate. Silver rhyta—horn-shaped vessels popularized by the Persians—seat elegant deer, lions, or griffins at their ends. These vessels were exported, gifted, and employed in international diplomacy and conquest throughout the Mediterranean. Persian kings "would give out precious metal vessels to reward service or to create obligation," she continues. "It would have been quite the status symbol, to be essentially named a royal drinking companion."
The Greeks considered Persians "effeminate and luxury-loving"—uncivilized, to their way of thinking—and never fully adopted rhyta, says Ebbinghaus. But drinking horns, she adds, have been associated with prestige and ceremony throughout their history. The newest piece in the exhibition, a drinking horn made in the Soviet republic of Georgia in 1960, was given to John F. Kennedy by U.S.S.R. premier Nikita Khrushchev: "It was literally on the eve of the Cuban missile crisis. Khrushchev is stationing missiles in Cuba while inviting Kennedy for a drink."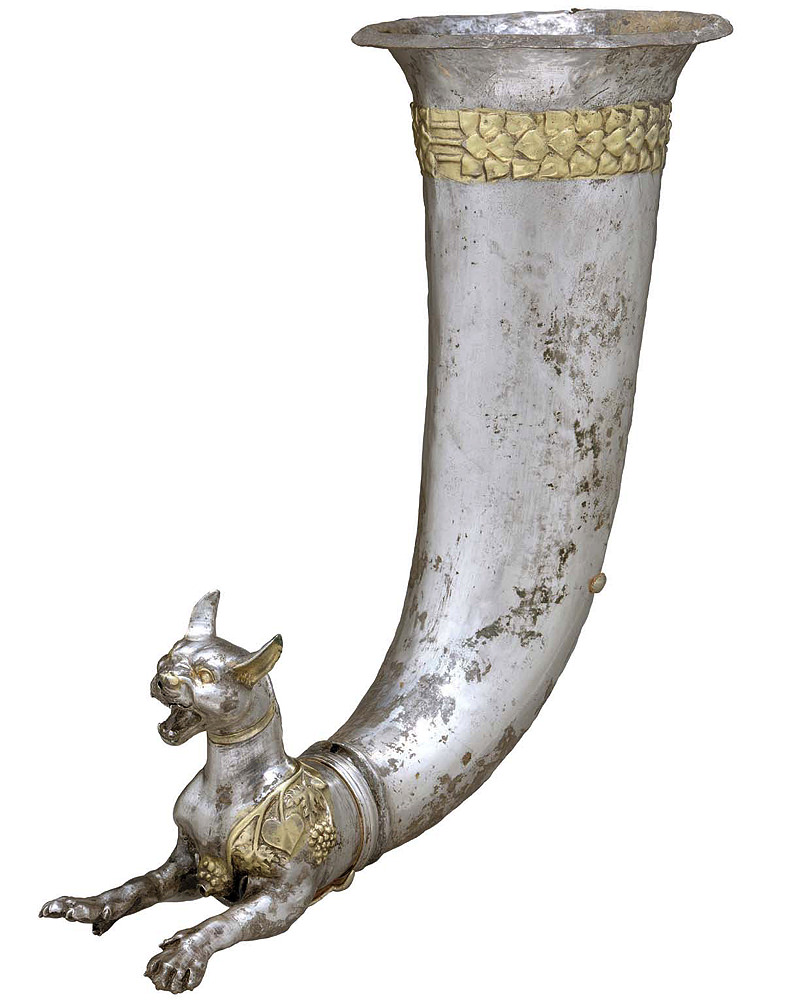 The Metropolitan Museum of Art, (9179.447)TL41960.13
Image courtesy of the Harvard Art Museums
Different animal-vessel traditions, extending as far as China, adapted the Greek and Persian styles to local needs. Others emerged independently. A stirrup-spout bottle from the Moche culture in South America takes the form of a spotted puma subduing a naked prisoner. It might represent a real-life puma, or metaphorically, a Moche warrior (perhaps both). A humorously spherical (to modern viewers) hippopotamus-shaped pitcher from Nubia, in present-day Sudan, was buried among royalty, as a symbol of strength and power. A culture not represented is the one many viewers are most likely to associate with drinking horns: the Vikings. Real animal horns, consisting of keratin, rarely survive, Ebbinghaus explains—making the history of their use a mystery.