Funny Because It's True
Showrunner David Mandel guides the final season of   Veep—
and finds himself politicized.
For David Mandel '92, filming the final season of HBO's political comedy Veep was a race against reality. For seven seasons—the last four with Mandel at the helm as showrunner—Veep had made its name as a jet-black satire, sending up the foibles of American government by painting its characters as just slightly more craven and corrupt, racist and ruthless, than real-life Beltway politicians.
Then in 2016, Donald Trump became president-elect, and, Mandel says, "All the rules changed." Suddenly, he and the show's writers had to worry about accidentally predicting—or being one-upped by—the actions of a real-world White House that made their fictional version look tame.
"If you look back at Veep, things that seem outrageous or scandalous within the show—well, either they seem mild now, or they've come to pass," Mandel said recently on the phone from California. "We did an entire [story line] about the president accidentally tweeting something and blaming the Chinese" in a previous season, he added, "and now it seems we had a time machine."
If anyone could handle the increasing absurdity in American politics, though, it's probably Mandel: he'd honed his satirical edge as a writer for Saturday Night Live, Seinfeld, and Curb Your Enthusiasm, where he was also a director and an executive producer. And his background in merging politics and humor runs deep. As an undergraduate, he balanced a course load as a government concentrator with a workload at the Lampoon. With fellow Winthrop House residents Jeff Schaffer '91 and Alec Berg '91, he parlayed his Lampoon work into a summer job writing for Comedy Central, where he met Al Franken '73—and by graduation day, Franken (who would, of course, go on to have his own career in politics; see "Al Franken: You Can Call Me Senator," March-April 2012. page 31) had offered him a made-to-order job: covering the presidential election with Comedy Central's InDecision '92.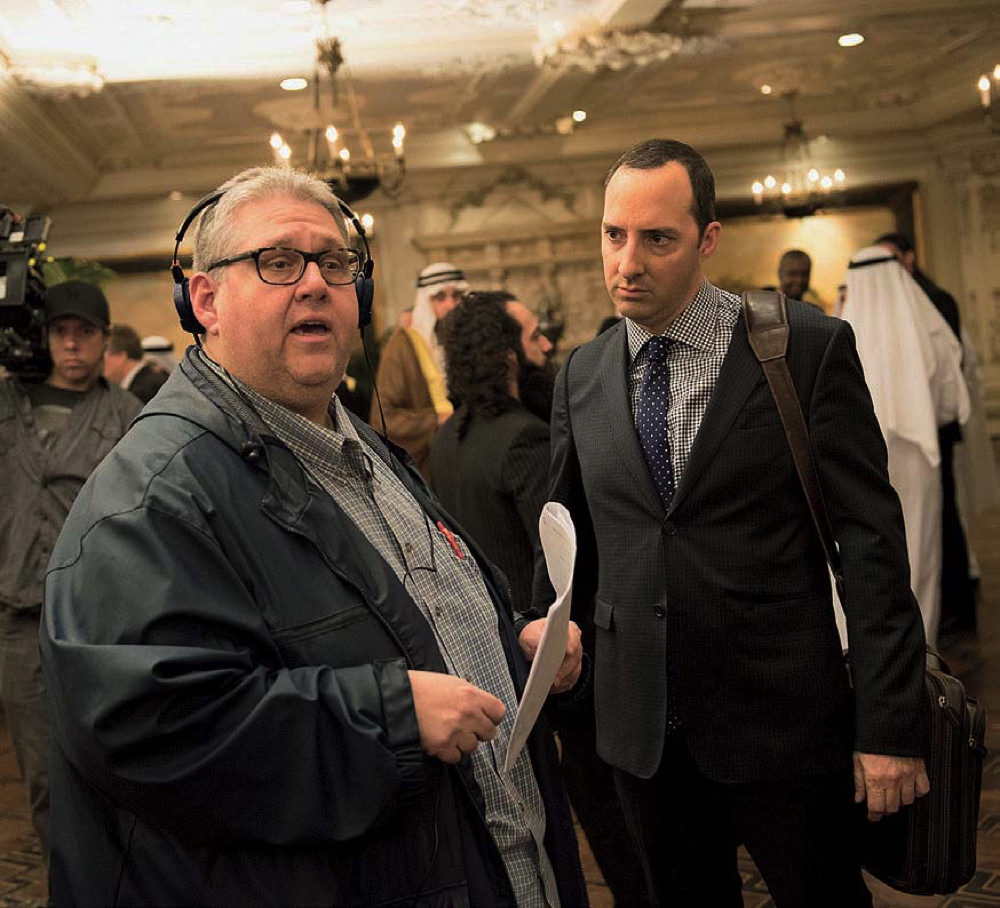 Veep'
Photograph by Colleen Hayes/HBO
From there, Mandel found himself writing political satire at Saturday Night Live. Though he says he wasn't "the best government major," he brought with him the fascination with politics and history that had led him to choose that field of study. Working on Veep was a return to these roots, making Mandel a perfect fit to take over the reins from creator Armando Iannucci.
But a show like Veep is also technically science fiction—like The Handmaid's Tale or The Man in the High Castle, it takes place on some alternate timeline, where political history has unfolded differently than in the real world. Veep's universe never had a President Barack Obama (or a President Trump).
A show like Veep is technically science fiction—it takes place on some alternate timeline….
Here too, though, Mandel is in his element: a lifelong science-fiction and comic book fan, he keeps a separate apartment at home in Los Angeles just for his nerd memorabilia (his collection includes original artwork by comics greats such as Steve Ditko and Gil Kane, as well as Storm Trooper costumes from the original Star Wars). His most famous episode on Seinfeld drew on his innate nerdiness, as Jerry et al. run into "Bizarro" versions of themselves—their inverse counterparts. (In old Superman comics, Bizarro World was a cube-shaped planet where everything is backwards and Superman is evil.)
Veep's charactersare meant to be a dark mirror: Bizarro counterparts to reality. Viewers who followed the exploits of fictional career-politician Selina Meyer, played with profane gusto by Julia Louis-Dreyfus, could depend on her to be just a little less competent and a little more loathsome than her real-world analogs. But as the real world grew more and more surreal, it became harder to maintain that duality.
"One of the reasons we made the decision to end the show," Mandel explained, "is just this new reality." At times, he said, it felt as if they were competing against a different set of writers working on a show called Trump. And even though Veep had always been strictly nonpartisan, Mandel found himself becoming less and less so in life. "I've always been a political person," he said. "But Trump has made me more political and more activist…all of a sudden I'm donating to attorney-general campaigns in states I've never been to."
Now that Veep has shot its last episode—its final season is scheduled to begin airing on March 31—Mandel isn't sure what his next project will be. In the meantime, he said, dealing with reality will take plenty of his concentration. "I wish we were in an alternate timeline," he said. "I wish the reason for Trump in the White House could be blamed on some errant time traveler who stepped on the wrong butterfly. I wish we could go back and somehow fix the timeline. But in some ways, that is naive and wishful thinking. We made this mess and we have to fix it."
You might also like
The first in a series of public conversations about Harvard and the legacy of slavery
How to encourage free speech and inquiry on campus
A new play at the A.R.T. provides a modern take on ancient mythologies   
Most popular
Brief life of Cuba's greatest naturalist: 1799-1891
Modeling how globalization leaves the least-skilled workers behind
Why good data are essential to understanding the Voting Rights Act
More to explore
A test can identify these productivity-boosting personnel.
Ancient history professor studies coins, ceramics, and Zelda.
Anwar Floyd-Pruitt's wildly profuse art