Explorations and Curiosities
Bow Market
Somerville's latest creative spot to shop, eat, and drink
Bow Market, in Somerville's Union Square, is very likely the only place on the planet where you can shop for vintage furs, tuck into platters of pierogis and poutine, catch a comedy act, and then chill out all night with pints of Exquisite Corpse. "It's a vibrant marketplace that does not fit the norms of a typical mall or traditional market setting," says Brittany Lajoie, manager of Remnant Brewing, which offers the "chewy, deep, and dark" Corpse stout (flavored with Taza chocolate), among other rotating drafts—and doubles as a day-time java café. "Here, there's more of a personal touch."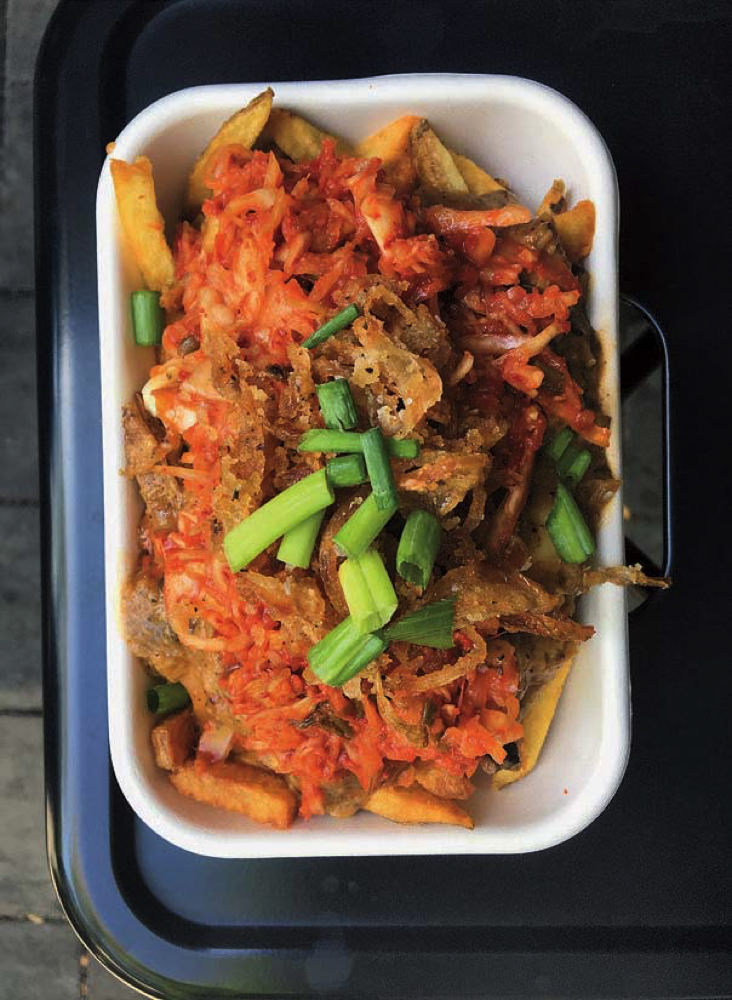 Poutine with kimchi and scallions at the vegetarian restaurant Saus
Photograph courtesy of Saus
Remnant opened when Bow Market did, in mid 2018, and is now one of the 30-odd arts-oriented niche shops and food outlets that line the pentagonal, open-air courtyard. Tucked back from busy Somerville Avenue, the market occupies two levels: downstairs is food, like the vegetarian upstart Saus (try the poutine topped with shallots and kimchi) and JaJu (get the cabbage and mushroom pierogis), and upstairs are the small-scale retailers, most of whom are artists or designers selling their own creations.
The largest store, at just under 400 square feet, is We Thieves. Owner Sandra Rossi says that for a vintage-fashion store, "it was imperative to be in a location where I was ensured I'd have the right psychographic of my clientele: independents, creatives…people who appreciate the fringe, appreciate what is not expected or predictable." Her constantly changing inventory includes global fashion and goods by local designers; this season, Rossi highlights furs and glitzy festive garb, and is expanding her supply of "self-care, all-natural, hard-to-find" bath and beauty products. "Also, I had hoarded a lot of jewelry," she adds, "and items from estate sales—including a great collection of vintage Chanel earrings—so I am going to put all that out for the holidays."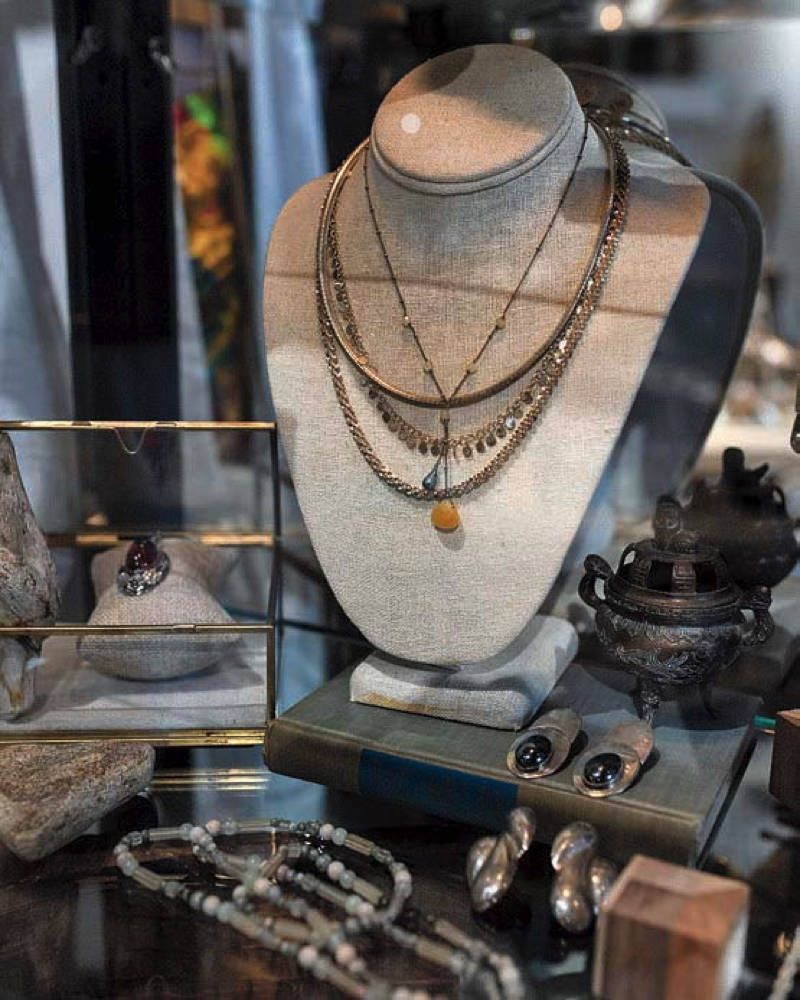 Vintage fashion at We Thieves 
Photograph by Ella Rinaldo
We Thieves' eclectic goods pair well with the Americana antiques, and wearables for men, found next door at Blue Bandana Relics (also a presence at SoWa in Boston). Down the way is Filomena Dimarco, a shop full of eye-catching jewelry with Southwestern flair, made by artist Ashley Vick; her pendants and bracelets look great with the bold, hand-crafted leather boots for sale at Adelante Shoe Co. Gifts and home goods are the focus at 9000 Things, where designer Ali Horeanopoulos sells her own rainbow-hued pendants and wall art, made from upcycled materials. Steps away, Homeslice features handmade graphic art, embroidered and crocheted goods, and plant hangers. At Make & Mend, embroiderer and owner Emily Tirella collects "gently used" art supplies—like paints and brushes, drawing tools, papers, yarns, and fabrics—which can be prohibitively expensive bought new. "People donate leftovers and supplies, and we sell it at reasonable prices," she says (see how to donate at makeandmendsomerville.com), and even though she doesn't offer classes in the small place, she urges everyone to stop in, get inspired—and to "just start making things" on their own.
 "It's a really good community with a lot of people who are just starting out—so we're all kind of in it together," reports We Thieves' Rossi. The vendors all tend to help plan and put on events throughout the year, and, essentially, cross-pollinate a growing, like-minded customer base. Remnant's Lajoie, for example, organizes market events, from courtyard yoga and movie or trivia nights to block parties and a pot-luck dinner co-hosted with the Somerville Public Library. "We do get a wide demographic of patrons," she says, "from student groups or work-from-home types during the day, to larger friend groups, writing workshops…a good variety of [people] of all ages and colors finding comfort in our space."
The emphasis is clearly on the arts—and artisanal food.All purchases support the work of these young artists and entrepreneurs, and the courtyard space, which is open to the public, whether patronizing the restaurants or not.
"The market's popped up pretty quickly, and it's already a gathering place," says Eiden Spilker, kitchen manager of the In Season Food Shop, where everything, from toffee-dipped potato chips and basil-infused soda to noodles and coffee, is produced in New England or New York. Its café also serves wholesome smoothies, grain bowls, and soups. Like many who work at Bow Market, Spilker is also engaged in the arts; he's a musician and appreciates the inspiring connections fostered by and within the market community. On the second level, he points out, is Vinyl Index, home to one of the best collections of new and used records around; it's co-owned by revered local DJ George "7L" Andrinopoulos. Next door, in the storefront production studio and tech shop Union Sound, beat performers and music-lovers crowd inside for events, or check out equipment and clothing, or take workshops. Spilker says Bow Market is a "cool place because there are really creative people—artists, painters, and musicians"—working and learning in close quarters.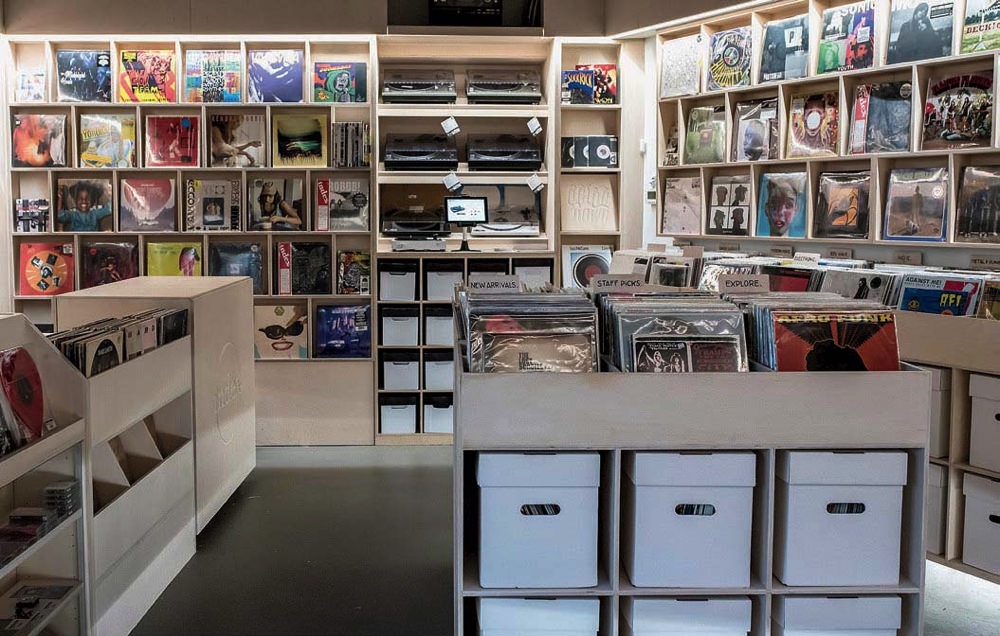 Vinyl Index has one of the best curated record selections around.


That's all by design. In developing the small, manageable retail spaces—with relatively affordable rents and short leases—Bow Market's creators have intentionally fostered those synergistic energies, and aim to support the riskier, homegrown products and ventures. "Our goal is to make sure that this is always a positive step for a business," says co-owner Zachary Baum, "whether they start here and graduate to larger space, or they figure out something about their business or model that they couldn't have without moving into a brick-and-mortar space." Baum is part of the trio—with Matthew Boyes-Watson and his father, Mark Boyes-Watson, an architect with a long-time office in Union Square—who bought and began transforming the former storage building in 2017. "We do expect," he adds, "that some of our businesses are not ultimately going to work out, for one reason or another." That's an understandable aspect of any worthy enterprising process.
Baum holds political science and theory degrees from Tufts and the London School of Economics, and met the younger Boyes-Watson, who was at work turning a graffiti haven in Central Square into a pop-up market, through mutual friends. They shared "a sense of the importance of small-scale retail to urban life," Baum reports, "and really connected around that similar love of wanting to see these kinds of businesses thrive."
The Bow Market space, which abuts the rear of Mark Boyes-Watson's office, consisted of garage bays on the ground floor and a second level of warehouse-like rooms—all of which faced a worn asphalt lot. The trio looked past these homely conditions and were instead inspired by the property's potential as a public-focused, urban-renewal architectural project. Rather than roof over the entire structure, framing in generic interior retail space and sectioning out other units based on development-industry commercial formulas, they took a different approach. Three mantras guided the design process:
Don't mess it up: "We have a really great space!" Baum explains. "Even though it was a little bit dingy and paved and the building had these strange brown/tan cinder-like blocks—it had this incredible view of the open sky."
Maintain a really human scale: The numerous tiny storefronts, accessed by an outdoor walkway that rims the courtyard, arcade-style, enable shoppers to dip in and out of stores while still staying in touch with the courtyard action below. "It's not so crowded that it's chaotic between the shops, and each owner can map their individual personalities onto the space," according to Baum. "The whole space feels large, but also intimate. In the courtyard, for instance, you're not listening to other peoples' conversations, but you're also not alone."
Cheap and cheerful: For reasons related to aesthetics, affordability, and practicalities, they kept the industrial materials and resulting architectural tone of the storage facility. And because all the walkways and columns are galvanized steel, they never need to be painted. Ditto the granite blocks in the courtyard that serve as seating, and also help divide the space geometrically and visually into varying planes. That granite, in line with the project's sustainability goals, was left over from recent renovations of the Longfellow Bridge. And, Baum adds, the vertical post in the center of the courtyard was originally used to hold the trolley wires overhead when the Red Line was not powered by third rail.
The trio also lined the courtyard with simple gray pavers, installed corrugated tin roofs over part of the second-floor walkway, and planted trees and vines. The look and feel of Bow Market suit the distinctly un-fancy tenor of Union Square—which has, so far, avoided the homogenization of chain stores and other similar influences.
Working with city officials, and the Somerville Arts Council, has helped Bow Market ensure a balance of interests is met. A council venture, Nibble, has even leased market space that features chefs and cuisine from local immigrant communities. In August, Create Boston—a festival project by chef Louis DiBiccari that spotlights local chefs, mixologists, visual artists, and musicians—moved in and opened its first permanent venue, CREATE Gallery & Cocktail Lounge. "We're excited about this," Baum says, "because it brings in another new connection to the art—and especially the bar and food—worlds."
As Bow Market moves into its second winter season, check bowmarketsomerville.com for special events, pop-ups, and gatherings being planned—even for the courtyard, where the chairs and tables will stay put. As a native Northeasterner, Baum relishes being comfortable outside in the winter—"it feels good to be hardy." He believes that, given the opportunity to be in a lively space where things are happening, people will spend more time outside, as they do in Europe and Canada at popular winter festivals. Heat lamps, and maybe blankets, will help. "We've also tested out igloos for folks who want a little more of a windscreen," he adds. "But our biggest thing is to decorate the heck out of this place, making it feel really festive—and unique."