Montage
Comedy Is Magic
For Harrison Greenbaum, it began with "Pick a card…."
Harrison Greenbaum was five when his father pulled out a deck of cards and told him to pick one. Greenbaum did, and then watched his dad riffle the rest of the deck beside his own ear, saying the cards would tell him which one his son had chosen. With a flourish, his father named the card. Greenbaum doesn't remember what it was, just that his father got it right.
"But he wouldn't tell me how he did it," says Greenbaum '08, now a comedian and magician. And that's when the fixation took root. "I became super serious about trying to figure out how this trick worked. I used to go to the library and check out magic books. And we'd go to magic stores in New York" from the family home in Long Island. "Those are some of my favorite memories." He started attending magic camp every summer and discovered a whole world of other weird kids as nerdy and magic-obsessed as he was. By the time he solved his father's trick—he says now it was probably the only one his father knew—Greenbaum's fascination was deep and wide.
Magic led him to comedy. As a freshman, he joined the Harvard Magic Society ("It had, like, three members—I very quickly became president") and started spending Tuesday nights at the Mystery Lounge, a weekly magic show held above the Hong Kong Restaurant in Harvard Square. "My apprenticeship," he calls it. The magic show was hosted by the stage's main tenant: the Comedy Studio. "So that started rattling around in my head, the idea of stand-up." Later that same year, he tried it out, performing a few jokes in a student-organized campus show.
He was hooked immediately. Partly it was the adrenaline: "Doing stand-up is like jumping out of a plane without a parachute," he says, "and you hope you can build a parachute while you're falling." Partly it was the stripped-down purity: "That's what makes it almost a blood sport. You remove so much, until it's just you and a microphone. It's very raw and visceral—you feel everything." But even more exciting was the freedom. He was used to performing magic in a blazer and khakis. In stand-up, the dress code, and the expectations, were wide open.
He spent his college summers in New York City, working an internship at MAD—"comedy boot camp"—and barking comedy-club customers in off the street in exchange for a little stage time. Back on campus, he helped found the Harvard College Stand Up Comic Society (HCSUCS; "To Harvard's credit," he says, "once they figured out the acronym, they never made us change it") and wrote a prize-winning senior thesis on the effect of racial humor on prejudice. After graduation, his parents implored him to take the LSAT, but instead he leapt into performing full time. He moved to New York and gave himself two years to make it work.
Eleven years later, "work" is the operative term. Greenbaum performs more than 600 shows a year, locally and internationally, headlining at places like Carolines on Broadway and the Comedy Cellar. In 2010, he won the Andy Kauffman Award, given to promising comics doing unconventional material. In 2015, he reached the semi-finals on Last Comic Standing and later appeared on America's Got Talent and Conan. More recently, he created a Web series for the United States Tour Operators Association, called Recalculating. It's kind of a video travelogue with a quirky comic touch: Greenbaum samples Aztec mosquito-egg pancakes in Mexico City, drives a dogsled outside Vancouver, eats fire at a Coney Island sideshow, and rappels down a wall in Slovenia in search of aquatic salamanders said to be the offspring of dragons. "My career has been a bunch of random, crazy jobs," he says. "I like to say yes as much as I can."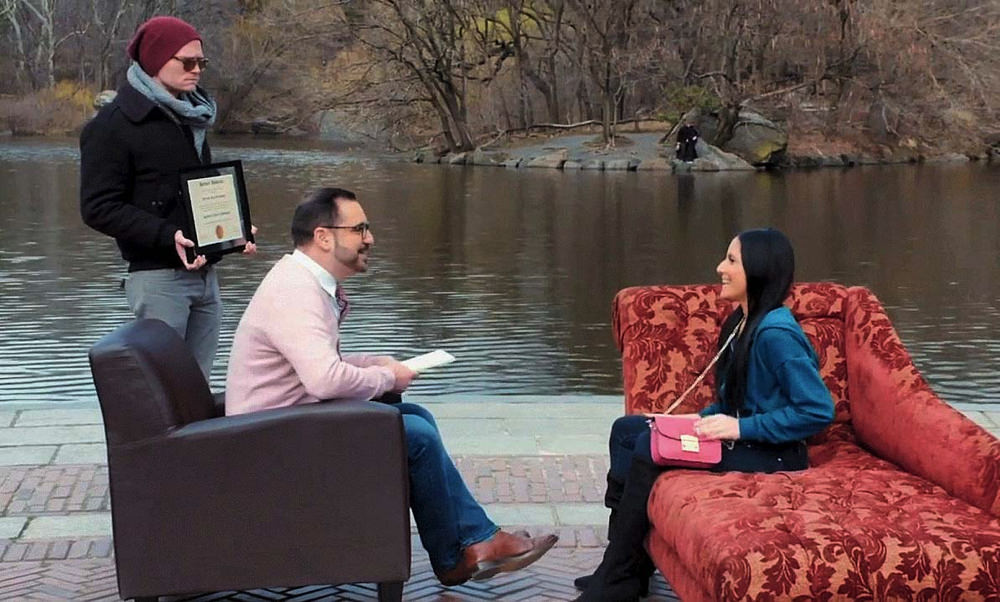 Last August, he debuted What's Your Problem? a series of improvisational Facebook videos in which he plays a "comedian therapist" to unsuspecting passersby. Dressed in a cardigan, and trailed by a small entourage carrying an upholstered couch and a framed diploma, Greenbaum, who graduated summa cum laude in psychology, stops New Yorkers on the street and invites them to sit and talk (and joke) about their money woes and dating quandaries and, in at least one case, "a cat issue." Each "session" ends with a hug and a hastily written, mostly preposterous prescription.
That's how Greenbaum comes across in his stand-up routines, too: easy, relaxed, full of gentle bemusement. He takes obvious, disarming delight in bantering with the audience, including (maybe especially) hecklers. Partly that's a comedian hitting his stride after years of practice and study; he recently gave an interview to a comedy podcast that amounted to a two-hour master class on joke structure. But it's also the fact that his jokes—observational, narrative, sometimes playfully political—often arise, he says, from a feeling of love. "For a lot of comedians, the motivating emotion is anger, but for me it's more like, 'Isn't this amazing? Isn't this insane? Let me show you.'" One of his battle-tested jokes is about Roy Sullivan, a park ranger who set the world record for surviving the most lightning strikes: seven times, between 1942 and 1977. Greenbaum ambles around inside the joke for several minutes, building digressions, unearthing absurdities, detonating little moments of surprise, before finding his way back for the final flourish.
His favorite project right now is a comedy-magic show he's been developing for the past 10 years and recently began touring: Harrison Greenbaum's What Just Happened? It combines the rhythm of stand-up—a laugh every 10 or 20 seconds—with the suspense of a magic show, weaving in original tricks that connect to the jokes. The show bears out a conviction Greenbaum often preaches when he speaks at magic conventions: tricks, like stand-up jokes, should start with an idea. "Comedians come up with an idea first, and then figure out a funny way to say it," he says. "In magic, a lot of people go out and buy a trick and just jam it into their act." But if magic is an art form—and Greenbaum believes it is—then its practitioners, he says, should strive for originality and self-expression, should be willing to push the envelope in ways that feel political or personal. "When I give lectures on magic, I always encourage people to break stuff. 'Just break stuff and see what happens. You'll figure out how to put it back together.'" After all, it's magic.