Staff Pick
Atwood's Tavern
every monday night, an infectious, foot-stomping—and free—bluegrass show goes live at Atwood's Tavern in East Cambridge, one of the only bars in Greater Boston devoted to American roots and folk music.
"There are only two places where you can see bluegrass: at festivals and at bars like this," veteran Boston-area banjoist Eric Royer, a regular performer at Atwood's Mondays, told the crowd on a recent night. Royer and another local favorite, the multi-instrumentalist and singer Sean Staples, are frequent performers, but fans of the art form will also find a rotating cast of bluegrass musicians belting out classics and original songs. Newcomers are warmly welcomed: even those who know nothing of the genre can easily hum along with lyrical, crowd-pleasing tunes like "Little Liza Jane" and "Long Black Veil."
The bar's lineup encompasses Americana and jug bands, too—along with an eclectic mix of folk musicians. The ethereal singer-songwriter Pieta Brown and Boston-based rock/blues artist Danielle Miraglia, among others, take the stage in March and April. Some matinee and Sunday shows, like those by the wry-humored, orange-electric-guitar-wielding Matt Heaton, are geared to kids and families. These homey events lend a community, Irish-pub feel to the place.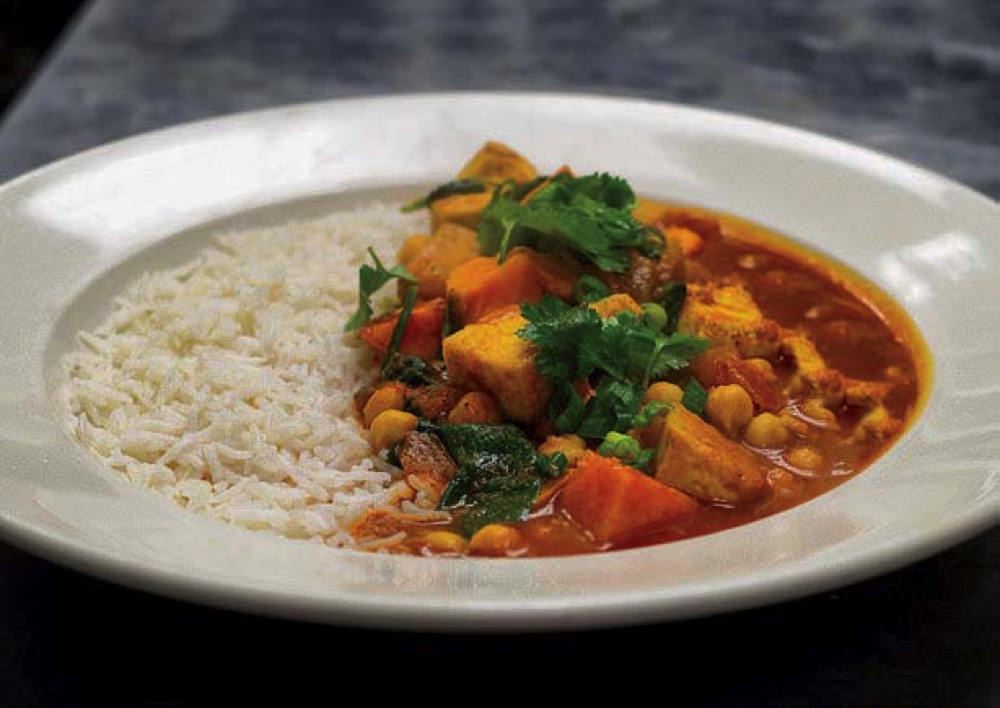 Photograph courtesy of Atwood's Tavern
Atwood's is an ideal spot for a unique dinner date or a meet-up to enjoy drinks and music with friends, thanks to the extensive whiskey menu that matches its bluegrass mood, and moderately priced dishes with options for every palate. Try the Bantam Rojo, a tart cider made with sour cherries and black peppercorns, from the Somerville-based Bantam Cider Company, with the tofu tikka masala, a delicious take on the Indian dish, featuring crispy tofu and sweet potatoes. The grainy, house-made dill hummus with warm pita makes for a perfect start, while the oat and black-bean burger with guacamole is a heartier entrée option. A dusting of cornstarch makes the sweet potato fries perfectly crisp, with none of the mushy sweetness that has given the dish a bad name.
Only a handful of tables frame the stage in the rear of the small space, with additional seating along the bar and at adjacent tables. (If the early spring weather's right, the seating on the cozy, communal-style patio fills quickly.) "A pretty loyal following of 20-ish regulars will come in every Monday," says manager Alex Sirigu, but "a table isn't too hard to find" by the time the music begins at 8:30. The barely elevated stage and brick and wood-paneled walls add to the feeling of intimacy. Audience members almost become participants in the performance; bartender Liam Davenport playfully heckles the musicians. These days, Eric Royer said, bluegrass is reaching broader, younger audiences beyond its Appalachian roots because listeners crave these small, acoustic shows: "It's almost like a reaction to a lot of technological stuff that we're experiencing now."
"The beautiful thing about this music is it's not really...designed to be put on a stage," Staples added. "It's designed to be an inclusive kind of music—to be in small rooms like this."