Tastes and Tables
Returning to Celebrate, and Eat
Restaurants, new and old, for families and friends to enjoy when back on campus
Photograph by Wayne E. Chinnock/Courtesy of Talulla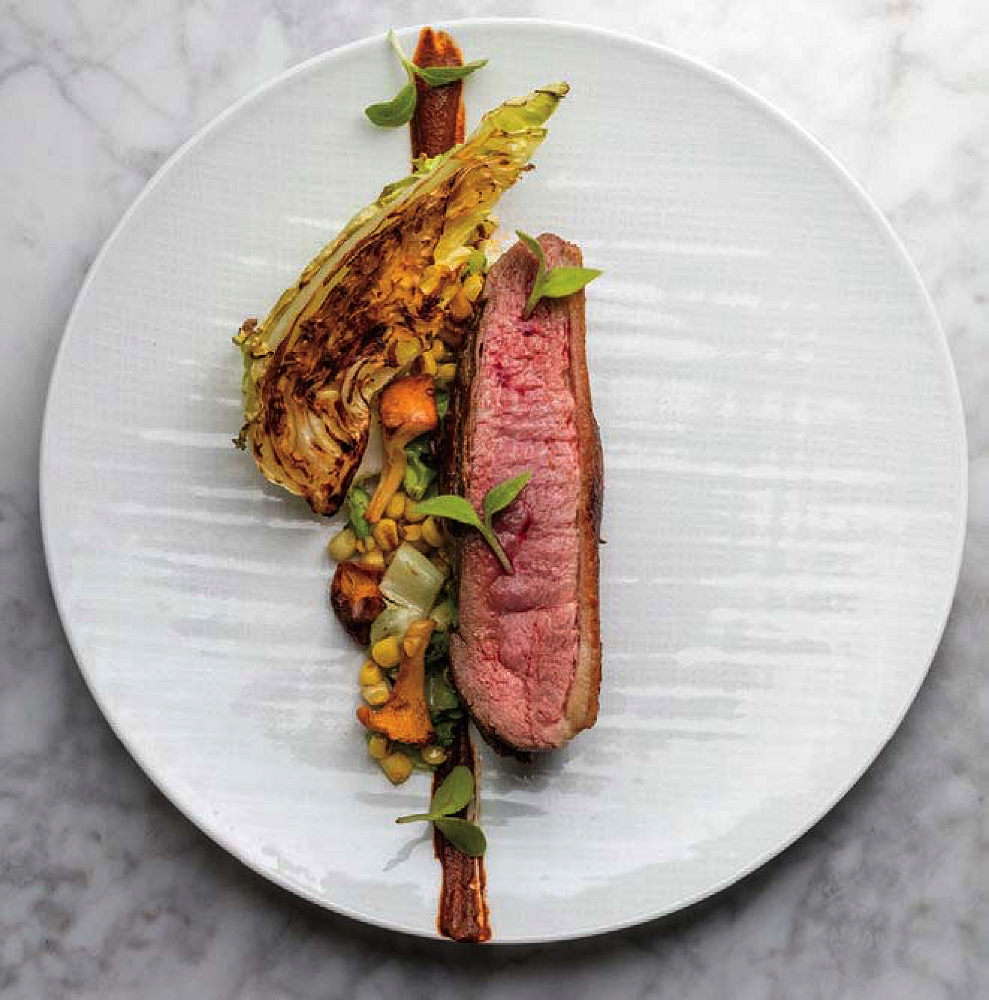 Photograph by Wayne E. Chinnock/Courtesy of Talulla
Though Commencement Week has been postponed, there will come a time when alumni can once again gather on campus for past-due celebrations. It's nice, then, that Boston and Cambridge are home to many restaurants that make great places to gather and eat—all a relatively short trip from campus. From experimental American to classic French, the numerous options mean everyone can find someplace special.
Approaching Talulla, in Cambridge's Observatory Hill section, you might wonder if you've received defective directions: the intimate, white-tablecloth restaurant shares an entrance with the nylon-caped Monica's Hair Salon. But the dining room's refined yet relaxed atmosphere puts you immediately at ease. Pictures of the two owners and their young daughter—the restaurant's eponym—line the walls, and the warmly lit 28-seat dining room with a view of the kitchen makes it feel as though you're being treated to a comforting meal at the home of a family friend. And the food shines.
For starters, try the strikingly fresh, refreshingly twangy Hamachi Crudo ($18), garnished with miso-pickled vegetables or the rich, but delicate, turnip soup with fresh scallops and cocoa nibs ($17). For mains, the chestnut agnolotti ($27)—perfectly al dente pasta with a sweet, delicate filling—delights. As does the "Rohan Duck" ($34), which hits in waves of flavor, starting with a crisp umami char and finishing with a juicy sweetness provided by the rye berries, carrots, and shallot confit. The simply titled "Chocolate" ($13) off the dessert menu (a sampling of dulce de leche, chili crémeux, chocolate cake, and Mexican chocolate ice cream) is rich and varied enough for two. The real pleasure of Talulla lies in the details: homemade sourdough bread, tiny post-meal cookies, and a slew of fresh ingredients. A $60 three-course prix-fixe menu is more than plenty for one, and those looking for more can try a seven-course tasting menu for $115, with wine pairings available for each.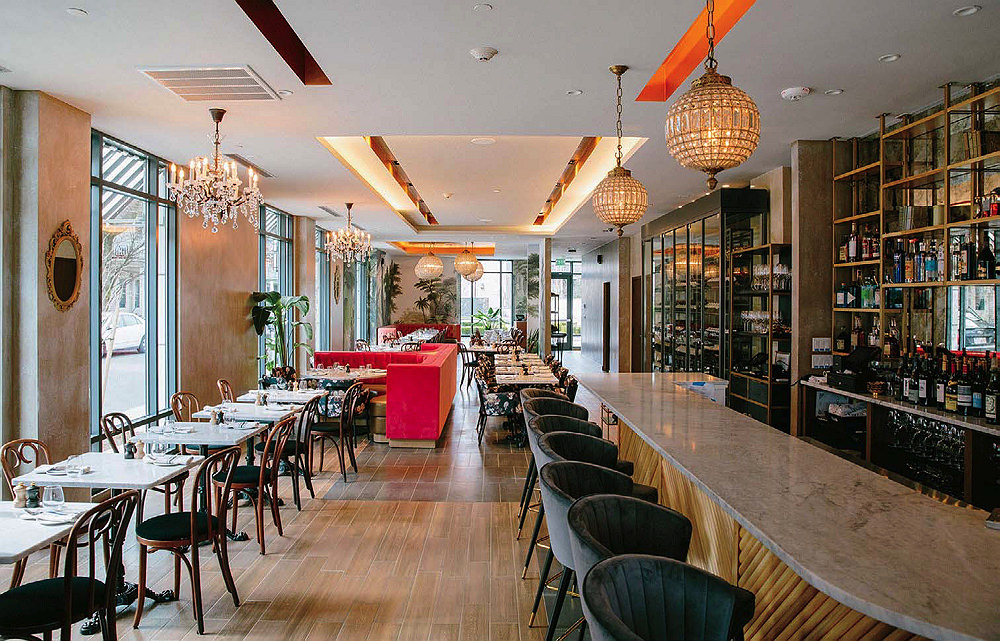 Colette Wine Bistro's airy, stylish interior
Photograph by Brian Samuels/Courtesy of Colette Wine Bistro
Not far away, the relatively new Colette Wine Bistro—located in the Porter Square Hotel—serves as an excellent stop for a French breakfast, brunch, lunch, or dinner. The lustrous interior retains a vintage feel, with natural light shining in through floor-to-ceiling glass windows. The food shares the same experimental-but-familiar ethos seen at Talulla, with modern takes on classics like steak frites ($32) and chicken leg coq au vin ($25) for dinner, or lighter options like the sweet potato and mushroom risotto ($23) or fennel-braised haddock with roasted butternut squash and blood orange-hibiscus cream ($23). Weekend brunch is also quite popular, with the weightier "Chef Cyrille's Duck Waffle" ($16)—it's filled with duck confit—sharing menu space with fish, charcuterie, and zesty cocktails.
A short walk down Massachusetts Avenue, Ittoku is a semi-hidden gem nestled in the downstairs food court of Lesley University's Porter Exchange building, which brims with delicious and relatively inexpensive Asian restaurants. At Ittoku, order small plates, like beef tongue ($14.50), and crunchy, gooey crab croquette ($12), or opt for sushi combos and udon specials that impress fans of Japanese cuisine and the pickiest of eaters. Guests can treat themselves to a peek at the restaurant's TV screen, which shows the kitchen chefs hard at work. Although it's a bit more casual than Talulla and Colette, Ittoku's food merits a trip.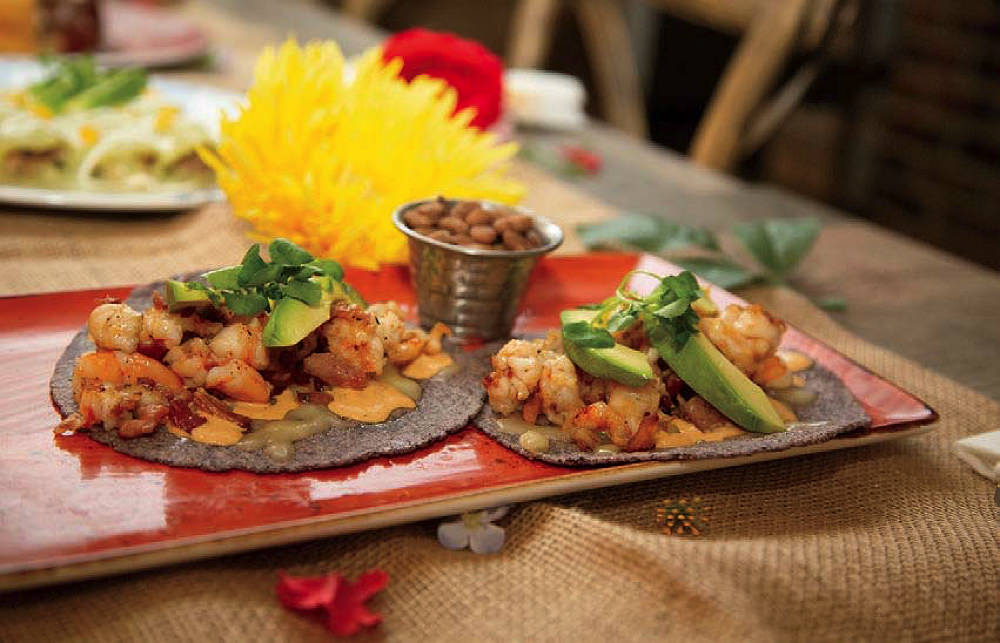 Shrimp tacos from Corazón de Frida
Photograph courtesy of Corazón de Frida
Head to Inman Square newcomer Corazón de Frida Mexican Cantina for an array of sumptuous, traditional Mexican dishes. The place is also packed with decorative art, large and small, including a cluster of nine colorful portraits and a massive painted mural of Frida Kahlo (who serves as the inspiration for the restaurant, and for the "authentic and patriot pride" it is meant to evoke). Start with fresh guacamole (market price), which is not only homemade, but prepared right at your table—a cheery touch. Note: portions are massive, and the food generally falls on the heavier side. Look for unique items like the chipotle lobster burrito (market price), filled with creamy lobster, shrimp, and mango pico, but don't feel guilty about going with the classics, like the tender, smoky carne asada ($23) or the juicy poblano veggie fajitas, stuffed with zucchini, corn, mushrooms, onions, and peppers ($21). Or the margaritas, either.
Around the corner, Oleana, a longtime Cambridge favorite, provides gourmet Turkish and Middle Eastern food with locally sourced meats and fish, artisanal wines, and produce from the owner's Siena Farm. The award-winning restaurant, with indoor and outdoor seating, has a moderate-sized menu filled with dishes that draw inspiration from chef/owner Ana Sortun's travels. Frequent guests especially recommend the "Warm Buttered Hummus" ($6) and moussaka ($15) from the "Hot Meze" section, along with the baked Alaska ($15) with coconut cream and passion-fruit caramel. The lemon chicken ($27) and lamb and grape leaf Sarma ($29) are also popular. Speaking of which, Sarma, a related Sortun restaurant in Somerville, has a more open, slightly more casual feel, and dishes out similarly high-quality Mediterranean plates, often to a convivial, later-night dining crowd.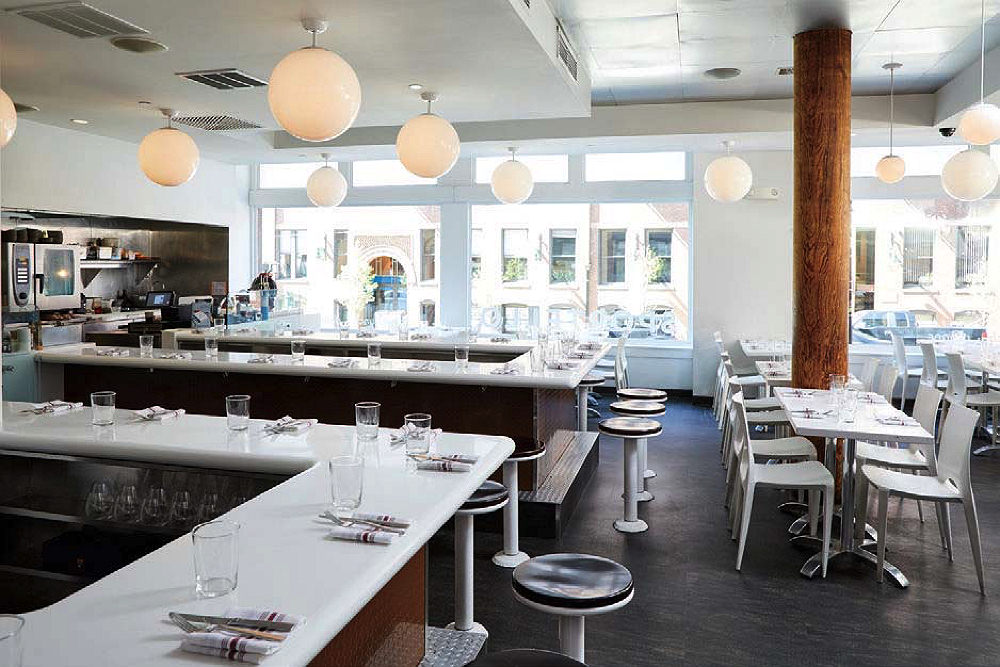 The spare look at Sportello
Photograph by Pat Piasecki/Courtesy of Sportello
Those venturing into Boston will find that Sportello—a sleek, brightly lit trattoria-inspired spot in the Fort Point Channel District (convenient for anyone arriving at nearby South Station)—is a great place for a small gathering over homemade pastas and creative, locally sourced entrées. The melt-in-your-mouth potato gnocchi ($28) with lobster, mushroom ragu, and peas, is a favorite, and all food can be paired with wines selected from across Italy. A prix-fixe lunch menu (two courses for $32, three for $37) or a three-course family-style dinner ($55 per person, with wine pairings for an additional $35) are pricey, but much praised.
For someone seeking a beautiful view of Boston Harbor, the newly opened Woods Hill Pier 4, has that—along with myriad homemade pastas, fresh vegetables, and seafood. Located beside the Institute for Contemporary Art (well worth a pre-dinner visit), the 186-seat glass-walled restaurant touts its local sourcing and offers complex dishes meant for sharing, like the squid ink casarecce ($19) with lobster and crab ragu, and confit tomatoes. The restaurant's 50-person patio area also makes a perfect late-spring hangout.
Farther from the ocean, but with a lively all-around view of Tremont Street, MIDA, an Italian spot in the South End, has dimmer lighting and lots of seating for a narrow dining room—creating a buzzing, upbeat dining atmosphere. The waiter was quick to recommend the delicate, buttery lobster scampi with linguine, fresh basil, and mascarpone ($24)—and happily offered complimentary homemade focaccia (normally $7) when the kitchen ran out of sourdough bread. With friendly service, select house wines, and the creamy tiramisu ($10), topped by freshly brewed espresso, MIDA invites lingering.
For rich, classic French fare, try another South End haunt, Bar Lyon, known for its subtle elegance and warmth, both culinary and otherwise. The crisp and tender duck confit appetizer (single $15.95, double $31.95) is popular, as are the light market greens ($9.95): pickled beech mushrooms and shaved radishes with a Dijon and herb vinaigrette. "Le Burger" ($21.95), featuring pork belly, mushroom duxelles, a farm egg, and dry-aged beef is intense in flavor, and plentiful in fat; some diners claim it's the top burger in Boston. Mistral, a short walk away, spotlights French-Mediterranean cuisine at a higher price point, in a chic, airy, multi-pillared dining room, detailed with French pottery and arched floor-to-ceiling windows.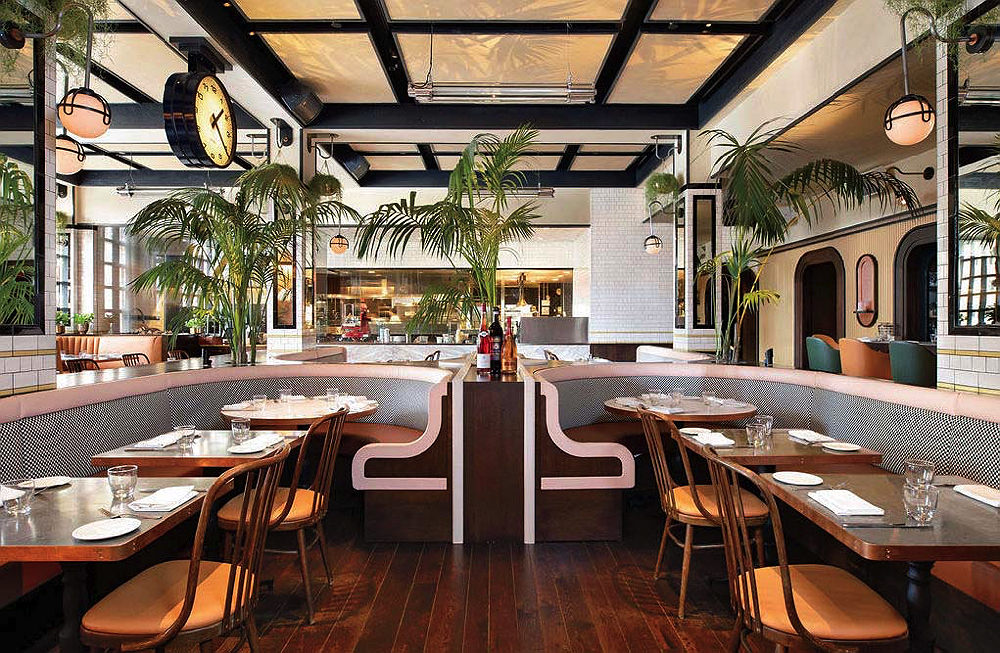 Among Rochambeau's many mod dining spots
Photograph courtesy of Rochambeau
Closer to the Charles River, in Boston's Back Bay, is Rochambeau, a spacious, buzzing spot for French-styled food at any time of day. The multi-level restaurant boasts two bars, two dining rooms, an outdoor patio, and a café. Small and intimate it is not, but that's not a problem. The coq au vin ($25) and roasted half-duck à l'orange ($33) are comforting favorites, as is the traditional French onion soup gratinée ($12). With its plethora of dining environments and loaded menus, there's a vibe—and a dish—for everyone.
Whenever you find yourself back in the Greater Boston area, restaurants—old and new, fancy or familiar—beckon. We hope you enjoy.