News
Harvard College to Accommodate 40 Percent of Students Each Semester
7.6.20
From left: Lawrence S. Bacow, Claudine Gay, and Rakesh Khurana
Photographs courtesy of Harvard Public Affairs and Communications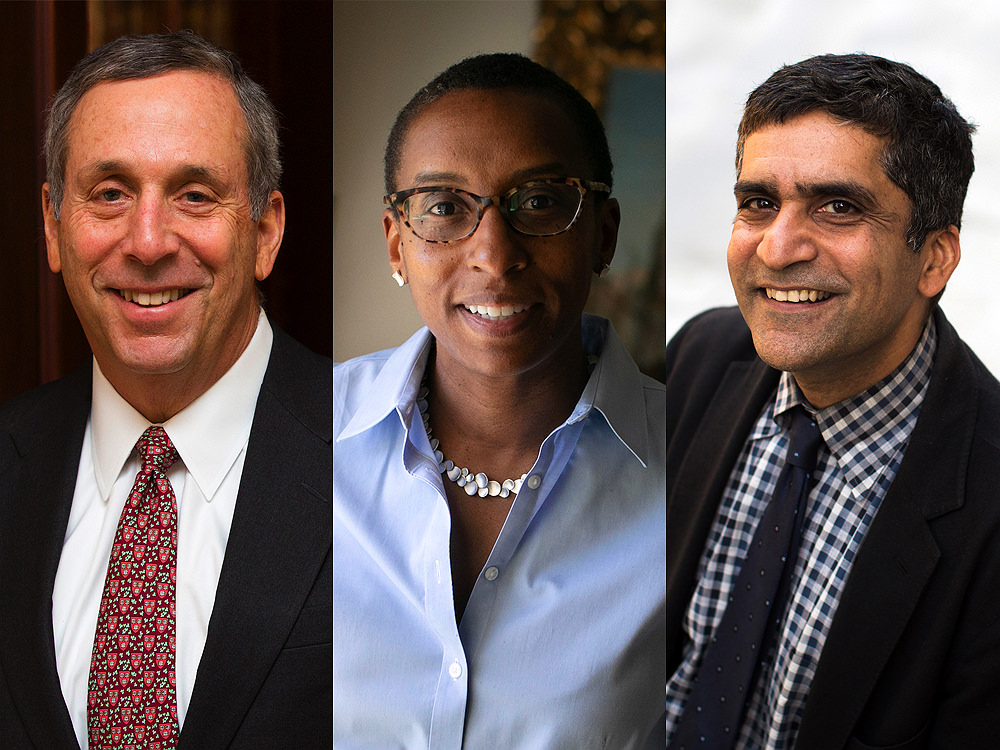 From left: Lawrence S. Bacow, Claudine Gay, and Rakesh Khurana
Photographs courtesy of Harvard Public Affairs and Communications
About 40 percent of Harvard undergraduates—entering first-year students, and those who cannot learn successfully in their current home environment—will be permitted to be in residence for the fall semester, effecting a sharply de-densified experience during the continuing coronavirus pandemic. They, and their College peers who will not be in Cambridge, will learn remotely, to provide equitable access to the educational experience (while avoiding the problems that would be caused by gathering students and teachers together entering, during, and exiting classes). Assuming similar density in the spring semester, unless public-health conditions improve or worsen, seniors would be given priority for residence, with first-year students returning home to learn remotely for their second term.
[This report is updated July 7, 2020, 9:50 a.m. to cover Princeton's reopening plan and tuition reduction, and Harvard College's introduction of course preregistration; see details below. Further updated July 7, 2020, 3:00 p.m., to report the fall plans of MIT and Brown; see below.]
Those present will be subjected to strict community standards concerning virus testing every three days, face-masking, social distancing, and other measures to minimize opportunities to spread infection, all spelled out in an undergraduate "Social Compact"—suggesting a residential experience unlike any from the past. For example (emphasis added). "For student safety and the health of others, virtual socializing is encouraged and should be the first option for social contact. At this time, Harvard College will not be sponsoring or permitting any in-person programs or events, either off-campus or on-campus, in the fall. Most facilities such as common rooms, gyms, and large gathering spaces will not be open. All members of the community are expected to follow guidance set forth by Harvard limiting social gatherings." 
These details, and others concerning the altered semester calendar, the unchanged cost of attendance, and the likely impact on athletics (an Ivy League announcement is expected July 8) were disclosed this morning in a letter from President Lawrence S. Bacow, Claudine Gay, dean of the Faculty of Arts and Sciences (which includes the College, the Graduate School of Arts and Sciences [GSAS] and the School of Engineering and Applied Sciences (SEAS]), and Harvard College dean Rakesh Khurana.
Harvard's decisions follow those announced by several peer colleges, and adopt similar courses of action (reflecting common challenges of conducting residential education during the COVID-19 crisis), adapted for local Boston-area circumstances, which notably include:
the dense, urban setting (contrasted with those of, say, Cornell and Dartmouth)—and one which was an early, intense epicenter for coronavirus infections and deaths;
the resulting cautious state and local policies governing reopening of public places;
the nearly universal housing of Harvard undergraduates on campus (compared with the quite large percentage of Yale juniors and seniors, for example, who live off-campus)—constraining options to accommodate students safely within the Houses and Harvard Yard; and
the reliance of faculty and staff members on a dense, old public transportation system for a significant share of daily commutes to work (again contrasted with more rural institutions).
Gay had signaled on June 15 that the College was considering a spectrum of residential options ranging from "minimal density" (about 600 undergraduates, or 10 percent, in residence) to "moderate density" (2,000 to 2,500 in residence) to "full density" (everyone permitted to enroll residentially)—the latter subject to placing about 30 percent of matriculants in local apartments or hotels (to effect necessary distancing in housing arrangements). Under any scenario, students were told to expect frequent virus testing and tracing; masking and social-distancing; "contactless" dining; and predominantly remote instruction.
The logistical difficulties of the full-density option; the resurgence of coronavirus infections around the country in the intervening three weeks; and the high hurdles facing international students seeking to travel to the United States for the fall term made a minimal- or moderate-density option seem more likely. The Harvard Crimson reported on June 27 that members of an undergraduate focus group were asked about options framed by a moderate-density residential experience this fall, lending support to the handicapping.
This report:
reviews the details about the fall semester unveiled today;
summarizes the status of other Harvard schools' fall plans, previously announced; and
provides highlights on other peer institutions' fall plans.
The three leaders' full message appears at the end.           
A Fall Unlike Any Other
In their letter this morning, Bacow, Gay, and Khurana wrote:
After careful deliberation, and informed by extensive input from our community, we write today to announce our plans to bring up to 40% of our undergraduates to campus, including all first-year students, for the fall semester. Assuming that we maintain 40% density in the spring semester, we would again bring back one class, and our priority at this time is to bring seniors to campus. Under this plan, first years would return home and learn remotely in the spring. We also will invite back to campus those students who may not be able to learn successfully in their current home learning environment.

In making this consequential decision, we have been guided by the same core principles we established at the outset of this crisis: to put health and safety first, protect the academic enterprise, leverage our breadth and diversity, and preserve access and affordability. Some of the attributes that we most value about our campus are exactly the things that make adaptation to pandemic conditions particularly challenging. Our bustling urban environment, the ease of grabbing the T into Boston, our intergenerational residential communities that house 98% of our undergraduates, our global research community of students, faculty, staff, postdocs, and visitors from around the world—Harvard was built for connection, not isolation. Without a vaccine or effective clinical treatments for the virus, we know that no choice that reopens the campus is without risk. That said, we have worked closely with leading epidemiologists and medical experts to define an approach that we believe will protect the health and safety of our community, while also protecting our academic enterprise and providing students with the conditions they need to be successful academically.
Nodding toward "The recent upturn in COVID-19 cases in certain states" and the resulting uncertainties, they determined that 
[O]ur fall plan must enable us to bring back as many students as possible while providing sufficient margin to accommodate an escalation in the prevalence of COVID-19 in our area. Anything less and we could find ourselves again facing the prospect of asking our students to leave, on short notice, prior to the end of the semester. Given the constraints imposed by our existing housing inventory, we have made a decision that enables up to 40% of undergraduate students to learn from campus in appropriate accommodations, while retaining the ability to isolate and quarantine up to 250 individuals at a time. Absent an effective vaccine or clinical therapy, this reduced density, together with a high-cadence viral testing program and universal adoption of public health practices such as face masks and frequent handwashing, is needed to safely host a significant number of undergraduates on campus. This finding is supported by extensive modeling by our public health experts.
Enabling matriculating freshmen to be in residence helps them make the transition to Harvard and to College learning. "Though we are far from a decision about spring," the leaders continue, "making sure that seniors have their final semester on campus, to complete their thesis work and complete their four-year journey, is a priority we hold dear." Sophomores and juniors are invited to attend summer school in Cambridge in 2021 free of tuition charges. 
To effect the plan:
All learning will be delivered online.
The semester will begin as scheduled on September 2, with the instructional day extended to accommodate teaching across time zones. Regular grading will be in place.
Upper-class students who anticipate difficulties in progressing academically in their home environments may apply by July 13 to be in residence.
Students in residence will be distributed across first-year dorms and some of the Houses; they will live in single bedrooms with a shared bathroom. Access to campus will be otherwise restricted.
Residence will end by November 22, with reading period and examinations conducted from home. (Many institutions are adopting this schedule change to eliminate infection risks from students traveling home for Thanksgiving and then returning to campus.)
The cost of attendance will not be adjusted for the changed educational circumstances. (Harvard announced a 4 percent increase in the term bill for the academic year, to $72,391; other institutions have held to their announced term bills, as well, with exceptions including Bowdoin, which froze its fees at the prior level, and Williams, which reduced its term bill 15 percent to reflect the loss of athletics and its winter session. Updated July 7, 2020, 9:50

a.m.

: Princeton will discount undergraduate tuition 10 percent for all students for the academic year, whether they are in residence for a semester or learning entirely remotely.) Harvard of course will not include room and board costs on the term bills of students living away from campus.
In advance of the July 8 Ivy League sports announcement, "we acknowledge that our medium density plan will necessarily place limits on what athletic activities are possible at Harvard this fall"—making the unusual semester an even more unusual debut for Erin McDermott, the new athletics director.
Updated July 7, 2020, 9:50 a.m.: One new wrinkle: students will preregister for courses during an online "shopping period" from August 17 to August 21; online resources will include syllabi and samples of instructors' teaching methods. Registration must be completed by August 26, classes begin September 2, and students can add or drop courses until October 5. This procedure differs from the established shopping week at the beginning of each semester: a scrum beloved by many students, but disliked by faculty members and administrators who say it makes early classes chaotic and scrambles room and teaching-fellow assignments. Room assignments do not matter during an academic year of remote teaching, of course, but according to FAS's explanation of the decision, this "early shopping" enables course lotteries before students worry about coursework; makes it possible for them to get necessary course materials no matter where they are located; and helps instructors adjust class schedules to accommodate students from multiple time zones. (As previously reported, an FAS committee on course registration is already contemplating a permanent adjustment in the shopping week and registration procedures; it is charged with making its recommendations for registration in 2022, or after.)
Elsewhere at Harvard
The Graduate School of Arts and Sciences does not have dormitory housing for most of its students, and thus differs significantly from the College. Each program (and the graduate parts of the engineering and applied sciences program) is therefore proceeding individually, determining—as laboratories have resumed opening during the summer, for instance—what research and teaching functions faculty members and their graduate students can perform, what facilities they need, what other resources are necessary (libraries, museums, collections, field work), what safety modifications and changes in procedure to institute, and so on. Thus, unlike the College announcement today, the GSAS is proceeding toward the fall mix of residential and remote operations on myriad fronts.
On June 3, these schools announced they would move to fully online (remote) instruction for the fall semester:
Harvard Divinity School
Harvard Graduate School of Design
Harvard Graduate School of Education (for the full 2020-2021 academic year; its master's-degree programs typically run for one year, not two or more)
Harvard T.H. Chan School of Public Health
Harvard Kennedy School
Harvard Law School
In addition, Harvard Medical School has previously announced that first-year instruction would be online, so that upper-level students can pursue their clinical and other learning.
Harvard Business School essentially plans to invite students to return to campus for a hybrid in-class and online/virtual learning experience. Students must advise the school by early August about their plans—either to study in residence or to proceed with remote instruction. Given the school's large international cohort (more than one-third of M.B.A. enrollees), getting to Allston may prove challenging, at best, for a significant number of new or second-year students.
On Other Campuses
Around the Ivy League, Yale announced on July 1 that it would "welcome graduate and professional school students and a portion of the undergraduate population back to campus for the fall semester. Nearly all Yale College courses will be taught remotely, so that all undergraduate students can enroll." Specifically (emphasis added):
For each semester in 2020-2021, three classes of students will be in residence. We encourage students who cannot return to campus to continue their Yale education remotely. For fall 2020, first-year students, juniors, and seniors will have the option to live in residential colleges and other campus housing. For spring 2021, sophomores, juniors, and seniors can choose to live on campus. This arrangement allows the university to decrease the undergraduate student population living in the colleges to about 60 percent of normal and lower the risk of spreading COVID-19.
As noted, Yale has a large cohort of students who choose to live off campus; thus, accommodating three classes per semester—taking into account those who do not opt for university housing, and perhaps international students or others who cannot or choose not to return during 2020-2021—reduces the campus population to an estimated 60 percent of the undergraduate population.
Despite its rural environs, Dartmouth revealed on June 29 that "we must reduce the number of student on our campus" and will resort to a shifts sort of schedule like Yale's (emphasis added):
We therefore plan to bring back to campus more than half of our undergraduates for the fall term and anticipate doing so for each subsequent term through the summer of 2021. This will give each student the opportunity to spend two terms enrolled on campus this academic year and to enroll via distance learning from home for one or both of the remaining two terms.

In the interest of class cohesion, the Class of 2024 will receive priority to be on campus as a residential cohort for the fall and spring terms and will enroll for an off-campus winter term. International students in the Class of 2024 who have difficulty securing a visa in time to begin the fall term will be permitted to enroll off-campus. Other undergraduates will be able to express their preferences for their two residential terms, with the understanding that the '23s will receive priority to be on campus for the 2021 summer term (along with the '22s who chose to defer their 2020 sophomore summer because of COVID-19). Members of the Class of 2022 will receive priority for the fall 2020 term and '21s for the spring 2021 term. We are committed to working with high-need students as we did in the spring and summer terms and will provide more information soon.
Updated July 7, 2020, 9:50 a.m.: Princeton, which released its plans for the academic year on July 6, will assure each undergraduate who is able to return to campus the opportunity to do so for at least one semester: first-year students and juniors in the fall, and sophomores and seniors in the spring.
Cornell has chosen another tack. Given the findings of campus scholars that students would be at lower risk of coronavirus-related illness and hospitalization at the Ithaca campus than studying remotely, from home, under less-well-controlled conditions, the university plans on resuming residential operations this fall (with appropriate testing, tracing, and social-distancing measures, of course).
At the other extreme, Bowdoin, the Maine liberal-arts college, will host only freshmen and transfer students this fall, plus those who cannot practicably learn at home, and a small number of seniors whose honors work cannot be conducted online: Harvard's plan. (If conditions permit, in the spring, it will open to seniors, juniors, and sophomores with first-year and transfer students studying remotely—a version of Yale's plan.)
MIT's plans, so far, look like Harvard College's: in a June 17 announcement, President L. Rafael Reif signaled an undergraduate population in residence "conceivably as high as 60 percent [of the student body], but likely much lower," and with predominant reliance on remote instruction.
Updated July 7, 2020, at 3:00 p.m. (MIT and Brown): MIT announced today that it would allow back to campus this fall only seniors, who need to complete research projects and theses to graduate, and a small number of students who cannot work safely and productively from home. Its statement read, in part:
Keeping the whole community safe will require that everyone living or working on campus be tested for the virus as often as twice a week, that each undergraduate living on campus has a private room and that the overall campus population – students, faculty, postdocs and staff – be kept far below our normal levels. Those constraints mean that we can invite back only a limited number of undergraduates for the Fall term.

We are inviting back two groups: 
Rising seniors, because they have the least flexibility to satisfy degree requirements and because being on campus is especially important for essential work in their programs, from capstone subjects to lab research and theses.

And a relatively small fraction of other students whose circumstances require special consideration in terms of their safety, living conditions, visa status or other hardship. We will announce the process to be considered for this second category soon.
If possible, MIT hopes to offer first-year, sophomore, and junior students the opportunity to be in residence during the spring—but with seniors no longer present. MIT also eliminated its tuition increase announced last spring.
Brown's president, Christina H. Paxson, announced that that University will pursue a three-term academic calendar (rather than semesters), with each undergraduate in residence two of the three, 14-week terms, as follows: "[J]uniors and seniors will attend during the fall and spring terms, and first-year students will attend during the spring and summer terms. Sophomores will attend fall-spring but could be shifted in full or in part to fall- summer if public health conditions worsen over the course of the fall." Given anticipated constraints on attendance (visa restrictions and so on), the three-term schedule reduces the undergraduate population in residence at any one time from 6,800 to 4,600 this fall.
Finally, in California, where the virus, seemingly vanquished, has returned with a vengeance, Stanford, too, plans to rotate access to campus. There, with a quarter (rather than a semester) schedule (emphasis added):
[O]ur default plan is to have half of our undergraduates (that is, the equivalent of two class years) back on campus for the fall quarter and each subsequent quarter, changing each quarter. It may need to be a smaller number in a given quarter if health conditions require it, which we hope will not be the case; in fact, we hope that health conditions will allow us instead to be able to expand access later in the year.

We also intend to have a four-quarter year, including the summer of 2021. Since most students take courses over three quarters, under our default scenario the four-quarter year would allow all Stanford undergraduates to complete two quarters of instruction in residence on the Stanford campus in 2020-21, and require most to complete at least one quarter remotely.

Assuming that public health conditions allow, we intend to have undergraduate first-year and transfer students among those on campus for the fall quarter, to allow them to get to know our campus, form community and begin their Stanford careers in the most positive way. We also intend to have graduating seniors on campus in the spring. Beyond that, we have not made decisions about which undergraduates would come to campus in which quarters. Our staff are having conversations with faculty and students about different options for bringing students back, whether by class year or by another rubric that aligns with the academic programs we offer. We will have a period of consultation to gather further input on these issues….
Indeed, plans for academic years unlike any others—and those plans remain highly contingent on the changing public-health situation, as nearly every institution has noted in communicating its fall-opening arrangements.
The Message from President Bacow, Dean Gay, and Dean Khurana
Dear members of the FAS community,

On June 15, the Faculty of Arts and Sciences provided an interim report on fall planning efforts that outlined three possible pathways for how we might return students to campus. After careful deliberation, and informed by extensive input from our community, we write today to announce our plans to bring up to 40% of our undergraduates to campus, including all first-year students, for the fall semester. Assuming that we maintain 40% density in the spring semester, we would again bring back one class, and our priority at this time is to bring seniors to campus. Under this plan, first years would return home and learn remotely in the spring. We also will invite back to campus those students who may not be able to learn successfully in their current home learning environment.

In making this consequential decision, we have been guided by the same core principles we established at the outset of this crisis: to put health and safety first, protect the academic enterprise, leverage our breadth and diversity, and preserve access and affordability. Some of the attributes that we most value about our campus are exactly the things that make adaptation to pandemic conditions particularly challenging. Our bustling urban environment, the ease of grabbing the T into Boston, our intergenerational residential communities that house 98% of our undergraduates, our global research community of students, faculty, staff, postdocs, and visitors from around the world—Harvard was built for connection, not isolation. Without a vaccine or effective clinical treatments for the virus, we know that no choice that reopens the campus is without risk. That said, we have worked closely with leading epidemiologists and medical experts to define an approach that we believe will protect the health and safety of our community, while also protecting our academic enterprise and providing students with the conditions they need to be successful academically.

Harvard is eager to welcome students and scholars back to campus and recapture the residential liberal arts and sciences experience that is core to our identity. In our planning efforts, we have sought a path to bringing all students back as soon as conditions allow, while continuing their academic progress in the meantime and remaining a vibrant research community across our broad range of disciplines. But we also recognize that, fundamentally, there is an intrinsic incompatibility between our highly interactive, residential Harvard College experience and the social distancing needed to mitigate COVID-19 transmission. The recent upturn in COVID-19 cases in certain states illustrates the difficulty of making predictions, even well-informed ones, about the evolution of this virus. Given this uncertainty, we determined that our fall plan must enable us to bring back as many students as possible while providing sufficient margin to accommodate an escalation in the prevalence of COVID-19 in our area. Anything less and we could find ourselves again facing the prospect of asking our students to leave, on short notice, prior to the end of the semester. Given the constraints imposed by our existing housing inventory, we have made a decision that enables up to 40% of undergraduate students to learn from campus in appropriate accommodations, while retaining the ability to isolate and quarantine up to 250 individuals at a time. Absent an effective vaccine or clinical therapy, this reduced density, together with a high-cadence viral testing program and universal adoption of public health practices such as face masks and frequent handwashing, is needed to safely host a significant number of undergraduates on campus. This finding is supported by extensive modeling by our public health experts.

Choosing which students would be invited to campus was not easy, and we have enormous sympathy for sophomores and juniors as they consider the prospect of not starting their fall term in Cambridge. We could not help but recognize the unique position that first-year students find themselves in, making the transition to college in these strange times. They have not yet begun to build their Harvard network of faculty, advisors, and friends or learn about life in the Yard. Even with the many adaptations that will be in place this fall, we see enormous value in having them on campus in our residential system. Though we are far from a decision about spring, as we describe below, making sure that seniors have their final semester on campus, to finish their thesis work and complete their four-year journey, is a priority we hold dear. With the experience of sophomores and juniors in mind, we have decided to extend to all students who spend the year studying away from campus the opportunity to attend Summer School in Cambridge without tuition charge in 2021. This program, described in more detail below, was designed also in recognition of the many international students and those with pre-existing medical conditions who may not be able to join us on campus during the academic year.
 
REMOTE TEACHING AND LEARNING

The interim planning report established that all course instruction (undergraduate and graduate) for the 2020-21 academic year will be delivered online. Students will learn remotely, whether or not they live on campus. With that in mind, we have taken the following steps: 

Academic calendar and course scheduling: The fall term will begin as planned on September 2, 2020. The instructional day will be expanded to accommodate synchronous instruction across a range of time zones. The Registrar will soon issue guidance about fall semester course scheduling to the academic departments.
Excellence in remote teaching: As we work to prepare for the fall, we are guided by the recognition that the success of remote teaching depends on our ability to create and sustain strong connections among students and between students and faculty. Harvard's learning technologists and specialists in innovative pedagogy are supporting faculty and teaching fellows in the development of fall courses and the design of activities and assignments that take advantage of the remote format and enable students to achieve key goals, including for hands-on learning in lab and art-making courses. We are increasing instructional support by recruiting graduate students as Bok Media and Design Fellows and Remote Support Teaching Fellows. The Bok Center has also designed its fall teaching conference to help teaching fellows prepare for their remote teaching responsibilities. More information about required instructor trainings and other remote ready resources is available online.  
Excellence in remote learning: We are working to ensure that all students are prepared for remote learning. The Academic Resource Center has assembled dedicated remote learning resources and will be offering orientations to all incoming first-year undergraduate students.  
Grading: The emergency grading systems that were put in place in the spring semester will not continue into the fall semester. Fall courses for all students will return to regular grading.
International students: Guidance for international students continues to evolve at a rapid pace. A town hall for international undergraduate students will be held on July 8 and the graduate student town hall meetings on July 7 and 8 will also include detailed information for international students. The latest guidance and resources are available from the Harvard International Office. One of the reasons that we determined early in our process that we would rely upon remote instruction was that we expect many international students will encounter challenges entering the country given that consular offices are not processing F1 visas.

 
LEARNING REMOTELY FROM CAMPUS

We know that students are eager to be on campus and we too are eager to return to full residential operations. Informed by a careful review of our residential capacity, the academic needs of our students, and guidance from public health experts, we have defined the group of undergraduate students who will be invited to learn from campus this fall—first-year students and those who must be on campus to progress academically.

All first-year undergraduate students will be invited to campus for the fall semester. This will enable first-year students to benefit from a supported transition to college-level academic work and to begin to build their Harvard relationships with faculty and peers. Both online and dorm-based programs will be in place to meet these needs. Over the last few weeks, there has been frequent communication with our first-year students about their transition to Harvard and this will continue as we approach the start of the academic year.

We are committed to ensuring a secure and supportive learning environment for all students.  While all courses will be taught remotely, we understand that some students may not be able to learn successfully in their current home learning environment. If a student believes they will have remote learning challenges this fall, we ask that they please complete this form by Monday, July 13. Student submissions will be reviewed by a committee of faculty and staff in order to identify what specific supports may be needed, including whether it may be necessary for a student to reside on campus.

Accommodations in the Yard Dorms and the Houses will be adapted to meet new public health standards. Enrolled undergraduate students who will be learning remotely from campus will live in single bedrooms with a shared bathroom. Students will be distributed across the first-year dorms and a number of upper-class Houses in order to achieve a maximum residential density of 40%. The dorms and Houses are undergoing physical modifications to support our public health goals. These include enhanced cleaning schedules, personal safety training and protective equipment for custodians, security guards, and House staff, improved air handling and filtration in shared spaces, hand sanitizer and wipe stations, and signage outlining our public health community guidelines.

Campus access will be restricted to safeguard our community's health. There will be restrictions on inter-house access to dining areas and to non-residential Harvard buildings, with the exception of Harvard University Health Services. We hope to provide some access to athletic and recreational facilities, as part of our commitment to overall wellness, though guidance for that is not yet final. No off-campus visitors will be allowed into Harvard buildings, and this will include enrolled Harvard students who are not in residence on campus. With these measures in place, we are confident that we can support campus-based remote learning while also safeguarding our residential community's health and safety.

Move-in and move-out procedures and timelines will be different. While the academic calendar for the fall semester will not change, there will be additional considerations for students who will be learning remotely from campus. Students will receive instructions regarding the protocol for a phased arrival to campus prior to the start of the semester. All students will move out for the semester by November 22 and will complete reading period and exam period from home. The standard process for granting exceptions will be followed.

This decision has implications for our Athletics program. We anticipate that the Ivy League will issue a decision on July 8 about fall sports competitions and training. Even in the absence of this guidance, we acknowledge that our medium density plan will necessarily place limits on what athletic activities are possible at Harvard this fall. An enhanced focus on wellness will be important for all members of our community. Wellness programming and resources will be developed by the Department of Athletics, Harvard University Health Services' Center for Health and Wellness, the Dean of Students Office and other partnering organizations.
 
UNDERGRADUATE COST OF ATTENDANCE

Tuition and fees: Tuition and fees will remain as announced for the 2020-21 academic year.

Room and board for students learning from home: For enrolled students who are living away from campus and attending classes remotely, obviously there will be no room and board costs included on their term bill.

Remote room and board allowance for students receiving financial aid: For enrolled students receiving financial aid who are not living on campus, the Griffin Financial Aid Office will use a "COVID-19 Remote Room and Board" allowance of $5,000 per semester in calculating their aid award. In general, this will allow students to be supported by financial aid while studying at home. Standard room and board charges will be applied for students who are invited to live on campus, and Financial Aid budgets and awards will be adjusted to reflect that as approved.

Term-time work: Students receiving financial aid have been relieved of the term-time work expectation in the fall, replacing it with scholarship in the calculation of their financial aid award. This recognizes the current challenges of finding work and the public health considerations of work that is not remote. This does not mean that students can't or won't choose to work, but rather that there is no expectation of a work contribution to meet their cost of attendance. While aid awards will reflect this change for the year, we will review the policy for the spring term in the context of the latest public health guidelines.

Summer School credit: In recognition of the fact that many of our students will not have a residential campus experience this year, all enrolled undergraduate students who will be learning remotely from home for the full academic year 2020-21 will be eligible to come to campus to take two courses at the Harvard Summer School in the summer of 2021 under a special arrangement that waives tuition; room and board will be subsidized for students receiving financial aid.
 
DEFERRALS AND LEAVES OF ABSENCE

The deadline for first-year students to defer enrollment has been extended to July 24, 2020. For upperclassmen deciding whether to take a Leave of Absence, the College has trained a special team of advisors to help students and families. They can offer support in terms of thinking through the decision, explaining the logistics of the process, and directing students to resources before, during, and after the leave. Advisors can be reached at [email protected].
 
HEALTH AND SAFETY

Harvard University aims to provide a campus environment that enables the pursuit of our teaching and research mission while protecting the health and safety of our community. With the restart of campus-based research over the summer, Harvard University Health Services led the implementation of required training, daily symptom attestation using the Crimson Clear web portal, viral testing, and standard public health practices such as physical distancing requirements, limits on gathering sizes, use of face coverings in public spaces, and careful hygiene. Our return to campus-based academic operations is predicated on our community's adoption of these public health practices designed to limit the spread of the virus and to keep each other and our families safe. These measures meet or exceed those in place across the Commonwealth of Massachusetts.

Health and Safety in the Houses and Dorms
Because COVID-19 is highly contagious, an individual's actions can have serious implications for the health of the broader community. Though an undergraduate student may be at relatively low risk of complications associated with COVID-19, for example, their actions can impact the families of dining workers, security guards, House staff, and others who make residential life possible. The Faculty of Arts and Sciences promotes shared responsibility for the health and well-being of our campus community. We are truly in this together. It is important that all students who will reside on campus in Fall 2020 read, understand, and be prepared to abide by the rules and guidelines that will be in place in the fall in order to make an informed decision about residency. Those guidelines, as developed by Harvard University Health Services, will include, among other features, the requirement that students and residential staff participate in a viral testing program that will begin with an initial screening upon arrival, followed by testing for the virus every three days while in residence. The frequency of testing may increase or decrease depending on the prevalence of infection within the Harvard community and the region, along with other factors influencing the likelihood of exposure to the virus. Additional testing may be warranted if a student or residential staff member develops symptoms of COVID-19. The campus public health protocols will also include daily attestations of symptoms, as well as requirements to self-isolate in the event of a positive test, to talk to a healthcare professional if experiencing symptoms consistent with COVID-19, or to quarantine for known exposure to a positive case. We have established dedicated housing for quarantine and isolation, with sufficient space to appropriately house 250 individuals.

Expectations of students in residence are outlined in the undergraduate Social Compact available here.

Monitoring
We have established an index of key public health factors, both on campus and in the surrounding Boston community, that we will monitor continuously. Among these are: 

The number of individuals in our community that has tested positive for the virus.
The number of symptomatic individuals in our community.
The Harvard community's compliance with testing and other required public health practices.
Boston-area healthcare readiness indicators.

As we have seen over the last several weeks, with spikes to record levels of infection emerging in other parts of the country, the course of the virus can change quickly. We must be ready to respond to changing conditions and have built flexibility into every level of our operations. For example, we are prepared to seamlessly transition between touchless food pick-up and more traditional dining operations as conditions dictate. As a community we must assume that change and adjustment are part of daily life and a key attribute of informed and responsible management in a pandemic.
 
RESUMING RESEARCH AND OTHER CAMPUS OPERATIONS

The decision regarding undergraduate residential operations does not change the guidance to faculty, postdocs, staff, and graduate students that has already been issued regarding campus-based research or other operations. Current information on restarting research in Science and SEAS can be found here. Current information on library operations can be found here. The University's latest travel guidance can be found here. This decision also maintains existing University guidance that most faculty, postdocs, and staff will continue to work remotely, through at least the end of the summer, unless otherwise directed by the academic division or their manager. Answers to many questions about administrative operations across the FAS can be found here. 
 
IMPLICATIONS FOR SPRING

As the description of our monitoring program makes clear, attempting definitive decisions now about things that will happen in six months would provide only a false sense of certainty. Instead, we want our community to know that we are anticipating three scenarios for undergraduate residential life in spring 2021: 

Lower residential density than fall, retaining only those students who must learn remotely from campus. We would pursue this option only if conditions worsened so that we could not manage the campus safely with 40% of students in residence as provided for in this plan.
Continuing medium residential density, returning those students who must learn remotely from campus and one class cohort. As mentioned at the outset, the current priority cohort is the senior class.
Higher residential density, returning those who must learn remotely from campus and more than one class cohort.

As we have noted earlier, we would like to bring back students as quickly and safely as we can.  Clearly, the third option above would be our preferred path. However, much will depend on the status of the virus, our success in containing any campus-based infections, and the willingness of the entire community—our students, faculty, and staff—to abide by our protocols for testing, social distancing, facial covering, and other public health measures. We anticipate making a decision about the spring semester in early December, including setting a date for a delayed start of the semester. We will update the community regularly throughout the fall.

We are sure you have many questions that we have not answered here. Invitations have already gone out for a number of virtual town hall meetings where more information will be provided and questions can be addressed. 

FAS Faculty Town Hall: July 6 at 1 p.m. EDT
FAS Administrators Town Hall: July 6 at 2 p.m. EDT 
College Students and Parents Town Hall: July 6 at 3 p.m. EDT
GSAS Town Halls: July 7 at 9 a.m. EDT (returning students), July 8 at 9 a.m. EDT (incoming students)

Harvard College will hold a series of webinars throughout the summer to address particular student concerns.  

The process of planning for the fall semester has only strengthened our commitment to the residential liberal arts and sciences experience as the means to pursuing our mission of educating leaders for our society and our diverse community of scholars; in fact, the planning process itself demonstrated the power that comes from bringing a breadth of disciplines to bear on a hard problem. This decision was informed by the models of data scientists, analyses of economists, the perspective of historians, the protocols of privacy experts, insights of life scientists, principles of philosophers, and the expertise of so many more members of our community. We are enormously grateful to the more than 100 members of our faculty and administration who have worked tirelessly to adapt Harvard to the demands the pandemic has placed on us while maintaining our commitment to academic excellence and inclusion.

As one member of our planning group reminded us last week, we navigate this history-making moment without a roadmap. Harvard will be changed by the choices we make now, and this crisis gives us an incredible opportunity to change it for the better. As we shift from planning to implementation and management, we will define mechanisms for engagement, conversations, and feedback. As we have already seen, this community has unlimited wisdom to contribute and it is our most cherished resource.
 
Stay safe and healthy,

Larry Bacow
Claudine Gay
Rakesh Khurana