Destinations
"A Step Up from the Usual Beautiful"
The Great Marsh, shipbuilding, and other wonders of Essex Bay
Cliff Amero has led tours of the Essex River estuary for almost 30 years. The unique coastline, just north of Gloucester, with its snaking Great Marsh inlets, sand bars, and wild islands "is always changing," he says, "moving with the tides, the wind, and sands. It has the magic, you know? It's a step up from the usual beautiful." His flat-deck catamarans (book spots through Essex River Cruises Inc.) mosey through the bay's tidal waters while crew members highlight natural elements, local history, and the town of Essex's shipbuilding legacy. From the colonial era through World War II, the boatyards there and in abutting coastal communities were integral to the development of the region's economy.
The Great Marsh itself harbored and supported generations of fishing and farming communities. Covering some 25,500 coastal acres, from Gloucester to Hampton Harbor, New Hampshire, this painterly patchwork of barrier beaches, dunes, and tidal creeks and rivers forms one of the most crucial environmental ecosystems in North America.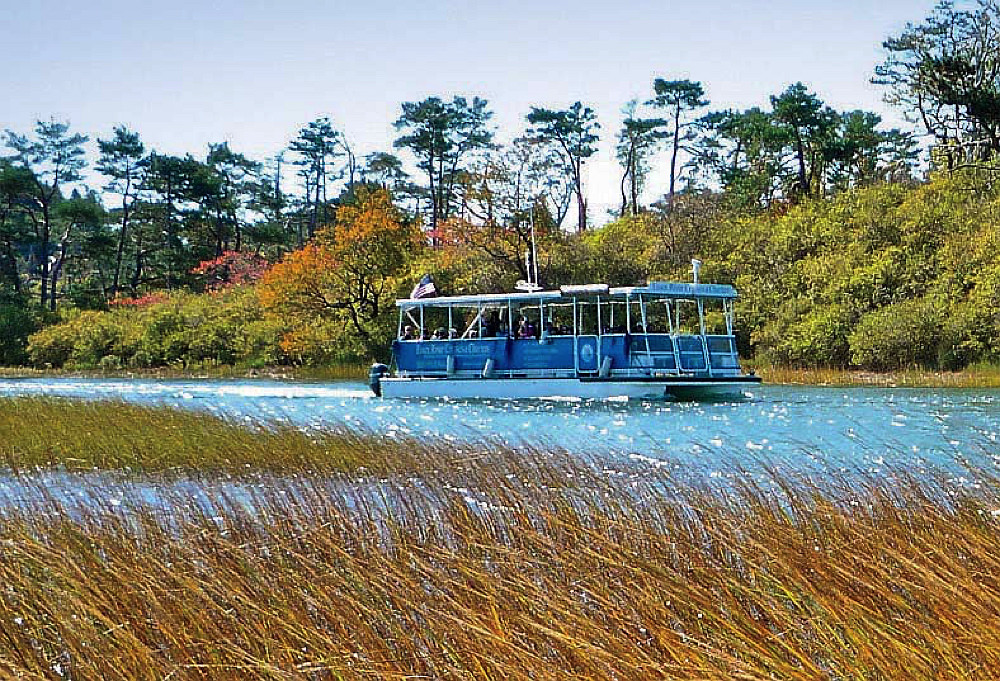 Enjoy a transcendent afternoon on Essex Bay amid coastal flora and fauna.
Photograph courtesy of Essex River Cruises Inc.
An amazingly diverse habitat, it has also long inspired artists and writers drawn to the sweeping views of grasslands, sky, and water, wild shifts in light, and the revolving show of colors among the vegetation and brackish waters. "Standing in an upland clearing overlooking a vast prairie of marsh grass, you can easily believe that a salt marsh is the closest thing a landscape comes to eternity," Doug Stewart '71 writes in Between Land and Sea: The Great Marsh (2007), a book of large-format photographs by Dorothy Kerper Monnelly, Ed.M. '59, that pays homage to the ancient landscape.
Because vast tracts are protected from development, including the Parker River National Wildlife Refuge, near Newburyport, wildlife flourishes. Three hundred bird species, both breeders and migrants, have been documented, according to Mass Audubon. During the 90-minute river cruises, look for various ducks and raptors, and any great egrets that haven't flown south for the winter. "We've seen bald eagles," Amero adds, "but that's not guaranteed." Deer do sometimes swim by—traveling between island—and seals may be out sunning themselves on the rocks.
Lingering by Choate Island, the largest of the bay's 10 land masses, guides explain that it was once connected to adjacent Long Island by a causeway; both held thriving farmsteads during the eighteenth and nineteenth centuries. "The locals still call Choate 'Hog Island,' because they used to take the hogs out there to graze," according to Amero.
Before Europeans officially settled in Essex in 1634, much of what's now Essex County was Native American territory that became anglicized as "Agawam." The indigenous people had semi-permanent agricultural settlements and used the marshes and islands as seasonal fishing grounds. When John Winthrop the Younger, son of the first Massachusetts governor, among others, arrived, agriculture and fishing soon became mainstays of the colonists.
Eventually, Hog Island was owned by the Choate family, and two early structures remain: Proctor barn (Long Island, circa 1778) and the Choate homestead (circa 1725-40), birthplace of orator and U.S. senator Rufus Choate, LL.D. 1845. The restored buildings are visible from the water, but the island itself, now owned by the conservation organization Trustees, was closed to visitors at press time because of the pandemic. (Guided kayak excursions around it are available by reservation, however.) Choate is among seven estuary islands that are part of the Trustees' Crane Wildlife Refuge; the organization also owns the nearby Crane Beach and Castle Hill compound (check the website to find out if mansion tours have restarted).
Both sites are in the abutting town of Ipswich. But Crane Beach forms a sandy barrier for Essex Bay, extending far enough to form a natural cut between it and the private Coffins Beach, at the tip of Gloucester's Win­gaersheek stretch. Beyond that, it's open ocean. "We try to stick the nose of the boat in there so you can see Annisquam Lighthouse and Rockport's Halibut Point State Park," Amero says, "and, looking to the left, Plum Island." In the park, take a serene walk through coastal trees and shrubs to a massive former granite quarry, and then on to shoreline rocks and ledges great for perching and picnicking on beside the pounding Atlantic surf.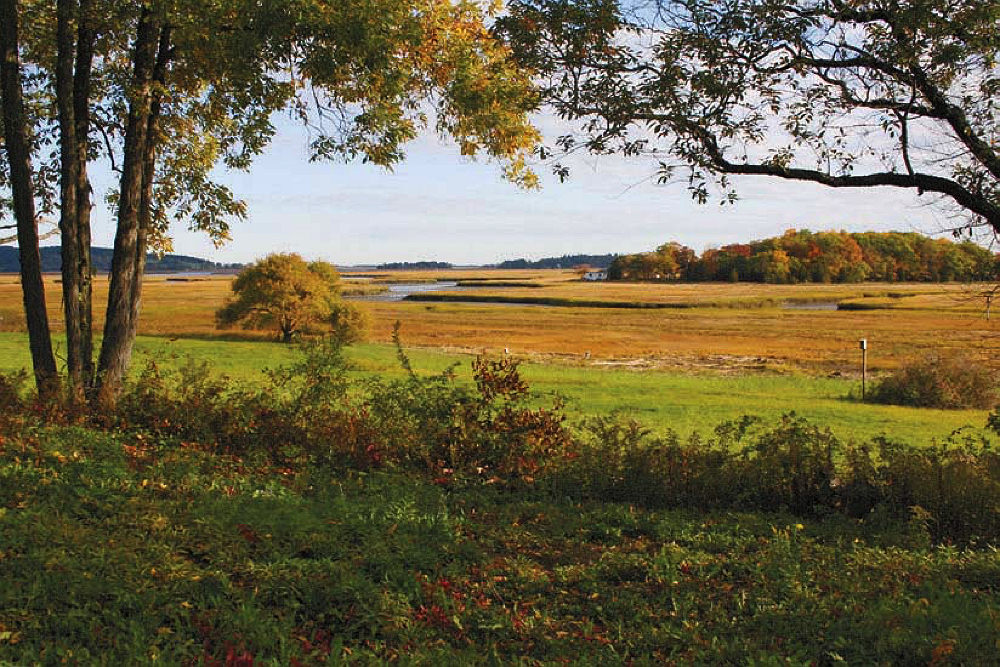 Roam through old farm lands and along The Great Marsh in Allyn Cox Reservation.
Photograph courtesy of Greenbelt, Essex County's Land Trust
The Trustees' Stavros Reservation in Essex is another prime roaming spot, offering an easy hike up Whites Hill. The region's coastal and inland reserves result from long-term efforts by many different groups. The land trust Essex County Greenbelt has helped protect nearly 18,000 acres, with dozens of properties open to the public, according to Cathy Coffin Lanois, director of development and community engagement. In Essex, wander through the bucolic Allyn Cox Reservation, donated by the artist to Greenbelt in 1974; its circa 1785 farmhouse serves as Greenbelt's headquarters. Ospreys nest on the marsh near these 31 acres in spring and summer, and paths extend through woods and fields to spots along the marsh. The property, occupied by Europeans in 1648, served as a dairy and apple farm for centuries; that rural character has been preserved. "The marshlands are unspoiled, untouched—and so expansive. The views are phenomenal," says Lanois, "and in the fall, the colors are hard to describe. The water is so blue and the grasses are golden." From a viewing platform, rest or watch for birds and other wildlife, or take time to explore the spartina (an amazingly efficient plant) and the tiniest marsh-dwellers. Lanois also recommends Greenbelt's Castle Neck River Reservation, in Ipswich, for trails through hayfields and woods to the river's headwaters, where shore birds flock. A knoll offers panoramic views of hundreds of acres that Greenbelt has helped conserve. For further ventures, check out the nearby Warren-Weld Woods and the Ipswich River trails in the Julia Bird Reservation.
With climate change advancing, Greenbelt and other nonprofits are increasingly focused on preserving and strengthening coastal resiliency. Put simply, Lanois says, the marsh acts as a sponge and buffer for tidal or storm surges, helping protect the surrounding area from severe flooding.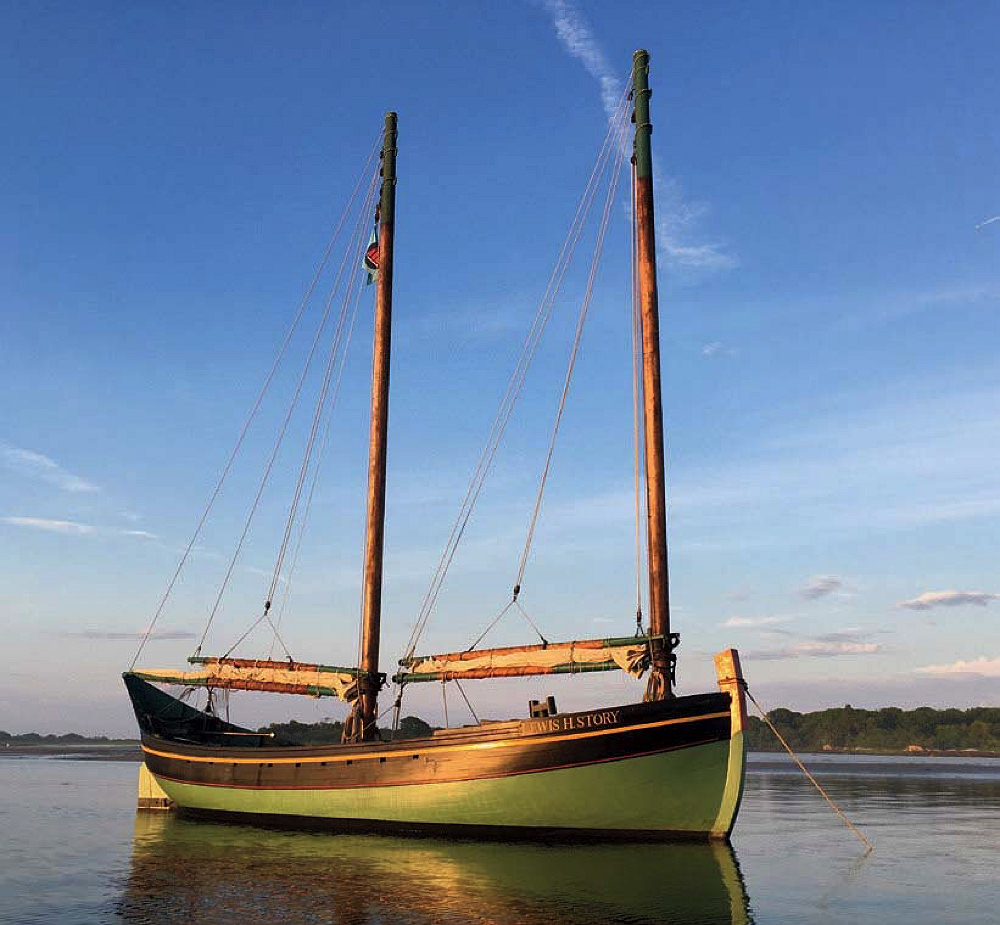 The Essex Shipbuilding Museum's elegant and sturdy Lewis H. Story
Photograph courtesy of the Essex Historical Society and Shipbuilding Museum
The coastal lands have also been the source of critical regional industries: salt-marsh haying, fishing, clamming, and boat-building. "Essentially, the fishing vessels built in Essex (originally settled as part of the Chebacco Parish of Ipswich) and other coastal towns here became the main driver of the early colonial economy," notes Chris Stepler, operations administrator at the Essex Historical Society and Shipbuilding Museum.
Starting in 1650, colonists there began building boats uniquely adapted to New England waters and climate and many of their descendants were instrumental in Gloucester's thriving cod and mackerel fisheries. "Essex was also incredibly prolific," he adds: "At one point, one in 27 U.S. flagged vessels was built here, and the total output from Essex yards from 1650 to 1950 is between 3,300 and 4,000 vessels."
The museum's indoor exhibits (at both the shipyard and the historical society's school-house locations) are closed during the pandemic, but robust self-guided walking tours, with videos, chronicle this history—and modern hand-crafted boatbuilding. Visitors see the Lewis H. Story, a 1998 replica of the "Chebacco Boat" produced by the hundreds along the coast. A 30-foot deck, two masts, and lack of bowsprit were typical of these inshore vessels, which could haul 10,000 pounds of cargo. As the fishing industry expanded, that design morphed into a range of schooners; the sharpshooters and clipper-type models in the mid 1800s, for example, developed in line with the railroads and the advent of ice-packed (versus salt-preserved) fish. Faster and more dangerous to sail than previous vessels, they'd zip out to the ocean fishing banks, Stepler says, haul in a catch, and then deliver it for distribution along the Eastern Seaboard and as far west as Chicago.
Looming at the far end of the museum's shipyard is the Evelina M. Goulart. One of only seven known extant Essex-built schooners, the 1927 vessel was used for swordfishing and dragging until it was damaged during 1985's Hurricane Gloria, and then came to rest at the museum. The tour also covers the yard's active steam shed and frame-up station, explaining the craftsmanship required to construct wooden boats. The museum often collaborates with award-winning shipwright Harold Burnham, the twenty-eighth Burnham to design and build boats in Essex since 1819, who is based at an adjacent yard. His wooden schooner Ardelle, launched in 2011, offers small-group private charters out of Gloucester. And look for his new restoration project in the creek by the museum: the 1911 Sylvina W. Beal, "the oldest existing auxiliary knockabout fishing schooner in North America and one of two known existing Maine-built fishing schooners," according to Burnham's website.
Following a day of Essex history and Great Marsh exploration, take your pick of restaurants. Try CK Pearl and Shea's Riverside for cocktails and shellfish at outdoor tables with water views, or choose the deck at the Great Marsh Brewing Company for fresh drafts, clam chowder, and the "GMBCO burger," with hand-cut fries.
"There's plenty to do and see," Amero says of the Essex area, where he grew up, and returned to, eventually opening the river-cruise business after some "pretty wild adventures"—including surfing in the South Pacific, South America, and Hawaii. Despite his many years of tooling around the North Shore coastline, it's still "breathtaking. And it's nice to bring people out here because they really do get moved, you know? It's just a captivating place."