Likenesses
Peach state dispatch. W. Todd Groce, president and CEO of the Georgia Historical Society, writes:
I recently made an exciting discovery. About 35 years ago, while rummaging through a pile of antique books at the Nashville Flea Market, I came across a pocket New Testament inscribed "Charles F. Cabot, presented by E.E. Herrick, 1862." Since it was only a few dollars I bought it.
Not until about 20 years ago did I decide to discover the identity of those names. First lieutenant Edward Elisha Herrick, of the 15th Vermont Infantry, was a divinity student who survived the war and became a Congregationalist minister. But it is what I discovered about Cabot that totally surprised me.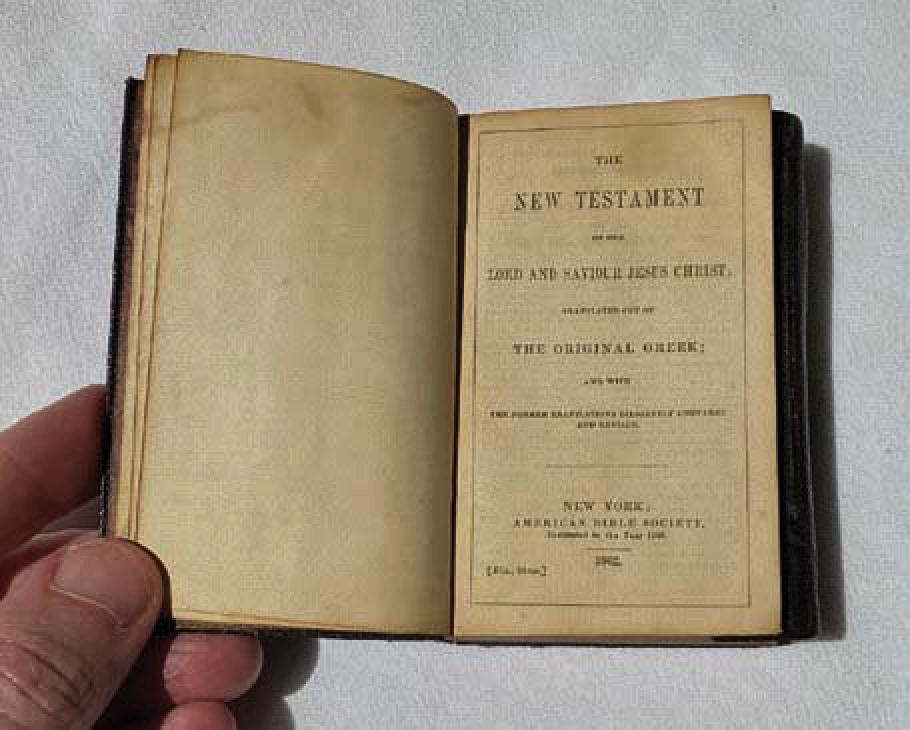 Photograph courtesy of W. Todd Groce
Charles Follen Cabot was a company commander in the famous 20th Massachusetts Infantry, also known as the "Harvard Regiment," because its officers and many of the enlisted men were graduates. Among its ranks were such luminaries as the grandsons of Paul Revere (both of whom were killed in action) and future U.S. Supreme Court Justice Oliver Wendell Holmes Jr. [A.B. 1861, LL.B. '66, LL.D. '95]. Captain Cabot was a friend of Holmes. Tragically, he was killed in the streets of Fredericksburg, Virginia, on December 11, 1862, while leading his men in one of the rare instances of urban combat during the Civil War.
For years I have searched in vain for a photograph of Cabot; not even the historian of the 20th Massachusetts had access to a likeness of him.
 I decided to search once again. At long last, I discovered this war-time image of him posted on a new website about Civil War soldiers. The original photo is in a private collection. My assumption is that he had this taken upon his promotion to captain, by which point he had fought in several battles and may have been suffering from PTSD. His glance is averted; there is a sadness in his eyes. Maybe he had a premonition of his own death.
How his pocket Bible ended up for sale in Nashville in the mid 1980s will probably remain a mystery. My guess is that it was removed from his body by one of his men and sent home to his grieving parents, perhaps along with a lock of his hair. Over the years it somehow left the family's possession, probably sold off by a descendant who felt no connection to a long-dead ancestor.
These small pocket Bibles were fairly common for soldiers to carry. I have seen some pierced almost entirely through by Minié balls, saving the life of the owner. But not Capt. Cabot. He is buried with his family in Cambridge's Mount Auburn Cemetery. It is likely that the stains on the inscription page are his blood.
I am honored to preserve Capt. Cabot's New Testament. Among the many objects in my collection, it is one of my favorites.
Iron man. Among the living, Clifton Lewis '75—a former Krokodiloe since "retired from a career in structured finance"—still sings and also, he reports, pursues diverse acting opportunities (including a gig as the chauffeur in the final episode of HBO's The Deuce).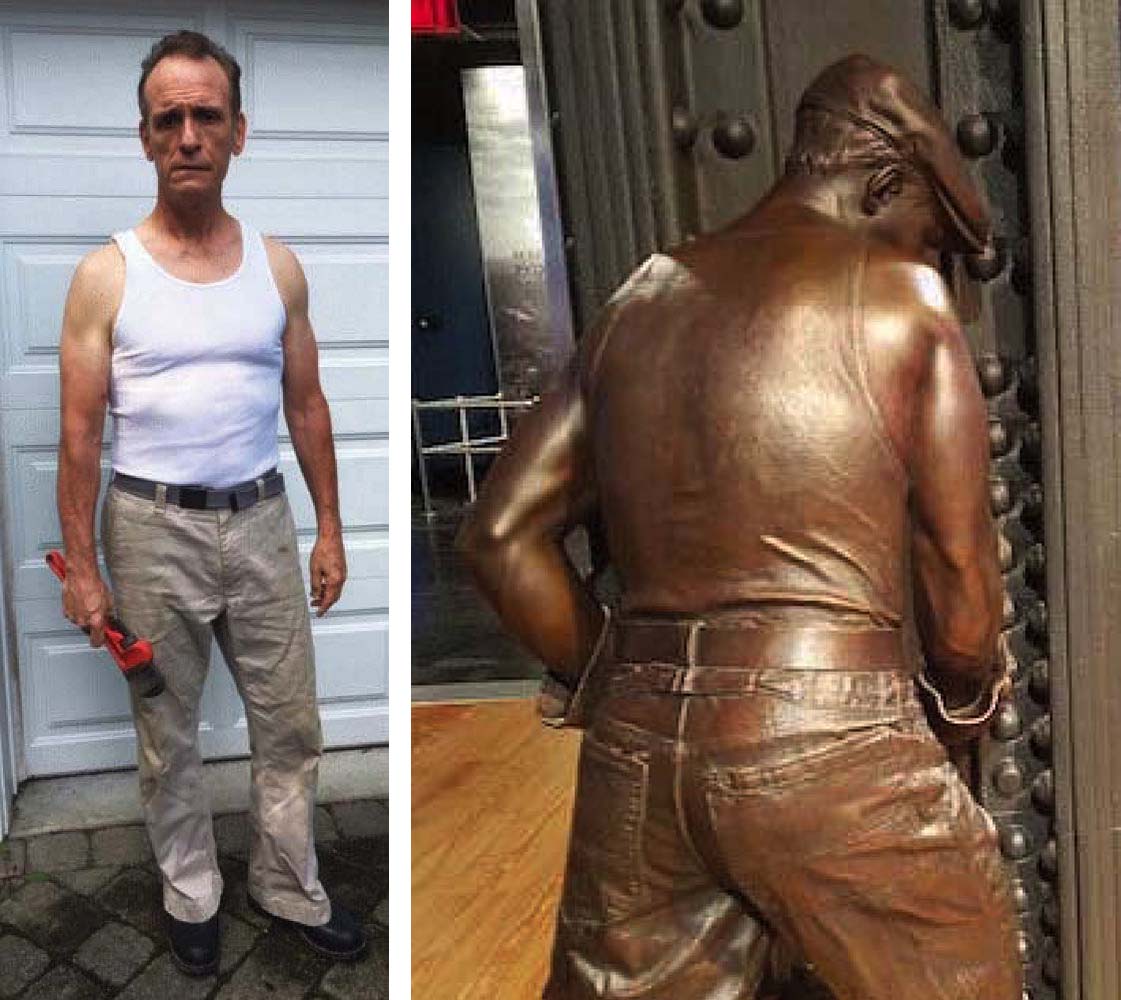 At left: photograph courtesy of Clifton Lewis; at right: photograph by Betsy Kim
One novel assignment entailed modeling as a construction worker involved in raising the Empire State Building (whose environmentally sensitive renovation was covered in "A Green Empire," March-April 2012, page 63). For the tryout, Lewis, recalls, "I put on some work khakis, my steel-toed logging boots from my Forest Service days, and a white tank-top T-shirt. I grabbed my biggest tool in the garage, a pipe wrench, and tried my best to look circa 1930s bad-ass. I booked the job."
The resulting six-hour, full-body plus head- and face-casting session at a studio in Brooklyn resulted in a rendering of The Riveter, a sculpture for the second-floor museum in the ESB, honoring the workers who built it. Beyond being thus immortalized, Lewis reports, the figure has now been reproduced as a statuette, available for sale in the gift shop.
You might also like
Viet Thanh Nguyen urges moving beyond the "sob story."
The context for Harvard Management Company's 2023 results
The Crimson outlasts the Bears in an Ivy nighttime shootout.
Most popular
Turning the Black List into a business, to modernize Hollywood's dream machine
A mansion promotes artist Winslow Homer's roots in Belmont, Massachusetts.
Digitized herbaria collections data allow researchers to predict future plant ranges.
More to explore
A test can identify these productivity-boosting personnel.
Ancient history professor studies coins, ceramics, and Zelda.
Anwar Floyd-Pruitt's wildly profuse art