Returning to the Big Screen
Greater Boston's small movie theaters strive to stay alive during the pandemic.
During the lulls between pandemic surges last year, movie-lovers enthusiastically ventured to the West Newton Cinema for screened classics. Stanley Kubrick's 2001: A Space Odyssey is always popular, says cinema co-owner David Bramante. People are also devoted to the universal themes in Casablanca, The Wizard of Oz, The Maltese Falcon, Singin' in the Rain, and among Bramante's personal favorites, the 1940 version of Pride and Prejudice, starring Greer Garson and Laurence Olivier. "It's an old cliché, but there's nothing like seeing these on the big screen, especially the old black-and-white films," he says. "You see these on a big screen—and you realize you never really saw the movie before. Classic movies create a lifelong relationship with the viewer."
The opening of Casablanca "kind of gives you chills every time you see it," he says. "I love that." The giant Warner Brothers logo looms up, followed by orchestral music, and a voice-over introduction that grounds viewers: "With the coming of the Second World War, many eyes in imprisoned Europe turned hopefully, or desperately, toward the freedom of the Americas…." 2001: A Space Odyssey also opens with "unforgettable and irreplaceable music that sets the tone for what lies ahead," he says. The haunting crescendo of horns and drums—taken from Also Sprach Zarathustra, Op. 30, Richard Strauss's tone poem inspired by Frederick Nietzsche's novel—reverberates throughout the theater with lights dimmed by Bramante to set the right mood. Sharing a movie, especially a classic, with "someone close to you, or seeing it alone at a matinee on a rainy day," he adds, "will be a memorable experience."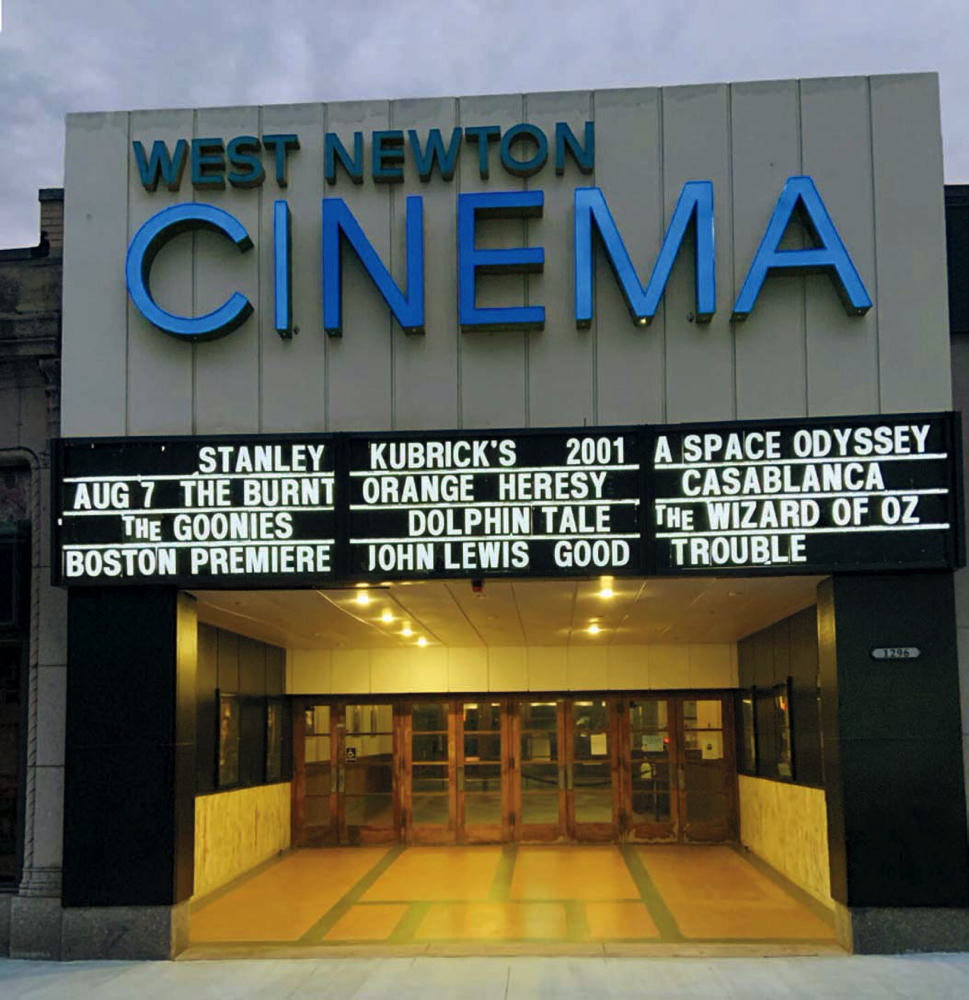 Photograph courtesy of West Newton Cinema
The cinema, featuring Art Deco and Art Moderne styling, opened in 1937 and has been owned by Bramante and his brother James for 43 years. It typically offers independent and foreign films and documentaries, along with some contemporary blockbusters. But since the pandemic began, the Newton landmark has remained mostly physically shut to regular programming, like all of Greater Boston's independent cinemas, in line with government restrictions and the limited number of new film releases.
In Harvard Square, the Brattle Theatre, showing art-house films since 1953, also shut for regular programming in March. "We saw the writing on the wall," says creative director Ned Hinkle, "and we knew we were going to have to make some big changes."
Both the Brattle and Brookline's Coolidge Corner Theatre have sought to rebound, scrambling to continue to fulfill their missions, albeit in a narrower, virtual mode. They have each promoted a series of non-mainstream films—like Frederick Wiseman's documentary City Hall, chronicling the breadth and depth of governance under Boston mayor Marty Walsh (at press time the nominee for U.S. secretary of labor)—streamed through direct rental links from independent distributors (so that part of the ticket price helps support the theater). In addition, staff have posted film discussions and Q&As with guest speakers on the theaters' websites, and even some short seminars.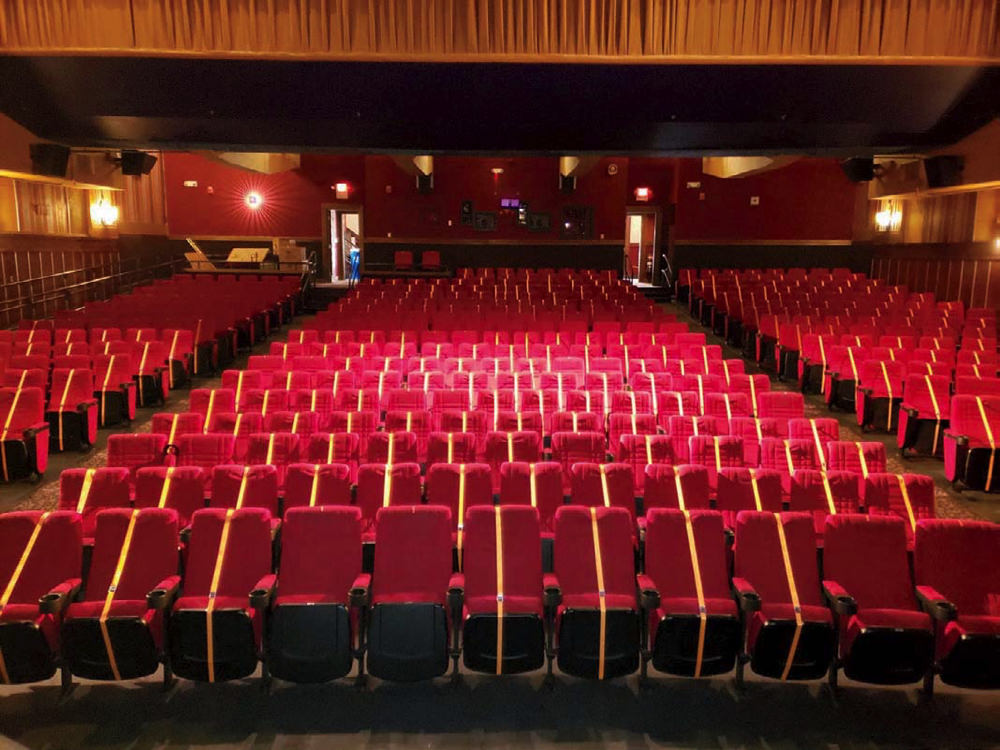 Photograph courtesy of Coolidge Corner Theatre
In January, the Brattle launched a new, more comprehensive online feature called "The Brattlite." Hinkle explains that it brings online "what the Brattle does in real life: classic titles, festival films, overlooked gems, hard-to-find documentaries, one-off screenings with filmmaker Q & As, and discussions with experts." All material exclusive to the Brattle Theatre is accessible under the "Brattle Select" option, while the "Virtual Screening Room"—featuring non-mainstream films not exclusive to the Brattle—will also remain available. So will the theater's robust "virtual repertory" series—including "Boston on Film," "Keep Your Distance," and "Y'Know, for the Kids." Those curated series are "a service to our community," Hinkle says: the repertory-listed movies are available through streaming services, like Netflix, Kanopy, and Criterion (which provide no revenue for the theater). The Brattle's film podcast, also launched last year, is, so far, a free service that fulfills the theater's mission by exploring industry news, significant reviews, and behind-the-scenes aspects of movie-making.
Meanwhile, the Coolidge, serving moviegoers since 1933, continues to offer online film discussions and seminars led by national critics, along with a select series of first-run independent films and retrospective series. It was one of a handful of cinemas nationwide chosen as a satellite venue for the 2021 Sundance Film Festival earlier this year—an honor curtailed by the pandemic, although the theater contributed virtual programming to festival events. On tap for March 24 is the Coolidge's annual national Science on Screen™ event. The popular series pairs films featuring themes related to medicine, science, and technology with introductions by experts in those fields. (Check the website for details on speakers.) Also check out The Coolidge's You Tube channel for talks with actor Willem Dafoe and director Werner Herzog, along with a discussion about Oliver Sacks: His Own Life with Thier professor of surgery Atul Gawande (who appears in that documentary).
Such efforts have succeeded in serving their audiences and generating some revenue, but each theater is operated by a nonprofit foundation that relies heavily on grants and contributions to stay afloat—even more so during the pandemic. "The only places more challenged financially than movie theaters are live performance venues, restaurants, and bars," says the Brattle's Hinkle. "Smaller, independent businesses, like movie theaters, bookstores and salons…that have developed a devoted community are in a much better position to weather this unprecedented period…than some…behemoth that takes a lot of money to just keep running along."
Pending COVID-19 statistics and restrictions, the Coolidge will reopen to the public, says executive director and CEO Katherine Tallman, "knowing that the timing is uncertain and the road to recovery is an uphill climb." The theater's screening spaces have been equipped with new air-purification systems, and have been opened periodically for small-party rentals, she says. But that means a 25-person cap in the main, 225-seat theater. Plans are also under way for more outdoor screenings in late spring and summer at locations around Greater Boston.
Coolidge marketing and development director Beth Gilligan notes that one benefit of the pandemic is wider access to film practitioners. "We can get people from all over the world, when normally we don't have the budget to fly them here," she says. "And there's flexibility to have terrific speakers who are not usually available." The theater's YouTube channel (youtube.com/thecoolidge) currently offers conversations with Norway-based director Benjamin Ree and film subject Barbora Kysilkova (living in Sweden) about their stirring documentary The Painter and the Thief. Other YouTube channel talks feature French director Thomas Balmès (Sing Me A Song) and director Hubert Sauper, who called in from Poland, where his film Epicentro was screening.
The pandemic travel restrictions have also made it easier to gather small groups of academics or scientists, Gilligan says. Thus Nobel laureate David Baltimore, a former MIT biology professor and founding director of the Whitehead Institute for Biological Research, participated in a discussion and screening of From Controversy to Cure: Inside the Cambridge Biotech Boom. Despite such virtual events, though, Gilligan remains concerned that "so many great movies came out in late 2019 and 2020 that people were not able to see." (For recommendations, see "Missed Some of 2020's Best Films?") 
Planning ahead, or planning at all, during the pandemic has not been easy. What films will be screened online, or what other events may be on tap for March and April, were unknown at press time; neither Tallman nor Hinkle could confirm specific screenings at their theaters. "We literally book programs week-to-week," Tallman reports. "We're just going with the flow." Distributors of small and independent films typically make them available a few weeks in advance, she explains, but then it's up to individual theaters to determine length of runs based on ticket sales. The pandemic has exacerbated what had already been a mercurial production and distribution cycle, she adds: "There's no predicting when the studios will do what."
Tallman, Hinkle, and Bramante all expressed deep thanks for their communities of filmgoers. "It's been great to see how many supporters [the Brattle] has," Hinkle adds, "and we feel relatively positive that we will be opening again and people will come back, perhaps in even greater numbers than before." His confidence stems, in part, from a sense that people are hungry for visual storytelling and for the in-person cultural events they took for granted before the virus hit.
 But West Newton Cinema's Bramante was less assured. Despite an outpouring of affection for the community landmark, and continuing donations to a GoFundMe site that has helped keep the movies coming, "I just don't know what the future holds," he says. In early December, the theater was already rented to private parties for showings of the new Wonder Woman 1984 during the holiday season—but then restrictions shut the theater down for three weeks, and Bramante canceled all the bookings. When the policy was reversed and the closure lifted, it was too late to rebook the rentals.
"With those three weeks gone, I was seriously considering remaining closed until the cold weather passes," he reports, because heating the old structure gets expensive. At press time, the doors were open for small-group rentals. "We're hoping to open [more fully] in March-April, but I'm not sure," he adds. "We're taking it a week at a time."
A press-time update on other small local theaters: The Somerville and (Arlington) Capitol Theatres are temporarily closed for in person film-viewing, but do offer some virtual screenings. The latter is also open for sales of ice cream and concession-stand treats for home-movie watching. The Dedham Community Theatre was closed, as was The Studio Cinema (in Belmont), though the latter's website listed an April 6 re-opening. Lexington Venue's website offered small-party theater rentals (COVID-19 restrictions permitting) and a GoFundMe site to "help the theatre stay alive." Both the Museum of Fine Arts cinema and the Harvard Film Archive remained shut.  
You might also like
The Crimson outlasts the Bears in an Ivy nighttime shootout.
The first in a series of public conversations about Harvard and the legacy of slavery
How to encourage free speech and inquiry on campus
Most popular
Modeling how globalization leaves the least-skilled workers behind
Why good data are essential to understanding the Voting Rights Act
A theorist explores the limits to shrinking datasets.
More to explore
A test can identify these productivity-boosting personnel.
Ancient history professor studies coins, ceramics, and Zelda.
Anwar Floyd-Pruitt's wildly profuse art