John Harvard's Journal
Brevia
Adams House Exit
Judith and Sean Palfrey, both of the College class of '67, announced in December that they would step down as Adams House faculty deans at the end of the academic year, concluding service that began in 1999. (They had postponed their departure by a year amid protracted House renovations and the coronavirus pandemic.) In a message to the community, they wrote, "All of you have been our Adams family for more than two decades, here and across six continents—not just while you are here, but always." They praised Adams for "a proud history of community consciousness and advocacy" and "the amazing contributions that our students and other members make to our house, university and country. And we love how Adams House celebrates so joyfully in the arts of all kinds, all the music, theater, art and literature that is so central to the life of the house." Harvard College dean Rakesh Khurana is organizing the search for successors.
Election Aftermath
Following attempts to derail the certification of Joe Biden as U.S. president, Harvard Kennedy School dean Douglas Elmendorf removed U.S. Representative Elise Stefanik '06 from the senior advisory committee of the Institute of Politics. He cited her public "assertions about voter fraud in November's presidential election that have no basis in evidence" and "statements about court actions related to the election that are incorrect"—both bearing on "the foundations of the electoral process through which this country's leaders are chosen." President Lawrence S. Bacow explained the decision, and related issues concerning speech on campus, in a February 2 statement; see harvardmag.com/bacow-on-polarization-21. Separately, Law School dean John Manning joined nearly 160 fellow deans in a statement decrying "The effort to disrupt the certification of a free and fair election [as] a betrayal of the core values that undergird our Constitution." They cited with "dismay and sorrow" the lawyers who "challenged the outcome of the election with claims that they did not support with facts or evidence"—actions that "betrayed the values of our profession." Read a full report at harvardmag.com/stefanik-iop-21.
Admissions Avalanche
Harvard College received 10,086 early-action applications by the December deadline, up from 6,424 in the prior year, and accepted 747 members of the class of 2025 (versus 895 early admissions in the prior year). Peer schools reported receiving dramatically more early applications, too (Yale had 7,939, up from 5,777). The surge continued through regular applications as well—Harvard received more than 57,000 in total, up from 40,248 last year. Those numbers reflect a pandemic-disrupted academic year in which students were exempted from submitting standardized test scores, and no doubt had time aplenty to fill out multiple applications. But there is a downside. Because 349 students admitted to the class of 2024 deferred and are expected to enroll this fall, the College reduced early admissions, and will presumably trim acceptances of regular applicants, too—so the record applicant cohort may confront a record-low admission rate. Notifications are delayed until the evening of April 6, to enable admissions officers' thorough review of the mountain of materials.
Rhodes and Marshall Roster
Seven seniors became Rhodes Scholars this fall, while two classmates and a recent graduate won Marshall Scholarships. Headed for Oxford are six U.S. Rhodes winners—Shera S. Avi-Yonah, Carissa Chen, Elijah Christopher DeVaughn Jr., Nkaziewoh Nchinda-Pungong, Swathi R. Srinivasan, and Wilfried Kuugauraq Zibell—and International Rhodes winner Eli Zuzovsky of Israel. Also bound for Oxford are Marshall winners Jorge Ledesma '19 and Humza Jilani '21. Harvard's third Marshall winner, Evelyn Wong '21, will attend University College London.
The Fossil-Fuel Front
Student advocates from Fossil Fuel Divest Harvard reported meeting with President Lawrence S. Bacow, Corporation Senior Fellow William F. Lee, Corporation member and treasurer Paul Finnegan, and others to discuss Harvard's policies. Similarly, alumni reported interactions with Lee, pointing toward a Harvard climate-change website to unify information on research, teaching, administrative actions, and investments on a common platform. The continuing conversations, and a report due on Harvard Management Company's "net-zero" commitment (to become greenhouse-gas-neutral by 2050; see harvardmag.com/hmc-ghg-neutralpledge-20)—promised for the end of 2020 (www.hmc.harvard.edu/content/uploads/2020/04/Net-Zero-Commitment.pdf), but still forthcoming as this issue went to press—suggest that some University actions are stirring.…The Harvard Forward pro-divestment candidates on the Board of Overseers ballot (see "The Overseers' Higher Profile," this issue) maintain the pressure for raising the salience of the issue.…So does action elsewhere, such as Columbia's January divestment statement that it does not hold direct investments in publicly traded oil and gas companies—and has directed its investment managers to follow suit, and will phase out private investments in fossil fuels as they mature.
Dining Director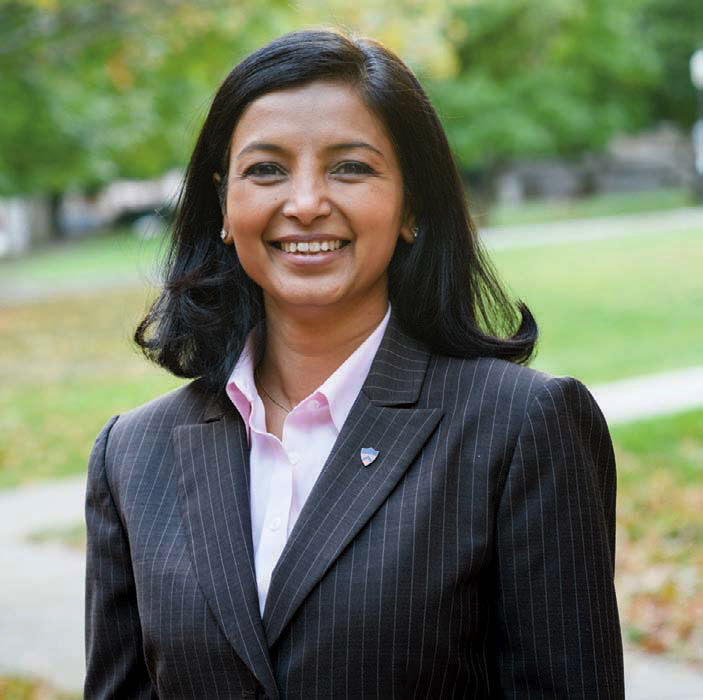 Photograph by Sameer A. Khan
Smitha Haneef arrives in April as managing director of Harvard University Dining Services, whose 650 staff members serve 22,000 meals daily when the campus is in full residential operation. She succeeds David Davidson, who retired last year. Haneef has been assistant vice president of university services at Princeton since 2014, overseeing food operations encompassing 400 staff members. She joined Princeton from Aramark, where she helped launch a business providing on-site restaurant services to large corporations.…Separately, HUDS is closing Heights restaurant (atop Smith Campus Center), the café in the Center for Government and International Studies (near the Graduate School of Design's Chauhaus cafeteria), the Observatory cart, and a central kitchen that supported dining halls and retail operations. The number of employees who will lose their jobs, and the effective date, have not been disclosed.
Contractors Continued
As the University moved from full pay and benefits for service employees idled by the pandemic (like dining-hall staff) to 70 percent compensation, and the discontinuance of contracted workers, Harvard Law School and Harvard Medical School announced that they would continue supporting contracted dining-staff members. With its dining facilities closed, HLS will transition from Restaurant Associates to Harvard University Dining Services—but with an effective date of June 30, funding continuity pay for the affected people at 70 percent from February 1 through the end of the academic year. HUDS will reportedly seek to place the contractors in open positions at facilities it operates. HMS announced that it "does not intend to reduce staffing levels, hours, or pay for Restaurant Associates employees at this time"; 48 workers are covered.
SEAS in Cambridge
As the School of Engineering and Applied Sciences moves many faculty members to its new Allston facilities (see "A 500-Year Building," January-February, page 13), it is emptying most or all of the space it occupies at 60 Oxford Street and in the Maxwell Dworkin building, as well as leased space at 20 University Road. But faculty and staff members, and graduate students and postdoctoral fellows, will retain all or parts of Pierce Hall, Cruft Lab, the bridge connecting them, McKay Lab, the LISE building, the Northwest Building, the Engineering Science Lab, and Mallinckrodt. Ann Beha Architects is assessing the condition of the Pierce-Cruft complex with an eye toward modernizing systems and adapting them for future use. Other spaces may be retained by SEAS, or released for other units. No details have been unveiled, but the facilities will tempt many prospective users in space-constrained Cambridge—and loom large in plans for future capital campaigns.
Washington-bound
Faculty members appointed to senior Biden administration positions include professor of systems biology Eric Lander, founder of the Broad Institute, who becomes chief science adviser; Lindh professor of the practice of global leadership and public policy and Zabel professor of practice in human rights Samantha Power, administrator of the Agency for International Development; professor of the practice of public leadership Wendy R. Sherman, deputy secretary of state; and professor of medicine Rochelle P. Walensky, director of the Centers for Disease Control and Prevention.
Nota Bene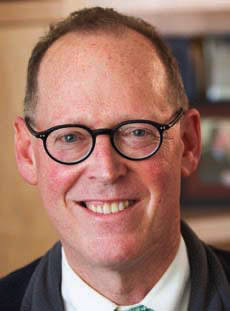 Photograph by Stephanie Mitchell/HPAC
Health equity award. Kolokotrones University Professor Paul Farmer, founder of Partners In Health, has been awarded the Berggruen Prize for Philosophy and Culture for his contributions to global public-health equity and human rights. The prize carries a $1-million honorarium. Farmer's new book, Fevers, Feuds, and Diamonds: Ebola and the Ravages of History, is covered in depth at harvardmag.com/farmer-ebola-20.
Dentistry redux. The Harvard School of Dental Medicine re-opened the former Harvard University Health Services dental clinic in Cambridge. It had been slated to close at the end of 2020, given declining use and financial losses. HSDM operates a teaching clinic in Longwood; it will serve former HUHS patients and seek to attract new ones from the community, in part by expanding coverage to include oral surgery, orthodontics, and other specialties, providing new opportunities for the school's residents in graduate programs..
Miscellany. Harvard Law School has named L. Tracee Whitley '88 its dean for administration, succeeding Matt Gruber, who has moved to Sagamore Capital Management. Whitley, who was previously chief operating officer at global law firms based in Houston and in Boston, assumes responsibility for facilities, faculty support, finance, human resources, information technology, and other business operations.…The Andy Warhol Foundation for the Visual Arts has made a $100,000 grant to the Harvard Art Museums in support of a planned fall exhibition, "Devour the Land: War and American Landscape Photography since 1970," featuring more than 130 images and scheduled to open September 17.…Elizabeth Nabel, president of the Harvard-affiliated Brigham and Women's Hospital, has stepped down after 11 years, to pursue opportunities in for-profit biotech enterprises. During the past year, she came under criticism for serving on the board of Moderna, and realizing large gains from exercising stock options awarded for that work, when the hospital was involved in trials for the company's coronavirus vaccine and its staff was under extreme pressure treating the COVID-19 patient population.…Alex Krieger, the nationally known research professor in the practice of urban design, has adapted his walking tour of Boston, long a feature of his introductory course at the Graduate School of Design, into a video tour, available at https://www.gsd.harvard.edu/2020/12/land-for-a-city-on-a-hill-alex-kriegers-iconic-tour-of-boston.