A Cultural Escape
The renewed community life of a grand Cape estate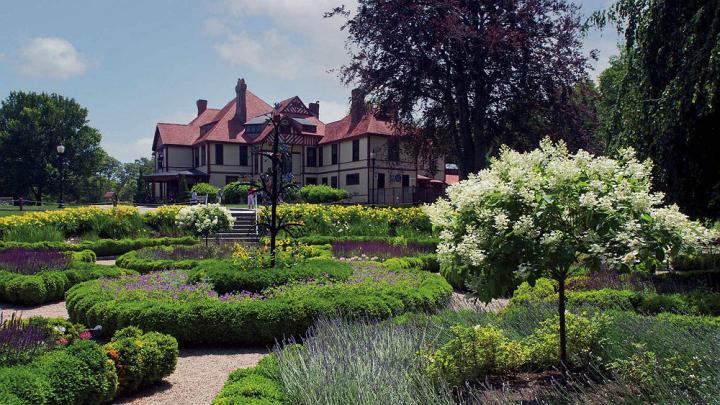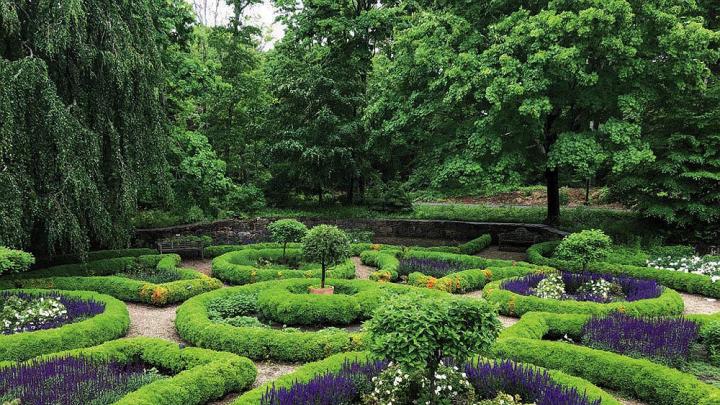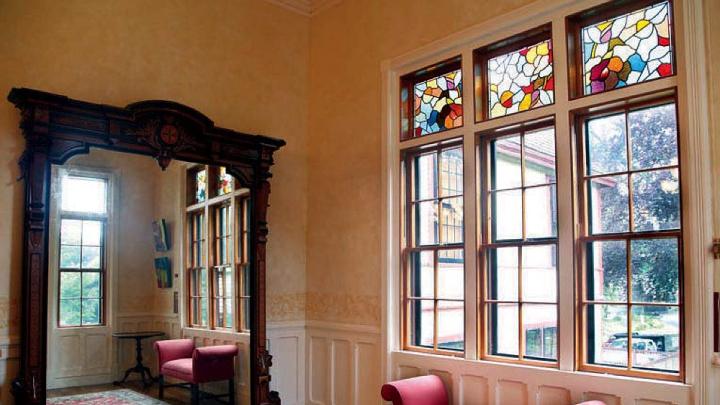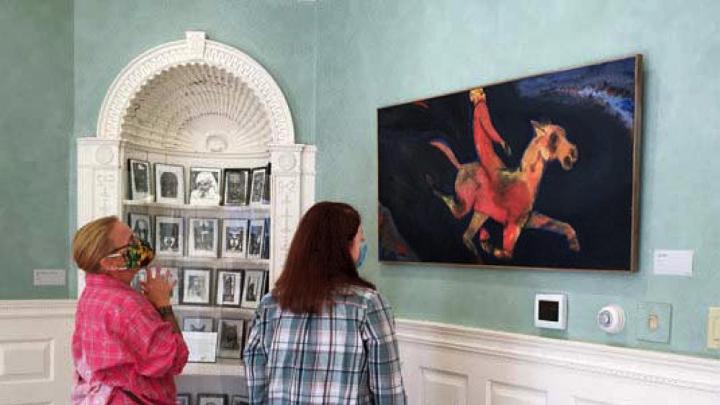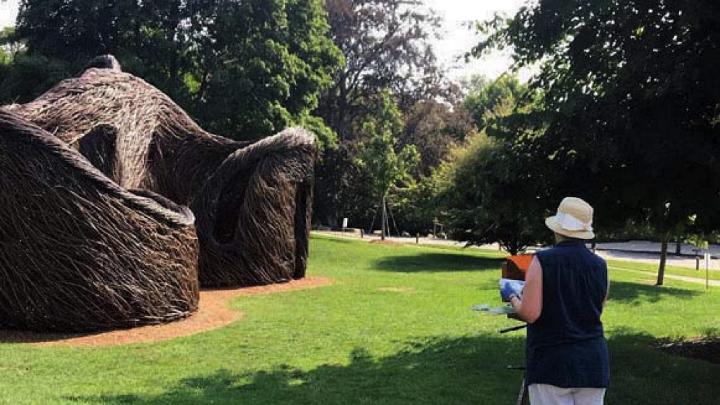 Cape Cod summons the quintessential summer vacation—sun, sand, and seafood—but also offers historical and cultural attractions that can be especially savored during the less-crowded shoulder seasons. Among these is Highfield Hall, a restored 1878 mansion in Falmouth.
Saved from the wrecking ball in 1994, the Victorian-era house is one of the earliest Stick-style "cottages" on the shore, and marked the town's nascent transition from a defunct whaling hub into a thriving summer resort. The estate, on a five-and-a-half-acre hillock amid gardens and conservation land, has since evolved into a community-focused cultural center. "What's unique about Highfield Hall is the vibe," says co-executive director Tara Burke. "It's a very calming place, very comfortable, just a wonderful environment for people to enjoy. We strive to make it an intimate, memorable experience, a place where people can come that's lovely, and just pause in their lives, and relax. Because life is crazy."
Highfield Hall & Gardens is operated by a nonprofit organization (it rents the site from the town) that offers year-round art exhibits, live music, children's programs, and a "supper club" speaker series, along with culinary and gardening workshops. During the pandemic, the site has also become an especially important outdoor refuge for adults and children. Visitors are free to stroll the historic rhododendron dell and the West and Sunken Gardens, and spread out on the lawns to play, lounge, and picnic. Public walking trails run through the abutting 400-acre Beebe Woods, owned by The 300 Committee, a local conservation group. And American sculptor Patrick Dougherty's willow-branch structure A Passing Fancy, commissioned in 2019, provides a whimsical playground arena on the front lawn.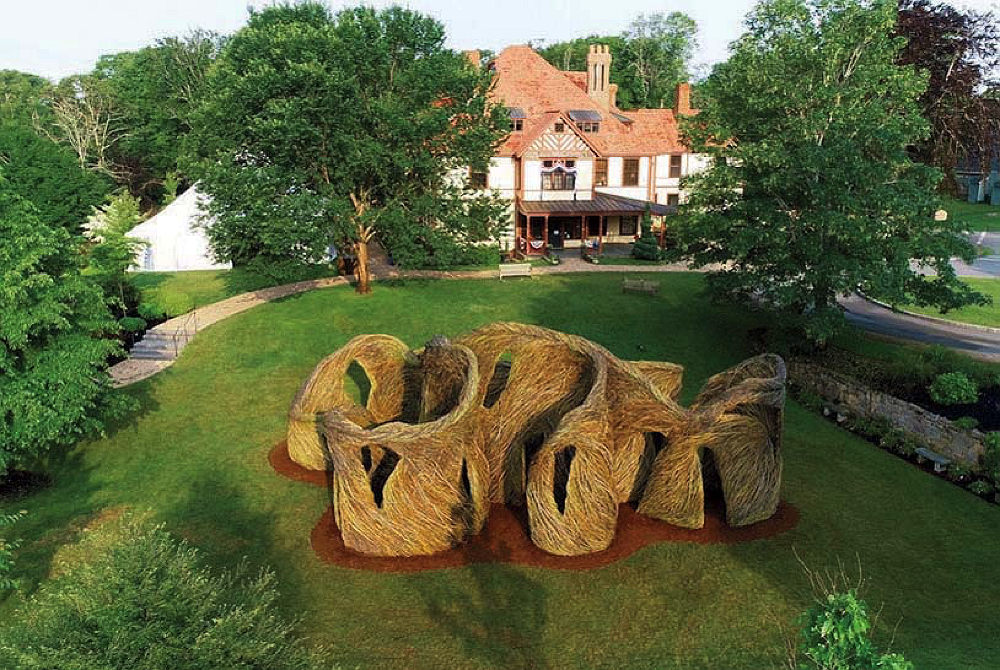 Photograph courtesy of Highfield Hall and Gardens. 
Highfield Hall opened to the public in 2006, following a long grass-roots effort to save the property, and a six-year renovation. The result is not a typical house museum that reflects the period furnishings and domestic lives of the Beebe family members who built the estate, notes Highfield Hall program and exhibitions director Joanne Ingersoll. Instead, the site and the programming aim to celebrate "qualities of life found in music, art, entertaining, and gardens," she says: "All were inspired by the Beebes and their time spent on the hill." (The renovations and a new commercial kitchen were also geared to create rentable space for large private functions, like weddings, which generate funds that help support estate operations.) But a permanent gallery does elucidate the property's history with the Beebes, and the preservation efforts, while docent tours are offered year-round. Walking through the gracious former ballroom, bedrooms, and library, visitors can sense the carefree, sunny summertime pleasures of the past. "The house is elegant, and very comfortable, but not pretentious," Burke allows. It's a place where people gathered easily, for music and dinner parties and outdoor adventures by the sea shore, just as many Cape Codders do now.
The estate was originally developed by the Boston-based Beebe family. Its patriarch, the wealthy, self-made dry-goods merchant James M. Beebe, retired in 1866 and bought the nearly 700-acre spread in 1872. When he died three years later, his wife, Esther Elizabeth Brown, and their six children took charge of developing the property. They built both Highfield Hall, with gardens designed by landscape architect Ernest W. Bowditch, and the adjacent Tanglewood estate (razed in 1977), plus barns and stables, as well as carriage paths and bridle trails, including through Beebe Woods. One of the first major shipments on the railroad that once stopped in Falmouth were the family's blood horses; the Beebes had separate, honored, horse and pet cemeteries on their land.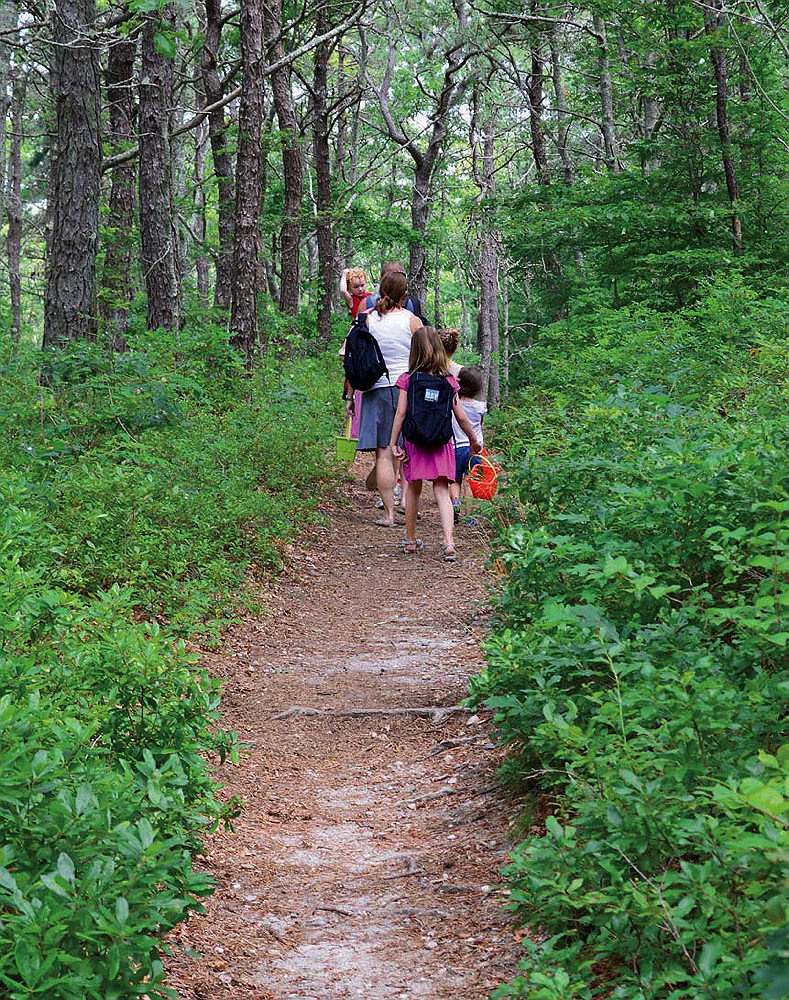 Photograph by Alicia Porter/Buzzards Bay Coalition
In all, three generations of Beebes spent summers in Falmouth. Along with their friends, members of the Joseph Story Fay family (in the nearby village of Woods Hole), they were instrumental in reviving the local economy, and ushering in Falmouth's resort era. For years the Beebe property holdings, which expanded with subsequent acquisitions, accounted for a quarter of the town's tax revenue. Family members took roles in local government and civic projects, such as building the St. Barnabas Episcopal Church. The last member to live at Highfield Hall, Franklin Beebe, died in 1932, leaving no heirs. After the property was sold, each new owner attempted to repurpose the place to fulfill personal dreams, Burke says, including as health spa, religious retreat, and hotel.
Two subsequent owners in the 1940s and 1950s, New York City producer Arthur J. Beckhard and Texas oilman DeWitt Ter Heun, established and financed, respectively, play houses that contributed to the thriving regional theater scene and ultimately led to the current Highfield Theatre, housed in the converted Beebe family barn and stables. But by the early 1970s, after a 500-unit residential development on the land (proposed by a different owner) had been blocked, both mansions had significantly deteriorated. The estate was eventually purchased by Josiah K. Lilly III, the philanthropist and pharmaceuticals heir, and his wife, Josephine, who essentially gave everything away to various philanthropic causes. Land for Beebe Woods went to the town, and tracts were parceled out for health and educational institutions, like Falmouth Hospital. The two mansions and 26 acres went to the Cape Cod Conservatory of Music and Art. Tanglewood was subsequently razed, unfortunately, but as Highfield Hall faced that fate, citizens banded together to protect it. In 2000, the town took the derelict house and six acres by eminent domain; after the extensive restoration, the mansion was opened to the public in 2006.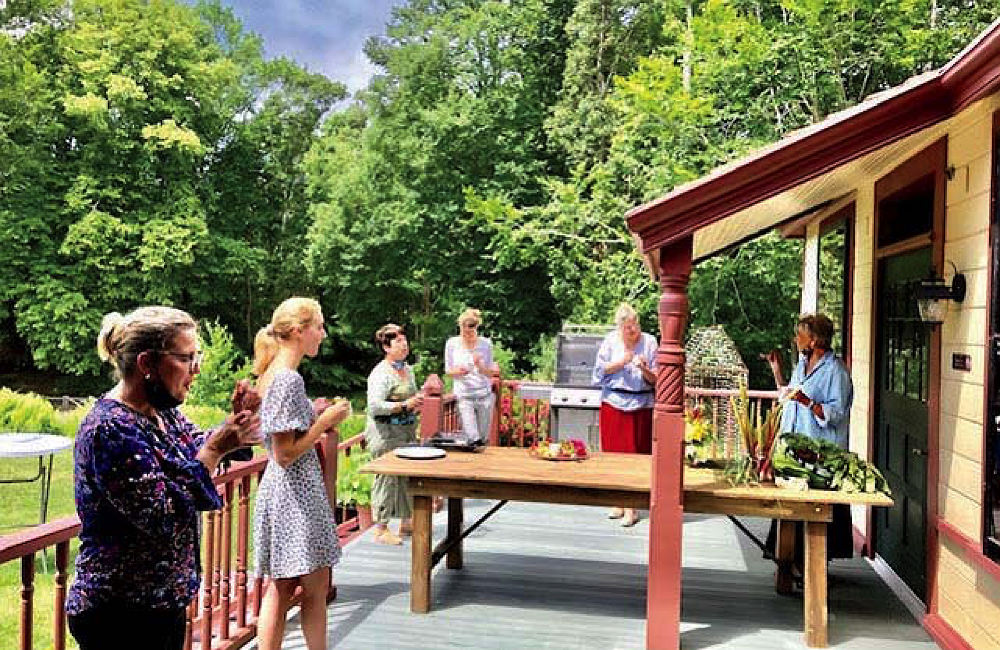 Photograph courtesy of Highfield Hall and Gardens. 
"Highfield Hall and the Beebe family are part of the fabric of this town," Burke says. "They entertained lavishly, with parties and dinners." They also held concerts in the ballroom, which was acoustically designed for salon gatherings. "It's a wonderful place for musical events and dancing." This season, she and co-executive director Lisa Walker are developing expanded children's programs as well as cooking classes geared to summer herbs and produce, picnic and grilling fare, and ethnic cuisines. Summer and fall Supper Clubs are scheduled with scientific speakers from the Marine Biological Laboratory (MBL) and Woods Hole Oceanographic Institution, along with wine tastings, and Burke plans to organize some small-group concerts, indoors or outside, depending on pandemic restrictions. (Check the website for event details and locations.)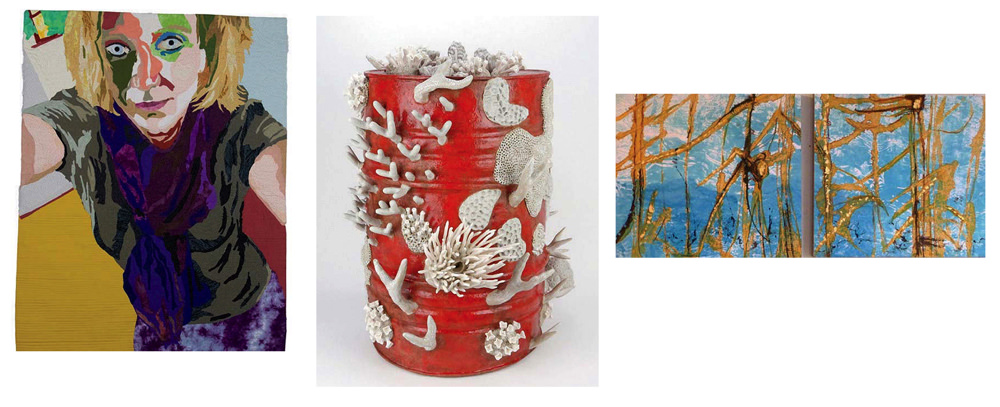 From left: Courtesy of Sharyn Raiche; © Courtney Mattison; © Patricia Gerkin
In addition to a few pop-up exhibits, Highfield Hall is slated to host three main art shows in its airy galleries. "Edges," through June 6, features 35 works from the Studio Art Quilt Associates (SAQA) regional exhibition juried by Rhode Island sculptor Anastasia Azure. The quilts explore the myriad boundaries encountered by humans, Azure states—between land and sky, night and day, hope and despair—the continuing effort to negotiate a "path between difficult options or exploring life to its limits."
"SeaChange" (opening June 16) features encaustic, cold wax, and mixed-media works by four New England-based artists—Debra Claffey, Donna Hamil Talman, Patricia Gerkin, and Charyl Weissbach—who form the Elemental collective, focused on environmentally themed abstract imagery of natural forms that emphasize human responsibilities toward the planet. The third and complementary show, "Turn the Tide" (opening July 14), a ceramic installation by Los Angeles artist Courtney Mattison, "concerns the delicate conditions of coral and marine life in the world's oceans, and aims to empower the public to practice marine stewardship," Ingersoll says, and is sponsored in collaboration with the MBL. Both will remain open through the end of October, she adds, to evoke "the world under the waves...and support the conversation around man's relationship to nature."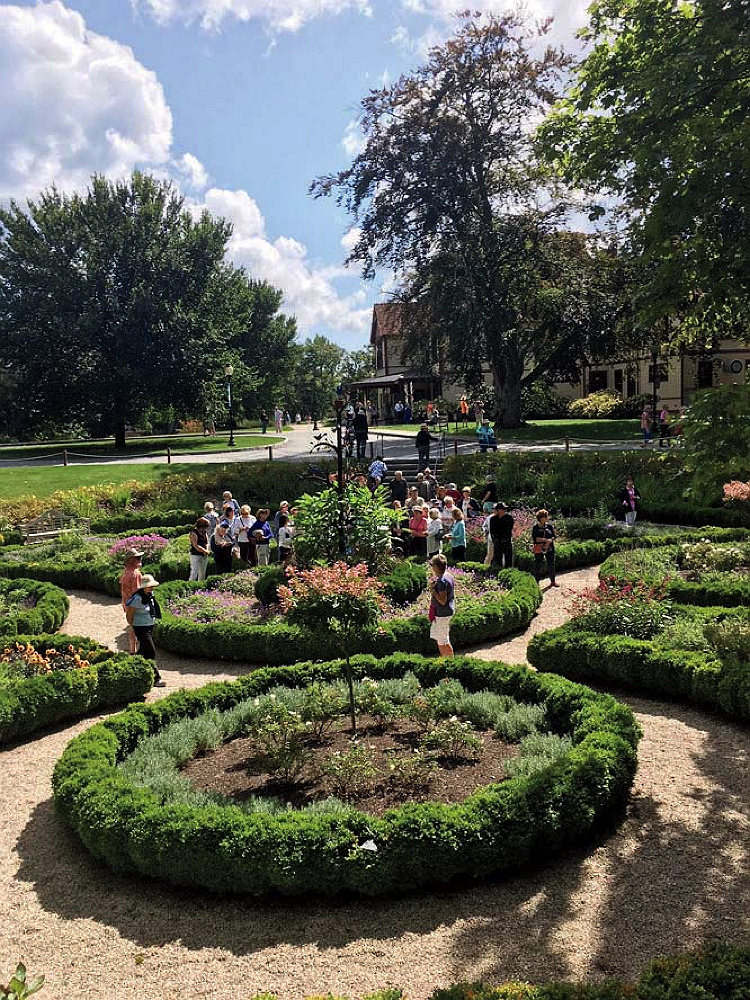 Photograph courtesy of Highfield Hall and Gardens. 
Outdoors, Highfield Hall encourages that deepening connection. In addition to Beebe Woods and the Dougherty sculpture, the estate's gardens offer respite from the busy world. Landscape director George Chapman, working with volunteers, is preserving and reviving a portion of the original gardens. The formal Sunken Garden has seven sections framed by boxwood hedges and pebble paths, with four tree-form hydrangeas and topiary at the center. "So any time you look at the garden, it's got those bones for year-round interest," he reports, "but in May and June is when it has the most color." Early-season flowers include peonies, purple and blue Salvia sylvestris, and irises. The gardens' daylilies open later in the season. Visitors can enjoy views of the garden—framed by one of the few remaining purple beeches favored by the Beebes—from the house, and then meander downhill to walk through the geometric layout.
The West Garden, set back from the Hall's wraparound porch, offers a profusion of daylilies and hostas, along with beds of cutting flowers added this year, in conjunction with altar and flower guilds at St. Barnabas Episcopal Church. Given the church's Beebe family connection, Chapman adds, "we've come full circle."
He and his volunteer crew (which puts in nearly 500 hours a season) are also restoring the rhododendron dell, which has been overwhelmed by shade trees and the strangling effects of rampant wild grape vines. Around the exterior of the house they have maintained additional old and beautiful hydrangeas, along with the new "Magical Candles" variety with porcelain-white flowers and a soft yellow core.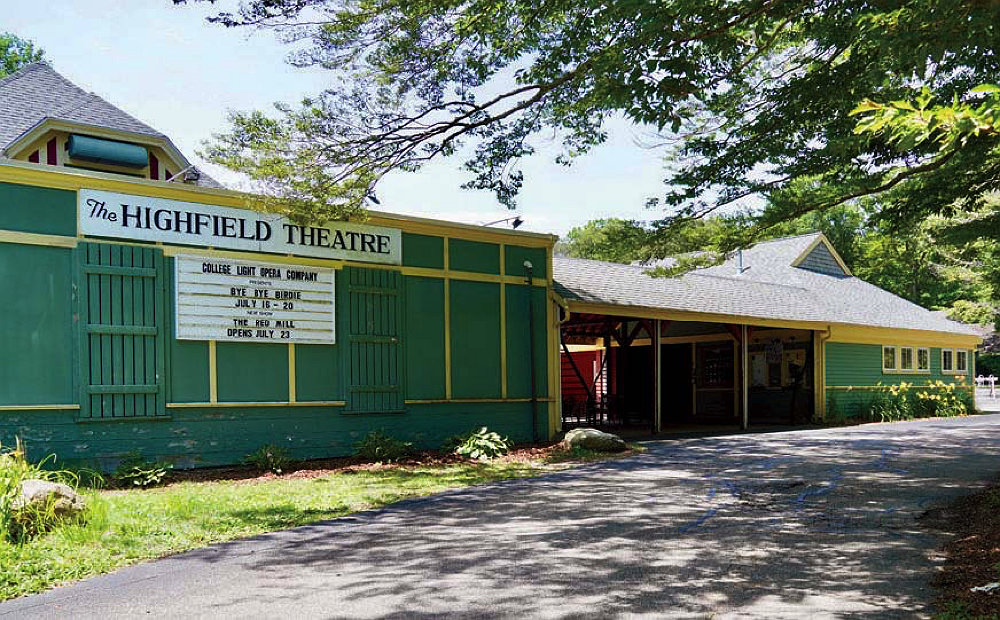 Shutterstock
Adjacent to the mansion is the original ice-house, one of the few remaining intact on Cape Cod, and the 1876 barn and stables that now house the Highfield Theatre. Its College Light Opera Company produces nine musicals and operettas each summer; the shows are expected to go on this pandemic season as well—Pirates of Penzance, Very Good Eddie, A Gentleman's Guide to Love and Murder, and Trouble In Tahiti, among them—with the additional live-streaming of Saturday-night performances.
The goal, Burke says, is to keep the estate and grounds open for everyone to enjoy as part of the region's heritage. Despite the theater's ambitious production season and the estate's packed calendar of cultural events, she adds, "Highfield Hall is actually so peaceful you don't even know you're on the Cape."  
You might also like
The Crimson springs a major upset.
Harvard officially installs Claudine Gay, its thirtieth leader.
A half-dozen symposiums feature Harvard research on AI, climate change, inequality, and more
Most popular
A community letter as the new administration begins
Solving legal challenges at MoMA
More to explore
A test can identify these productivity-boosting personnel.
Ancient history professor studies coins, ceramics, and Zelda.
Anwar Floyd-Pruitt's wildly profuse art