John Harvard's Journal
Back to the Gridiron
Footballers shake off the rust from a long hiatus
Photograph courtesy of Harvard Athletic Communications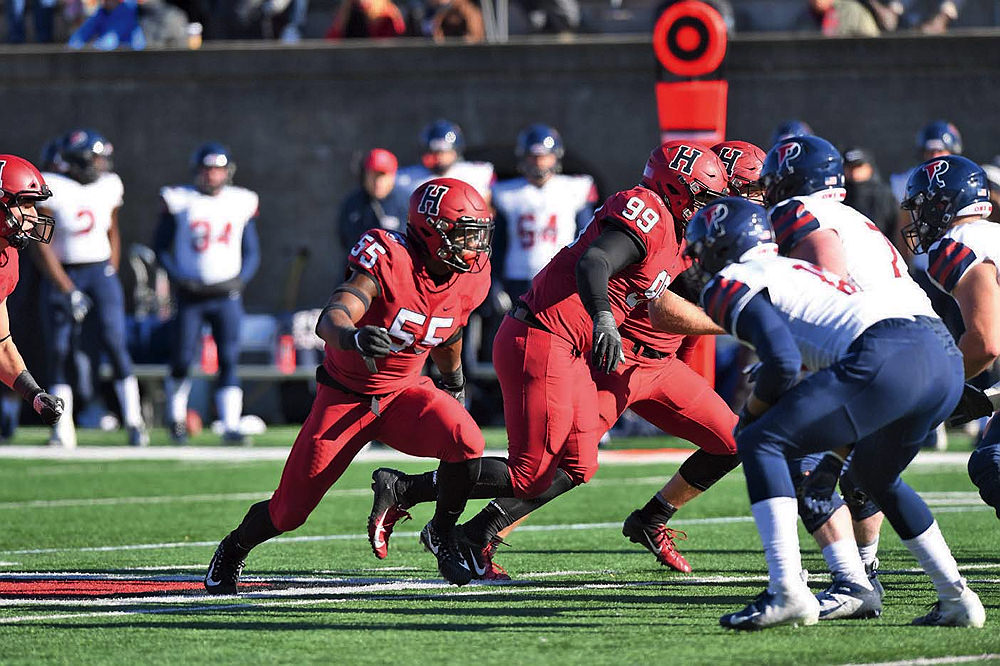 Photograph courtesy of Harvard Athletic Communications
When last we glimpsed the Harvard football team and its supporters, it was November 23, 2019, and they were wandering stunned and spent around the floor of the Yale Bowl following the Crimson's ghastly double-overtime, 50-43 defeat to the arch-rival Bulldogs. It was Harvard's fifth straight gut-punching loss, arguably the most cataclysmic defeat in the program's history and the denouement of a godforsaken 4-6 season. At the time, few could envision experiencing anything worse. And then, four months later, everyone experienced something a lot worse.
Among the casualties of the ensuing coronavirus pandemic was Ivy League sports. Harvard, along with its Ancient Eight brethren, saw the 2020 football season (and all other sports) wiped out. The 2021 opener at Georgetown on September 18 will be the first football the Crimson have played since The Game in 2019—a gap of 22 months. In Harvard's 146 previous seasons, the only ones to compare may be the postwar campaigns of 1919 and 1945, both coming after wartime-curtailed schedules. Many players from those teams, at least, had stayed sharp by competing in service football. The 2021 squad has had to deal with lockdowns and inactivity enforced by social distancing. The appropriate color for this year, then, might not be crimson but rust.
Entering his twenty-eighth season on the Harvard sideline, Tim Murphy, the Stephenson Family coach of Harvard football, had one immediate task: sorting out an artificially swollen squad that had the locker room bursting at the seams. "We have a once-in-every-hundred-years bloated roster," explains Murphy (profiled in "Murphy Time," November-December 2015, page 35). "Because the NCAA and the Ivy League granted kids who did not play last year an extra year of eligibility, you've got more seniors than you've ever had before, and we mean not only fifth-year but also sixth-year seniors."
But other new rules have cost the Crimson the services of some expected major contributors. Transfers now are allowed to play without sitting out a season, making them essentially free agents. Moreover, graduates are permitted a fifth year of eligibility. These conditions have turned college football and men's basketball, in particular, into twenty-first-century versions of the Wild West, where players are poached with regularity. A few Harvard players with eligibility remaining moved on. Two Crimson 2019 All-Ivy first teamers, offensive lineman Eric Wilson '21 and defensive back Isaiah Wingfield '21, decamped for Penn State and Wake Forest respectively. Second-team All-Ivy running back Devin Darrington '21 is now at Virginia. In what at first seemed an odd move, wide receiver Cody Chrest '20, a Houston product, went home to Sam Houston State. There he led the Bearkats in receptions, helping them to win the Football Championship Subdivision title. (The new rules are especially galling for Ivy coaches, because admissions standards make it difficult if not impossible to replace outgoing transfers.)
In seeking his tenth Ivy League title, Murphy plans to pass—a lot. He says he spent the pandemic "watching a lot of football and taking copious notes." His conclusion: In the 2020s, you will get nowhere "if you can't throw the ball and you can't defend the pass." Moreover (using a B-school term), "there's an opportunity cost to running the football. You might be averaging 4.4 yards per run, which is pretty good, but you're giving up the opportunity to gain 8.8 yards per pass. The bottom line is, in today's game you need to score a lot of points. We scored 43 points against Yale. Who would have thought that would not be enough?"
To pass, of course, you need a quarterback. The incumbent signal-caller, senior Jake Smith, has had his moments during three up-and-down seasons. (Smith has not been around forever; it only seems as if he was tossing spirals back in 1913 to Charlie Brickley and Eddie Mahan.) In 2019 he was in the middle of the pack statistically among Ivy passers. Now he will have to win his job back in preseason drills against a host of challengers, bringing unwanted uncertainty at the sport's most important position.
Otherwise, Murphy likes what he has on offense—especially at the skill positions. "Our strengths are wide receiver and running back, and running back depth," he says. "Tight ends as a group for sure." Given that Murphy has sent a flotilla of tight ends to the National Football League, perhaps this will be the season that seniors Ryan Reagan and Adam West break out. Among the rushers, Darrington's loss is cushioned by the presence of 2019 Ivy Rookie of the Year and Yale game hero (269 yards, four touchdowns) Aidan Borguet, now a sophomore. Just as heartening: After taking 2019 off, 2018 All-Ivy first-teamer Aaron Shampklin has returned as a junior. Borguet and Shampklin each can break a long gainer, so Murphy has weapons to worry defenses if the aerial attack doesn't work out. The wideouts are headed by oft-injured senior B.J. Watson. "This is probably the first time B.J. has been healthy," says his coach. "He had surgery on both knees and it has made a world of difference." The offensive line is a question mark. Finally, in 2019 the Crimson had an unusual but devastating (40.2-yard average, tops in the league) two-punter arrangement. Since Sean McKeogh has graduated, junior Jon Sot will boot solo.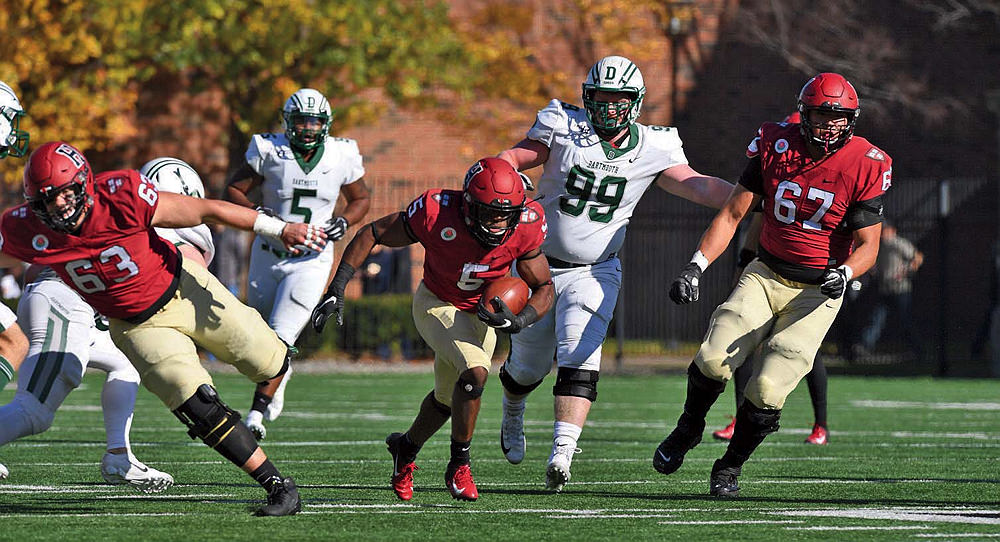 Photograph courtesy of Harvard Athletic Communications
The defense looks stout. "The general strength of our team will be the defensive line and the linebacking corps, both in terms of quality and depth," says Murphy. "We're really excited about our front seven. We'll play 14 guys for those seven positions." The unit is headed by senior captain and first-team All-Ivy linebacker Jordan Hill, last seen almost corralling a fumble whose recovery would have sealed the Yale game. On the defensive line, a fearsome foursome—seniors Nasir Darnell and Jacob Sykes and juniors Truman Jones and Anthony Nelson—came on strong in 2019. The somewhat untested defensive backfield might be an Achilles heel; it will miss Wingfield.
League prognosticators who assure you that they know what 2021 will bring are fibbing. Ever mercurial, this year Ivy football is even more like Hollywood, of which it is famously stated: nobody knows anything. Says Murphy, "There's more relative balance in the league than ever before. Columbia is extremely competitive. Cornell, though they have struggled at times, is never easy to beat. And everybody else? They're good!" Harvard's first Ivy game, the home opener against Brown on September 24, may provide some indication of future results, especially since the Bears boast one of the nation's best quarterbacks in E.J. Perry.
The action off the field may rival that on it. Another new NCAA rule permits student-athletes to profit from their name, image and likeness, known collectively as NIL. (Schools still cannot pay players—for now.) Harvard boasts freshman twins from Chattanooga, Tennessee, named Austin and Jack Gentle. Incongruously with that last name, they are offensive linemen, and each is a broth of a lad, with Austin checking in at 6-foot-3 and 285 pounds and Jack at 6'2", 270. "The Gentle Giants!" Murphy calls them with a laugh. This is a label just made for a best-selling T-shirt. No matter how Harvard does on the scoreboard, the Crimson could be a winner in the NIL League.
TIDBITS Murphy Milestones: Coach Murphy's first victory in 2021 will be his 179th at Harvard, tying him with legendary Yale coach Carmen Cozza for most at an Ivy League school. With 124 conference wins, Murphy is 11 behind Cozza's record. On October 9, the day the Crimson hosts Cornell, Murphy will turn 65 years old….The Game this year will be at the Yale Bowl, despite the most recent Game, in 2019, also having been played in New Haven. This means that when the 2022 Game returns to Harvard, there will have been a gap of six years between finales at the Stadium, since the 2018 Game (considered a Harvard home game) was played at Fenway Park.