Getting Close to the Past
A powerful public history of slavery in America
Clint Smith, who received a Ph.D. in education from Harvard in 2020, has written an important and timely book about race in America. But How the Word Is Passed: A Reckoning with the History of Slavery Across America is also a book about education: what we know and what we don't, what we choose to remember and what we prefer to erase, silence, or forget. Smith was a high-school instructor when he first felt compelled to investigate the often-obscured or distorted truths of American slavery and to uncover how and where those stories are told. The "reckoning" he seeks encompasses both a more clear-eyed understanding of the nation's racial past and a commitment to disseminating these historic realities, rather than the destructive falsehoods that have so long held us in their grip. Smith writes as an educator, but also as a Black man and a poet, a chronicler who seeks to confront the past's remnants directly and in person, and to share their impact on both his mind and his soul.
Education does not happen only in schools, and Smith's book explores another mode of teaching and learning, one often designated as "public history." As a kind of anthropological participant-observer, he visits eight sites connected to slavery and accessible to ordinary tourists and visitors —"a mix," as he describes it, "of plantations, prisons, cemeteries, museums, memorials, houses, historic landmarks, and cities" —in order to understand how each "reckons with its relationship to the history of American slavery." The locations are strategically chosen to represent slavery over time and space, illustrating the varied dimensions of its character and continuing influence. Beginning with a focus on the South and the nation's origins at Monticello, Smith then pulls back the lens to look at the antebellum years and the Civil War, with sites that touch on the creation of the myths of the Lost Cause and on Black efforts to resist this white-supremacist history as it emerged full force in the late nineteenth century. He takes us to New York City to remind us that even though the South was "where slavery was most saturated," the North was deeply complicit. Complete abolition occurred in New York only in 1841, and many of the City's most prominent landmarks—Wall Street, the Statue of Liberty, Central Park—are deeply intertwined with slavery's history. Smith's account of his travels ends where his story began, in Goree Island, a Senegalese port, where thousands of Africans departed in chains for America through the infamous Door of No Return.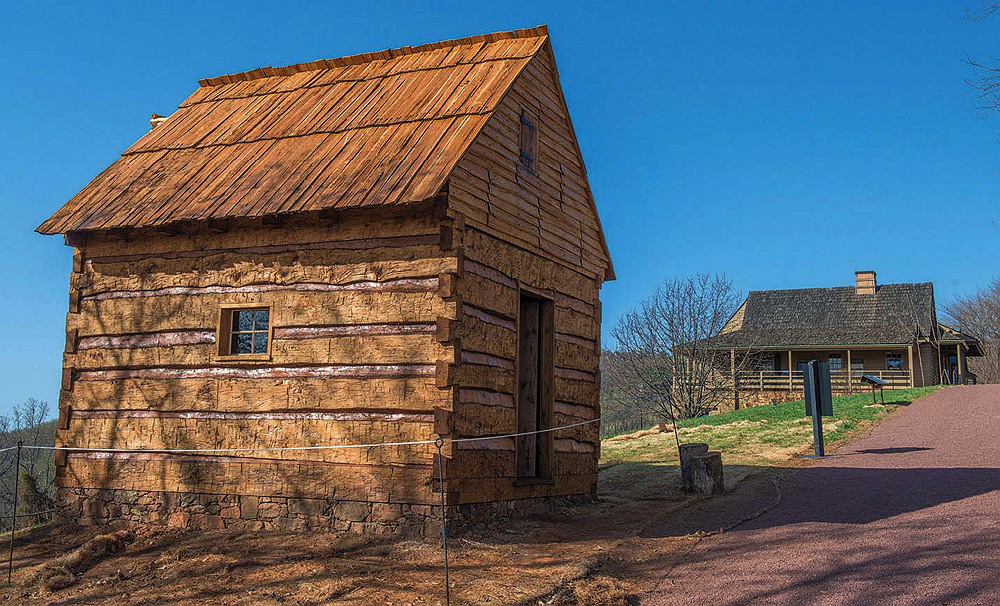 Photograph by Danita Delimont/Alamy Stock Photo
To begin with Jefferson's Monticello is to place the complexities and tragedies of race in America at the heart of his story. Slavery was inseparable from the nation's very founding and essential to the life of its preeminent founder, who wrote the Declaration of Independence declaring all men to have been created equal yet owned 607 slaves over the course of his life. Smith describes recent efforts by tour guides and historians at Monticello to grapple with these contradictions by telling the story that had long been erased about Jefferson as slaveowner and Monticello as slave plantation. A number of years ago, a friend told me about overhearing a tourist remark: "I wonder if Mr. Jefferson had help." Such blindness would no longer be possible.
Two middle-aged white women Smith meets on the special "Slavery at Monticello" tour illustrate both the possibilities and hurdles the guides face in communicating a more accurate and complete version of the past. The women seem in many ways remarkably open and willing to revise long-held assumptions, and they are unusual in even choosing the special slavery tour. One had studied Jefferson, she noted, but the "slavery part was not part of it." After learning about his role as a slaveowner who separated families through sales and whipped his workers to maintain discipline, her friend remarked that "it really took the shine off the guy." These women are changed—educated—by their visit, but this is often not the case. Guides, especially Black ones, have to deal with "outrageous comments" from visitors, and some visitors resent having to think about slavery at all in relation to a man they regard as an American hero. Smith recognizes what the guides reinforce in their conversation with him: it is imperative to find the "balance between telling the truth and not pushing people so much that they shut down….When you challenge…white people's conception of Jefferson, you're in fact challenging their conception of themselves."
Whitney, an hour west of New Orleans, is a very different plantation, a site of sugar-cane production, one of the most grueling and exacting forms of slave labor in the Americas. Whitney is not burdened by association with myths of the Founding Fathers, and its owner is dedicated to shattering the untruths that have surrounded the history of slavery. John Cummings, a wealthy 80-year-old white businessman, bought the Whitney in 1998 as an addition to his large real-estate portfolio. He had little understanding of the realities of slavery until he began to peruse the historic plantation records. Overwhelmed with a "feeling of 'discovered ignorance'" and infused with the zeal of a convert, he determined to turn the plantation into a museum that would share these truths with a broad public. Cummings and his director of research, Dr. Ibrahim Seck, believe that sites like the Whitney offer an unparalleled opportunity to disseminate an accurate rendering of the past. People writing "about slavery from the towers of academia," Cummings insists, will "never reach a wide audience." The "'greatest empirical studies…sit on library shelves gathering dust. Nobody reads them.'" Seck agrees. "'Books are really good, but who can read a book?….This needs to be an open book, up under the sky, that people can come here and see.'"
Cummings and Seck are not the only voices Smith records noting the limited influence of the last half century's scholarship on public knowledge about slavery. It is indeed a crucial question that should concern all of us in universities who imagine our research and our academic studies will inevitably lead to changed understanding.
As an historian of the American South and the Civil War, I have long been frustrated by how the word about slavery seemed not to be passed. When I entered the historical profession in the 1970s, the study of slavery was perhaps the most exciting field in American history. As graduate students, we devoured and debated an outpouring of pathbreaking scholarship. The civil-rights movement had not only transformed the world around us, but had turned historical assumptions on their head, documenting the cruelties and horrors of a system that previously dominant historiography had portrayed as overwhelmingly benign. The enslaved were far from docile and contented, as national mythology had come to cast them. Historians described enslaved laborers who staged revolts, ran away, and undermined the system through sabotage. Scholars like Kenneth Stampp, John Blassingame, Herbert Gutman, Eugene Genovese, Lawrence Levine, Ira Berlin, and Deborah White—to name just a few—employed innovative methodologies, often borrowed from other disciplines, to portray a vibrant Black culture and community that developed among the enslaved. Slavery's place in national life was recast as well with enhanced recognition of both its economic and political centrality. Few professional historians any longer doubted that slavery was the fundamental cause of the Civil War.
Yet this academic consensus, essentially fully in place by the late 1970s, did not succeed in penetrating a broader American consciousness. Many school districts, especially in the South, resisted introducing these new perspectives, and some resolved the dilemma by erasing the study of slavery and the antebellum era from the curriculum altogether. Historians have worked closely with the National Park Service, and Civil War battlefields now acknowledge slavery as the cause of the war. But rangers have to deal with many visitors' objections to this basic fact. Smith himself, born in 1988, was taught lies about the past that he found paralyzing, rendering him unable to understand either himself or "why our country looks the way it does today."
Smith's book represents a call to action for those who believe in the importance of confronting America's racial past. For those of us who have spent our professional lives uncovering these difficult truths, the burden of responsibility is perhaps even greater. We are, moreover, at a moment where the impediments to fuller and more accurate rendering of our history are becoming more powerful and more explicit, as states and localities pass legislation prohibiting schools from discussing difficult issues like slavery, lynching, and segregation. American history, it seems, need not be true, but it must be celebratory.
Angola prison inmates still pick cotton, for mininal remuneration, on land that was a plantation.
Smith's book suggests and exemplifies a path forward. In a particularly affecting chapter, he visits Angola prison, in Louisiana, where inmates still pick cotton for minimal remuneration on land occupied by a plantation in slavery days. "It had been one thing to see Black men laboring in the fields of Angola in photographs but it was quite different to see it in person," Smith writes. "The parallel with chattel slavery made it feel as if time was bending in on itself. There was no need for metaphor; the land made it literal."
In his doctoral dissertation, Smith studied youths sentenced to life without parole, so he has deep knowledge of the carceral state and the way it emerged after the Civil War as a means of perpetuating white supremacy. But this history takes on new meaning as he visits a prison where the average sentence is 87 years. He can see and feel the cruelties of the notorious Red Hat cell block and the horrifyingly banal technologies of the death penalty, even as he is assured by his cheerful tour guide that conditions are much better than they used to be. "I felt pulled out of my own body," he writes.
Smith draws the past into the present, eliding the centuries of exploitation at Angola into a single consistent record of cruelty and oppression. And he experiences it all not just as a dispassionate scholar but as a poet and a Black man. He is endeavoring to capture our hearts as well as our minds as he strives to change them. Historic sites like the eight he visits have a particular opportunity to bring us close to the past in a way academic words on a page may not. And the language and purposes of poetry may do the same.
I cannot help thinking of Bryan Stevenson, J.D.-M.P.A. '85, LL.D. '15—another Harvard alumnus urging us to grapple with our racial past. Lawyer for the condemned and dispossessed, Stevenson is also founder of the Equal Justice Initiative and its Legacy Museum of enslavement and incarceration. In almost every speech he gives, Stevenson tells a story about his grandmother, who always held him so tight it hurt as she offered words he has never forgotten: "You can't understand most of the important things from a distance, Bryan. You have to get close." Proximity, Stevenson came to understand—to the condemned, the oppressed, the suffering—gave him a foundation for action that the abstractions of newspaper articles or law-school textbooks could never provide.
Smith asks us to get close as well. To discover the past that has so profoundly shaped us. To go to the places where slavery can be most fully remembered. To look through the Door of No Return. To stand in a slave cabin. To visit Angola's execution chamber.
Smith ends his book with a story of his own grandmother, who accompanies him on a visit to the National Museum of African American History and Culture. "'I lived it,'" she reminds him. Segregation, lynching, the lingering blights of slavery to which her life was so close in time. Like the eight sites Smith has described, his grandmother embodies a past we must remember and confront: "'This history is on our soil, it is in our policies, and it must, too, be in our memories.'" American educators have no greater challenge or responsibility. 
You might also like
The Crimson outlasts the Bears in an Ivy nighttime shootout.
The first in a series of public conversations about Harvard and the legacy of slavery
How to encourage free speech and inquiry on campus
Most popular
Modeling how globalization leaves the least-skilled workers behind
Why good data are essential to understanding the Voting Rights Act
A theorist explores the limits to shrinking datasets.
More to explore
A test can identify these productivity-boosting personnel.
Ancient history professor studies coins, ceramics, and Zelda.
Anwar Floyd-Pruitt's wildly profuse art