Harvard Squared | Taste and Tables
The Student Prince
A Springfield, Massachusetts, tradition lives on
As diners dig into jägerschnitzel and house-made bratwürst, dishes that have been on the menu of The Student Prince Café & The Fort Restaurant since it opened in 1935, general manager John Perry smiles and says, "everyone I see here is a regular. And now we've got 'Old Fort' and 'New Fort.' A younger generation is coming in that embrace the 86-year tradition, and we're ecstatic they're here."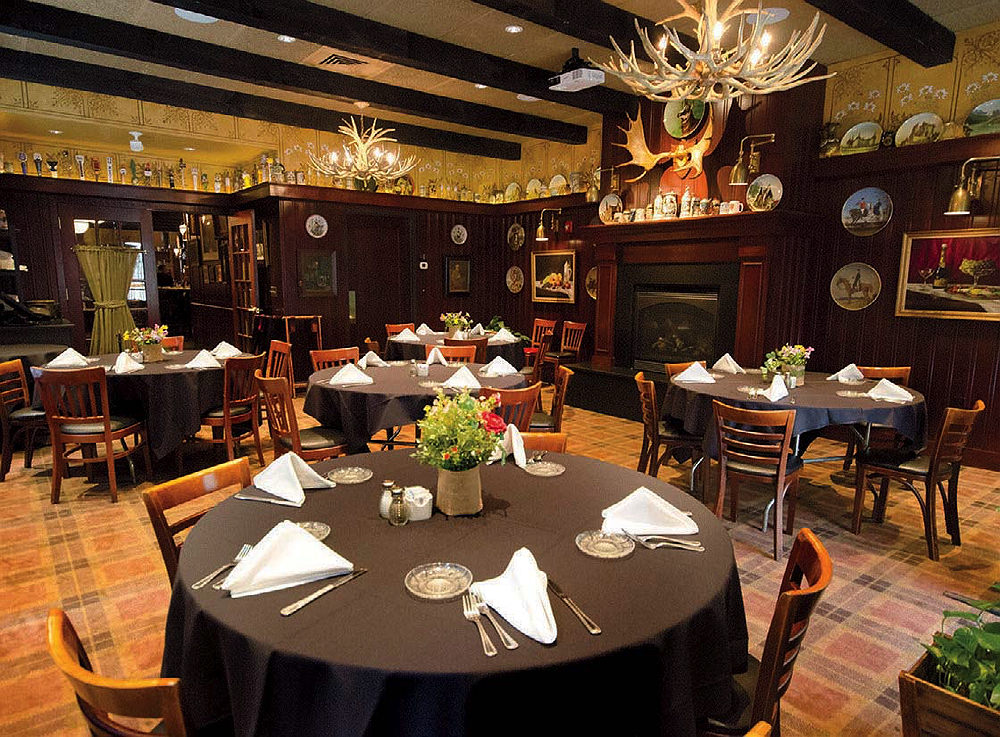 Photograph courtesy of The Student Prince
Then he nods to the walls that tell the tales of this local landmark. Portraits and photos of former regulars, and four sets of owners, pack space otherwise devoted to kitschy memorabilia, decorative plates with German scenes, animal antlers, stained-glass panels showing merry bierhalle-goers, Heidelberg and the Rhine, a mounted exhibit of vintage cork screws—and some 1,800 beer steins. Amassed by the Rupprecht Scherff family, who ran the restaurant from 1961 to 2014, "It is the largest publicly displayed stein collection, probably, in the country," says Perry. "We are the curators of the museum, if you will."
The German-born Rupprecht inherited the business, first opened by German immigrant Paul Schoeder and named for a 1920s Broadway hit comedic operetta set in Heidelberg. The Fort Restaurant was added later and honors the domain, "The Old Fort," of Springfield's founding Pynchon family, which once stood on the site (a chunk of wood from the home is also on display).
Schoeder catered to later immigrants from the small but very successful Springfield-area German community first established in the 1840s. They developed trades, breweries and bakeries, and a downtown hotel, along with the Germania Woolen Mills in nearby Holyoke. They built cultural and civic institutions, and served in record numbers in the Union Army. The Student Prince, Perry says, is one of the few extant reminders of that heritage in New England. It, too, might have been lost to assimilation had not Peter Picknelly, CEO of Peter Pan Bus Lines (a Springfield business dating to 1933), and Connecticut River valley restaurateur Andy Yee, bought the restaurant in 2014 when the Scherffs announced its closing. The new team renovated and restored the place, changing as little as possible, then reopened the multi-generational gathering spot and longtime hangout for professionals and politicos.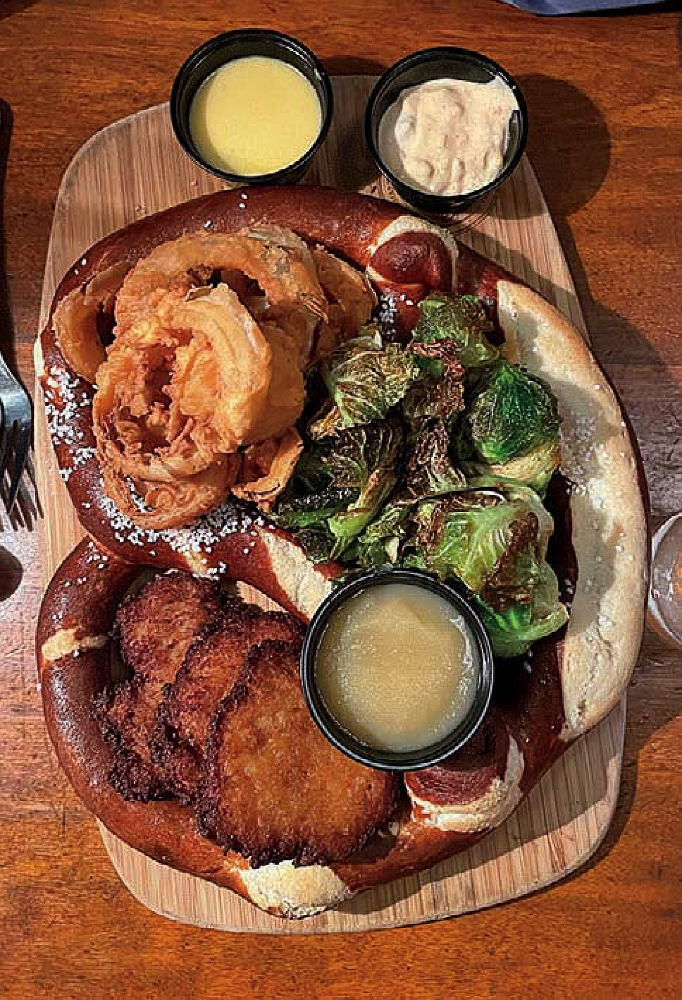 Photograph by Nell Porter Brown/ Harvard Magzine
Some 22 German beers are sold on tap—split a one-liter glass "boot" with a friend—along with domestic craft brews. And they all pair well with anything on the menu. The Fort Sampler tucks onion rings, Brussels sprouts, and potato pancakes around a giant soft pretzel. Of the schnitzels, most decadent is the paprika-spiced cutlet slathered with bacon, onions, and cream; it rivals the fried wedged of Camembert. Or choose lighter fare, like salads and Boston scrod, and the excellent pickled cucumbers, sweet-and-sour red cabbage, and spätzle (a chewy egg noodle).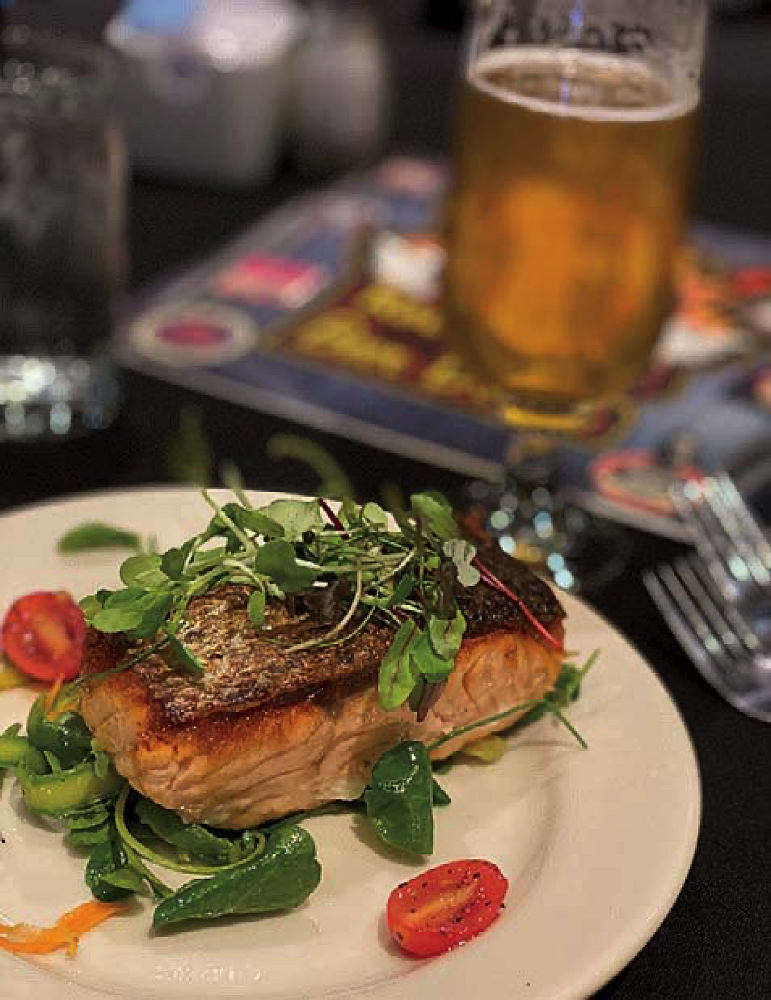 Photograph courtesy of The Student Prince
Reserve ASAP for the December-long Christmas celebration: special desserts, a decked-out interior, and sing-alongs with the Famous Fort Carolers. "Whoever wants to sing, sings. And we give out bells for 'Jingle Bells,' so, you know, it gets pretty lively," says Perry, who has been there for 24 years. "Depending on the night, it gets crazy, crazy busy, and we do 'Silent Night' roughly every hour and a half." That's when they shush diners, darken the room, and lead an a cappella version of the 1818 Austrian carol. "It all gets very soft; first verse in German and the next two in English," he adds. Then, he raises the lights and "we all cheer and say, 'Merry Christmas!' Everyone looks forward to it. We're very sentimental. Yeah, we're a restaurant, but when your grandparents, mother, father, you, your kids, your siblings and friends, have all been coming here for so long, you kind of latch on to each other."