Harvard Squared
Steeped
A world of artisanal teas in Somerville
Americans sipping foamy sweet chai lattes from Starbucks or Dunkin' probably don't think of the tea tree originally discovered in Southeast Asia. They don't picture the earliest spring leaves of the Camellia sinensis var. sinensis, hand-picked in the Himalayan foothills of Darjeeling, India, or realize that an ounce of this "first flush" can be as fiercely fought over as any coveted French wine—and taste just as complex.
"It has a flavor like no other because, like Champagne, it has its own geographical indications, its terroir," says Suanne Scalise, director of education at MEM Tea, which imports four such Darjeelings directly from the region's tea gardens. When steeped, the tea is a golden-amber color and tastes sweetly musky with a verdant undertone, and a whiff of citrus—less of the tannin taste in black teas, yet more body than many green teas. "The whole world of people who know how tea grows and where it grows," according to Scalise, "is waiting for the Darjeelings from April because that's when you get the fresh tea."
Those seeking such rarities have already been asking MEM Tea about the 2022 first-flush batches, which are due to arrive in its Somerville, Massachusetts, shop in May. Meanwhile, the shelves are packed year-round with more than a hundred other artisanal tea varieties, from small-scale growers in China, Sri Lanka, Taiwan, Japan, and Nepal (also available for order online). From earthy, pungent pu-erhs, unusual oolongs, and ceremonial-grade matchas, to rich black Assams, chai blends, and a prized batch of woolly mint grown in Maine, MEM Tea offers a global tour of the contemporary tea trade. Any of the knowledgable staffers gladly answer questions about a tea's provenance and flavor, and Scalise, who's been steeped in the tea culture for more than a decade, offers workshops like "Teas of Japan" and "The Artistry of Oolong,"along with tastings and ideas for pairing with foods, like chocolate.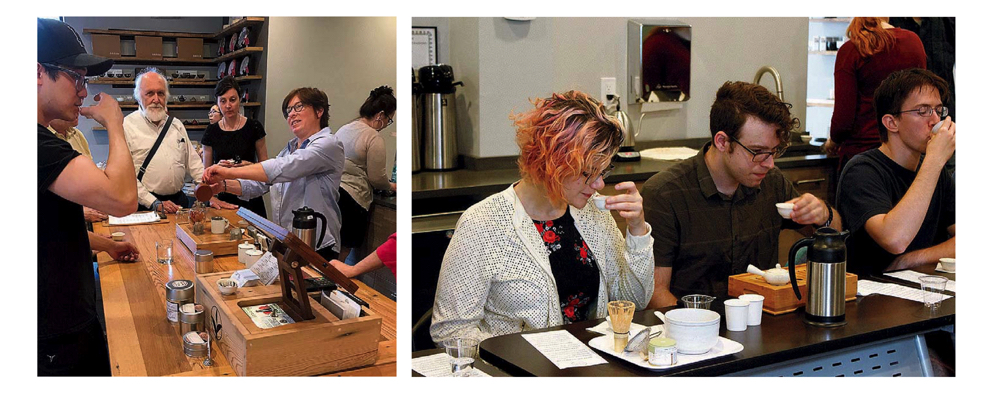 Photograph courtesy of MEM Tea
"Tea Basics" starts with the plant's ancient origins. In short: all teas are derived from one plant species, Camellia sinensis, with two predominant varieties, Camellia sinensis var. sinensis, which thrives in cooler climates, and the larger-leaved Camellia sinensis var. assimica. What affects the flavor, aroma, and look of a given tea is what, how, when, and where leaves are harvested and processed. Black and green teas are at the polar ends of the oxidation spectrum: "If you pick leaves and dry them, that keeps them green, and if you pick them and leave them out to brown, then you have black tea," Scalise says. "Oolong teas' oxidation gets halted anywhere in the middle of that range, from 10 to 90 percent." White tea, another style, "technically relies on the least-processed tips, or buds, of the fuzzy tea leaf that has not opened," she explains. "It's not even necessarily a leaf yet; that's where the plant is putting most of its energy, and it looks white when it dries."
Returning to the first-flush Darjeelings, she says, once gathered, those fresh leaves are laid out to wither, and within two days of being picked, are sold and shipped. "So, this is green tea, but not 100 percent green. It was rolled and started to oxidize a little bit, so technically it is an oolong." The degree to which the leaves are handled—rolled, crushed, twisted, compressed—also changes the chemical composition, and thereby the flavors and textures. As in wine, what country, region, and tea garden, what soil, air, and water are used during cultivation and harvesting make all the difference in a way a tea flavor fills the mouth. "It gets very complicated, very fast," Scalise adds. "That's why we need classes. I can't possibly tell you everything in an hour."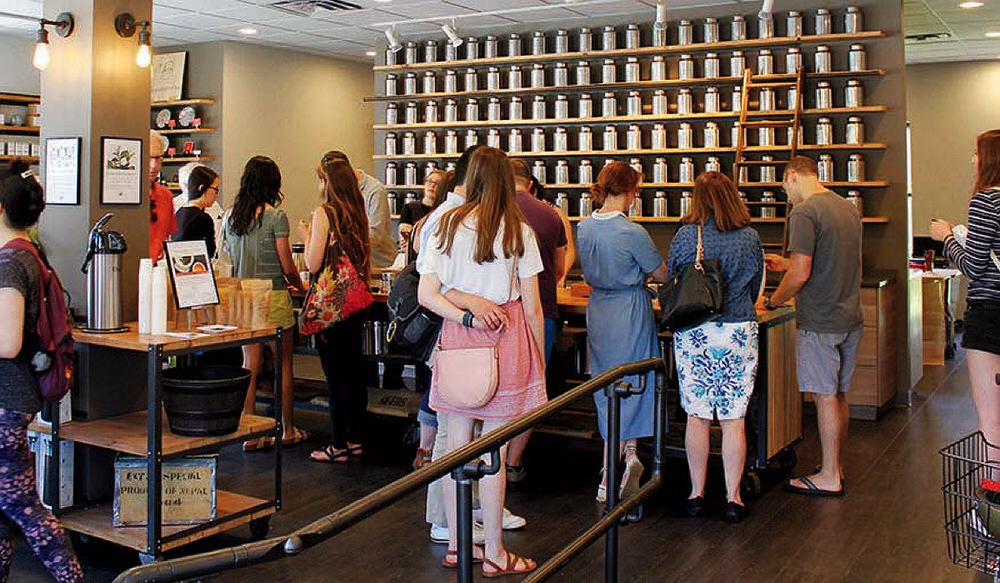 Photograph courtesy of MEM Tea
Another MEM Tea specialty is pu-erh teas, historically produced in Yunnan Province. The fermented leaves are sold loosely or compressed into a dense mound called a bingcha. They are the scotch of teas because of their range and the earthy, peaty, forest-floor edginess of the flavor. They are "maybe good for adventurous beginners," adds Scalise, "but they might be a bit of an acquired taste."
More popular, for its caffeine boost and touted green-tea health benefits, is matcha. A brilliant bright green, these teas, traditionally from Japan, are made from whole tea leaves pulverized into a powder. "One teaspoon of this matcha, Kinrin, is about the same as a single espresso," says Scalise, who previously worked in the specialty coffee industry and switched to tea in 2009 when her colleague Gilbert Sang bought Mem Tea from company founder Mark Eli Mooradian, Ed.M. '74 (who named his venture after his initials).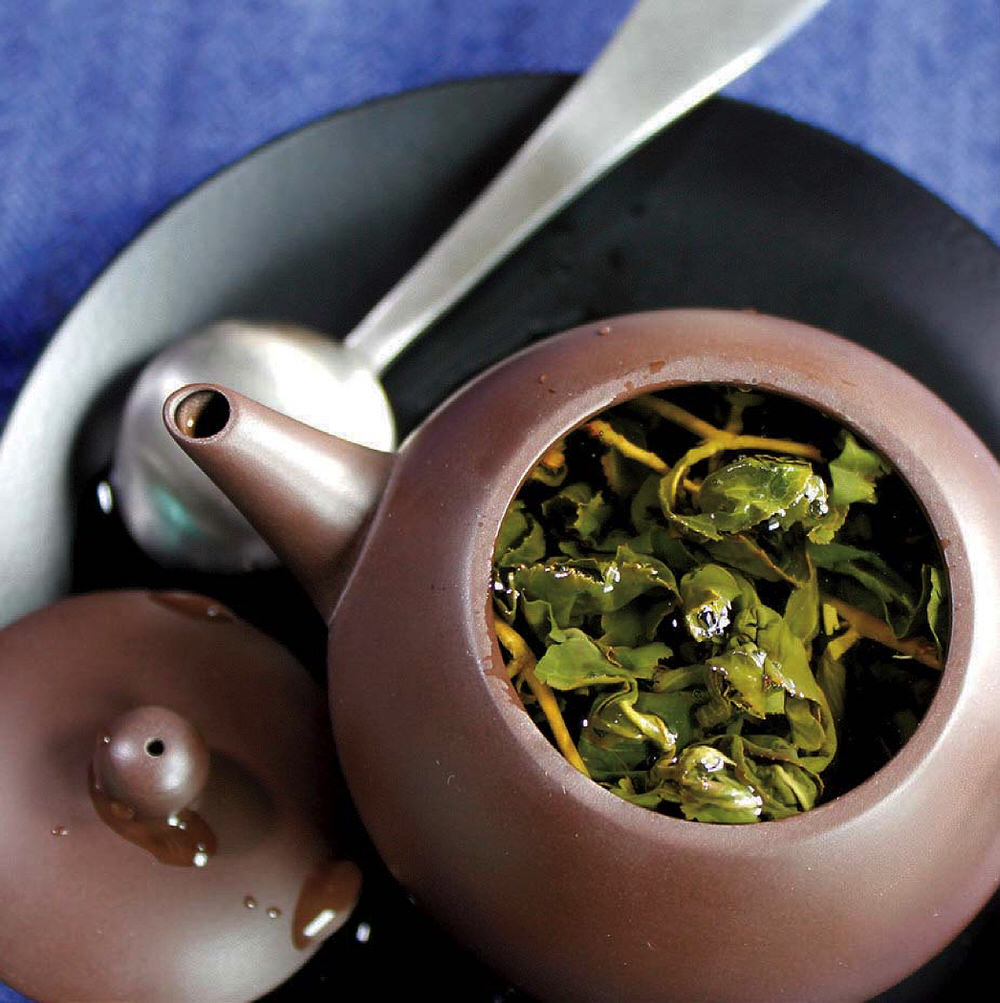 Photograph courtesy of MEM Tea
Mooradian now grows and harvests herbs, like those for MEM Tea's "woolly mint," on his organic herbal farm in Saco, Maine. (He started MEM Tea in 1999, when internationally sourced fine tea was far scarcer in the American market, after savoring a gift of rich black tea from Armenia.) At the shop recently, Scalise steeped a pot of Mooradian's mint, to which hot water can be added all day because of its high oil content. The depth of crisp, sharp mint and sweet vegetal flavor was almost unearthly. "Yeah," she says, laughing, "it's crazy good. He's got it all figured out. He's done a lot of traveling and seen how tea and herbal plants have been produced since ancient times for medicinal reasons and made to taste good."
Tea, the second most-drunk beverage on the planet, behind water, is a multibillion-dollar industry. Specialty teas, however, "only account for maybe 3 to 4 percent of all the tea that's grown in the world," according to Scalise. The company does all its own sourcing and blending, as in its chai series, with teas often bought directly from single-origin estates: "We taste it, say 'This is good tea,' and then we'll take 500 pounds."
But educating consumers, even in Greater Boston, where a larger proportion of people drink tea and want to learn about it than in other parts of the United States, is still a full-time job. "Maybe someone who grew up with Lipton will come into the shop and say 'Why is it so expensive? Because I can buy 50 bags for several dollars at Shaw's,'" Scalise notes. "But—that's very different stuff."
She's been drinking tea daily now for more than a decade, having simply found coffee "too strong a drug." She's not alone. Many of MEM Tea's patrons have turned to tea after finding that coffee consumption was producing undesirable effects, like jitteriness, irritability, and sleep disturbances. Statistically, Scalise says, the American population of tea drinkers has grown exponentially. "My generation were about 75 percent coffee drinkers," she says. "But the millennials? 50/50."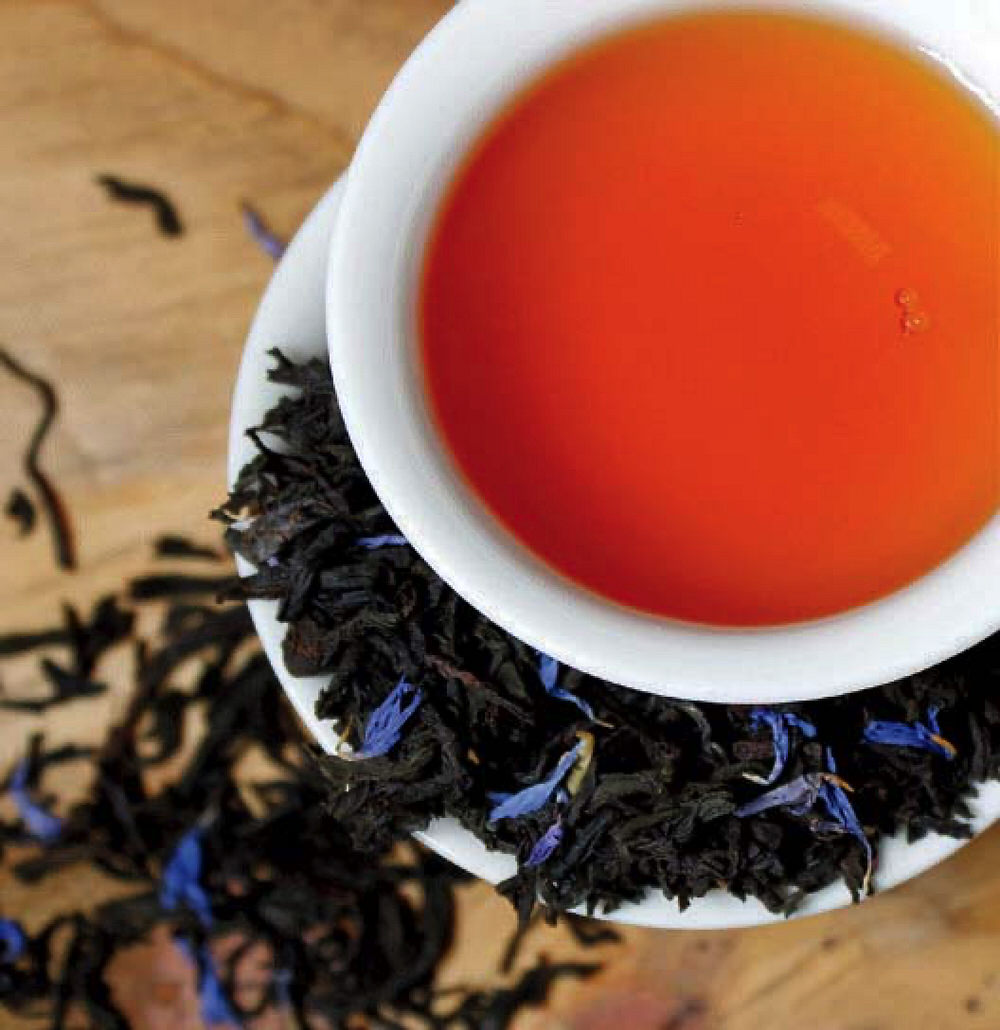 Photograph courtesy of Mem Tea
One reason she gives is the proliferation and marketing of frothy tea concoctions. "When you go out to a café or Dunkin Donuts, there are often pictures there of pretty, milky drinks; [consumers] don't often even know if it's coffee or tea, but it looks good, it's a specialty beverage, it's a treat, so, 'I'll get that.' I know some of the kids even put coffee and tea in the same cup." She laughs. "It's far removed from this woolly mint, but those beverages are fueling the tea trade."
Those who do drink straight tea, even only in a semi-serious way, likely have a personal method or ritual, or at least a reflective pause in the day to prepare and imbibe it. Cultures around the world—in Japan, China, Korea, Taiwan, India, Britain, Ireland—have historically developed more formal and ceremonial practices. "In the Middle East, with the glasses of tea, and in Russia, with the samovar, and the highs teas in England and Ireland, and even in South America with yerba mate chimarrão," Scalise notes. "Everyone has their own take on it—except the United States. We might be the only culture that has not embraced tea." She laughs. "But maybe that's because we threw it all away with the Revolution."