Wendy Lesser's "Threepenny Review"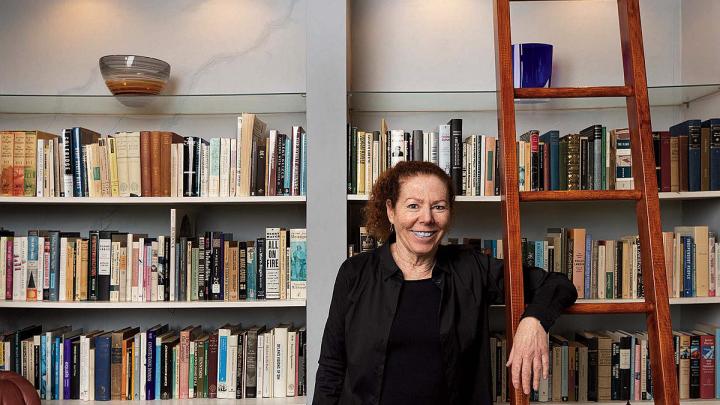 Wendy Lesser '73 is hesitant to say very much about the new book she's been working on. "It's a tiny little embryonic thing at the moment," she demurs. But she's clearly excited by the idea: a collection of essays about 15 now-dead writers who were her friends and collaborators during her long and idiosyncratic career as a critic and editor, principally at The Threepenny Review, the literary and culture quarterly she founded in 1980. Some of the deceased, like Thom Gunn, Iris Murdoch, Oliver Sacks, and Czeslaw Milosz, have been gone for years; others, like Janet Malcolm, died only recently. A "disappeared form of flora and fauna," she calls them, a "literary community" assembled out of memory. "I picked writers whose work I care about deeply, people who were, to me, bigger than life, even when they were alive," Lesser says. "And now that they're dead, they're even bigger."
Her hesitation to go into deeper detail is partly superstitious—"the fear that I'll just kill the idea by talking about it"—but there's something else too: a new and gnawing concern about the publishing market. In the past, she has always managed to steer her own quirky course through the literary industry, despite the prevailing currents or changing tides. Lesser once called herself "an eighteenth-century man of letters," and her eccentric (and engrossing) oeuvre includes books about reading and rereading, murder as news and as art, men looking at women through art and literature, and the strange, intimate experience of doubt. Lesser's Music for Silenced Voices, a biography of the Soviet-era composer Dmitri Shostakovich, approaches its subject by listening to his 15 quartets, which his widow called the "diary" that recorded "the story of his soul." Lesser's 2017 biography of the architect Louis Kahn, You Say to Brick, intersperses an account of his famously complicated life and career with "in situ" chapters describing what it feels like to move through the buildings he designed. In 2020, she released Scandinavian Noir: In Pursuit of a Mystery, an absorbing and illuminating journey—philosophical at first, and then quite literal—that grew out of her decades-long fascination with Scandinavian crime fiction.
But thinking about the new book-in-progress, Lesser pauses. "I'm more uncertain about the market at this moment than I've ever been before," she says. "I've always been able to publish these weird books that are not bestsellers but get respectful reviews and sell okay. And I wonder if the market for that kind of book is diminishing, especially a book about something that's gone. I mean, are people still interested in something that is no longer here?"
The Threepenny Review is Lesser's longest-running exercise in defying gravity. She launched the magazine out of her apartment as a graduate student in English at the University of California, Berkeley. Early contributors ranged from then-Ph.D. student Rachel Hadas '69 and rising young poet Gary Soto to established figures like Gore Vidal and Robert Coles, Harvard professor of psychiatry and medical humanities emeritus. From the start, the publication nurtured a kind of writing often undervalued in the literary marketplace: slow-building essays of cultural criticism and personal reflection, and deep explorations of music, literature, art, and film. The magazine publishes symposia on subjects both esoteric (Erving Goffman, Emil Mayer) and open-ended (deserts, memory, magic, "the miniature," hands and feet, jokes, jazz). Last year, writer David Hollander examined the "rampant television-watching" that took hold of him amid the pandemic's isolation. "He became totally addicted to TV—he had never watched it at all before," Lesser says. "So of course I asked him to write about it." The spring 2022 issue included an essay on monument removal by novelist and playwright Darryl Pinckney, a review of Japanese films High and Low (1963) and Lonely Heart (1981) by longtime contributor Steve Vineberg, and poetry by Robert Pinsky, Charles Simic, Nigerian writer Okwudili Nebeolisa, and Harvard Law School student Madelyn Chen.
For 42 years, the Review has carried on pretty much this way, as the fortunes of other literary magazines ebbed and flowed—or, in many cases, ebbed and ebbed. "My son says I live in a bubble," Lesser says. "And it's self-created, this little Threepenny bubble that I made." For the first decade or so, she supported the review with second jobs in writing, consulting, or teaching (though she consciously resisted ever becoming a full-time academic). These days, the magazine breaks even, and in lean years Lesser can cut her salary to zero—and has. "There were years when I lived entirely on my writing income," she says. Meanwhile, small but revered, the publication maintains "these few thousand readers who love it"—a good year sees 10,000 subscriptions—"and they keep it going," she says. "So, I'm completely buffered from the winds of change that affect larger organizations. Nobody in my advertising department, which barely exists, is telling me, 'No, you can't run that piece because we don't have enough pages of ads to support it.' That's just not how we work."
How do they work? "By fiat, essentially," Lesser states. The masthead includes two associate editors, but "only I have the final say," she says. "And that makes it easy and comfortable." Lesser is elbow-deep in every phase of production, from managing subscription lists to reading the hundreds of unsolicited manuscripts that arrive weekly, to writing about music or movies or dance. And after gathering the pieces, she lays out each issue, arranging every essay, poem, and photograph so that the magazine progresses like a music album or a poetry collection: "Part of it is narrative judgement, and the other part is purely geometric." Like all of her Threepenny work, even the tedious parts, it is "incredibly satisfying," she says. "It's easy to do work that makes you happy. I've been lucky to put this thing at the center of my working life for 40 years."
Lesser's first literary immersion came when she was six and discovered a stack of old science-fiction magazines, which her father left behind in the garage after her parents' divorce. "I took them out of their dusty corner," she says, "and got totally engrossed." The magazine was called Unknown Worlds, featuring early work from writers who would go on to become famous: Fritz Leiber, Alfred Bester, Theodore Sturgeon. She blazed through them, and then through the new magazine subscription her father ordered; she started reading books by Isaac Asimov, Ray Bradbury, and others. "I felt that it was expanding my world in some way." By 16 or so, Lesser had moved on, to Don Quixote and Charles Dickens and, later, Henry James and D.H. Lawrence, but that early obsession with science fiction remained "a useful, immersive kind of reading," she says. It "made me feel that reading could give you an alternative reality to your life. It didn't have to reflect your life; it did not have to be an extension of your life. It could be something totally other."
Back then, Lesser was seeking something expanded and other. "I grew up in Palo Alto, which is one of the world's most boring places," she says. In the flat sameness of their suburban subdivision, she and her family were eccentrics. Both parents were writers: Lesser's father, Murray Lesser, an IBM engineer who wrote on the side about computers and sailing, and her mother, Millicent Dillon, a novelist, journalist, and literary biographer (and former dance therapist). Dillon has contributed frequently to The Threepenny Review and at age 97 is still publishing short stories, Lesser says. "She filled our shelves with books I could explore."
Lesser came to Harvard in part because it was as far from her hometown as she could get (and in part because she had read about it in the autobiography of Helen Keller, A.B. 1904, LL.D. '55). Lesser spent one semester as a Radcliffe student before women were incorporated into Harvard, and her California upbringing hadn't prepared her for the conventions of debutante life. "You couldn't go out at night by yourself," she remembers, "and you had to be home by a certain time.…There were milk and cookies on Saturday nights for the girls who weren't going out on dates. It was bizarre." Joining Dunster House the next year felt more like what she had expected: mealtime conversations with housemates, medieval music concerts in the library, writing for The Crimson.
Academically, she was nomadic, trying out a concentration in visual and environmental studies before switching to anthropology and finally landing on history and literature. After graduation she figured she'd go to law school ("I didn't know what else to do"), but "dodged a bullet" and found her way instead to King's College, Cambridge, where she earned a master's in English. Homesickness finally set in, and she returned to California for her doctorate. It was there that she met her husband, Richard Rizzo, a now-retired education professor at Sonoma State University. Their son Nick, a volunteer firefighter active in local politics, lives in New York State.
These days, Lesser is rooted—to Berkeley, to The Threepenny Review—in a way that feels rare amid the literary world's more customary churn (and that would have surprised her younger restless self, she says), but it also feels right. This is perhaps where she was always heading, in the same way that she was a critic, even as a child, before she understood the word's meaning. "For me, there has always been an instantaneous connection between things out in the world"—events, art, books—"and how I feel about them," she says. "There's no pause . . . I instantly know what I think. That makes me a critic." What makes a good critic, she adds, is "the slow part": "figuring out to express those feelings in words, and how to compensate for your idiosyncratic judgments and prejudices."
Even as an editor, Lesser operates like a critic. With Threepenny texts, she's mostly hands-off; there is no house style, and she doesn't insist on standardized spelling or punctuation. What she is absolute about, though, is voice. "It begins and ends with that," she says. "The minute I open up somebody's manuscript, I can tell from the first sentence if the voice has authority and originality: it's not quite like anything I've heard, or like the 10,000 manuscripts I just read before it. You can hear it very, very early on in any piece of writing."
That kind of voice—authoritative, original—carries through her own writing as well, along with a fundamental curiosity and attentiveness. Her books often grow out of "a tiny unanswered bit in a previous one," she says: the germ of Scandinavian Noir is a chapter on mysteries in Lesser's earlier Why I Read. "But, mostly I get taken in by caring about the subject matter," she says. After that, the voice is present, and then the words will come.  
Published in the print edition of the July-August 2022 issue (Volume 124, Number 6), under the headline "A Woman of Letters."
You might also like
Toward another apartment complex on Harvard-owned land
Stepping down after 30 years of University service
Harvard researchers seek to empower individuals to steer their own careers.
Most popular
Brief life of a black radical: 1872-1934
Brief life of a textured artist: 1911-1988
In Agyementi, Ghana, Sangu Delle '10 brings clean water to a village.
More to explore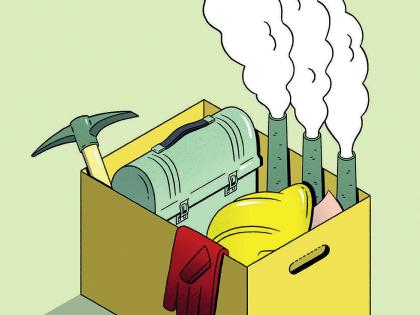 Expect massive job losses in industries associated with fossil fuels. The time to get ready is now.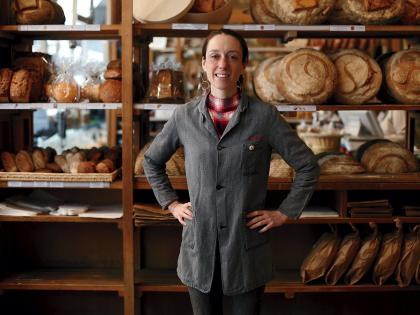 A third-generation French baker on legacy loaves and the "magic" of baking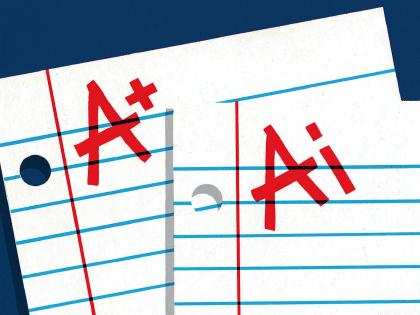 Generative AI can enhance teaching and learning but augurs a shift to oral forms of student assessment.