Off the Shelf
Recent books with Harvard connections
American Midnight, by Adam Hochschild '63 (Mariner, $36.99). With customary brio, Hochschild relates the politically hellish time, even by today's standards, from World War I to the Roaring Twenties. Lynching, vigilantism, and hysterical reactions to the possibility of a domestic Communist revolution strained the system of law as never before. The subtitle, about "democracy's forgotten crisis," gets it right. The book begins with a chilling set piece: the November 1917 imprisonment of and attacks on Industrial Workers of the World members (for, you know, representing organized labor) in Tulsa.
Images on a Mission in Early Modern Kongo and Angola, by Cécile Fromont, Ph.D. '08 (Penn State, $109.95). A large-format reproduction of watercolors and drawings from the Italian Capuchin Franciscan missions of 1650 to 1750 (an "atlas" to instruct future missionaries) is brought even more vividly to life in Fromont's interpretation of this early set of encounters. Contemporary globalization seems almost simple compared to what the Yale professor of art history describes as a "moment of sustained cross-cultural spiritual, intellectual, and material interaction between Africans and Europeans that unfolded within a sociopolitical context with few parallels in the early modern era."
Accidental Kindness: A Doctor's Notes on Empathy, by Michael Stein '81 (University of North Carolina, $18 paper). A physician and Boston University professor draws on his primary care practice to explain why patients feel that "their doctors often do not give enough—enough touch or care or reassurance or time—and that they are right to ask for more, but also that sometimes the truth hurts patients, even if it's kindly meant." A wise exploration of the balance at the heart of medicine: one that is mastered, for the most part, far from the classroom.
Indivisible, by Joel Richard Paul, J.D. '81 (Riverhead, $30). The author, of UC Hastings Law, explores the birth of American national identity through the influence of Daniel Webster. As the United States appears to be fissioning, he identifies in Webster's vision of a Union knit together by the Constitution "the birth of American nationalism" from the "fractious scrabble of European immigrants, enslaved Africans, and apprehensive Native Americans"—and later, Virginians, New Yorkers, and so on. The generally admiring historian is not oblivious to his subject's shortcomings.
Learning the Secrets of English Verse, by David J. Rothman '81 and Susan D. Spear (Springer, $74.99 paper). A poet/educator and fellow teacher attempt the impossible: a rigorous textbook that provides creative writing students "the building blocks of verse in a progressive, well-organized, and clear way," with instruction "in every major meter and repeating stanza form in English"—without killing the works themselves in the dissection. Casual readers are advised not to try to ingest the result whole, but rather to consult as needed while exploring poetry.
Alive Until You're Dead, by Susan Moon '64 (Shambhala, $17.95 paper). Essays on life and mortality by a Buddhist teacher. She is refreshingly forthright: "I see now that doing battle against aging is not a good use of my time, and so letting go of that fight is a big relief. I have a wider view, and it's not because of my lens implants." Whether readers are able to take in such counsel and act on it, of course, depends on them.
Dawn at Mineral King Valley, by Daniel P. Selmi, M.P.A. '81 (University of Chicago, $30). In 1965, the U.S. Forest Service sought proposals to develop Mineral King Valley, adjacent to Sequoia National Park, into a ski resort. The Walt Disney Company was chosen to proceed. The Sierra Club sued. It lost at the Supreme Court, but Sierra Club v. Morton (1972) set the rules for bringing such cases, introducing modern environmental litigation. (The valley was later incorporated into the park.) Selmi, emeritus at Loyola Law School, ably explores changing attitudes toward the environment and one of the chief means Americans now use in resolving such disputes.
American Inheritance, by Edward J. Larson, J.D. '79 (W.W. Norton, $32.50). Larson, professor of law and of history at Pepperdine, won a Pulitzer Prize for his 1998 book on the Scopes trial. Venturing into divisions that extend from the 1600s into current discourse, he crafts an enlightening account of how, despite their irreconcilable meanings, liberty and slavery were conjoined in the birth of the nation from 1765 to 1795. Even after the Civil War, he concludes, "The long shadow of slavery continued to undermine declarations of liberty and equality….Liberty and slavery remain our conflicted American inheritance" today.
In a similar vein, Losing Ourselves (Princeton, $26.95), by Jay L. Garfield, visiting professor of Buddhist philosophy at the Divinity School (and chair of philosophy at Smith College), explores the frightening, liberating idea of selflessness ("what it is to be a person, but not to be a self") and what that means for "our understanding of our place in the world": metaphysical and moral inquiries at a time when modern materialistic societies could use both. And Buddhist chaplain/life coach Katie Malachuk '96 weighs in with Disrupt Yourself (Balboa, $13.99 paper). Having sorted out a messy life by encountering "potent spiritual technology," she details a method for calling forth "the better angels of our nature" through "ethics practice": a process of "self-disruption [that] expands our sense of self beyond ourselves."
A Union Like Ours: The Love Story of F.O. Matthiessen and Russell Cheney, by Scott Bane (Bright Leaf/University of Massachusetts, $24.95 paper). A meticulous account of the closeted relationship between the Harvard literary scholar, best known for American Renaissance: Art and Expression in the Age of Emerson and Whitman and as a founder of American studies, and the painter: both scions of wealthy families, neither able to live their lives together openly from the 1920s to 1940s. The book, framed by the author's own narrative, sheds new light on Cheney, and puts Matthiessen's 1950 suicide into personal context, rather than solely in the political light (an ardent supporter of the left in an increasingly Red-baiting era) in which it is usually cast. A visiting professorship in gender and sexuality was endowed in his name in 2009.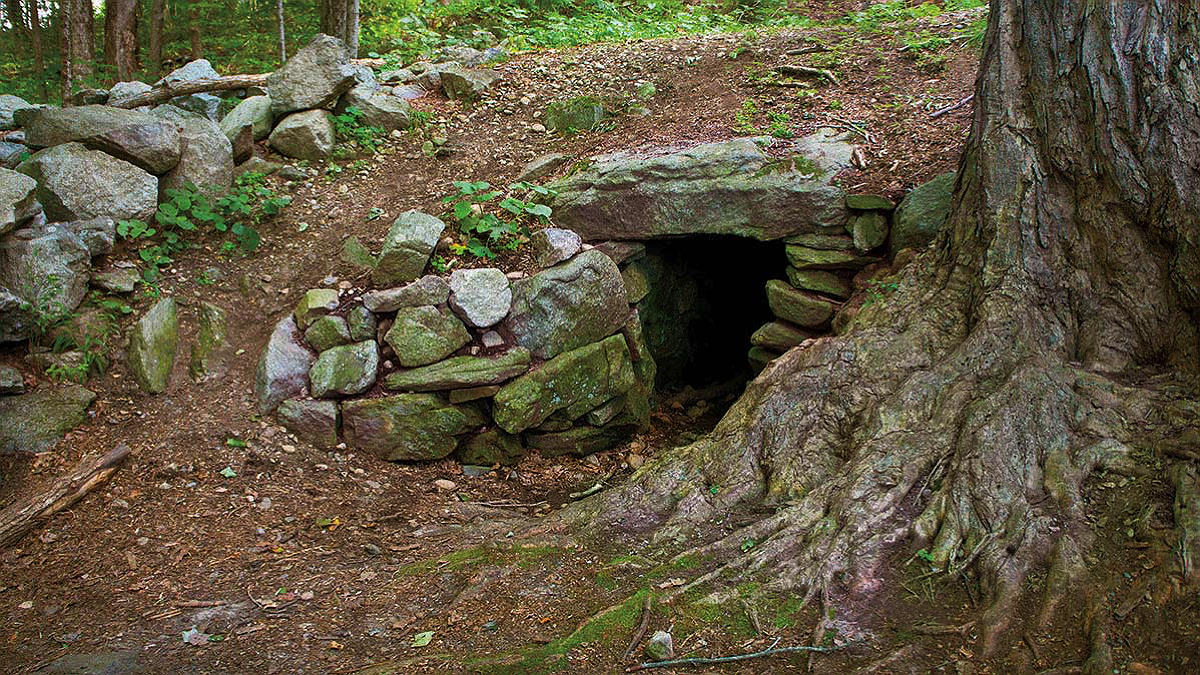 Photograph by Sandra Matthews
Occupying Massachusetts, by Sandra Matthews '73, with accompanying texts (George F. Thompson, $40). The associate professor emerita of film and photography at Hampshire College has produced an eloquent album of images of ordinary structures and historical sites around the state—accompanied by information about the human history associated with each before the Pilgrims, Puritans, Minutemen, and successors. Seeing a weather-tarped motor home and learning that it rests on Pocumtuck and Mohican homelands, for example, induces deeper understanding than any canned "land acknowledgment." All the more powerful for the modesty of the presentation.
Risky Business: Why Insurance Markets Fail and What to Do About It, by Liran Einav, Ph.D. '02, Amy Finkelstein '95, and Ray Fisman, Ph.D. '98 (Yale, $30). Scholars from Stanford, MIT, and Boston University—all fluent in information economics—craft an entertaining account of a subject most people encounter only when they write premium checks or file a claim. Their journey through adverse selection, risk pricing, and so on ranges from Willy Loman's hopes for his life insurance (Death of a Salesman) to the utter inability of the late Supreme Court Justice Antonin Scalia, LL.B. '60 to understand the difference in the 2012 Affordable Care Act case between an insurance mandate and a purchase of broccoli. This is just one of those unexpected delights.
Business Ethics: What Everyone Needs to Know, by J.S. Nelson, J.D. '01, and Lynn A. Stout (Oxford, $18.95 paper). Nelson, a visiting scholar at the Law School's Program on Negotiation, and the late Stout, last at Cornell Law School, provide a pragmatic guide to the vexing issues of misuse of company time, abusive behavior, lying, abuse of organizational resources, discrimination, conflicts of interest, and more—and what to do about them. The sort of reference a lot of managers unfortunately ought to have on hand.
The Globalization Myth: Why Regions Matter, by Shannon K. O'Neil, Ph.D. '06 (Yale, $30). As decades of globalization are being reconsidered, a vice president at the Council on Foreign Relations disputes a pro-or-con binary. Instead, she argues, Europe and Asia formed powerful regional hubs that have enhanced their economic competitiveness and well-being. Having failed to construct something similar, Americans in hollowed-out cities like Akron, Ohio, the former tire capital, suffered "the costly consequences of the United States' limited regionalization." A high-level argument, but a timely one as recalibration of policy proceeds.
You might also like
The first in a series of public conversations about Harvard and the legacy of slavery
How to encourage free speech and inquiry on campus
A new play at the A.R.T. provides a modern take on ancient mythologies   
Most popular
Strong hockey seasons end in the NCAA tournaments.
Andrew Crespo '05 connects the law to real life.
Brief life of a formidable anthropologist: 1903-1991
More to explore
A test can identify these productivity-boosting personnel.
Ancient history professor studies coins, ceramics, and Zelda.
Anwar Floyd-Pruitt's wildly profuse art