The State of Unions
New Harvard Law center focuses on unionization and equitable labor law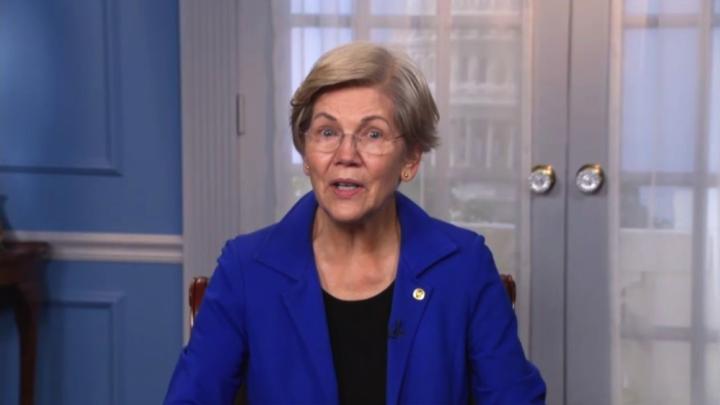 "What do we do when we have the public on our side, when we have workers in motion, when we see people playing by the rules and still not getting ahead?" asked Sharon Block, executive director for the new Center for Labor and a Just Economy, based at Harvard Law School (HLS). Answering her own questions, she said, "We figure out how to change the rules."
Such is the mission for the new center, led by Block and faculty director, Kestnbaum professor of labor and industry Benjamin Sachs. An evolution of HLS's former Labor and Worklife Program, it aims to create long-term solutions to the crisis they perceive in United States labor law. Block and Sachs intend to shape their policy recommendations into legislation—and to pursue enactment—by working with partner organizations, unions, and lawmakers. The center celebrated its launch this week with a discussion about the state of the workforce, featuring remarks from Massachusetts U.S. Senator Elizabeth Warren, chief economist for the U.S. Department of Labor Joelle Gamble, president of the National Education Association (NEA) Becky Pringle, and the director of Ford Foundation's Future of Work(ers) initiative José García.
The State of Unions 
"As Dickens put it, it's the best of times and it is the worst of times," said Block. Amid a tight labor market, baristas at Starbucks, game-designers at Microsoft, and Genius Bar employees at Apple are organizing, and the number of employee strikes—"an expression of worker power," according to Block—has risen dramatically during the past year. Yet corporations like Amazon and Starbucks are refusing to bargain; the Supreme Court recently heard arguments in Glacier Northwest v. International Brotherhood of Teamsters, the outcome of which, Block said, "could eviscerate the right to strike"; and recent data from the U.S. Department of Labor indicated that union density, the proportion of the workforce represented by a union, is at a record low.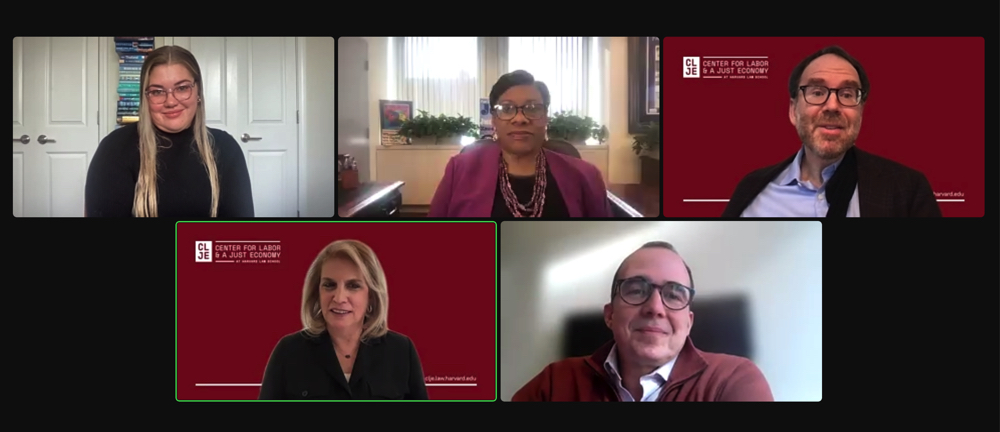 Screenshot by
Harvard Magazine
"Workers are winning, but that has not stopped companies from union-busting," Warren said, using techniques such as surveilling workers' private messages for keywords like "union" and "pay raise." And using a broad definition, many employers classify employees as independent contractors, limiting their benefits and leverage. Warren maintained that "These exploitative business models allow companies like Uber, Lyft, and Amazon to extract every cent from these workers without any guarantee of a minimum wage, overtime pay, the right to organize, or any of the other critical rights and protections that employees get."
Some 70 percent of Americans support unions, and 50 percent of workers say they would like to be in one, but only 6 percent of private-sector workers are, according to a recent Gallup survey and data from the Bureau of Labor Statistics. Unions are not the only source of "countervailing power, but they're a critical one," said Sachs, and union density is a key metric for understanding how effectively the 1935 National Labor Relations Act protects workers' right to collectively bargain.
"We're in a moment of terrible disconnect between what workers want, and what workers can get," Sachs said. "We can think of the law as a transmission belt that takes people's desires, preferences, and their yearning for justice and translates it into something real. And right now, that transmission belt between what people want—to unionize—and what they're able to achieve is broken."
"People think that there's a right to collectively bargain, when in fact, the law is so weak and broken that right doesn't exist," Block said. "People don't understand how difficult it is to form a union in this country, how the odds are so stacked against workers, how employers have enormous latitude and discretion to squash union organizing drives." Sachs added that Americans often assume "It's okay, or it's normal, that it's this hard to form a union." From the Center's perspective, "It shouldn't take Herculean efforts to get a collective bargaining representative. That's the failure of labor law."
Workers' Rights, by Numbers
To understand the health of the labor market and the state of worker power, the Department of Labor's Joelle Gamble said she tracks four metrics: the quit rate, real wages, unemployment rate, and long-term trends in labor-force participation.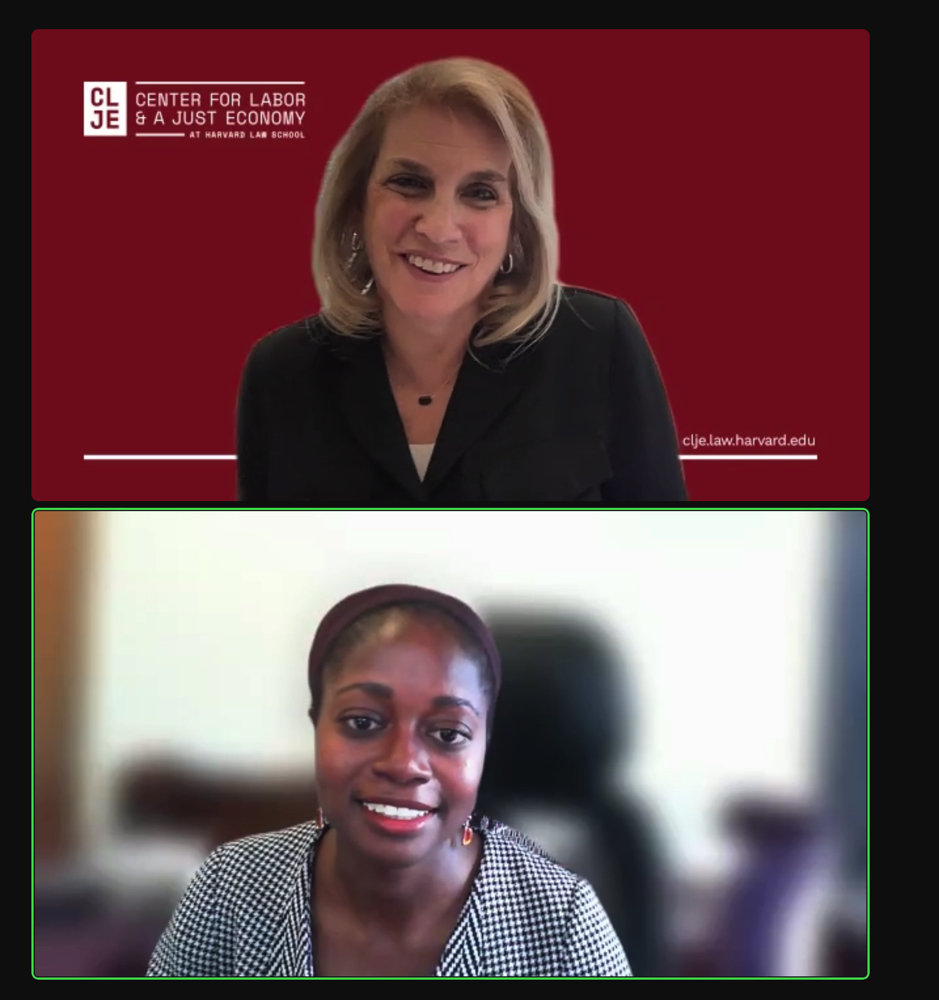 Screenshot by Harvard Magazine
The quit rate has increased during the past 18 months, indicating that employers are having a hard time retaining workers in this flexible labor market. "During the [pandemic] recovery," she said, "we've seen workers who were able to switch industries to better jobs, better compensation rates, and that may have led to some reduction in wage-income inequality." Real wages have improved in the past six months (but are still constrained by high inflation.) Gamble tracks the unemployment rate by race and gender, "in part because we have a lot of systemic racism in the U.S. economy, and black workers are often the canary in the coal mine when it comes to things like long-term labor market softening." She added that the long-term workforce participation rate, while not a real-time indicator, helps the government understand how best to invest in the workforce, such as "communities that have been blighted by globalization."
Echoing President Joe Biden's support for collective bargaining, Gamble said that unions must play a significant role in the economy's future. "More and more people are starting to realize that, as we invest in making the American economy competitive, workers are absolutely central to that," she said. "We need to invest in their education, including things like apprenticeships…access to care, the ability to find a good jobs, and frankly, to join a union."
The Path Ahead
Sachs said the United States should take two paths to reform labor law: "one having to do with expansion, and one having to do with devolution." American labor policies have long excluded agricultural workers, domestic workers, immigrant workers, and now, independent contractors, he said—a deficiency that must be remedied. The law must also broaden to include sectoral bargaining—a key recommendation in the February 2020 Clean Slate Agenda report, authored by Block and Sachs: bringing unionization to the industry level, as opposed to company-by-company negotiations and contracts. "Instead of having McDonald's on 42nd Street in a union, you have the whole fast-food industry in a union," Sachs said. If all industry employers have unionized employees, they would not feel the need to fight unions to outperform their competitors. Since the publication of the report, California has proposed the Fast Food Accountability and Standards Recovery Act (FAST) Act, representing a preliminary attempt at this sort of sectoral bargaining.
Speaking about devolution, NEA president Pringle said, "As we address worker rights writ large, we have got to address it from what I've been calling a 'place of dynamic alignment.' It cannot only be at the federal level. It's got to be at the state level, it's got to be at the local level. We've got to build the systems, processes, and structures to support collective bargaining, collective action, collective voice, at every single level of government."
The center will concentrate its efforts accordingly. "If you can't move legislation at the federal level, which it appears we can't do at least for the foreseeable future, federalism gives you a way of taking your politics to states and cities and making progress there," Sachs said. "The vision, the aspiration, would be if we loosened the rules of preemption and let…states experiment with progressive labor legislation, things would get better in those states, but the power and voice that workers built there would not be constrained to just those states. It could be exported to other states and ultimately, to a federal movement." That level of change won't happen overnight, he said, "But it's a vision of how you get from here to there in the face of federal gridlock."
Sachs and Block emphasized that, despite the center's focus on workers and labor law, it does not plan to stop there. He said that part of their work during the next few years will apply lessons from labor law and the labor movement to support other groups of low- and middle-income people, such as tenants, debtors, and students.
The center leaders, and the speakers at its launch celebration, agreed that labor law is not a special interest. "It's important for all of us," Block said. "Our desire and the motivation to build a labor law that works for working people is an economic project, but it is also a political project." She added, "It's fair to say that there's never been a successful democracy with a successful middle class that didn't have a successful labor movement."
You might also like
The Crimson springs a major upset.
Harvard officially installs Claudine Gay, its thirtieth leader.
A half-dozen symposiums feature Harvard research on AI, climate change, inequality, and more
Most popular
A community letter as the new administration begins
Solving legal challenges at MoMA
More to explore
A test can identify these productivity-boosting personnel.
Ancient history professor studies coins, ceramics, and Zelda.
Anwar Floyd-Pruitt's wildly profuse art