Explorations and Curiosities
Medieval Disinformation?
A digital reconstruction of thirteenth-century ceramic floor tiles, now on display at The College of the Holy Cross in Worcester, helps reframe ideas about political agendas and artistic influences in medieval England. Found in heaps of fragments at the Chertsey Abbey south of London in the 1800s, the tiles are at the center of the multifaceted exhibit "Bringing the Holy Land Home: The Crusades, Chertsey Abbey, and the Reconstruction of a Medieval Masterpiece" at the college's new arts center (through April 6).
The college's assistant professor of visual arts, Amanda Luyster, Ph.D. '03, spearheaded the five-year reconstruction effort, published a book on the subject, and curated the show. Many imagine the visual culture of Europe, especially England, as monocultural, she says. "But what I want them to see is that during the Middle Ages, all kinds of fabulous stuff was coming from far away, and the people of England loved it and were inspired by it, dressed with it, and used it."
Visitors can see images of the full reconstruction, including the tiles' never-before fully translated Latin inscriptions, along with actual tile fragments, and those physically restored in the 1970s by the British Museum (which holds the majority of the Chertsey collection). Luyster has also gathered other objects—medieval European, Islamic, and Byzantine coins, swords, royal seals, silks, pottery, biblical illustrations—many borrowed from Harvard collections, that help contextualize and vivify visual emblems of the era.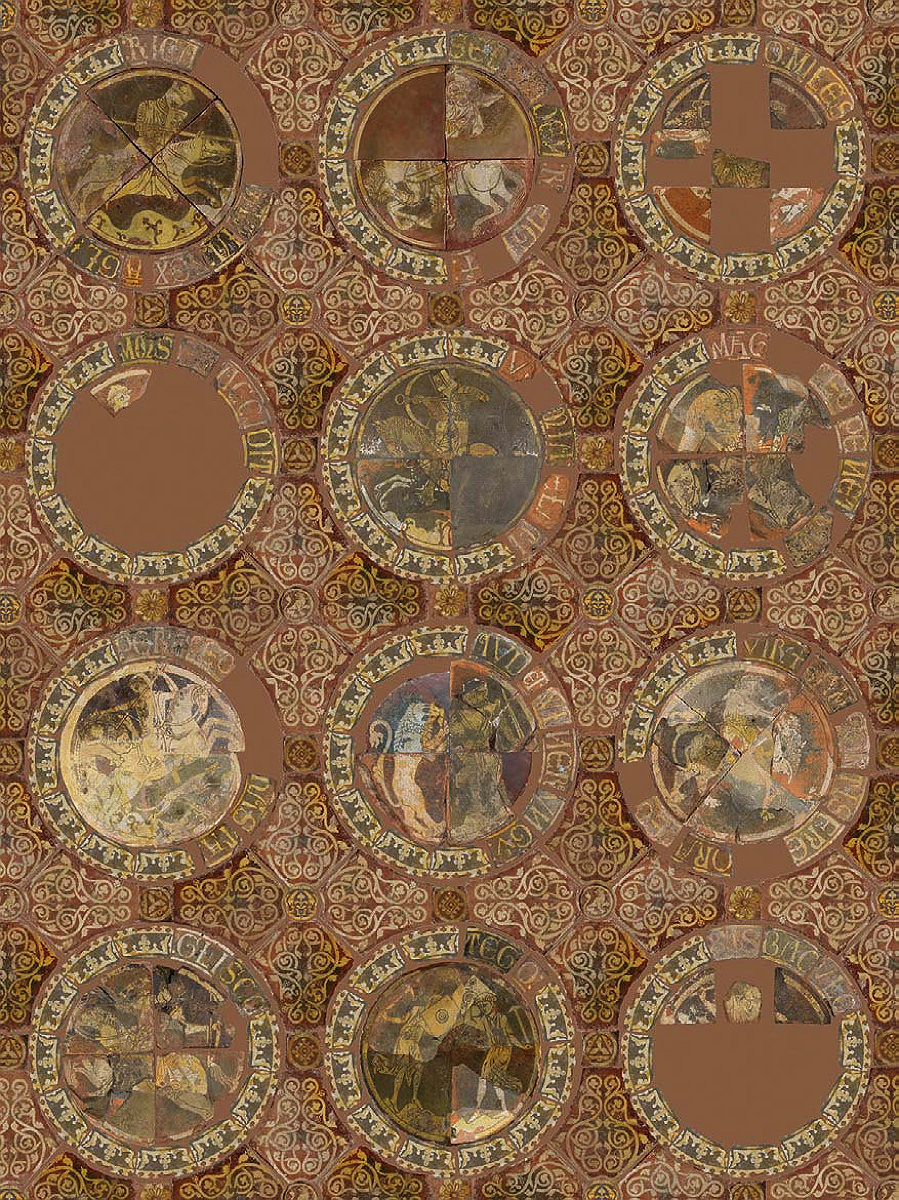 Image ©Janis Desmarais and Amanda Luyster
Luyster highlights roundels depicting the heroic figure King Richard the Lionheart slaying Ayyubid sultan Saladin (Salah al-Din) in combat. But that event never occurred. Scholars have long agreed that the Chertsey tiles were very likely commissioned for the English royal palace of Westminster in London—which aligns with vows taken by King Henry III and Eleanor of Provence to go on a crusade in 1250, she explains: "The mosaic was made as a visual affirmation informed by their own desire and promise: they depicted the English king as victorious in battle as propaganda—showing what they wanted to do." Richard and Saladin never even met, Luyster says, "although they were opponents in the Third Crusade (1189–1192). This military campaign ended with a truce, and Richard returned to France." Yet the tiles' styling and iconographic content were heavily influenced by the very cultures targeted during the Crusades. Most notably, the composition draws from eastern Mediterranean silks carried back to England by returning crusaders (whose designs were then adapted by western European artists). In fact, rhetoric proclaiming English victory, she says, relies on "visual traditions developed and perfected by Muslim and Orthodox Christian artists in the eastern Mediterranean. I don't want to pretend that the medieval world was a lovefest," she adds, "but I do want people to see that in England, the visual surroundings were absolutely multicultural."