Postseason's End
Harvard women's basketball's deep WNIT run—and what it portends
On Sunday, Harvard trailed Columbia with just over a minute remaining in the Great Eight round of the Women's National Invitational Tournament (WNIT), when guard McKenzie Forbes '23 received the ball on the perimeter. The Crimson had been behind by 20 points early in the fourth quarter before slicing the deficit to two. Now they were down by six. Forbes, the Ivy League leader in three-point shooting percentage, feinted to shake her defender and launched a three. But the shot missed and bounced out of bounds, and moments later, the Lions won 77-71. The loss ends a postseason run during which the Crimson (who finished 20-12 overall) reached the WNIT quarterfinals for the first time, and in the process became a more poised and balanced team. 
Prior to the WNIT, Harvard struggled to finish games. In the Ivy League Tournament championship game against Princeton, the Tigers outscored Harvard 17-4 in the fourth quarter and won 54-48. "We did not get stops when it mattered most," said Delaney-Smith head coach Carrie Moore. Five days later, the WNIT opening round was drama-free (Harvard demolished Towson 103-63), but the next contests were taut: an 89-87 win over the University of Massachusetts in the second round and a 74-63 victory against the University of Rhode Island in round three. The Crimson outscored Rhode Island 22-9 in the fourth quarter and pressured them into committing eight turnovers in the final period. Rams head coach Tammi Reiss said of Harvard, "They got gritty."
In her coaching, Moore emphasizes the importance of defense in part because steals can lead to fast breaks. But even when running its half-court offense, Harvard was harder to defend in the WNIT because of the evolution of point guard Harmoni Turner '25. The Ivy League Rookie of the Year in 2021-22, Turner was a unanimous first-team all-conference selection this season. Nonetheless, as Turner told ESPN after the Towson game, Moore has recently pushed her "to be a complete player." This includes making the right decision coming off of ball screens, when Turner can either drive to the basket, shoot, or pass. In the WNIT, she balanced scoring opportunities for herself and her teammates: she averaged 17.5 points per game (her season average is 16.3 points), but she also had nine assists per game (double her season average), many of which came from passes she made after a teammate set a screen.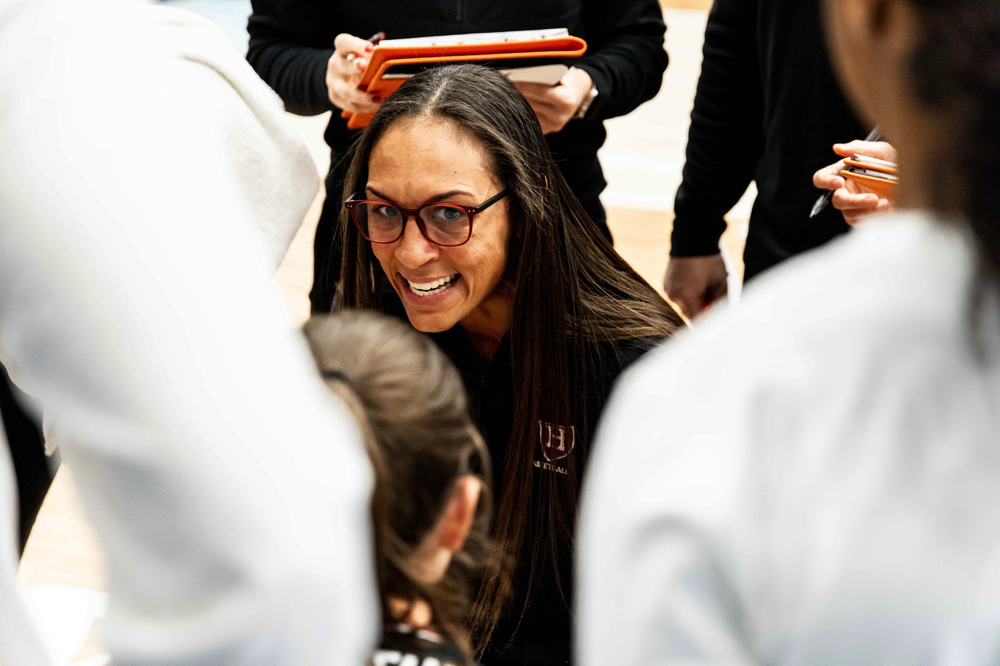 Photograph by Dylan Goodman; courtesy of Harvard Athletics
Having balanced scoring makes the Crimson more resilient when Turner is out of the game. Against Rhode Island, she went to the bench late in the fourth quarter, after diving to the floor for a loose ball and colliding with another player; a few days later, against Columbia, Moore pulled Turner out with six minutes remaining when she picked up her fourth foul. In both stretches, Harvard sustained its momentum. In fact, when an assistant coach asked Moore if she wanted to put Turner back into the Rhode Island game, the coach said, "No, I think we're good with how we responded." (Later, the coach did put Turner back in when Rhode Island began pressing.) Discussing the situation afterward, Moore said, "I think that's just a testament to the growth and experience that we have on the floor."
Harvard will lose some of that experience because co-captains Forbes and Maggie McCarthy '23, who averaged 30 minutes per game, are graduating. Then again, Princeton and Columbia—the teams that finished above Harvard in the conference standings—are graduating substantial senior classes, and the Crimson will return a nucleus of three all-Ivy players, including Turner; guard Lola Mullaney '24, who made the All-Ivy second team; and Elena Rodriguez '25, an All-Ivy honorable mention designee.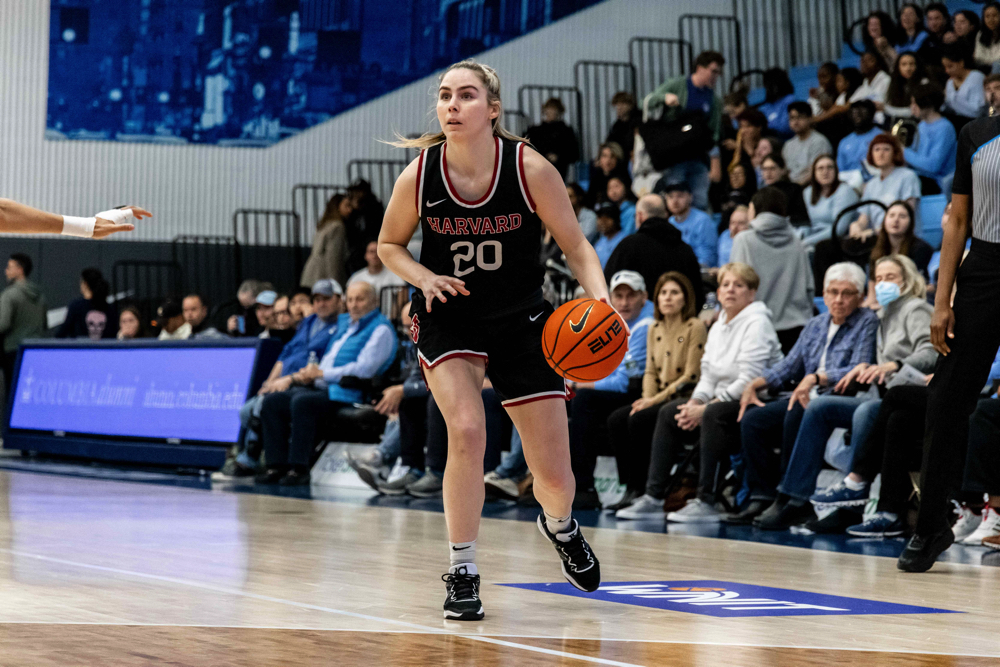 Photograph by Dylan Goodman; courtesy of Harvard Athletics
And then there's this: 25 years ago this month, Harvard defeated Stanford in the first 16-over-one-seed upset in NCAA tournament history. That was the high-water mark for the program under Kathy Delaney-Smith (who retired last spring after 40 years as Harvard's head coach). That team was led by senior Allison Feaster '98, the fifth pick in the 1998 WNBA draft. Harvard's run to the WNIT quarterfinals this year represents the program's greatest postseason success since then, and this team was led by Turner, a sophomore who is on pace to be one of the best players in program history. Next year, Moore will meld her own recruits with Turner and the rest of the talented roster she inherited when she stepped into the job. 
Although the season has ended, it feels like a beginning. 
You might also like
Harvard officially installs Claudine Gay, its thirtieth leader.
A half-dozen symposiums feature Harvard research on AI, climate change, inequality, and more
A musical and poetic "prelude" to Claudine Gay's installation festivities
Most popular
President Bacow on humility, Prime Minister Jacinda Ardern on democracy and social media, and Attorney General Merrick Garland on civic engagement and threats to U.S. democracy
The new police chief introduces a new policing culture.
Recent books with Harvard connections
More to explore
A test can identify these productivity-boosting personnel.
Ancient history professor studies coins, ceramics, and Zelda.
Anwar Floyd-Pruitt's wildly profuse art