"Today You Join Something That Is Larger than Yourself"
Sixteen graduates were commissioned into the armed services at the ROTC ceremony.
Lieutenant General Maria B. Barrett, commanding general of the U.S. Army Cyber Command and among the highest-ranking women in the U.S. Army, today delivered the oath of office to 16 ROTC graduates commissioned into the United States armed forces—by far the largest number in recent years. In her speech, Barrett highlighted the U.S. Constitution as "required reading," and offered salient advice, in the form of seven "simple things" she has learned since pinning on her own gold bars.
With flexibility, come "responsibility and accountability for one's actions."
The U.S. Constitution "outlines who we are and who we strive to be as a nation—it provides our moral compass," Barrett told the crowd gathered in Tercentenary Theatre on a sunny morning. American military officers pledge allegiance not to presidents, she added, but to the powers across the executive, legislative, and judicial branches, and to the ideals that have shaped our nation. "We swear our loyalty to the concepts" protected by a document that has "survived the Depression, recessions, wars on its soil and wars abroad, two world wars," she said. "About two-thirds of the world's governments have drafted constitutions since 1970; ours, the first of its kind, has endured since 1787." 
Photograph by Jim Harrison
She contrasted the significance of the U.S. oath of office to its Russian equivalent—which required officers to "unquestioningly carry out the requirements of all military regulations and orders of commanders and superiors," she said. "So, isn't it a true blessing that America does not require its officers to obey 'unquestioningly' but gives them the opportunity and flexibility for innovation? But with that flexibility come both responsibility and accountability for one's actions."
Across various postings and duties, whatever life experiences are brought to bear, "today, you join something that is larger than yourself," she emphasized, offering a short list of what she's gleaned on a journey beyond her own self: 
Your most important asset is your people. Take care of them, and they will take care of you…The bottom line is, if you can't translate a task on your list into how it takes care of your people, it probably ain't worth doing.   
Listen. Especially to your non-commissioned officers. You might have a degree from Harvard, but they have a degree in experience that you do not yet have.
Standards….Set high standards, communicate your expectations clearly, and then hold [people] accountable.  At the end of the day, your troops want to be part of a winning team, they want a leader they respect and trust.
You will fail. You will make mistakes and get your backside chewed by your commander. Get over it—fast. Learn from it. 
Teamwork….You will join a unit with other young commissioned officers, all trying to do their best—help each other out, share the good ideas. If you do it right, your commanders can see what you do without a neon sign saying "look at me."  This also means giving credit to others, often. 
The climate you set in your unit….is a force multiplier.  If you allow people to demonstrate behaviors that do not comport with our military values, consider your own values compromised. And you can't take measure of this from behind a desk. 
Get out to where your troops are, talk to them, get to know them. It seems like a little thing, but small, authentic exchanges with your troops will speak volumes to who you are as leader and build trust. A unit with a bad climate is like malignant cancer…tremendously difficult to eradicate once it takes hold.   
Guard your reputation like your unit climate. You are a leader, 24/7, 365 days a year…. You are never off duty and you should hold yourself to a higher standard because—trust me—your subordinates will notice everything that you do…Do not fail them.
Barrett is a Franklin, Massachusetts, native and a 1988 graduate of Tufts University, where she was an ROTC commissioning speaker during Harvard President Lawrence S. Bacow's presidential tenure there. Her speech today, at Bacow's final commissioning ceremony before retiring, seemed to bring his career full circle.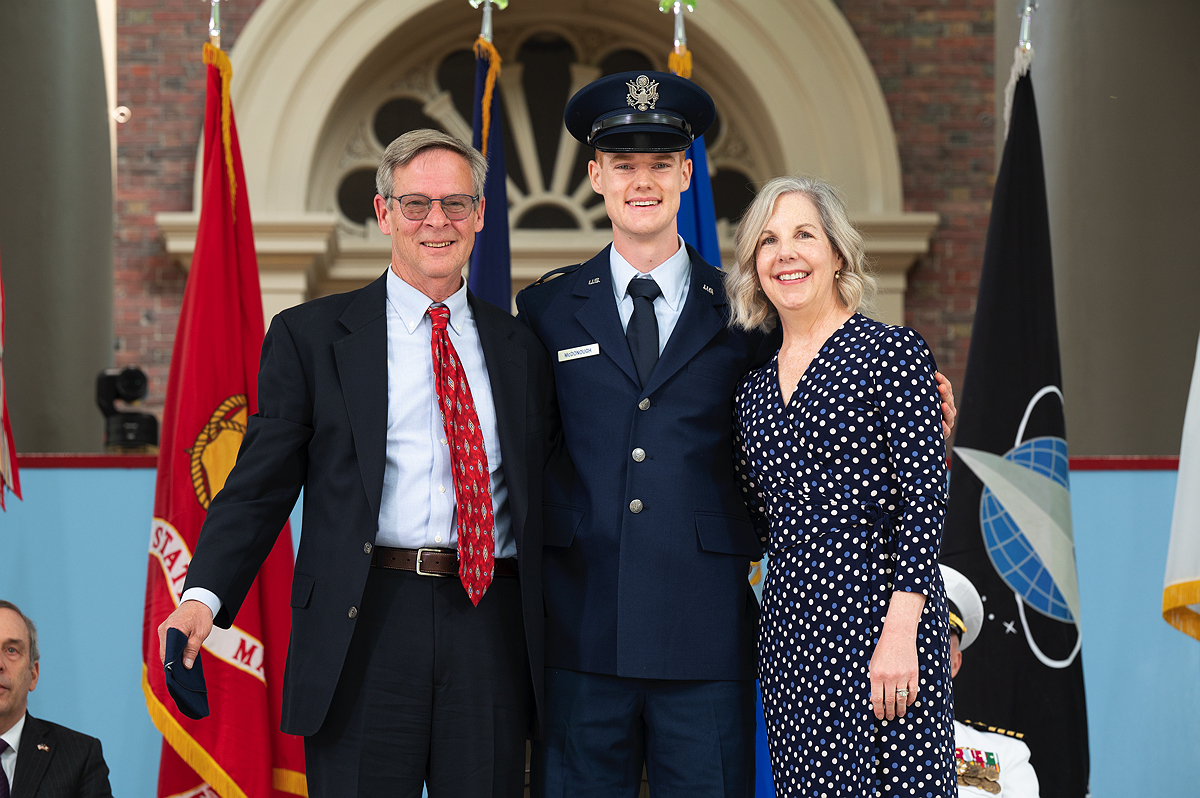 Photograph by Jim Harrison 
During his own remarks, Bacow welcomed the ROTC graduates and their well-wishers in the audience, to the "intersection of two of our country's great institutions: the United States Military and Harvard University." Those entering their next phase of life, of distinctive service, join a long line of alumni from Harvard and elsewhere who are "thoughtful leaders, leaders who are steeped in history, leaders who come from an institution that values a liberal education," he added. "We are incredibly proud of you, as much as the families are that are sitting out here today."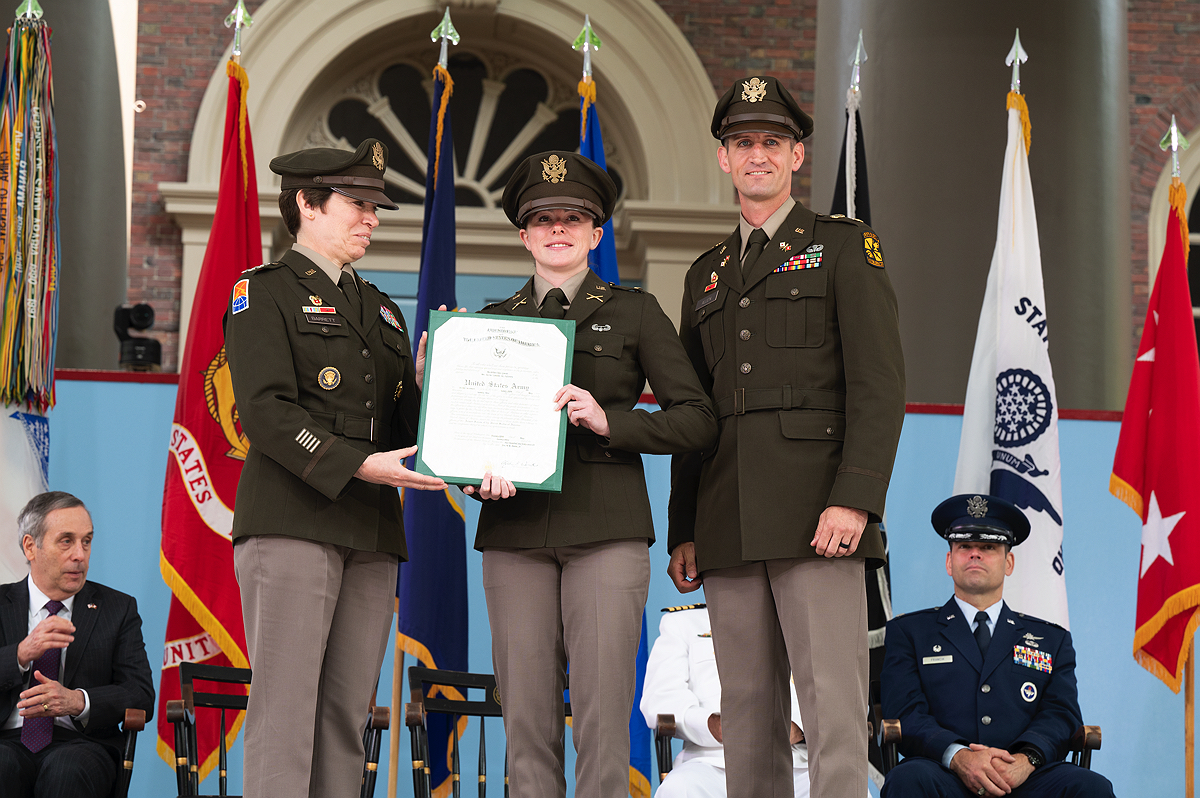 Photograph by Jim Harrison
Members of the graduating ROTC cohort who will enter the U.S. Army, Navy, Air Force, and Space Force are: Jacob Brown, Maria Gonzalez, Ariann Jones, Joseph McDonough, Michael Mizell, Cameron Morgan, Elisabeth Aigeldinger, Isaiah Coleman, Kyle Englander, Jack Leland, Matthew Mullahy, Aaron Boehm, Zavier Chavez, Madeline Gavitt, Grace Motes, and John Murray. All distinguished themselves while on campus. Gavitt, it was announced, graduates as the top female—and third all-around—ROTC cadet in the country, with classmate Grace Motes within the top 10 percent.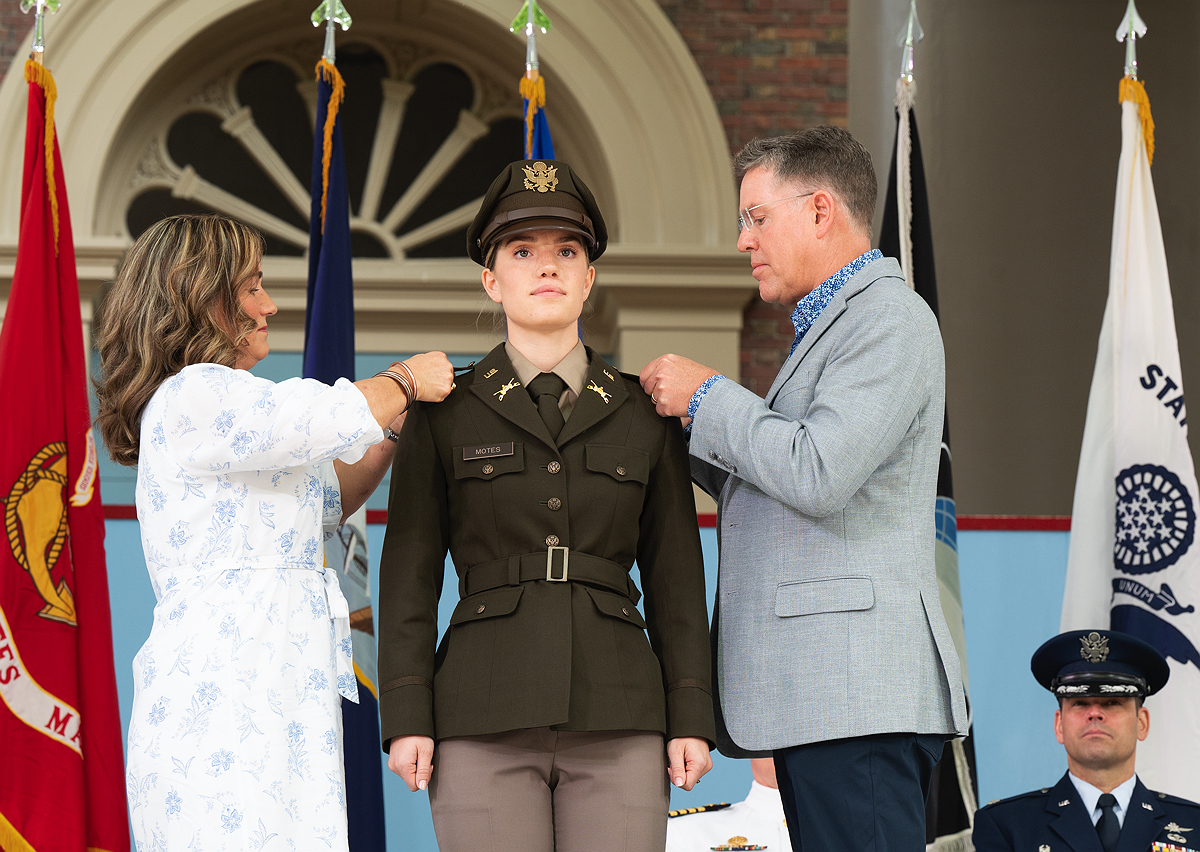 Photograph by Jim Harrison
In the end, Barrett had one last piece of advice: Enjoy yourself. "This will be at times hard—with this responsibility comes tough decisions that keep you up at night, high demands, separations from loved ones, plenty of sacrifice and at times, danger," she said. "But I wouldn't be standing before you today if I didn't think it was worth it and I didn't enjoy what I do—passionately."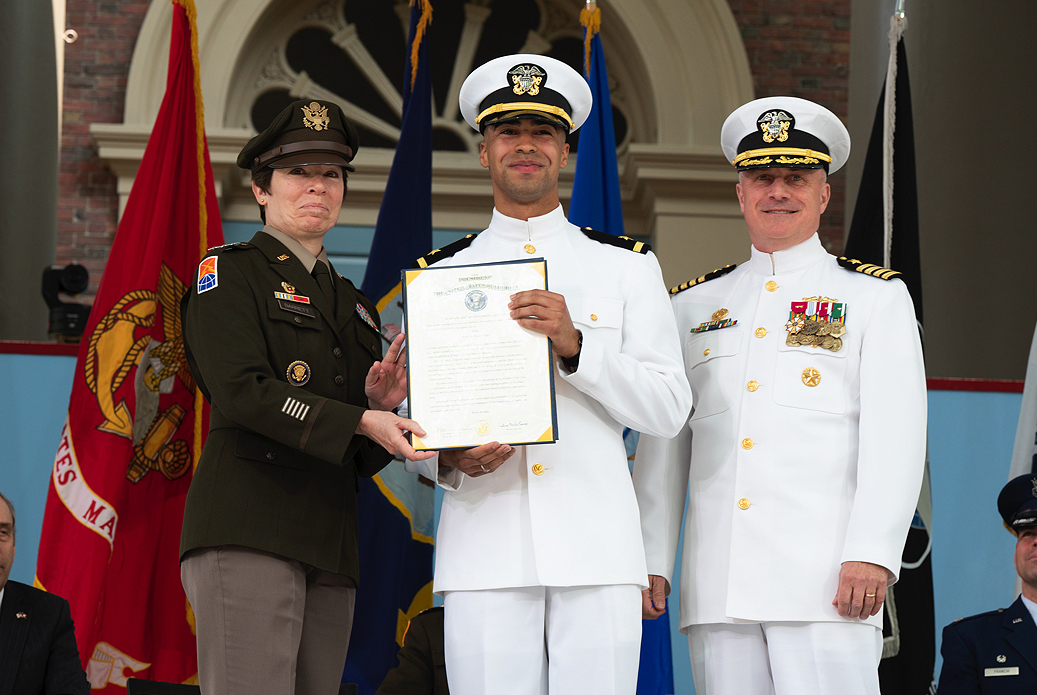 Photograph by Jim Harrison
You might also like
The first in a series of public conversations about Harvard and the legacy of slavery
How to encourage free speech and inquiry on campus
A new play at the A.R.T. provides a modern take on ancient mythologies   
Most popular
Strong hockey seasons end in the NCAA tournaments.
Andrew Crespo '05 connects the law to real life.
Brief life of a formidable anthropologist: 1903-1991
More to explore
A test can identify these productivity-boosting personnel.
Ancient history professor studies coins, ceramics, and Zelda.
Anwar Floyd-Pruitt's wildly profuse art