Harvard Medalists
Individuals honored for extraordinary service to the University
THE HARVARD Alumni Association (HAA) awarded five Harvard Medals, reading out citations for each, during the Harvard Alumni Day festivities on June 2. For a fuller account, see harvardmag.com/harv-medalist-23.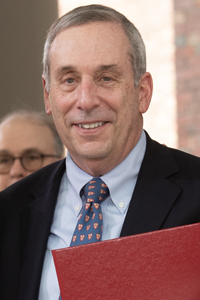 Photograph by Jim Harrison
Lawrence S. Bacow, J.D. '76, M.P.P. '76, Ph.D. '78, the twenty-ninth president of the University, concluded the academic year with his retirement. A quintessential mensch, you have led with integrity and humility, foresight and resilience, deftly harnessing the strengths of Harvard's extraordinary people in service to the University and the world. As a son of immigrants, your unwavering faith in the power of education to transform lives has driven you to work tenaciously to dismantle financial, geographical, and political barriers to bring students from all backgrounds within reach of the American dream. Slow to judge but quick to understand, you have encouraged open discourse in pursuit of Veritas, challenging Harvard to reckon with its own history. Embodying the Jewish principle of tikkun olam, repairing the world, you have guided Harvard through the pandemic and marshaled the best minds across disciplines to confront great challenges facing society. Your belief that no individual accomplishes anything on their own shines through in your partnership with Adele, beside you at the helm as you have steered Harvard toward an ever-brighter horizon.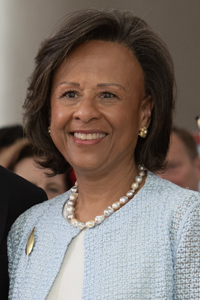 Photograph by Jim Harrison
Paula A. Johnson '80, M.D. '84, M.P.H. '85, a physician-scientist, educator, and president of Wellesley College, has been instrumental in advancing STEM education for women and focusing on women's roles and development in other arenas. Prior to joining Wellesley, Johnson served as chief of the division of women's health and founding executive director of the Mary Horrigan Connors Center for Women's Health and Gender Biology at Harvard-affiliated Brigham & Women's Hospital. A world-renowned physician-scientist and college president who has shattered gender and racial barriers in medicine and academia, you have poured your heart into improving the well-being of women globally through your groundbreaking contributions to medical research and your steadfast advocacy for health care reforms and inclusive educational opportunities for scholars in all fields.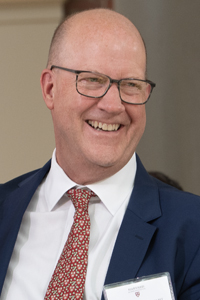 Photograph by Jim Harrison
Philip W. Lovejoy served Harvard for 25 years, most recently as HAA executive director and associate vice president of alumni affairs and development from 2014 until his retirement in 2022. He strengthened alumni engagement in many ways, including through restructuring the HAA board of directors, increasing understanding of the annual elections for Harvard's Board of Overseers and HAA elected directors, ushering in Harvard Alumni Day, and developing equity and inclusion work. (He was also a member of Harvard Magazine's Board of Directors.) Beloved leader of the Harvard Alumni Association, you have earned a resounding tip of the Harvard hat from staff and alumni across the world, serving the University with distinction for 25 years, building authentic relationships with trademark thoughtfulness and humor, and blending tradition with innovation to find new ways to engage and celebrate a diverse alumni community.
Photograph by Jim Harrison
Antonio Madero, M.B.A. '61, founder of Mexico City-based auto parts company Rassini and former chair of the Mexican Business Council, has helped generations of Mexican students pursue graduate studies at Harvard. Moreover, he has fostered a unique beneficial collaboration between Mexico and Harvard. Fueled by a deep love for Harvard and your home country of Mexico, you have engineered enduring bonds between these two communities, serving as a confidant to Harvard presidents, deans, and faculty; expanding possibilities for Mexican scholars to study and teach at Harvard; and catalyzing knowledge of a region rich in culture and history.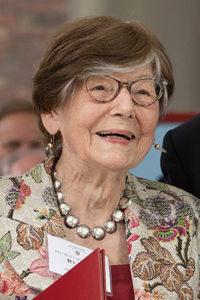 Photograph by Jim Harrison
Rya W. Zobel '53, L.L.B. '56, a pioneering lawyer and distinguished federal judge, has forged a path for women and demonstrated a lifelong commitment to civic values. She grew up in Nazi Germany, escaping East Germany at age 14, and ultimately landed in the United States and went on to become one of 13 women in her Harvard Law School class. Later, Zobel was on the Board of Overseers and served on visiting committees across the University. She also is a recipient of the Radcliffe Alumnae Recognition Award. In a distinguished legal career marked by many firsts, you surmounted extraordinary obstacles—as a teenage émigré escaping oppression and as a woman in a historically male-dominated field—with a tenacity that forged a path for generations to come and a commitment to civic values that shines as an outstanding example to all citizens of the world.
You might also like
The context for Harvard Management Company's 2023 results
The Crimson outlasts the Bears in an Ivy nighttime shootout.
The first in a series of public conversations about Harvard and the legacy of slavery
Most popular
Rosabeth Moss Kanter on solving America's infrastructure problems
Original works by "Golden Age" illustrators on view in Newport, Rhode Island
Channeling Valentine's Day—and sustainable oceans—via sexy sea creatures
More to explore
A test can identify these productivity-boosting personnel.
Ancient history professor studies coins, ceramics, and Zelda.
Anwar Floyd-Pruitt's wildly profuse art