Off the Shelf
Recent books with Harvard connections
The Mindful Body: Thinking Our Way to Chronic Health, by Ellen J. Langer, professor of psychology (Ballantine, $28). The author (profiled in "The Mindfulness Chronicles," September-October 2010), widely known for work on positive psychology, begins with her mother's cancer diagnosis, treatment, and ultimate death to probe the connection between the body and health, and assumptions about a person's outlook and state of mind. "I believe our psychology may be the most important determinant of our health," she writes, and goes on to explain how "to return the control over our bodies back to us."
As summer turns to autumn, the outdoors beckons still. Making Camp, by Martin Hogue, M.Arch. '93 (Princeton Architectural Press, $26.95), is a delightful visual and historical romp through what is entailed in "establishing and occupying an encampment for the night": clearing a site, chopping wood, cooking over a fire. Great for armchair adventurers, too. Wild Girls: How the Outdoors Shaped the Women Who Challenged a Nation, by Tiya Miles, Garvey professor of history (W.W. Norton, $22), is an utterly different encounter with nature—an invitation to seek out the untold ways humans and Earth interact. As a girl growing up in Cincinnati, Miles walked on the frozen Ohio River with her father in 1977. As a historian, she recalls the slaves who used it as an "ice bridge" to freedom in the early 1850s, right after passage of the Fugitive Slave Act of 1850—a bracing frame for her original take on girls' encounters with the wild.
Seeing Others, by Michèle Lamont, Goldman professor of European studies and professor of sociology and of African and African American studies (Simon & Schuster, $28). In an era of sharp inequality that valorizes autonomy and material gain, an eminent social scientist makes the case for "how recognition works—and how it can heal a divided world," as her subtitle puts it, stressing both the problem and her solution. Reducing stigma and celebrating difference, she suggests, hold out the promise of "dignity for all."
Cooperation, by Bernard E. Harcourt, J.D. '89, Ph.D. '00, S.J.D. '05 (Columbia, $35). Defining some of the problems that concern Michèle Lamont in terms of crises afflicting liberal democracy, a professor of law and of political science at Columbia advances an argument from history and political theory. Harcourt revisits the "illusory and delusive" assumptions underlying Enlightenment ideas of individual autonomy and mastery over nature. He illustrates an alternative set of political, economic, and social arrangements based on "people cooperating and working with one another, throughout all aspects of their lives, for the well-being of all the people and the environment."
The Fear of Too Much Justice, by Stephen B. Bright and James Kwak '90 (New Press, $29.99). A Yale law professor (Bright) who has worked on many death penalty cases, and a lapsed University of Connecticut law professor (Kwak) combine to address "race, poverty, and the persistence of inequality in the criminal courts" (the subtitle). The evidence is depressingly familiar (inadequate legal representation, persistent bias in jury selection, and so on), but the authors detect signs of hope. In his introduction, the Equal Justice Initiative's Bryan Stevenson M.P.P.-J.D. '85, L.L.D. '15, hails Bright as a guide to "what justice requires"—the attainment of which "is up to us."
Renegade for Justice: Defending the Defenseless in an Outlaw World, by Stephen Lee Saltonstall '67 (University Press of Kansas, $24.95 paper). A courtroom memoir by an advocate for the underprivileged (of the sort Bright and Kwak might admire). Like Drew Faust (see page 37), he went to Selma as an undergraduate, and was a vigorous antiwar protestor: foreshadowing the life to come. It is unsurprising that in retirement in Arizona he has of late helped others leave water in the desert lest migrants trekking north die of thirst.
The Court at War: FDR, His Justices, and the World They Made, by Cliff Sloan '79, J.D. '84 (PublicAffairs, $32). The author, now at Georgetown Law, who has had experience in all three branches of the federal government (working on issues such as the prospective closure of Guantanamo) and in private practice, delivers an account of a Supreme Court shaped by one president (he had appointed seven of the justices) during the fraught intersection of civil liberties with the exigencies of World War II and extraordinary executive power. Sloan's brisk narrative is pertinent to today, when presidential candidates jockey for support promising to further transform, and politicize, the Court.
Digitizing Diagnosis: Medicine, Minds, and Machines in Twentieth-Century America, by Andrew S. Lea, clinical fellow in medicine (Johns Hopkins, $54.95). An internist at Brigham and Women's Hospital analyzes how digital technology came to play a role in diagnosis. In light of the fundamental "complexity of medicine," the people and techniques he portrays "sought to bring medicine, in all its unruly splendor, to heel." Given the cost and productivity issues surrounding U.S. medical care, the analysis merits particular attention now, when the frenzied attention being paid to artificial intelligence makes foundational concerns about the roles of patient, illness, and physician seem so last century.
The Deadline: Essays, by Jill Lepore, Kempner professor of American History (Liveright, $45). A one-volume life preserver for anyone concerned about having to devote another filing cabinet for clippings (to date) of the New Yorker essays by the inexhaustible Lepore. A wild romp through news barons then and now, the relationship of campaign biographies to facts and truth, the Kerner Commission report, bicycling, etc. On the other hand, this brings her output to a baker's dozen books, so a shelving problem looms.
America's Hidden Economic Engines, edited by Robert B. Schwartz and Rachel Lipson (Harvard Education Press, $36 paper). Essays commissioned and in part written by leaders of the University's Project on Workforce point to community colleges as the key channel for young people and adults to get on the pathway toward better economic prospects. This magazine's "The Upward Mobility Problem" (May-June 2022) covered some of these ideas and their application. Hope and Healing: Black Colleges and the Future of American Democracy, by John Silvanus Wilson Jr., M.T.S. '81, Ed.M. '82, Ed.D. '85 (profiled in "Morehouse Man, Redux," November-December 2013), addresses another critical, and overlooked and underfunded, element of the higher-education firmament: the "threatened national treasure" of Historically Black Colleges and Universities. The book (Harvard Education Press, $38 paper) could not be a more timely contribution to understanding, as institutions like Harvard engage more directly and substantively with HBCUs nationwide.
The Women of NOW: How Feminists Built an Organization That Transformed America, by Katherine Turk, RI '18 (Farrar, Straus & Giroux, $32). The author, of the University of North Carolina at Chapel Hill and a 2018-19 Radcliffe Institute fellow, has used the National Organization of Women archives at the Schlesinger Library (and other sources) to tell the history of "an experiment that aimed to ignite women's consciousness, harness their collective power, and wield it across the nation and abroad." NOW's story, she writes, "offers lessons in how to challenge institutions, shift cultural norms, and foster solidarities."
Rust Belt Union Blues: Why Working-Class Voters Are Turning Away from the Democratic Party, by Lainey Newman '21 and Theda Skocpol, Thomas professor of government and sociology (Columbia, $26.95). Probing beneath stereotypes and survey results, the authors talk to people in western Pennsylvania and describe how their group associations and affiliations changed from the stereotypical lunch-bucket Democratic unionists (in fact, a "dense social web of interconnected workers, family members, and neighbors") to different groups and interests: "conservative inflected identities and ties" that have filled "the vacuums left by unions' receding community presence."
After Violence: Russia's Beslan School Massacre and the Peace that Followed, by Debra Javeline, Ph.D. '97 (Oxford, $137). A deeply researched, scholarly analysis by a Notre Dame political scientist of the September 1, 2004, terrorist seizure of a school in the North Caucasus; the 1,200 people taken hostage (many of them children); the 330-plus deaths and hundreds of injuries that resulted; and the unexpected peace, rather than retaliatory violence, that ensued. There are explicit lessons about dealing with trauma—and implicit ones about the kinds of ethnic and nationalist loyalties (among other factors) and history of violence underlying the current Russian war on Ukraine.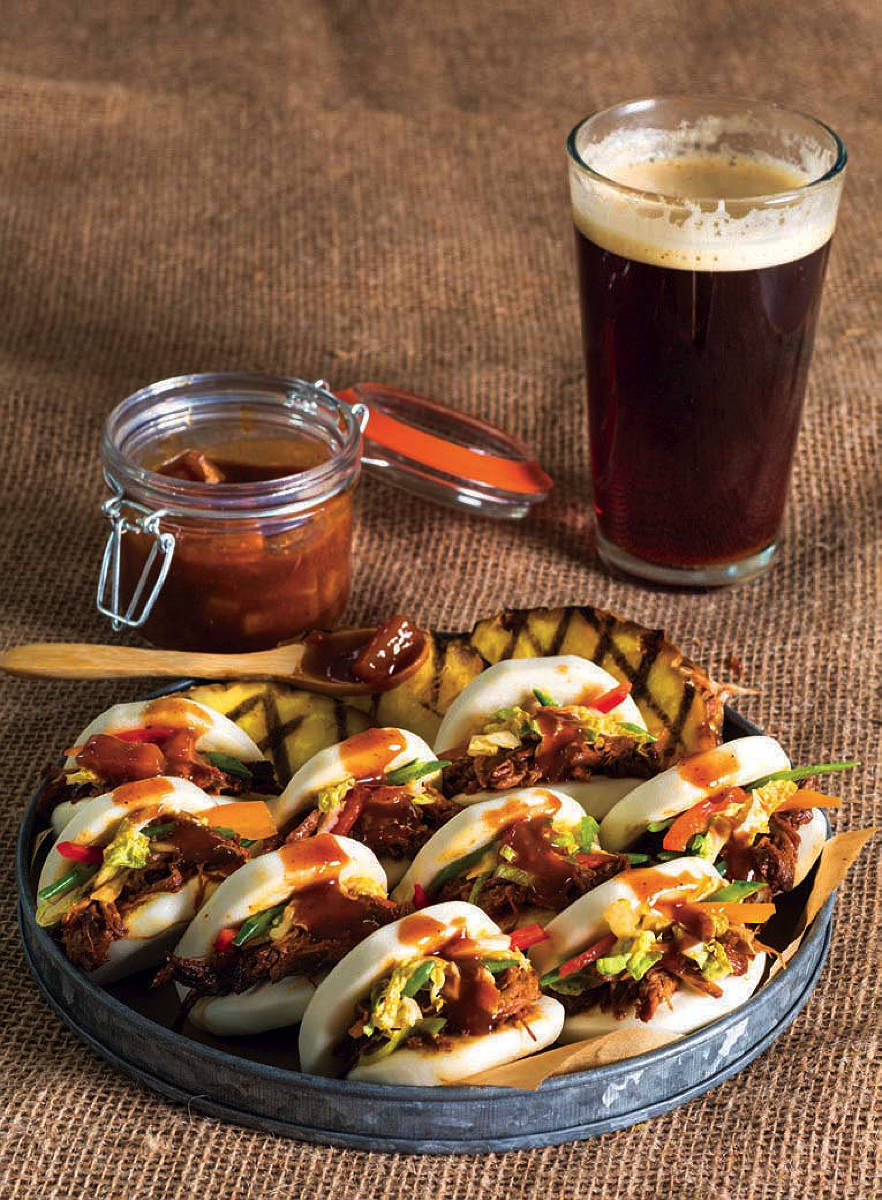 Photograph courtesy of 
EggRolls and Sweet tea: Asian inspired, southern style
Egg Rolls and Sweet Tea: Asian Inspired, Southern Style, by Natalie Keng, M.P.P. '96 (Gibbs Smith, $30). There are lots of cookbooks, so why not one with a chapter titled "Buddha Bubba, Meat & Bones"? (Sample recipes: turkey burger sliders on grilled rice buns, and Joy Luck BBQ pulled pork bao buns.) The publicist talks about "inclusivity and diversity at the dinner table," but here the differences of perspective appear best resolved by talking with a full mouth alongside a pitcher of iced (green?) tea.
The Last Island: Discovery, Defiance, and the Most Elusive Tribe on Earth, by Adam Goodheart '92 (Godine, $28.95). An account of the author's travels to the Andaman Islands (between India and Myanmar) and the waters around North Sentinel Island, home to a tribe who are believed to be the last uncontacted people on Earth. As such, it represents the final chapter in the age of discovery: with everyone and everywhere connected, humans have run out of new human groups to encounter. The tone at times is necessarily elegiac: "a culture vanishes, an entire world erased..." Goodheart, a Ledecky Undergraduate Fellow at this magazine, wrote beautifully then and does so still; he remains a member of its Board of Incorporators.
You might also like
The context for Harvard Management Company's 2023 results
The Crimson outlasts the Bears in an Ivy nighttime shootout.
The first in a series of public conversations about Harvard and the legacy of slavery
Most popular
First-years Ngozi Musa and Gabby Thomas help set the pace for track and field.
A negative investment return and annual spending reduce the endowment's value 5.1 percent.
The director of Head Over Heels and The Star, on animation's different dimensions
More to explore
A test can identify these productivity-boosting personnel.
Ancient history professor studies coins, ceramics, and Zelda.
Anwar Floyd-Pruitt's wildly profuse art