Football: Yale 23-Harvard 18
A deflating ending fashions a three-way title tie.
As so often happens, The Game this year ended with the quarterback of the trailing team trying one desperation pass that, if successful, would turn defeat into victory. On Saturday at the Yale Bowl it was Harvard's sophomore Jaden Craig, in fourth-and-14 from the Yale 33, trying to find wideout and roommate Cooper Barkate on the left near the goal line. When the toss fell incomplete, Yale had a 23-18 victory.
The defeat in the traditional finale dropped the Crimson, who had clinched a share of the Ivy League title the previous week with its triple-overtime victory over Penn, to a 5-2 record in Ivy League play (a splendid 8-2 overall) and created a three-way tie with the Elis and Dartmouth. (See Final Ivy League Standings, below.) This is the first three-way tie since 2015 and only the second involving two-loss teams in Ivy history, with the other coming in '82. It also is Yale coach Tony Reno's fourth title in six years.
This year's Game played out eerily like last year's, with Harvard making a comeback to forge a second-half lead, before Yale quarterback Nolan Grooms rallied his team for the decisive score. The Elis won primarily because they throttled the Harvard running attack, holding the Crimson, who came in averaging 201.8 yards on the ground, to a hard-earned 73. Moreover, the Crimson picked an inopportune game in which to have its most profligate day of the season, surrendering five sacks of Craig, having two punts and an extra-point try blocked, and (remarkably) losing a fumble for the first time in 2023.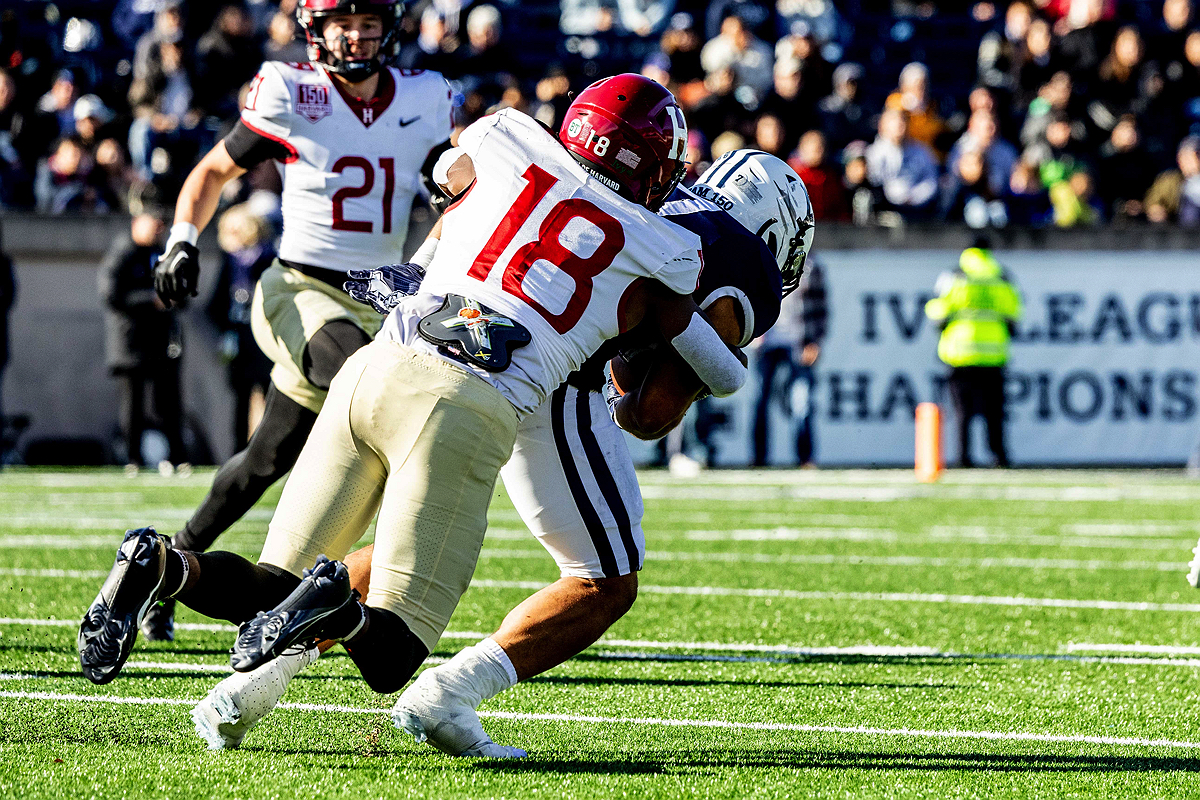 Late in the first quarter Yale scored first. Grooms engineered a 16-play, 48-yard drive that stalled at the Harvard 15, whereupon Jack Bosman booted a 33-yard field goal. Yale 3, Harvard 0.
In the second period came the first of blocked punts. No sooner had Crimson junior punter Sebastien Tasko received the snap at the Harvard seven than he was descended on by Eli rusher Wyatt Raymond, who smothered the kick. Yale took over and in three plays was in the end zone on a five-yard pass from Grooms to wideout Ryan Lindley. Bosman booted the conversion. Yale 10, Harvard 0, and things were looking decidedly grim for the Crimson.
A bit later, the points rainstorm almost became a deluge. The Crimson was in the midst of its first decent drive of the day, reaching the Eli 41. On third and 13, Craig was picked off by Yale's Joseph Vaughn, who romped all the way to the end zone. But wait—the Elis were penalized for holding on the return, bringing the ball back to the 44. From there, the teams traded three-and-outs. Then came the second blocked punt. Standing at the Harvard nine, Tasko again was smothered, this time by Yale's Zion Dayne. The Elis took over on the nine. After a Grooms fumble brought the ball back to the 16, Harvard senior defensive tackle Thor Griffith made what would have been the play of the game had the Crimson won, sacking Grooms for a 25-yard loss and causing a fumble that was recovered by senior linebacker Matt Hudson.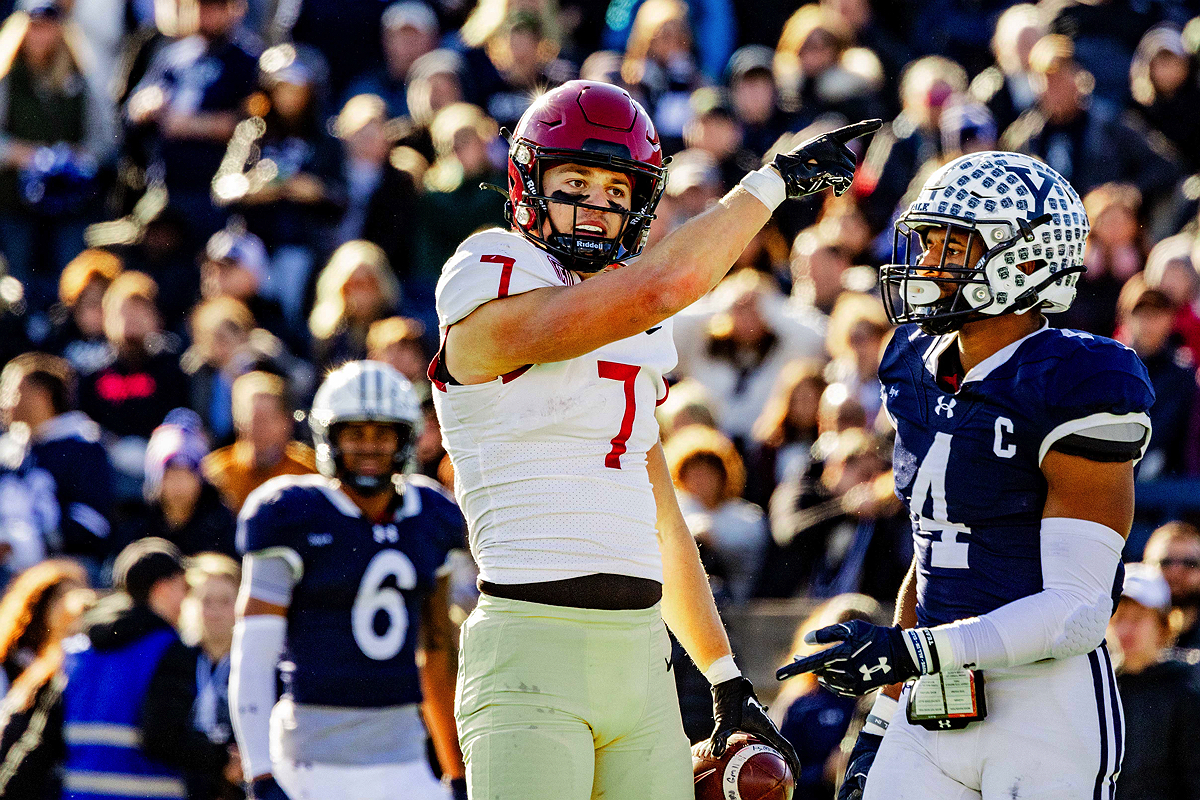 In a little more than two minutes the Crimson was in the end zone. The big play was a 35-yard pass from Craig to senior wideout Kaedyn Odermann that brought the ball to the Eli nine. After Yale stuffed Harvard junior running back Shane McLaughlin for a two-yard loss, Craig zinged a pass into the end zone to senior tight end Tyler Neville. Touchdown! The Crimson was on the board! But the extra-point try by senior Cali Canaval was blocked. Yale 10, Harvard 6. As the half ended, the Crimson was fortunate to be in it, having been pushed all over the Yale Bowl and having rushed for a grand total of six yards.
In the middle of the third quarter things looked even bleaker when Grooms engineered a nine-play, 47-yard drive capped when running back Nate Denney barreled four yards into the end zone. Bosman booted the extra point. Yale 17, Harvard 6.
But this is Harvard-Yale, which means torture. Late in the period, starting at its own 42, the Crimson offense got in gear. McLaughlin ran for 20 yards. Then, on a slick flanker reverse, Barkate rambled for 28 to the Eli 10. On the first play of the fourth quarter, Craig ran seven yards for a score. The two-point conversion try failed. Yale 17, Harvard 12.     

 
Momentum, that elusive twelfth man, had switched uniforms. The Crimson defense forced a three-and-out. The Crimson offense took over at its own 42. Craig connected with Barkate for 30 yards. Then, on a Craig pass intended for junior wideout Ledger Hatch, Yale was flagged for pass interference, bringing the ball to the Eli 14. On third-and-three from the seven, Craig took the snap and, in the face of a ferocious Yale rush, kept retreating. On the run, he whipped a pass that threaded the needle to Hatch at the pylon in the right front of the end zone. Touchdown! Though the two-point conversion again failed, it was—somehow—Harvard 18, Yale 17.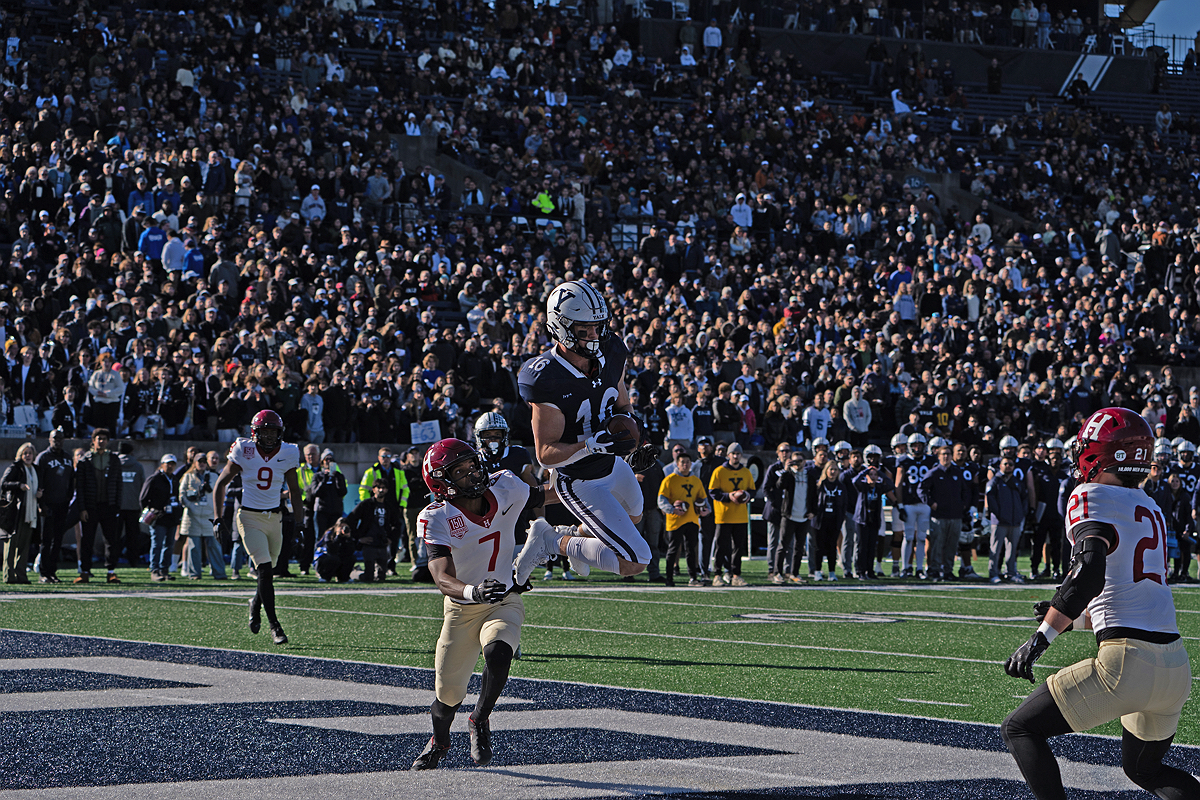 Back came Grooms. A 62-yard drive was ignited by a catch by superb Eli receiver Mason Tipton, who somehow kept his feet in bounds for a 30-yard gain. Yale reached the Harvard 13, but on second down Grooms, harried, threw a pass that was intercepted by Crimson freshman defensive back Damien Henderson. Sighing with relief, Harvard took over at its own seven. Two plays later Craig, jolted by Vaughn, fumbled. The Elis took over at the Crimson 14. Three plays later they were in the end zone when Grooms threw a pass that wideout David Pantelis held on to despite tough defense from Crimson freshman defensive back Langston Rogers. (So often it comes down to these "strong catches," as Harvard's Kym Wimberly proved two years previously.) This time the Elis went for the two-point conversion and were stopped. Yale 23, Harvard 18.
Your move, Mr. Craig. He had been injured on the fumble but gamely he trotted back on. In two plays—a 17-yard pass to Barkate and a 44-yard hookup to senior tight end Tim Dowd— he moved the Crimson to the Eli 14. Eventually it came down to fourth-and-two from the six. Craig dropped back and was pressured by Yale's Abu Kamara. In the back of the end zone, Barkate was all alone. Craig threw—too tall, as the expression goes. Barkate grabbed the ball but he was beyond the end line. Incomplete. Yale ball, at its six. Roommates Craig and Barkate can replay that one during the offseason.
As noted scholar Yogi Berra has proclaimed, it ain't over till it's over. The Crimson got the ball back one more time, at the Yale 45 with 1:47 left. Harvard advanced the ball to the 29 but here Craig suffered his fifth sack, by Kamara, and it was a big one—15 yards. That led to the unavailing last-ditch fling to Barkate.
In the face of withering pressure, Craig completed 20 of 33 pass attempts for 245 yards and two touchdowns, plus one interception. With apologies to junior Charles DePrima, who played well in the season's first half, Harvard has found its quarterback of the future. Barkate and Odermann (in his final game) each had four receptions. On defense, Hudson was, as usual, a bear, with a game-high 12 tackles, trailed by junior linebacker Mitchell Gonser with nine and the mighty Thor with eight, including that epic 25-yard sack of Grooms. Hudson, Griffith, and defensive lineman and captain Nate Leskovec (two sacks) depart as three of the all-time greats.
So…could a season in which you share an Ivy title but lose to Yale be considered a disappointment? Some will say so. We take a different view. If we had told you back in August that Stephenson family head coach for Harvard football Tim Murphy would mold a title-sharer out of a team picked to finish fourth and without an established quarterback or running back (to say nothing of having to fit a host of new faces into the defensive backfield), would you have signed up for it? Darn tootin' you would have. This was perhaps Murphy's finest coaching job in his 30 years on the Harvard sideline. Once you have recovered from Saturday's defeat, savor his marvelous achievement.
TIDBITS The series, which began in 1875, now stands in favor of Yale, 70-61-8. Yale has won five of the last seven. In the Ivy League era (since 1956), Harvard leads 37-29-1….Coach Tim Murphy's record in The Game is now 19-10….In the last 15 Games played at New Haven, Harvard is now 11-4.      


Weekly Roundup
Princeton 31, Penn 24
Dartmouth 38, Brown 13
Columbia 29, Cornell 14
FINAL STANDINGS
Ivy Games Overall
HARVARD 5-2 8-2
Yale 5-2 7-3
Dartmouth 5-2 6-4
Princeton 4-3 5-5
Penn 3-4 6-4
Brown 3-4 5-5
Cornell 2-5 3-7
Columbia 1-6 3-7
Coming up: The annual 42 bye weeks, which we plan to spend in seclusion compiling the many ways in which we could become a better human being. The 150th season of Harvard football (yes, this year marked the 150th anniversary but was the 149th season because 2020 was lost to COVID) is scheduled to kick off at the Stadium on Saturday, September 14, 2024. Happy, safe, and healthy holidays to all!
THE SCORE BY QUARTERS
| | | | | | | | | |
| --- | --- | --- | --- | --- | --- | --- | --- | --- |
| Harvard | 0 | 6 | 0 | 12 |   | — |   | 18 |
| Yale | 3 | 7 | 7 | 6 |   | — |   | 23 |
  Attendance: 51,127
THE FULL SEASON: follow Dick Friedman's dispatches.
Week one: Harvard 45, University of St. Thomas 13
Week two: Harvard 34, Brown 31
Week three: Harvard 38, Holy Cross 28
Week four: Harvard 41, Cornell 23
Week five: Harvard 48, Howard 7
Week six: Princeton 21, Harvard 14
Week seven: Harvard 17, Dartmouth 9
You might also like
Toward another apartment complex on Harvard-owned land
Stepping down after 30 years of University service
Harvard researchers seek to empower individuals to steer their own careers.
Most popular
Brief life of a black radical: 1872-1934
Brief life of a textured artist: 1911-1988
In Agyementi, Ghana, Sangu Delle '10 brings clean water to a village.
More to explore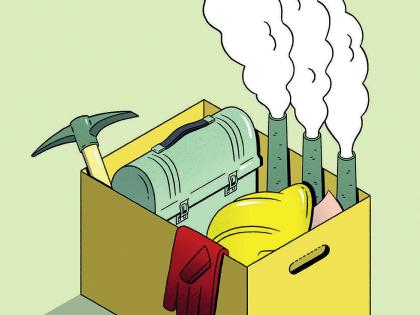 Expect massive job losses in industries associated with fossil fuels. The time to get ready is now.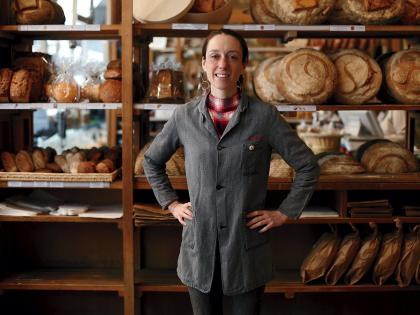 A third-generation French baker on legacy loaves and the "magic" of baking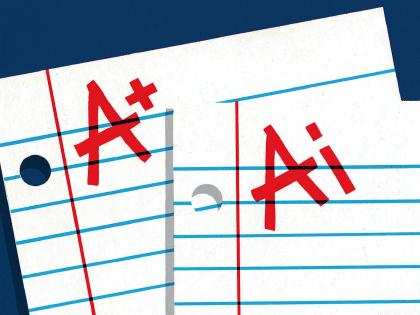 Generative AI can enhance teaching and learning but augurs a shift to oral forms of student assessment.