John Harvard's Journal
Harvard's Sexual-Assault Problem
On September 21, Harvard released the results of a sexual-conduct survey conducted among its undergraduate, graduate, and professional-school students during the spring of 2015. The results—echoing those from the 26 other private and public Association of American Universities (AAU) institutions that participated—are troubling for the University, for U.S. higher education generally, and particularly for Harvard College. In a letter to President Drew Faust, released in conjunction with the AAU aggregate report, former University provost Steven E. Hyman, who chairs the Harvard Task Force on the Prevention of Sexual Assault (formed in 2014), called "the incidence of nonconsensual sexual contact by physical force or incapacitation…unacceptable" and said that it "requires concerted action from the entire community." Among the most pertinent results Hyman detailed:
Sixteen percent of female seniors in the College report completed or attempted penetration that was nonconsensual during their time at Harvard.
When figures for nonconsensual touching are included, that figure rises to 31.2 percent.
Consumption of alcohol—by the perpetrator, the victim, or both—played a role in the majority of incidents of complete or attempted penetration perpetrated by force, and for nearly 90 percent of the respondents who reported completed or attempted penetration by incapacitation.
Although College females reported that the location where completed or attempted penetration most commonly took place (more than 75 percent) was in a dormitory, about 15 percent of incidents took place in single-sex organizations that were not a fraternity or sorority (i.e., in final clubs and other club settings).
Rates of nonconsensual penetration and touching are substantially higher among both men and women in the LBQAN (Lesbian or Gay, Bisexual, Asexual, Questioning and Not Listed) community throughout the University.
Female undergraduates at Harvard are less likely to believe that campus officials would take a report seriously, conduct a fair investigation, or take action against an offender than the full Harvard cohort are. Worse, only 16 percent of Harvard female undergraduates believe it very or extremely likely that campus officials would take action against an offender, compared to 37 percent of female undergraduates at the full set of AAU institutions surveyed, and 25 percent of female undergraduates at the subset of private AAU institutions.
Among female Harvard College students who indicated they experienced an incident of penetration by force, 69 percent did not formally report it, nor did 80 percent of those women who experienced an incident of penetration by incapacitation. "The most frequently cited reason for not reporting," Hyman wrote, "was a belief that it was not serious enough to report."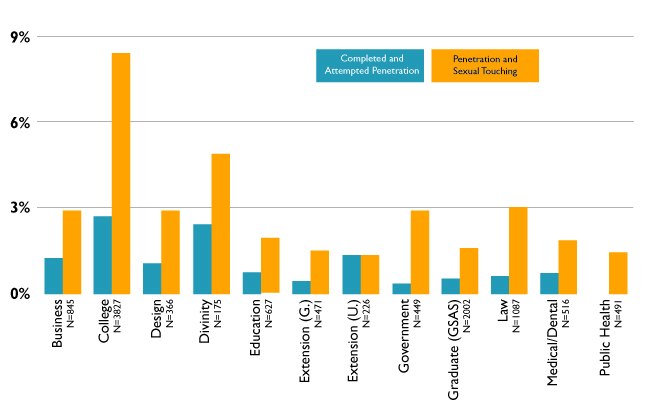 Percent of Harvard students reporting nonconsensual sexual contact involving physical force or incapacitation in the current year by school.
Source: Letter from Steven E. Hyman to President Drew Faust, September 21, 2015
At an open meeting later that day attended by several hundred students, Faust and other administrators responded to questions—a sharp contrast with the handling of past crises, such as the revelation of widespread academic misconduct in 2012-2013. The president acknowledged that the University's current measures intended to address the prevalence of sexual assault are "completely insufficient," though she emphasized that improving the situation is a collective responsibility of all members of the Harvard community, not just administrators.
In a letter to the community, Faust wrote:
These deeply disturbing survey results must spur us to an even more intent focus on the problem of sexual assault. That means not just how we talk to one another about it, not just what we say in official pronouncements, but how we actually treat one another and live our lives together. All of us share the obligation to create and sustain a community of which we can all be proud, a community whose bedrock is mutual respect and concern for one another. Sexual assault is intolerable, and we owe it to one another to confront it openly, purposefully, and effectively. This is our problem.
The problem of sexual assault was brought to the forefront of discussion on campus when The Harvard Crimson published "a long, anonymous, first-person account of an unwanted sexual encounter" (see "Addressing Sexual Assaults," [6] July-August 2014, page 23). Faust announced the formation of the task force headed by Hyman a few days later. Because only a fraction of sexual assaults are reported, surveys have come to be seen as a key way to learn more about the problem. Universities—reacting to government pressure and the threat of lawsuits brought by students under Title IX (the federal law that prevents discrimination on the basis of sex)—are seeking more data so that they can figure out ways to increase reporting, prevent sexual misconduct, and comply with the law.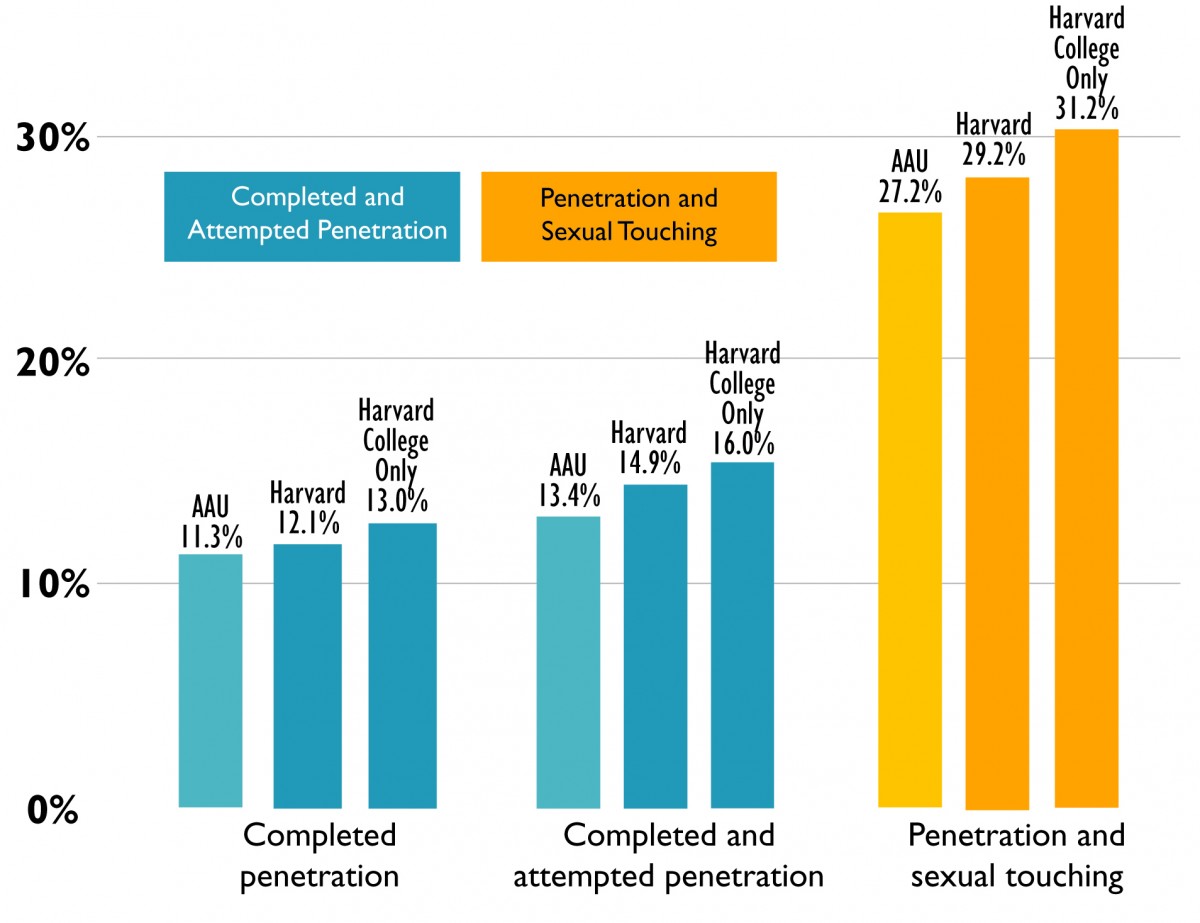 Percent of female undergraduate seniors reporting nonconsensual sexual contact involving physical force or incapacitation since entering college. The Harvard numbers represent first, all female undergraduate seniors including those in the extension school, which is comparable to the AAU averages; and second, only those women enrolled in Harvard College.
Source: Data aggregated from letter of Steven E. Hyman to President Drew Faust, September 21, 2015
At Harvard, the data point to the College as the locus of the worst of the problem: the University, including the graduate and professional schools, had a lower rate of nonconsensual sexual contact than the AAU average in the eight months preceding the survey, but the rate at the College was higher. And as noted, undergraduate women were less likely to believe that Harvard officials would take a report seriously, conduct a fair investigation, or take action against an offender. Rakesh Khurana, just starting his second year as dean of Harvard College, spoke in an interview of a "trust deficit," the need to give "Harvard the institution" a human face, and to bring "moral and emotional urgency" to solving a problem that involves, at root, "a human being who has been deeply impacted."
Lack of confidence in officials is matched, University-wide, by a paucity of student knowledge on policies and procedures: about half or more of all undergraduate and graduate students said they knew little or nothing about what happens when a student reports an incident of sexual assault or sexual misconduct; where to make such a report; or even how sexual assault or misconduct is defined. More than a third said they wouldn't know where to get help if they or a friend experienced such an incident. This lack of knowledge will doubtless be the focus of follow-up by Harvard researchers; the results suggest at the very least a profound need for better guidance and education.
Faust has asked the task force to provide her with detailed recommendations by January 2016.
For complete coverage, see harvardmag.com/assault-15 [7].