Visual Arts
"Getting Out of the Way of the Work"
10.17.16
There's a line out the Cooper Gallery's doors, wrapping back around Peet's. We're queuing between those old-style red-velvet aisle markers, printed tickets in hand. When we finally make it inside, they make it worth our while: I sample some kind of fritter that seems to involve crab and wasabi, and a spear of asparagus wrapped in bacon. "How old are you?" the caterer asks as I pluck a glass of wine from his tray. "Twenty-one," I say, which is true, and he gives me a look of disinterested incredulity but doesn't ask for ID. I'm probably the only one he had to ask: the crowd in the atrium-like entry is well-dressed and over 30.
We're here for a tour of I once knew a girl…, which exhibits the work of Carrie Mae Weems. It's the Cooper Gallery's first solo-artist show, and Weems's art certainly merits such a spotlight. A 2013 recipient of a MacArthur "genius grant" and a 2015 W.E.B. Du Bois Medalist at Harvard, Weems is best known for her photography, which has done groundbreaking work to provoke dialogue around how power relations—especially race and gender—operate in visual art and beyond. 
The remarks begin: Hutchins Center director and Fletcher University Professor Henry Louis Gates Jr. gives a brief background of the center's art gallery, made possible, he notes, by the generosity of "zillionaire" Ethelbert Cooper. Gallery director and exhibition curator Vera Ingrid Grant introduces Carrie Mae Weems. We are reminded that food is not permitted to accompany us up the ramp into the exhibit space. At long last, Weems herself receives the mic, and we're off. Sets of heels click-clack forward in a rush to be right up there with her.
The interior of the Cooper, designed by architect David Adjaye, snakes back into the depths of the city block in a U-shape. Its atrium is high-ceilinged and full of natural light; the true exhibition space is dark-walled, intimate, and pleasantly cavernous: the antithesis of the ice-cube gallery. Weems' disembodied voice—rich ­and soothing—booms from the speakers at a measured tempo. She begins with a discussion of her desire to honor W.E.B Du Bois by naming a flower for him. Subsequent conversations with a team of botanists revealed that she was in luck: a new variety of peony had recently been discovered and needed a name. The W.E.B. Du Bois peony was born. That project is an especially relevant choice for this particular exhibition, which grew out of her association with the Hutchins as a Du Bois medal recipient. As her narrative penetrates deeper into the core of her works and her practice, the attendees weave their way into the heart of the gallery. Progress is slow: bodies pack the rooms, and I've lagged behind, too full of asparagus to elbow my way to the front. I'm resigned to seeing each piece only after Weems has already moved on to describing works still ahead, out of sight. I like to take my time with the images, anyway.
The exhibit is divided into three themes that orient viewers within Weems's body of work: Beauty, Legacies, and Landscapes. While Weems discusses Legacies, which takes up the lower part of the U of the gallery and includes a series of coloring-book-style renditions of the Obama family and images of the Du Bois peony, I'm still looking at Beauty, by the entryway. I am struck by the triptych Framed By Modernism: three photographs that depict Weems, nude, posing in a backgrounded corner of Robert Colescott's studio while he, head in his hands, turns away from her. Colescott is known for satirical personal reflection on the experience of being African-American. The photographs include text where Weems addresses the painter: "You framed the likes of me and I framed you," she writes. "But we were both framed by Modernism." As curator and art journalist A.M. Weaver puts it, Weems is "purposefully casting herself as the object of the male gaze," but reinscribing herself as the subject of the encounter. In the series Not Manet's Type, which leads attendees up the ramp, she speaks not only through the images but through the words that frame them, asserting her voice as an African-American woman and a maker of great art while making visible the bad politics of art that excludes or objectifies black and female subjects.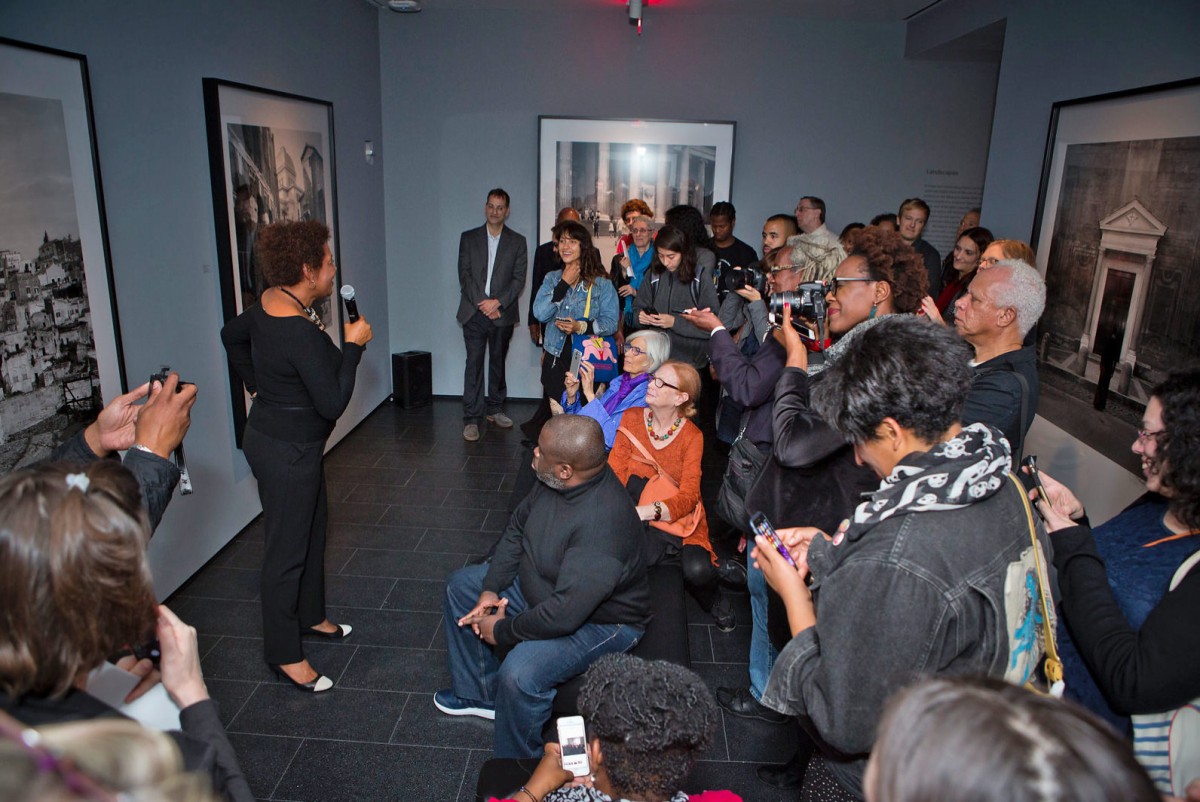 Photograph by Liesl Clark Photography
It's a bona fide audiovisual experience. Weems's voice booms down from above, raining over the din of inarticulate "mms" of nonverbal art appreciation. There are three discrete ceiling speakers in the gallery, but the narrow hall between the two main exhibition rooms is left out of the audio immersion: I get stuck in the middle and have the strange experience of hearing her speak from both sides at once.
In the end we are all packed around the artist in the back of the gallery, with Landscapes. The gallery layout dead-ends: we are a jostling horde in a dimly lit space, enveloped in sound and image and in too-close proximity to each other's bodies. Here is my favorite: the Museum Series. Each of its images focuses on a stark solitary figure, immobile, in all black, posing in whatever well-lit plaza allows appreciation of the great pale behemoth of the particular museum sprawling around it. Weems describes this figure as her muse, a conduit for the viewer to inhabit the space in which she stands. In her black skirt and tight bun and face turned toward the architecture, the muse's message is clear: "I see you, Museum." The series grew out of indignation about the exclusion of African and African-American artists from the world's monumental museums, and a desire to use her own physicality to reveal the power that the vast, looming architecture of a museum has over those of us who inhabit it. I am captivated by the figure's solitude and immobility: she stands still amid the flow of tourists filtering in and out.
Weems, meanwhile, is discussing her process, emphasizing the necessity of "getting out of the way of the work" so that it can develop unimpeded. I sympathize: from my perch in the corner, I'm trying to get a shot of each of these muses to see them in more detail. I'm leaning around torsos with my phone camera zoomed in all the way: each of my pictures is framed by the big dark shapes of fellow gallery-goers' bodies. The sound system cuts in and out; someone rushes to replace Weems's microphone.
In the days following the tour, I have the chance to discuss it with Sarah Lewis, assistant professor of history of art and architecture and of African and African American studies, who attended the event and has also curated Weems's work. Lewis tells me that she would be unable to teach her current course, "Vision and Justice: The Art of Citizenship"—"which is really about the way that art offers a corrective to the mismeasurement of human life"—without Weems's work. (Weems, in fact, visited the class that week; she and Lewis are also good friends.) The course inspired the theme of the issue of Aperture Lewis guest-edited, which included commentary on Weems's Kitchen Table Series by important voices in theater, photography, and art history. Lewis mentions what Fredrick Douglass called "thought-pictures": "imaginative visions inspired by pictures that crystalize in our minds about the world around us." For Lewis, Weems's art was foundational in filling these galleries-of-the-mind with images that serve as "a benevolent agitational force to get us to see the full humanity of subjects who have been definitionally left out of the idea of citizenship."
Weems ended her talk by noting the need for museums to reexamine themselves as institutions in order to remain relevant across the next decades. I'm still thinking about the woman in black: I imagine Weems standing before Widener, or Memorial Hall. Students and faculty circulate in and out, moving along to their next commitment. She remains and continues to look.