Sports | Sports
A Partial Success
2.26.18
Christian Juzang '20 played 44 minutes in Friday night's overtime win at Princeton and has played 275 of 285 possible minutes over the last seven games.
Photograph by Gil Talbot/Harvard Athletic Communications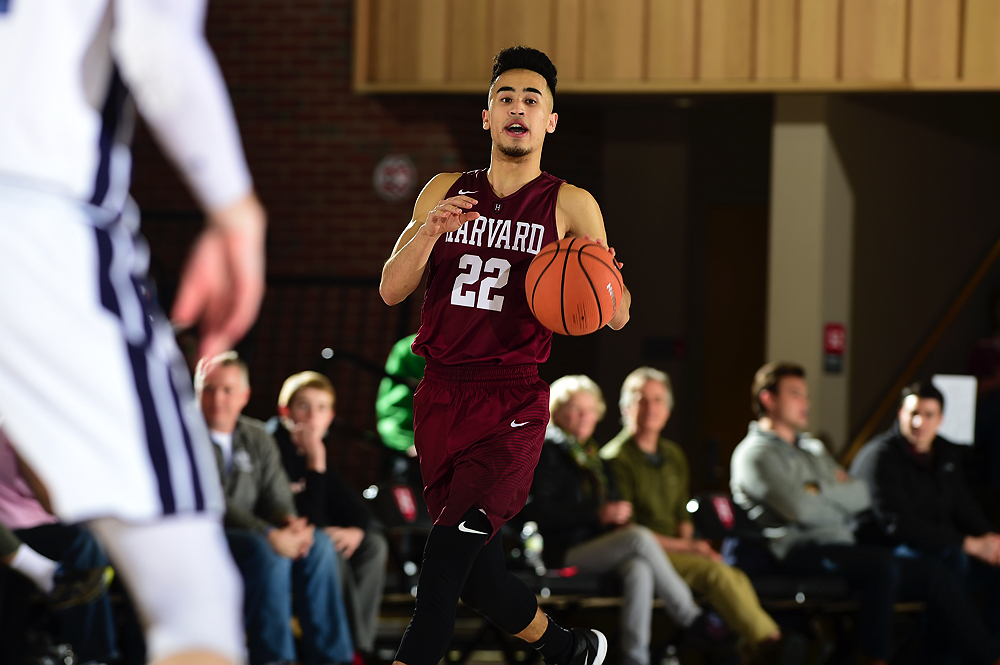 Christian Juzang '20 played 44 minutes in Friday night's overtime win at Princeton and has played 275 of 285 possible minutes over the last seven games.
Photograph by Gil Talbot/Harvard Athletic Communications
Danilo Djuricic '21 is a versatile inside-out player who sank four three-pointers and averaged nine points in this weekend's games.
Photograph by Gil Talbot/Harvard Athletic Communications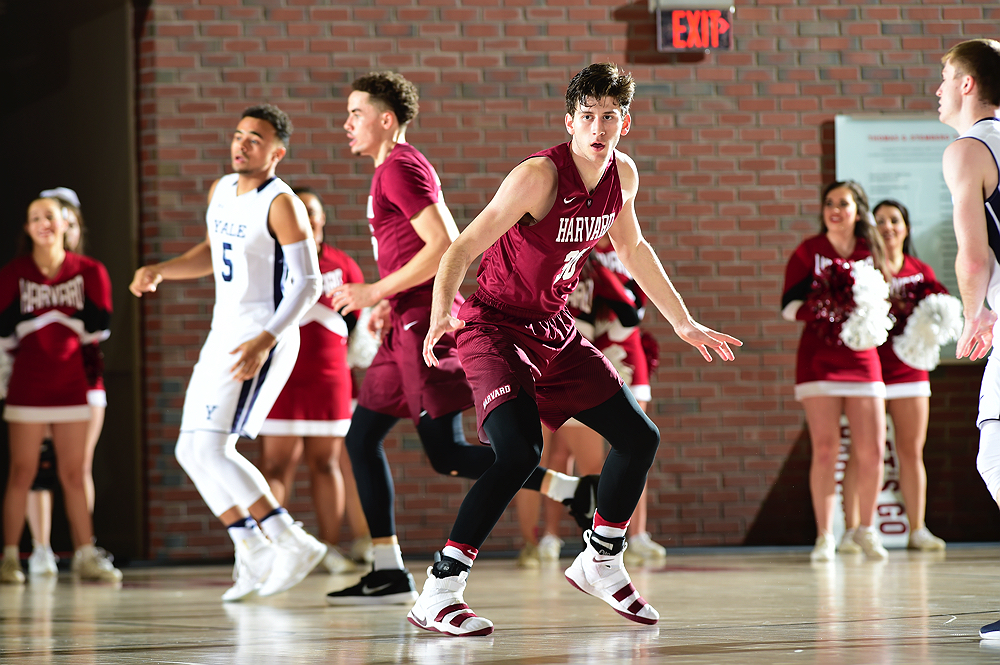 Danilo Djuricic '21 is a versatile inside-out player who sank four three-pointers and averaged nine points in this weekend's games.
Photograph by Gil Talbot/Harvard Athletic Communications
With just over 30 seconds left in Saturday's matchup between Harvard and Penn and his team up by two, Quakers senior Darnell Foreman caught the ball beyond the top of the key. He dribbled into the lane, drawing Harvard sophomore Christian Juzang and another Crimson defender with him. In the right corner, Penn senior Caleb Wood stood wide open. Foreman swung the ball to his teammate, who shot a three-pointer to put Penn up by 5, all but ensuring a 74-71 win that gave the Quakers (21-7 overall, 11-1 Ivy) a one-game lead over the Crimson (15-12 overall, 10-2 Ivy) heading into the final weekend of Ivy play.
In the past, this loss would have imperiled the Crimson's NCAA tournament aspirations. But the advent of the Ivy League tournament changes things: Harvard can view last weekend—during which they also defeated Princeton 72-66 in overtime on Friday—as a partial success in a season-long effort to qualify for and peak during the conference tournament in March. In particular, Juzang and freshmen Danilo Djuricic and Rio Haskett played well this past weekend, although the team is still trying to reduce fouls and turnovers and get to the free throw line more frequently.
Juzang's Emergence
In the game against Princeton, with Harvard up 70-66 and 18.3 seconds left in overtime, Juzang stood at the free throw line, bounced the ball, and eyed the basket. Nothing but net. Then he did it again, sealing Harvard's come-from-behind win on a night in which he played 44 minutes and had seven assists and just two turnovers.
Entering the year, few would have predicted this performance. As a freshman, Juzang appeared in just three Ivy League contests for a total of eight minutes. But with first-team All-Ivy point guard Bryce Aiken '20 and junior point guard Tommy McCarthy out with injuries, Juzang has emerged as the Crimson's floor general.
During the last seven games, he has played 275 out of a possible 285 minutes. He has also struck a balance between scoring and passing: Juzang had 20 or more points in recent home wins over Princeton and Brown and has 18 assists over the last three games. Finally, he is helping to lead the team, offering direction in huddles and making key defensive plays, such as the charge he took on Friday that gave Myles Stephens, one of Princeton's best players, his second foul.
Juzang has not been perfect: this weekend, he made just two of 14 field-goal attempts, suggesting that playing all those minutes may be catching up with him. Still, his steadiness in Aiken's absence is a major reason that the Crimson is guaranteed a top-two seed in the Ivy League tournament.
The Freshmen 
In 2016, ESPN rated Harvard's seven freshmen as the tenth-best recruiting class in the country. This year's freshmen—Reed Farley, Danilo Djuricic, and Rio Haskett—were less heralded. But this past weekend showed how integral two of those players—Djuricic and Haskett—have become to Harvard's hopes of returning to the NCAA tournament. (Farley appeared in 10 games earlier in the season but injured his knee and has not played since a 62-57 victory at Dartmouth on January 20.)
Djuricic's value is his versatility. At six-foot-eight and 210 pounds, he has the size to score and defend down low near the basket. He also has a sweet outside shot, on display this weekend when he sank four threes. This multifaceted skillset makes him an ideal fit for Amaker's inside-out offense.
Amaker, a former National Defensive Player of the Year at Duke, also values active defenders, and Haskett has established himself as one of the team's best defenders off the bench. As the Crimson trailed 41-34 early in the second half of the Princeton game, Haskett drew another offensive foul against Myles Stephens to help keep Harvard within striking distance. The freshman guard also put up some strong offense: nine points on four of seven shooting, including a pair of athletic layups in overtime that extended Harvard's lead to eight.
Attention to Detail
As encouraging as the play of Juzang, Djuricic, and Haskett has been, the Crimson must improve in several areas. Chris Lewis '20—having an outstanding season, averaging 12.1 points, 5.3 rebounds, and 1.6 blocks per game—needs to avoid foul trouble. Against Princeton, he fouled out with just under four minutes left in overtime when he bit on a fake by Princeton's Richmond Aririguzoh; as ESPN commentator Dalen Cuff noted, Lewis should have defended Aririguzoh straight-up—standing with his feet planted and arms extended—instead of jumping.
Another challenge for the Crimson is getting to the free throw line. Against the Quakers, Harvard took just 14 free throws, versus 22 for Penn. Aiken's injury and absence exacerbates this problem: one of the Crimson's best players, he is fantastic at drawing contact near the basket. Seth Towns '20, Juzang, and others must find ways to get to the line where the Crimson is shooting 76.6 percent on the season, the best in the Ivy League. 
Finally, Harvard must limit turnovers. The team coughed the ball up 14 times on Saturday; that's not terrible, but the Quakers had just eight giveaways. What's more, several Harvard turnovers came in key moments, including when Towns lost the ball with just under three and a half minutes remaining and the Crimson down by three. Close conference contests and post-season aspirations often come down to a handful of plays; it is imperative that the Crimson makes the most of every possession.
Harvard has two more regular season games—at home next weekend against Cornell and Columbia—before it returns to Philadelphia and the Palestra for the Ivy League tournament.
Harvard Women's Basketball Update 
After splitting last weekend's games at Brown and Yale, the women's basketball team fell into a three-way tie with Yale and Dartmouth for third place in the league. With home games coming up against Penn and Princeton, the conference's top teams, it seemed possible that the team would need to win its final two games of the year, on the road next weekend at Cornell and Columbia, to reach the conference tournament.
This past weekend, Harvard ensured there would be no such drama, defeating Penn 55-52 and Princeton 72-58, to guarantee a berth in the Ivy League tournament. Head coach Kathy Delaney-Smith—whose squad improved to 16-9 overall and 8-4 in conference play—described the games, Harvard's first weekend sweep of Penn and Princeton since 2013, as "the greatest defensive weekend I can remember in this gym."