John Harvard's Journal | Sports
Happy Returns
Justice Shelton-Mosley needs only the tiniest bit of space to go the distance.
Photograph by Gil Talbot/Courtesy of Harvard Athletic Communications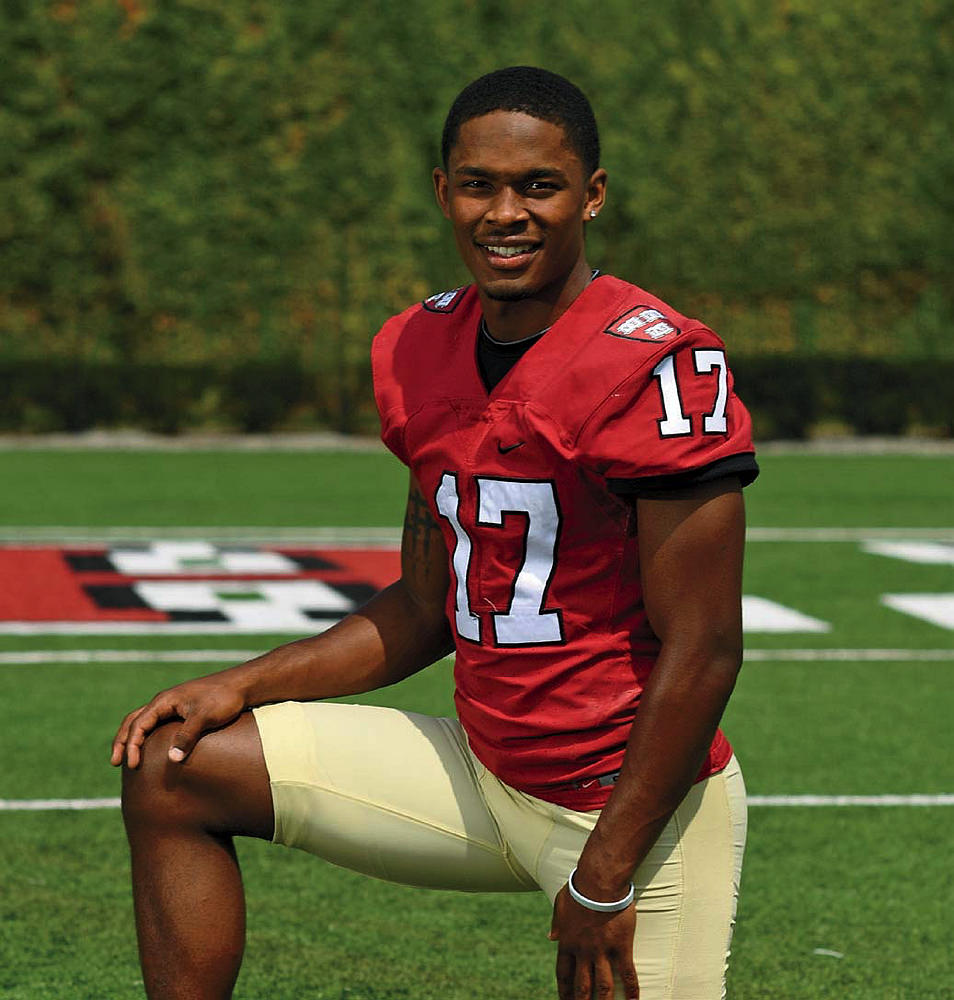 Photograph by Gil Talbot/Courtesy of Harvard Athletic Communications
As the punt hurtles through the sky, freshman Justice Shelton-Mosley '19 stands at the Harvard 14-yard-line, 40 yards downfield from the line of scrimmage. In many ways, his return began long before the ball was snapped: he has assiduously watched film of Columbia's punter and read the scouting reports on him. "I look at all punts from previous games and see at what kind of angle they come off the kicker's foot," he says. "This punter, particularly, averaged 43 or 44 yards. And he mostly kicked it toward the left hash mark. In this case he kicked it a little more toward the middle."
Even as he tracks the ball, Shelton-Mosley takes a glance at the Lions' gunners—the two opponents, one on either side of the scrimmage line, who are assigned to run full tilt down the field in hopes of arriving at Shelton-Mosley when (or even before) the ball does. "If they get a free release I know I have a lot less time," he says. "But if our guys hold them up even a little, I know I have a shot."
Entering his senior season, Shelton-Mosley, of Leverett House and Sacramento, looks to cement his status as Harvard's most accomplished return man ever. His career punt-return average of 15.8 yards is more than four yards higher than that of the player in second place, Andrew Fischer '16. Shelton-Mosley holds the school record for single-season return average: 19.0 yards, set in 2015, during his dazzling freshman season, and nearly matched last year, when his punt returns averaged 18.8 yards. He also has three punt returns for touchdowns, the most in Crimson history, and the longest such scoring play, 91 yards, which came last season in a 41-2 win over Georgetown. Two weeks later he had an 85-yarder in a 38-10 victory over Lafayette. These happy returns have come despite opposing coaches directing their punters to keep the ball out of his hands by kicking it far, far away from him, or putting so much hang time on their boots that he is forced to call for a fair catch. For his efforts in 2017, Shelton-Mosley was named to the All-Ivy first team and the STATS FCS (Football Championship Subdivision) All-America first team as a punt returner.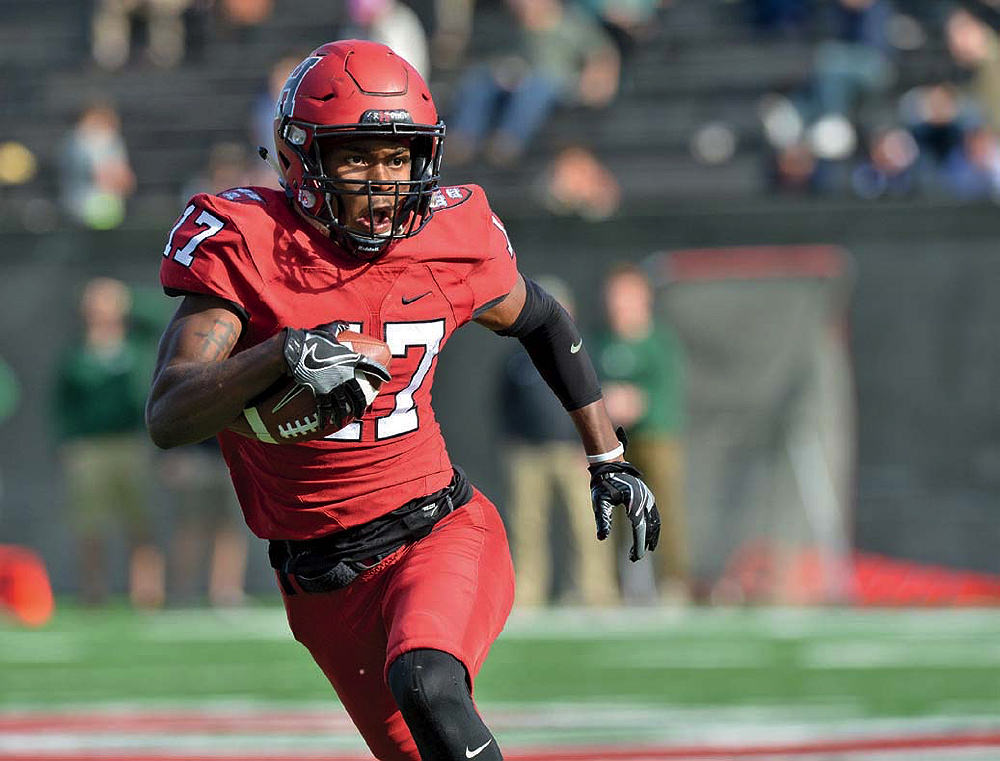 Harvard coach Tim Murphy has profound appreciation for the way number 17 can flip the field, putting the Crimson offense in a much improved starting place. Murphy has had many crackerjack returners in Cambridge, among them the intrepid Fischer, Colby Skelton '98, and Brian Edwards '05. "Justice is as good a returner as we've had in my 25 years," says Murphy ("Murphy Time," [6] November-December 2015, page 35). "He has outstanding physical skills. And he's now a bigger, faster, stronger version of his freshman self." (The 5-foot-10 Shelton-Mosley is now listed at 195 pounds.) "But he also has an incredible sixth sense of where to run the football."
Shelton-Mosley agrees that his vision is the key. "Once the ball is in my hands, it's really just what I see, and then I go from there," he says. To a large degree, his skill is unteachable. But his high-school coach, Phil Grams, quantified it. Now the offensive coordinator at Lawrence University, Grams saw Shelton-Mosley score 88 touchdowns at Sacramento's Capital Christian School and be heavily recruited by Football Bowl Subdivision schools such as Northwestern, Cal, and Duke. "I always told him, 'If you can find that one inch of daylight, you're gonna come out of it with nobody left to tackle you,'" says Grams.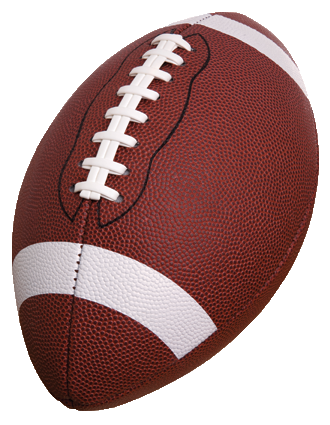 Harvard Football
Sign up for Harvard Magazine's football e-mail [7] and follow the Crimson all season long! Dick Friedman will provide the latest news, game summaries, and insights.
As a Crimson freshman, Shelton-Mosley averaged an eye-popping 33.1 yards on kickoff returns. The following season, hoping to cut down on injuries, the Ivy League moved kickoffs from the 35-yard line to the 40. The notion was to promote more kicks reaching the end zone, resulting in touchbacks, on which no tackles occur and the whistle is blown before there are many collisions. It seems to be working. In 2015, 12.4 percent of kickoffs resulted in touchbacks. In 2016, the number jumped to 44.1 percent, and last year it was 36.1. More significantly, according to the Ivy League office, in years before 2016, conference games averaged six to seven concussions a season. In 2016 there were none during Ivy games, and last year there were two.
When he first heard of the Ivy rules, "I was kind of disappointed," Shelton-Mosley admits. "On the other hand, it's a safer game, and that has a ripple effect on other conferences." (This year the NCAA as a whole has introduced an experimental rule under which a kickoff returner who is inside his 25-yard line can call for a fair catch, after which the ball will be brought to the 25 for the offense to start play.)
Shelton-Mosley is also the Crimson's most dangerous wide receiver. But as Harvard's offense has dropped off in the past two seasons, opposing defenses have been able to key on him, causing his production to drop from 48 catches and a 6.0-yard average in 2016 to 36 last year, with a mere 3.6 yards per catch. Says Murphy: "I made an edict to our staff that we have to get him more touches in a game in [2018]. His ability to make plays, to make something out of nothing, is sort of unrivaled in the Ivy League right now and we have to capitalize on that more."
On this Columbia punt, Harvard's play is labeled a "boundary return"—designed for Shelton-Mosley to get near the sideline and pick up blockers before turning upfield. He catches the ball, and with a quick cut leaves a would-be tackler in the dust and reaches the area next to the sideline. Then he begins to accelerate upfield. "Run like hell," he tells himself. "Run away from the defenders and don't go sideways."
As Anthony Mosley recalls it, the first time his son returned a punt in organized football was when he was six years old. "He took it to the house" (the football expression for running all the way to the end zone). "I think it was about 45, 50 yards."
Justice remembers that too, but he recalls something else. "I got in trouble because I showboated," he says. "I high-stepped to the end zone. I had seen NFL players do that." Anthony chastised him. "I never did that again," says Justice.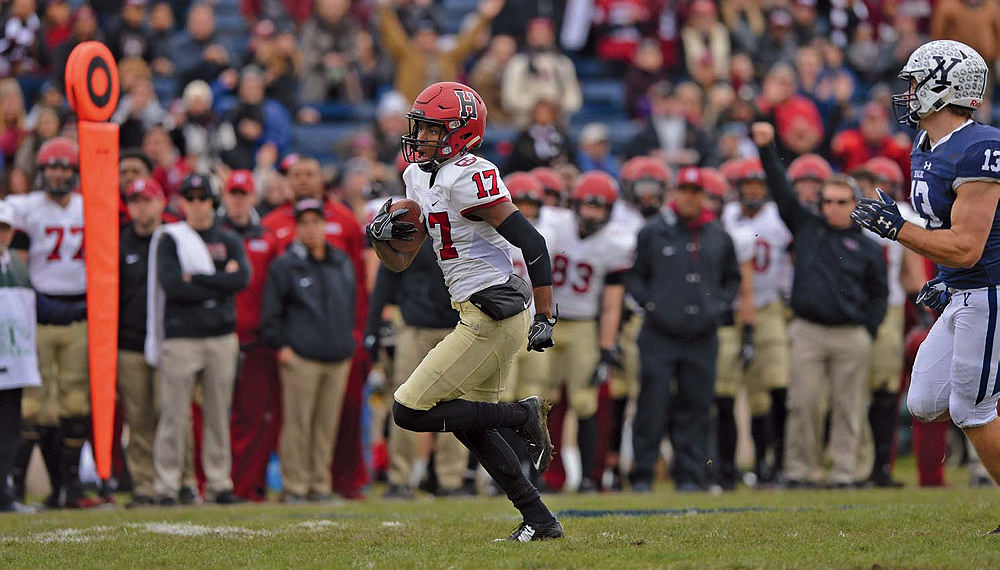 Photograph by Gil Talbot/Courtesy of Harvard Athletic Communications
Anthony was a star running back at Fresno State, then went on to have a brief NFL career with the Chicago Bears. Now an athletic trainer, he brings an expert's eye to his son's abilities. "He is quicker than he is fast," says Anthony. "He's done some amazing things as far as his lateral movement and as far as his ability to plant and pivot off the same foot. I trained with [Bears Hall of Famer] Walter Payton and I actually taught Justice one of [Payton's] moves. In his next game he did it and I couldn't believe it. He did it without losing any speed. And I've seen him do that several times in his college career."
Anthony is not the only family member to help Justice hone his skills. "When I was seven or eight years old there was a big field in the middle of the apartment complex where we lived," he says. "My mom [Carla] and stepdad [Donnie Rogers] would take me out to the field and practice punt returns. They'd throw the ball up in the air and they'd run on me and I'd have to juke 'em. We did that my whole childhood.
"Now every time I go back to Sacramento, my dad and I go to a field. And sometimes I don't even have a ball. We'll take a water bottle, he'll throw it up in the air. I have to go catch it, make four or five moves, and take off for 60 yards."
Gathering speed along the sideline, Shelton-Mosley runs into a logjam of humanity—friend and foe. "I just didn't want to go out of bounds," he says. "There was a guy actually trying to tackle me from out of bounds. I'm not sure how I escaped that. I did see a hole and I was going to do all I could to get to that opening and then burst out of it. I kind of saw the hole before I got going but I knew that if I kept pushing up, some of the Columbia guys would over-pursue and there would be an even better opening." The next thing anyone sees is a solitary figure ahead of the pack, running toward the end zone. It is Justice Shelton-Mosley.
There is some disagreement about which of Shelton-Mosley's returns is his most amazing. Most think it was that 86-yarder at Columbia when he was a freshman. "How'd he do that?" yelled gobsmacked Lions play-by-play man Jerry Recco when Shelton-Mosley emerged on his way to the end zone.
Shelton-Mosley, however, points to a non-scoring play that to him was even more satisfying. It came in the third quarter of last season's 25-22 win over Dartmouth, and went for 42 yards. "I shocked myself, honestly," says Shelton-Mosley, who usually downplays his feats in the retelling. "The play wasn't even set up to be a return. It was actually supposed to be a punt block. But they kicked it about 40 to 50 yards and there's a [Dartmouth gunner] breathing down my throat. And I was able to make a move and juke him. And there was another guy right after, and I happened to juke him as well. By no means was I supposed to return that ball. That's a fair catch every single time."
How much longer Shelton-Mosley will be able to do what he loves will depend to some degree on this season. He harbors NFL ambitions, but he is realistic. "There haven't been many skill guys in the league who have gone to Harvard," he says. Nevertheless, he is thrilled with his choice. "I was told that Harvard could give me the opportunity to embark on a new world," he says, and it has. An economics concentrator, he has enjoyed his summer internships in investment banking. Mergers and acquisitions, he says, "is where I could see myself long term."
That is, when he's not indulging his other passion: bass fishing, a hobby since childhood. "As I was walking to practice one day along the Charles, I saw a guy fishing," Shelton-Mosley says. "He pulled up a bass and I was shook. I asked one of my coaches, 'Hey, can I use one of your rods?' I've been fishing there ever since."
One way or another, Justice Shelton-Mosley will keep on catching.