Montage
Cabaret and Cooperation
Pink Martini bandleader Thomas Lauderdale is at his best bringing people together.
July-August 2019 [2]
A cabaret singer, known simply as "Meow Meow," struts onto the stage—her golden dress shimmering, her Disney-Villainess black wig bouncing—and lifts her arms triumphantly. Nothing happens.
"Usually someone throws flowers at this point," she stammers, in faux-shock. She lifts her arms a second time. Again, no flowers. She walks off stage in a huff, fetches her own bouquet, returns to the stage, and hands it to a woman in the audience. Then she walks off again. Moments later, Thomas Lauderdale '92, seated at the piano, re-introduces Meow Meow, "international singing sensation." She takes the stage as if for the first time. But now, there are flowers.
For much of the Sunday evening show at Boston's Berklee Performance Center, Lauderdale—the creator and band leader of Pink Martini, an eclectic "little orchestra" with about a dozen members—plays the silent straight man. There is no need for excess flair on his part. Some performers are described as "dynamite." Meow Meow is more like a fusion bomb.
This subdued display by Lauderdale is surprising. He grew up in rural Indiana, one of several adopted siblings from across the world, later moving to Portland, Oregon, with his family. At Harvard in the early 1990s, he was the unofficial social leader of Adams House, which he described over the phone as the "artsy, gay, international freak House." He founded Café Mardi, a Tuesday-night coffeehouse within Adams, and hosted the party that allegedly led [6] to the closing of the Adams pool. "It feels like most of my weekends were in cocktail dresses," he recalled.
After graduating with a degree in history and literature, he moved back to Portland and planned to run for political office, attending "every political fundraiser under the sun." Finding them boring, he found himself on stage in 1994, again in a cocktail dress, opening for a concert in opposition to a proposed anti-gay rights amendment to the Oregon constitution. That was the birth of Pink Martini, a Portland-based group that would go on to perform mostly classical, jazz, and old-fashioned pop music in more than a dozen languages. They soon found themselves performing at fundraisers for every possible progressive political cause: civil rights, affordable housing, library funding, education.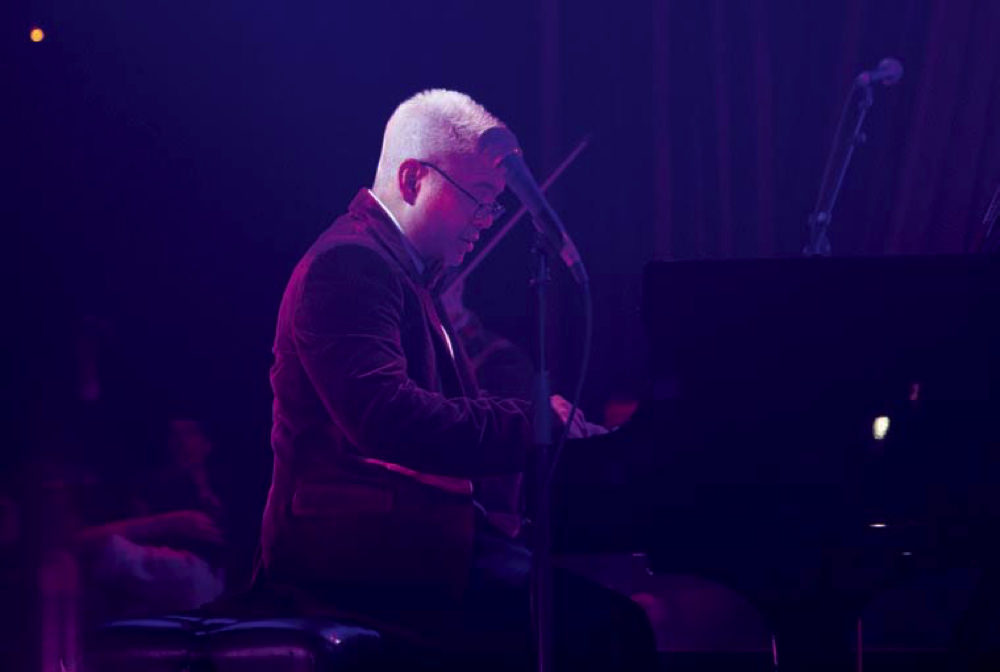 Photograph courtesy of Thomas Lauderdale
Though Lauderdale's loudest feature may be his flamboyant exuberance, his greatest skill is bringing people together. Before the undergraduate Houses were randomly populated, Lauderdale orchestrated a one-time party between Adams and Eliot, the "preppy" House. After college, he said, Pink Martini became like "Adams House on the road," and he branched out in his social leadership role. In 1997, "Sympathique," a single he co-wrote with bandmate China Forbes '92, became a hit in France, allowing Pink Martini to tour overseas. This spring and summer, they will perform in Turkey, South Korea, France, Belgium, and Hungary, switching between popular songs from across the world and those written by Lauderdale and friends in myriad languages. His home itself is a monument to togetherness. Portland Monthly described [7] it as "one of the city's most important cultural hubs," known for dinners, private concerts, benefit auctions, and "his legendary annual holiday party, replete with a towering tree, caroling, and arguably the most eclectic and influential gathering of Portlanders to be found."
On stage with Meow Meow, with whom Lauderdale released the joint album Hotel Amour [8]in March, he is the backbone, the steady pulse of the show. Throughout the selections, she runs through the audience, picking out men and parading them onto the stage, locked with them arm-in-arm. Then they become part of the performance. During one dramatic song, she gets four men to high-kick alongside her, like a line of Rockettes. Later, a group lifts her up and spins her around, in a sitting position, on their shoulders. By the end, she is crowdsurfing—getting passed, parallel to the ground, through the auditorium. Lauderdale has his eyes trained on her through all of these moments, adjusting the tempo, volume, or timbre to keep the performance steady, adding to the spectacle without distracting from it.
He said he thrives in this low-key role. "I think I'm a good accompanist because I breathe with whomever I'm accompanying, and a lot of accompanists don't do that," he explained. "I like supporting, especially singers." During delicate songs, he plays softly with warm phrases. When it's upbeat, he doesn't just play the piano—he slaps, flicks and bops it like he's playing whack-a-mole. His support isn't exclusively musical. When Meow Meow gets into a split-legged position and feigns being stuck, Lauderdale holds a bottle of wine just out of her reach, inspiring her to get up and finish the performance.
In the end, his goal is to get everyone in the crowd laughing at and enjoying the same thing. At a time he thinks is especially fractured politically, in which people can comfortably avoid opinions or world-views they don't like, he finds the mission especially important. During his concerts, he does what comes naturally: bringing people together, often literally, in the form of a conga line.
What comes after? He's still figuring it out. Pink Martini isn't a protest band, but it hasn't totally shaken its politically minded past. "Ideally," he said, "there will be a moment where everybody comes to the table and we start listening to each other and try to figure out a way together through all this."