John Harvard's Journal | Sports
No Doubt
Linda Liedel '21 always knew how good she could be.
At four years old, Linda Liedel '21 decided she wanted to play soccer, following in the footsteps of her older brother. Her parents said sure, go for it.
The trash talk started immediately, not just from opposing players, but also from their parents, who made it clear that a girl didn't belong on a field of boys. "They were like, 'You should not be playing this sport, what are you doing here, this is the wrong gym,'" Liedel recalled. She remembers her mother's shock at the taunts—were they really saying that to her daughter?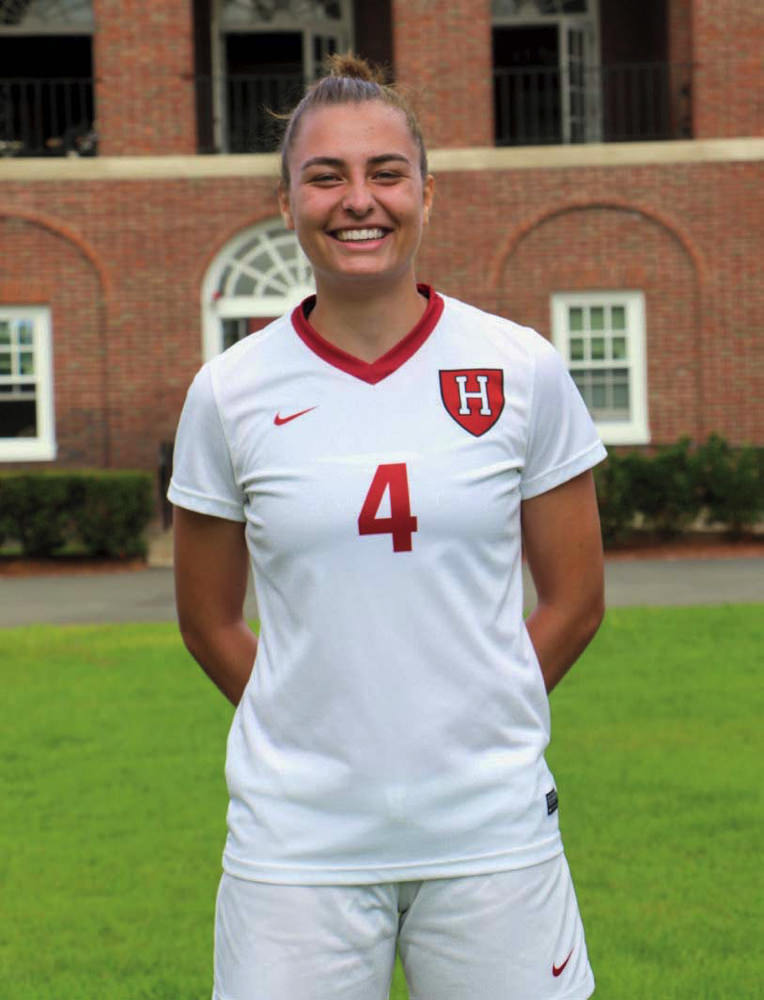 Linda Liedel
Photograph courtesy of Harvard Athletic Communications
Most players fight for playing time. Liedel, born and raised in Mainz, Germany, had to prove she even deserved consideration. "If a guy plays, it's like, 'Okay, he has probably worked out, has the talent,'" she said in a spring interview. "For me, the assumption was always, 'What is this girl doing here?'" (Soccer is Germany's number one sport, Liedel clarified, but mostly for boys. Most cities, like Mainz, didn't have girls' teams; to play that way would have required selection by a competitive regional team.) With no reasonable expectation of local crowd support, she focused on what she could control: her on-field performance. Usually, after a few minutes, she earned their silence.
At around 10 years old, Liedel started getting noticed by scouts and was selected for the "Southwest" state team, one of 21 regional German squads with teams in each age division. Once a year, the states gathered for a massive tournament, with prominent German coaches in conspicuous attendance, searching for the best athletes. When she was 13, she received a call-up for the U-15 German girls' national team. In two international games against Sweden, she took the field as one of the team's youngest members.
It was an exceptional achievement—a repudiation of those who thought she didn't belong on any field. But that's not how she saw it. "I've never been someone who put a lot of value in external judgment," she said. "Either way,…selected or not, I would have kept believing in myself."
This belief would be put to the test. As she grew, Liedel began feeling pain and swelling in her knees. Playing soccer was impossible; even walking up the stairs proved challenging. For some, inflammation related to a growth spurt can go away within a few weeks or months with rest. For Liedel, the inflammation kept her out for nearly two years. She switched among local teams, hoping an affiliated doctor could guide her through her chronic inflammation, but one physician after another suggested that, given the lack of progress on her recovery and her tall, thin stature, she should think about doing something other than soccer.
Unable to practice or compete and lacking support, she missed out on national team selection and fell out of organized soccer entirely. She began going to the gym alone, to ride the stationary bike—one of the few exercises that didn't agitate her knees. She hoped that if she kept in shape, she could hop back on the field as soon as the pain stopped.
At 15, Liedel was back in action. But even though the pain had faded, her time on the field didn't last. She was nagged by aches and pains, her body getting re-acclimated to in-game competition. "It was just so tough not being able to express yourself on the pitch as you like to," she recalled. Before her knee problems, she'd most often played defensive or central midfielder, two of the positions most constantly involved in the action. The best midfielders are the most intuitive, picking off opponents' passes, controlling the tempo, and getting the ball by ground or by air to the players best positioned to strike. Elite midfielders seem to have a sixth sense for what's happening around them within and beyond their fields of vision—a skill honed by constant practice. After a long layoff, she felt some of her instincts had faded. Still, she knew her potential exceeded what others expected of her. "Even though I might not be able to show it and other people might not see it, I'll get there," she thought.
Liedel earned another chance to represent Germany, this time on the U-16 national team. In her first tournament back, months after battling chronic pain, she broke her left foot. That disappointed but didn't crush her. After sitting out for years with an ambiguous injury, she was thankful she had a clear diagnosis and a timeline to return. Quitting wasn't an option.
Liedel acknowledges now that when she arrived at Harvard in 2017, the coaches didn't really know what to expect. Her record was riddled with injuries, and she had never stuck to a specific position. Whether her potential would manifest itself was anyone's guess. During her freshman fall season, she bounced among offense, midfield, and defense, never quite settling.
Adjusting to the game was a struggle. While her American teammates had competed all their lives with girls in their age group, she had played mostly against boys and semi-professional women twice her age. And though the European game places a strong emphasis on skills, American players tend to be stronger, because they incorporate weightlifting into training earlier. At the start, Liedel struggled to compete with her teammates' endurance, speed, and strength. Off the field, she spent most of her time in the library. "Probably too much," she joked. She had always excelled academically—a huge reason for deciding to come to the United States in the first place—but she had attended a German-French bilingual school where English was spoken about three hours a week, and not at a high academic level. Freshman fall is a time of flux for most, but Liedel had faced instability before. Her goals, though, remained constant.
At the end of the fall semester, her coaches began placing her at central defender—the final line of defense. The position clicked. Highly skilled, with great field vision, she pushed herself during the spring to become fit enough to keep up with the league's most explosive attackers and strong enough to wrestle the ball away from them on the ground or in the air. Her midfield experience made her more confident than most defenders in taking on opponents with the ball at her feet, even when an error could cost the team a goal. Given Liedel's unconventional style, defense could become offense in a split second. Potential scoring drives often began with an arching long ball from her, a skill she's honed with both feet.
Liedel takes a highly focused approach in all facets of her life. When she's not on the field or training, she's either eating (often on the run), sleeping (eight to nine hours a night), or studying (as a psychology concentrator). "If I didn't put everything I had into my studies, I feel like I wouldn't be able to play as well," she said. "I just like knowing that I give the two sides everything I can." During her freshman summer—a time when her friends were studying abroad or taking internships—she decided to give training her full attention. Back home in Mainz, she worked out two to three times a day, lifting weights, running, and jumping in with local boys' teams.
When she returned for sophomore year, the vision she'd always had of herself started lining up with her performance. She anchored Harvard's defense on the way to six shutout performances and in the process, earned a place on Germany's U-19 national team. Her goal is to play professionally after college and, she hopes, someday, to make the full German national team. On the side, she plans to continue studying and possibly to start a nonprofit or enter politics. It's a lot to hope for, but as those long-ago parents who taunted her learned, there's no use doubting Linda Liedel.