Vincent H. Bish Jr.'s Graduate English address
The graduate speaker tells "bearers great of privilege" to become "the breakers of powerful yokes…."
5.27.21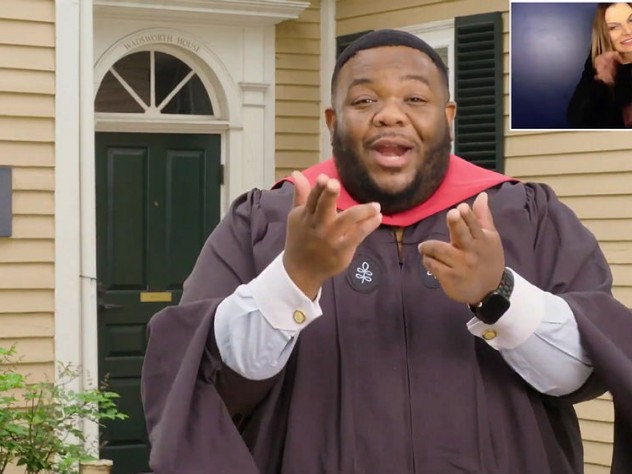 Vincent H. Bish speaking at Wadsworth House, with the tablet naming slaves owned by Harvard presidents over his right shoulder in the background
Screenshot by Harvard Magazine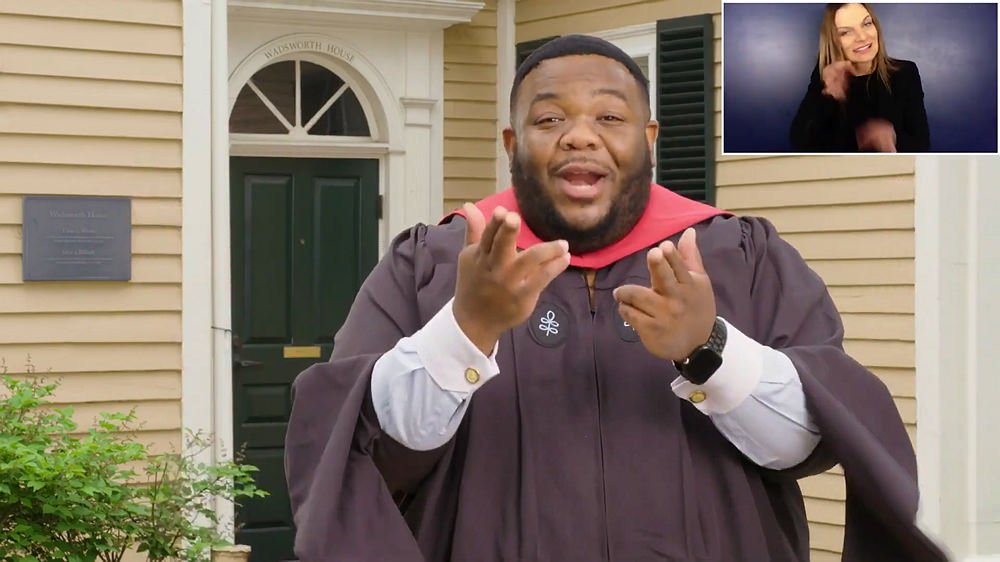 Vincent H. Bish speaking at Wadsworth House, with the tablet naming slaves owned by Harvard presidents over his right shoulder in the background
Screenshot by Harvard Magazine
Four Lone Names
"Because it was illegal for them to practice religion, slaves would use a traditional kettle to pray. Prayers for freedom were often whispered into the kettles, which were often kept under floorboards of slave cabins to keep them out of sight of their masters..."
Every time I walk through Wadsworth Gate—and see the plaque of those four lone enslaved that lived here, at Harvard—I am gobsmacked. I am thunderstruck at the responsibility of what it means to be a scion of that living. Of that horror. Of that opportunity to make them proud. I wipe their names clean with my fingers because they are my entry-point to this place. And I honor them: as forefathers, foremothers, forbears that helped to—from the sordid debris of our collective history—establish this magical place. But as I face them—there on the wall— I am without words.
"What do you say to them (right?) To these fighters of battles long dead?  What do I say to you who prayed for me with whipped flesh? As I am left to hold down the fort of this history in your name?" I imagine those cast-iron kettles interred in the ground answer us back:
I imagine they say to us that we, the living, stand under a unique duty to the deceased. That we say as much when we pledge allegiance to a flag, or honor a veteran's homecoming—we stand under a duty to bring the bodies of our fallen back out from yonder. Back out from the torrential rain history's long night — and finally bring their bodies under the eaves of justice. Their mere existence, on this campus, should remind us that: each of us, in every profession, at every school, has a moral ledger to clear and something to make right.
From the disregarding of Henrietta Lacks' rights in the field of medicine, to the way the law failed Fred Korematsu, to the clergy giving Richard Fuller a platform—we (walking these grounds) are lucky if we get a chance to pull those legacies up from the root and finally dismantle them. We are lucky if we've happened upon careers—and an institution—that lends our voices an unrivaled strength to call to account those who would seek to deny, and seek to delay justice for the children of the dispossessed.
We'd do well to remember that in 1973, it was doctors from this university that lead the charge in declassifying homosexuality as a mental illness; because it was a lawyer from this university that first coined the term 'intersectionality'.
Because we are home to the first school of public health in the history of this country,
the nation's oldest urban planning program,
— so, make no mistake, Harvard has always been an intrepid project, and we have always been in the business of doing new things. As well as difficult ones.
Hold my hand. It will be scary. But like Baldwin says, "If we…do not falter in our duty now, we may be able — handful that we are — to end the racial nightmare, and achieve our country…"
But as he admonishes a few lines later, "If we do not now dare everything, the fulfillment of that prophecy—re-created from the song of a slave—is upon us."
My directive to you on this beautiful morning is simple. Place the force of your intellect somewhere it might disrupt a system, and shake more fairness loose.
We need you — I need you to forgo the spirit of disempowerment.
The work we have to do is too (in this decade) precious for your timidity.
The mountains we have to climb are too steep for soft shoes.
The Titans we have to shout down (in this era) have grown too loud for quiet voices.
Now is the time for which you have been made in all your earth-staggering brilliance.
Now is the time for which your ancestors (Black, White, and neither) laid down their deeds, knowing they could do no more — so you might do better.                    
The four enslaved: Bilhah, Venus, Titus, and Juba. Live lives worthy of their service. Live lives that make right the sin of their bondage.
Because if you love this place — (my God) — if you love this place, you have to.
Live lives that carry the name of Harvard like a benevolent torch into the next century . . .
That we may not only be the bearers great of privilege, but the breakers of powerful yokes as well.