Harvard Squared
Extracurriculars
Events on and off campus during November and December

From Left: Shutterstock, Credit by Bukhta Yuri/Courtesy of the Harvard Peabody Museum of Archaeology & Ethnology; Courtesy of Fuller Craft Museum; Courtesy of the Normal Rockwell Museum
Theater | Exhibitions and Events | Lectures | Music
Theater
Global Arts Live
globalartslive.org
An evening of livestreamed contemporary choreography, performances, and conversation with members of Boston Dance Theater. Donations encouraged. (November 14)
Suitcase Stories™highlights the complex, stirring, and, at times, humorous experiences of foreign- and U.S.-born residents. All donations to the livestreamed event are split between the International Institute of New England and Global Arts Live. (November 21 and December 5)
Exhibitions & Events
Harvard Art Museums
harvardartmuseums.org
Art talks, seminars, and new student-led online gallery tours (Thursday evenings via Zoom) enable patrons to enjoy the museum's collections and curatorial scholarship until the doors re-open for in-person visits.
Harvard Museums of Science & Culture
hmsc.harvard.edu
Join Harvard students in an online exploration of molds, yeasts, and mushrooms during the Fabulous Fungus Fair. (November 14)
ICA/Institute of Contemporary Art
icaboston.org
The museum is open, with exhibits that include i'm yours: Encounters with Art in Our Times. The show "celebrates the power of experiencing art in person" through luminous, insightful works by Nan Goldin, Henry Taylor, and Njideka Akunyili Crosby, among others. (Opens November 18)
Fuller Craft Museum
fullercraft.org
On-site visitors are treated to Serious Bling: Radical Jewelry Makeover—The Artist Project, which highlights works created from donated jewelry. The display is part of a global project advocating for more sustainable gold- and metals-mining practices. (Through November 22)
Norman Rockwell Museum
nrm.org
Reserve a slot for timed-entry viewings of Norman Rockwell: Imagining Freedom. The traveling exhibition reveals the artist's serious, illustrative reflections on social issues challenging America—and his efforts to draw popular attention to them. (Through January 17)
Spotlight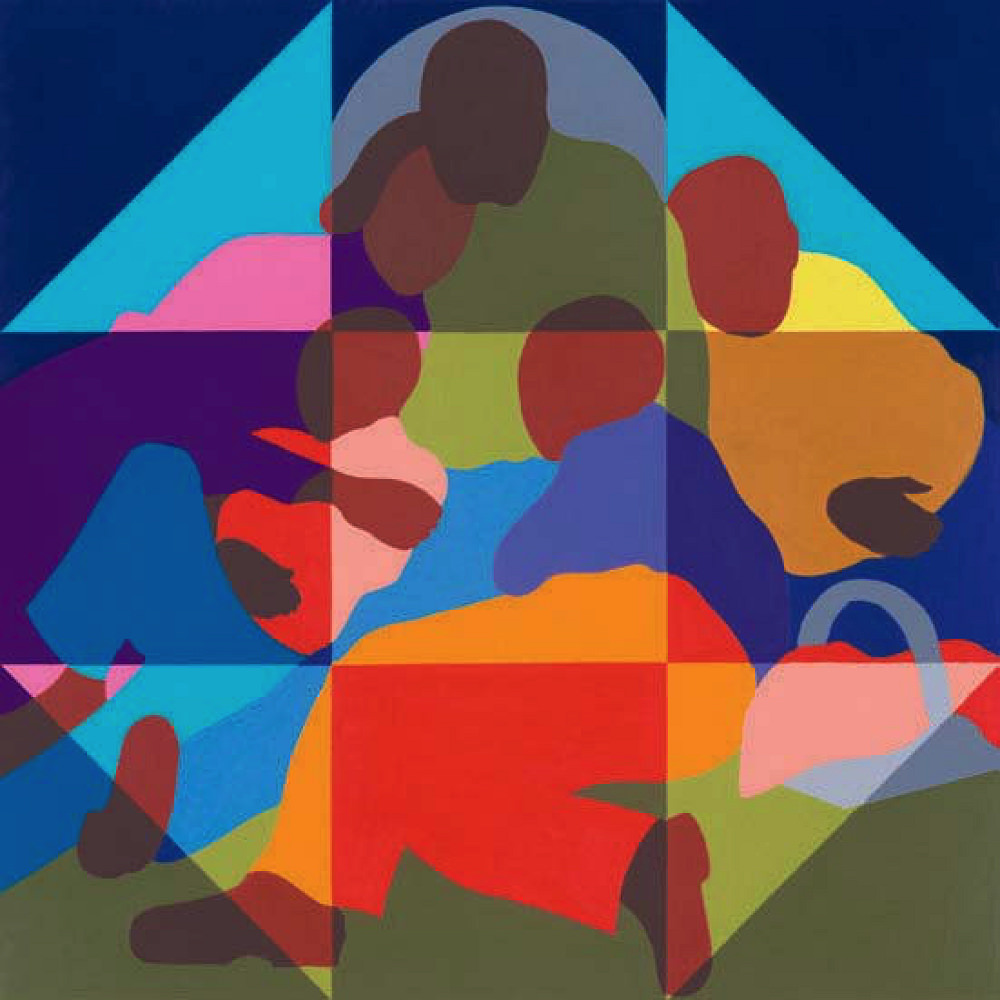 Courtesy of Richard Haynes
Seeing Richard Haynes's 11-drawing depiction of the Underground Railroad in vibrant color offers hope. The Portsmouth, New Hamp­shire-based artist, who hails from South Carolina, uses traditional quilting patterns (as in Shoo-Fly, above) to reflect interwoven facets of those fraught journeys. Bear's Paw connotes animal tracks offering the best route forward. In Log Cabin, parents are urging their exhausted child toward a safe house. The simple Bow Tie reflects clean clothing given to runaways so they'd better blend into city life, "standing with dignity and pride," Haynes said during a fall art talk, "like they are no longer slaves." He juxtaposes dark and bright hues—using pur­ples, greens, and blues to denote precarious traveling after dark—and reverberating colors to tell a story of people moving within a kaleidoscopic landscape. Ultimately, the freedom-seekers are guided by the North Star, shining bright.
Richard Haynes: Whispering Quilts
Through November 29
Currier Museum of Art, Manchester, N.H.
Lectures
Harvard Graduate School of Design
gsd.harvard.edu
In an online lecture, Georgetown University's Ginsburg professor of urban law and policy and professor of public policy, Sheila R. Foster, reflects on "Co-Cities: Reimagining the City as a Commons."
(November 19)
Carpenter Center for the Visual Arts
https://carpenter.center
In the first of two live, art-themed Zoom events, designer David Reinfurt talks with Queens Museum curator Larissa Harris about his ground-breaking 2019 textbook A *New* Program for Graphic Design—and its Harvard connection to Italian artist and inventor Bruno Munari's landmark Design e Comunicazione Visiva. (November 19)
In the second event, University of Washington assistant professor of gender, women, and sexuality studies Kemi Adeyemi discusses "Black Women Curators, A Brief Oral History of the Recent Past," with curators in Baltimore, Arkansas, and Los Angeles. (December 10)
Radcliffe Institute
radcliffe.harvard.edu
The virtual panel discussion "2020 Visions" explores the Nineteenth Amendment's impact on democracy and voting rights today. Jane Kamensky, Trumbull professor of American history and Pforzheimer Foundation director of the Schle­singer Library, welcomes speakers including Tufts University associate professor of mathematics Moon Duchin, RI '19, Columbia's Lung Family professor of Asian American studies Mae M. Ngai, and New Georgia Project executive director Nse Ufot. (December 3)
Music
Harvard Music Department
https://music/fas.harvard/edu
Renowned flutist and professor of the practice of music Claire Chase hosts a virtual "Throw-Down," during which students and faculty share ideas, excerpted performances, and works in progress. (November 4)
European musician and sound artist Thomas Ankersmit presents "Experimenting and Composing with the Serge Modular Synthesizer." (November 17)
The Parker Quartet's live Paine Hall concert streams on YouTube. (November 20)
Regent Theatre
regenttheatre.com
The annual Sound of Music Sing-A-Long returns to the Arlington playhouse, with screenings of the classic 1965 film accompanied by all manner of ad hoc choral rejoinders. Check the website for any COVID-19 protocols. (November 24-December 1)
Boston Baroque
bostonbaroque.com
The ensemble offers a complete 2020-2021 virtual season of live, recorded concerts—such as this winter's celebration of George Frideric Handel's Giulio Cesare and Messiah—along with interactive events, archived operas, and more.