Harvard Squared
Extracurriculars
Events on and off campus during November and December

Seasonal | Film | Theater | Poetry | Lectures | Music | Exhibitions
Seasonal
The Game
www.gocrimson.com
The annual competition takes place in New Haven. (November 23)
Ceramics Program Holiday Show and Sale
www.ofa.fas.harvard.edu/ceramics
Enjoy gift-shopping while supporting the local art community. Works by more than 50 artists—from mugs to jewelry to garden ornaments—are on display in this popular annual show. (December 12-15)
The 110th Annual Christmas Carol Services
www.memorialchurch.harvard.edu
Celebrate the season with the Harvard University Choir and a liturgy—three scripture lessons amid choral and congregational carols—a service that's remained virtually unchanged since it was first held in 1910. Memorial Church. (December 8 and 10)
Candlelight Christmas
www.choruspromusica.org
An a cappella concert by Chorus pro Musica features an E.M. Skinner pipe organ and classic songs, new works, and a selection of audience-sing-along favorites. Old South Church, Boston. (December 13)
Film
Harvard Film Archive
www.harvardfilmarchive.org
Film critic J. Hoberman, author of the new Make My Day: Movie Culture in the Age of Reagan, introduces the classic Being There on November 11, and appears November 12 for a book-signing at the Brattle Theatre (which also screens other period films discussed in the book, November 5-14.) Meanwhile, the archive's separate month-long series, Make My Day: The Cinematic Imagination of the Reagan Era, includes The King of Comedy, Back to the Future, and Blue Velvet. (October 31-November 30)
French actress and director Mati Diop, a former Radcliffe Film Study Center fellow, will be on hand for a screening of her Atlantique, winner of this year's Cannes Film Festival Grand Prix award. The story melds supernatural fiction with an exploration of the global migrant crisis. (November 18)
Theater
Harvard-Radcliffe Gilbert and Sullivan Players
www.hrgsp.org
Love lives, class lines, and patriotism converge in the comedic opera H.M.S. Pinafore; or, The Lass That Loved a Sailor. Agassiz Theatre (November 8-17)
American Repertory Theater
www.americanrepertorytheater.org
What to Send Up When It Goes Down, produced by The Movement Theatre Company, employs "parody, song, movement, and audience participation to create a space for catharsis, reflection, cleansing, and healing." Written by Aleshea Harris, directed by Whitney White. Loeb Drama Center. (November 14-24)
The world-premiere musical reimagining of Moby-Dick follows Captain Ahab, Ishmael, and the crew pursuing their quarry, amid contemporary quandaries. Directed by Rachel Chavkin, with music, lyrics, book, and orchestrations by Dave Malloy. Loeb Drama Center. (December 3-January 12)
Poetry
www.library.harvard.edu
Harvard English professor and poet Stephanie Burt, author of this year's Don't Read Poetry: A Book About How to Read Poems, introduces readings by Jordan Davis (Shell Game, and editor of The Collected Poems of Kenneth Koch) and Ron Padgett (Big Cabin), followed by book-signings and a reception. Lamont Library. (November 19)
Reel Time: On Black Mountain and the Poets' Theatre. Jonathan C. Creasy, editor of Black Mountain Poems (2019), examines both distinctive artistic/educational experiments. Barker Center. (December 4)
Spotlight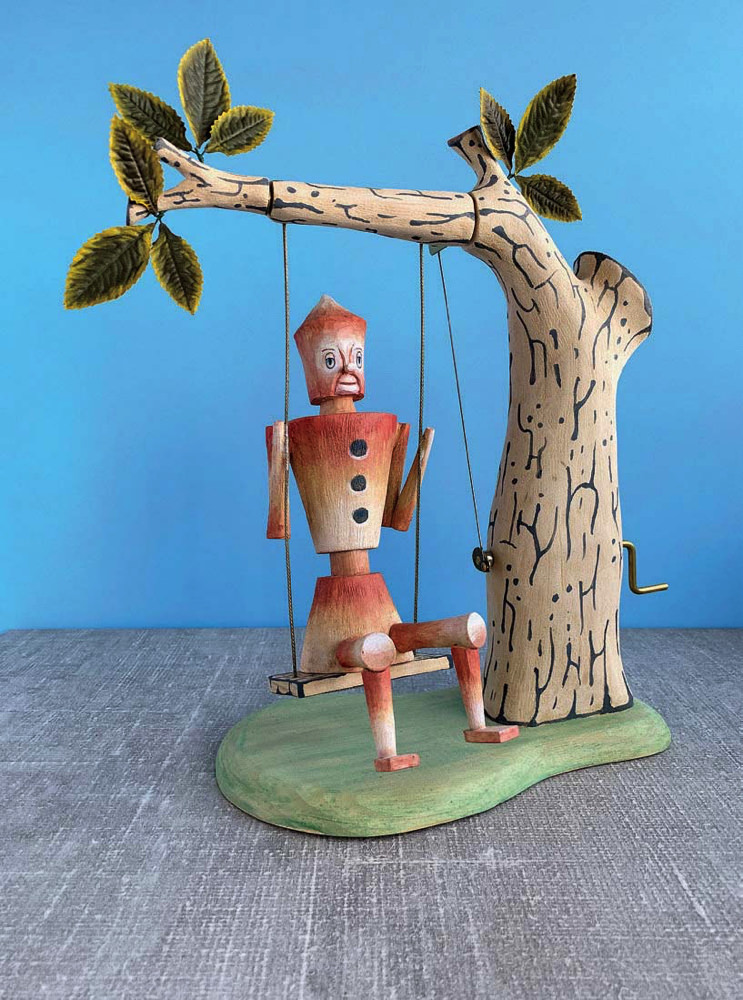 Courtesy of Dean Lucker
Child's Play, at the Society of Arts + Crafts, in Boston's Seaport district, explores the whimsical, and sometimes adult, nature of toys.
Minneapolis artist Dean Lucker builds on the tradition of automatons and mechanical toys with contemporary folkloric compositions, like Swinger (2019). He and his wife, Ann Wood, are the ingenious duo behind Woodlucker studio, where they also produce paper botanicals, surreal scenes and dioramas, and interactive sculptures featuring both.
More provocative are works by Nathaniel Lewis. His "Little Terrors" series features sturdy wooden toys—like the Automatic Fun (2018) rifle and Playtime Camera and Monitor (2016)—painted in bright primary colors. Not in the show because of prohibitive shipping costs, but worth checking out online, are Lewis's renditions of child-scaled play structures. His "flea market" kiosk, with cheerful striped awning and lemonade-stand vibe, displays cute boxes of "Big Boy Ammo" and big wooden guns. Another installation features the wooden framework and objects for a game of "airport-security check point." Included is: a rainbow-hued baggage belt, hand-held metal detector, a play suicide-bomber vest, and an X-ray cubicle where kids can stand, feet apart, and raise their hands above their heads. Distinctly not for children—or not yet.
Following that, Paul Daniel's kinetic metal sculptures—like the geometric Aramis (2017), at right, which is powered simply by the wind—are a welcome abstraction.
Society of Arts + Crafts
www.societyofcrafts.org
November 21-January 18
Lectures
Mahindra Humanities Center
www.mahindrahumanities.fas.harvard.edu
Two 2019-20 postdoctoral fellows discuss their scholarship: Javiela M. Evangelista, assistant professor in the African American studies department at New York City College of Technology, reports on "Denationalization and Xenophobia: Civil Genocide in the Dominican Republic" (November 13), and Pelin Kivrak '11, who earned a Yale doctorate in comparative literature earlier this year, explores "Homely Exhibits: Artistic Representation of Hospitality and Hostility in the Twenty-First Century." (November 20)
Harvard Semitic Museum
www.semiticmuseum.fas.harvard.edu
Visiting Wellesley College assistant professor in anthropology Elizabeth Minor discusses "Human Sacrifice and Power in the Kerma Kingdom" (a Nubian civilization that was located in present-day Sudan). Geological Lecture Hall, 24 Oxford Street. (November 19)
Harvard Museum of Natural History
www.hmnh.harvard.edu
"The Remarkable Nature of Edward Lear." Robert McCracken Peck, curator of arts and artifacts at the Academy of Natural Sciences, Drexel University, sheds light on the children's writer—and accomplished painter of the natural world—who mysteriously abandoned a promising career in science. Geological Lecture Hall, 24 Oxford Street. (November 21)

Radcliffe Institute
www.radcliffe.harvard.edu
Francine Berman, RI '20, Rensselaer Polytechnic Institute Hamilton Distinguished Professor in computer science, delves into "Civilizing the Internet of Things." Knafel Center. (December 4)
Music
Harvard Music Department
www.music.fas.harvard.edu
Professor of the practice of music Claire Chase, a flutist, MacArthur fellow, and cofounder of ICE/International Contemporary Ensemble, ends a week-long residency with Constellation Chor vocalists with a performance of her Density 2036 part vi (2019), other new works, and a host of guest performers). Free, no tickets required. Harvard ArtLab, Allston. (November 7)
Boston Philharmonic
www.boxoffice.harvard.edu
The robust program offers Carl Nielsen's Helios Overture, Ludwig van Beethoven's Violin Concerto, and Sergei Rachmaninoff's Symphonic Dances, op. 45. Sanders Theatre. (November 14 and 17)
Composer/Percussionist Susie Ibarra
www.gsd.harvard.edu
"Listening and Creating Spatially: How do we hear in real life?" The Graduate School of Design Rouse Visiting Artist lecturer shares her work, including: Fragility, A Game of Polyrhythms, and Himalayan Glacier Soundscapes, a collaborative project with the glaciologist and geomorphologist Michele Koppes that "maps and records memory and changes in the earth and its culture along the Ganges off of Satopanth Glacier." Gund Hall. (November 19)
Plucking and Playing
www.boxoffice.harvard.edu
Virtuoso mandolin-player Sierra Hull joins banjoist Noam Pikelny, a founding member of the Punch Brothers, and bluegrass multi-instrumentalist Stuart Duncan, for a night of rockin' folk music. Sanders Theatre. (November 22)
Harvard Wind Ensemble
www.harvardwe.fas.harvard.edu
The student group performs its annual Holiday Concert. Lowell Lecture Hall. (December 6)
Boston Baroque
www.boxoffice.harvard.edu
Celebrate the passing year, and new beginnings, with works by J.S. Bach and Arcangelo Corelli, among others—along with complimentary champagne and chocolates. Sanders Theatre. (December 31 and January 1)
Peabody Essex Museum
www.pem.org
Order of the Imagination: The Photographs of Olivia Parker reveals the artist's masterly ability to spur dialogues among "nature and abstraction, permanence and ephemerality." (Through November 11)
Exhibitions
Johnson-Kulukundis Family Gallery of Byerly Hall
www.radcliffe.harvard.edu
Dario Robleto's installation Unknown and Solitary Seas, based on lengthy research, shows the "origins of the pulse wave as a graphic expression of internal life." (November 4-January 18)
Peabody Museum of Archaeology & Ethnology
www.peabody.harvard.edu
A formal dinner for Harvard students in 1910 is the literal centerpiece of Resetting the Table: Food and Our Changing Tastes. (Opening November 16)
Carpenter Center for the Visual Arts
www.carpenter.center
An Introduction to Nameless Love. Large text-based sculptures by Jonathan Berger reflect a range of "true love" relationships based on work, religion, community, and other realms not typically associated with romance. (Through December 29)
ICA/Institute of Contemporary Art 
www.icaboston.org
Vivian Suter. Her luminous hanging canvases, many created partly outdoors, swirl with colors and fluid forms inspired by the natural world. (Through December 31)
Museum of Fine Arts
www.mfa.org
More than 45 intricate watercolors, drawings, and book illustrations from the Kendra and Allan Daniel Collection elucidate artist Kay Nielsen's Enchanted Vision. (Through January 20)