Most Ivy League students have benefited from a first-rate education, not only of late but throughout our lives. Whether through family support, dedicated teachers, or privileged access to better schools, virtually all of us were fortunate enough to be loved, nurtured, and educated from a very early age.
Now many Harvard students are returning the favor, helping today's disadvantaged children thrive in tomorrow's information economy. And, encouraged by President Clinton's renewed emphasis on education, ever more undergraduates are discovering that the greatest gains of a premium education come when we spread the wealth.
"We always talk about community service as if it were a one-way street," says Raymond Liu '97, a biology concentrator and volunteer at Jumpstart, an early-intervention literacy program that pairs college students with disadvantaged preschoolers. "I have learned more from Isaiah [his former student, now 6] than from any Harvard professor in the classroom, in terms of opening my eyes and broadening my experience in the world. More importantly, I've seen an interest in books grow in him," Liu adds. "Isaiah used to hate books, and now he really wants to read. He's always saying, 'Can we read Where the Wild Things Are? Can we read The Giving Tree?' I'm so proud of him and so psyched for him!"
Liu got involved in Jumpstart because he felt he was "losing touch with the real community. I wanted to get out into Boston and help little kids." The program, focusing on school success, family involvement, and teacher preparation, began at Yale three years ago and was soon included in President Clinton's AmeriCorps program. Now, it's part of the president's America Reads initiative, a program that funds work-study students to teach reading and writing. "When I heard the State of the Union address," Liu says, "I couldn't think of anything I'd rather see enacted. His use of the bully pulpit to focus on literacy could change the way the nation looks at education."
Typically, Harvard students have pursued their interests in education through a dizzying array of organizations. "I think America Reads is really good and really important," agrees Elizabeth Haynes '98, founder of Harvard-Radcliffe Little People (HRLP), a program like Jumpstart but with an additional emphasis on computer literacy. Haynes, a government concentrator, started HRLP to create more options for undergraduates to get involved in preschool education. "That is one of the most important times to work with kids," she explains. "The more attention children get before age 6, the stronger foundation they will have to learn on their own later in life."
For some volunteers, it is the contrasts with Harvard life that make the deepest impression. "Most of us at Harvard were always expected to go to college," says Mylin Torres '98, co-creator of the Cambridge Youth Enrichment Program, a term-time community-outreach service for 6- to 13-year-olds run through Phillips Brooks House. In contrast, she says, "A lot of the children we work with at Jefferson Park [a housing development in Cambridge] are told they're stupid to spend time learning. They don't even know whether they should finish high school. They suffer from much lower expectations." For this reason, Torres harbors doubts about the effectiveness of new government programs. "The environment that a lot of kids live in isn't really conducive to learning," she notes. "I don't know how money is going to fix that."
Yet Torres has noticed positive results from just two to four hours a week of one-on-one mentoring. "One day during group lessons Tyshawn [her 10-year-old student] got in trouble and I told him to sit out. He started begging me to ask him division problems. I said 'Divide 9 by 3.' He responded, 'Give me a hard one, like 275 by 5!' There's a lot of different sides to all the kids, and you can see that, with attention, many really want to learn."
Mandy Bigelow '97, co-chair of the House and Neighborhood Development program (HAND), has noted a recent surge in undergraduate recruits: "This year our program has really grown. We have a huge new pool of volunteers who want to work in Cambridge." The work-study option surely accounts for some of the growth--HAND now operates a program associated with America Reads--but so do the pure rewards of working with needy school children.
Bigelow, a former Big Sister and volunteer at a local elementary school, shares Mylin Torres's enthusiasm: "One of the most rewarding experiences I've ever had was working with my Little Sister, a third-grader. We would go to the library for an hour a week, play games, and then read. With just that one hour a week, she improved so much! By the end of the year she had gone from barely reading to reading fourth-grade-level books. She could sound out words and get something out of books that once might have been too hard for her."
At the same time, some undergraduates worry about the limits of what their volunteering can accomplish. John Park '98 was an English teacher for Summerbridge, a national program in which college students teach courses they've devised to disadvantaged middle schoolers. Although he agrees in spirit with Bigelow, Park senses subtle problems in too diluted an emphasis on education. "I see a danger, especially in a place like Harvard, of a résumé-padding, weekend-warriors approach to public service," he warns. "It's nice to see people help wherever they can, but kids need to know that you're committed....Entering a community as an outsider on a charity mission perpetuates an attitude of inferiority and disempowerment, and, to my mind, does more harm than good."
That said, Park praises the efforts of most in the Harvard community. "I have been extremely fortunate," he says. "The least I can do for my parents, teachers, and mentors is to pass on my good fortune to others. It's great that so many people at Harvard who are similarly fortunate are choosing to share themselves."
Park sees a growing need for young adults in education. "Knowing what's relevant to youth today is extremely important," he says. "People whine about the disappearing love of literature, but if students are bored and poetry can't be taught in a new, innovative way, then of course they won't pursue it. I tried in my own teaching to illustrate the diversity of work out there, from e.e. cummings to rap to advertising to Emily Dickinson. Soon, the class was enthusiastic and, when I asked them to write poetry, they gave me fresh, expressive verses filled with imaginative alliteration, imagery, and rhythms."
Some undergraduates are so enamored with education that they are considering it as a career. History major Noah Dauber '98 has enrolled in the Undergraduate Teaching and Education Program, a full-year course in which Harvard students earn teaching accreditation. "I had been studying at Harvard for several years," Dauber says, "and I wasn't exactly sure why, other than it was making me a 'Virtuous and Intelligent Person.' It seemed the right time to do something both practical and rewarding."
Dauber took a required course in adolescent psychology at the Graduate School of Education and observed high-school classes in action. Then he taught social studies and American history to two twelfth-grade classes of recent immigrants at nearby Cambridge Rindge and Latin school, and aided in a ninth-grade world civilization class. "Teaching is much more difficult than I had ever imagined," he says. "Yet in the end, the experience was much more thoughtful and interesting than I ever expected. It was so much more compelling than Harvard."
Other students have combined the best of the academic and community-service worlds by pursuing special concentrations in education policy. With support from the Harvard Project for Schooling and Children (see "Promoting a National Love of Children," November-December 1996), Christopher Kim '98 is concentrating in education-reform policy. For hands-on experience, he also volunteers as a teacher's aide at the Benjamin Banneker Charter School in Cambridge, which serves 200 local children through fifth grade. Kim thinks charter schools--organized by parents and publicly financed--are an especially promising means of revitalizing public education: "There's much more accountability and much less bureaucracy than in the normal public system."
While Kim studies policy, Lauralee Summer '98 is pursuing a special concentration in children's studies because she is "interested in children's development put in a wider sociopolitical perspective, particularly the influence of poverty upon education outcomes." Like many of her fellow students, Summer believes that "intelligence and aptitude are relatively evenly distributed throughout all children, and yet kids from poor socioeconomic backgrounds rarely go to Harvard." Although she advocates some policy solutions, Summer argues that our nation's educational problems run deeper than rhetoric and funding increases alone can readily repair. "Somehow," she says, "this mechanism of poverty has excluded many people from reaching their potential."
Nevertheless, these undergraduates are discovering the influence one committed volunteer can have on a child's education, despite the persistence of poverty. In the process, they have found that teaching and learning are complementary endeavors.
Recalling his poetry students, John Park says, "It was especially refreshing to see them stand up in public and recite their own work. You see a complete character change--they smile, volunteer, and gain confidence. The written word is no longer an enemy but something they can use and tame, something that belongs to them. It's so exhilarating to watch that change of attitude occur. It's so much more satisfying than getting an A on some dinky paper."
Berta Greenwald Ledecky Fellow Kevin C. Murphy is an American history concentrator living in Adams House.
You might also like
Harvard researchers seek to empower individuals to steer their own careers.
How the Bezos Earth Fund hopes to seed economic transformation
A Harvard series explores South Korean cinema in the years following the Korean War. 
Most popular
Brant Berkstresser aims to ensure sound bodies for Harvard's student athletes.
Steven Choi, J.D. '04, works—and fights—at the vitriolic epicenter of immigration politics.
John Alexander follows the ups and downs of funk musician Rudy Love.
More to explore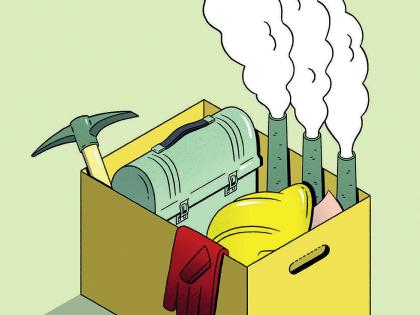 Expect massive job losses in industries associated with fossil fuels. The time to get ready is now.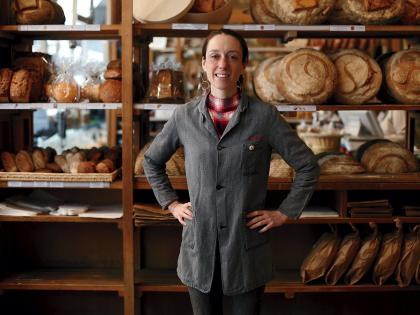 A third-generation French baker on legacy loaves and the "magic" of baking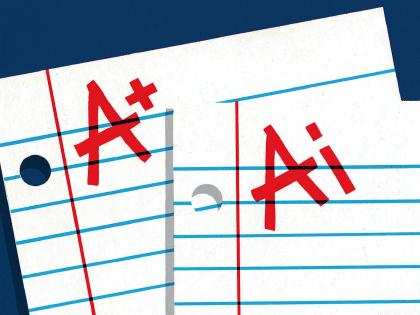 Generative AI can enhance teaching and learning but augurs a shift to oral forms of student assessment.