Dental Doings
Dave Destroche
Three decades and more after its 11,000-square-foot "interim" building was created, the Harvard School of Dental Medicine has broken ground for a 52,000-square-foot education and research center on the site. The new facility, scheduled for occupancy in the fall of 2004, will accommodate teaching space, academic offices, and three floors of research facilities, including new centers for mucosal biology and for bone and joint biology. The school will create a new decanal position for its research efforts.
Economics Alternative
Efforts supported by Students for Humane and Responsible Economics to introduce an alternative to Social Analysis 10, "Principles of Economics," long taught by Baker professor of economics Martin S. Feldstein, were rebuffed by the economics department this spring. But "Economics: A Critical Approach," created by Barker professor of economics Stephen A. Marglin, has been accepted into the Core curriculum for social analysis credit and for social studies concentrators. The new course will not satisfy the introductory requirement for economics concentrators.
Post-Decanal Distinction
Jeremy R. Knowles
Robert C. Clark
Courtesy of Jeremy R. Knowles
Stephanie Mitchell / Harvard News Office
Chemist Jeremy R. Knowles and corporate-law scholar Robert C. Clark have been named the first Harvard University Distinguished Service Professors, effective on July 1. The new title, recognizing deans who return to the faculty after extended and outstanding administrative service, recalls and honors the two men's recently concluded stewardship of, respectively, the Faculty of Arts and Sciences and the Faculty of Law.
More Competitive Class
With a record 20,986 applicants seeking admission to the College class of 2007 and a fixed number of spaces, the inevitable has happened: 2,056 students were offered admission, pushing the acceptance rate below 10 percent for the first time—to 9.8 percent of the pool, to be precise. The upsurge of applicants is having a similar result at other elite colleges. Princeton, for example, admitted just under 10 percent of applicants, and aims for a "yield" (enrollment by those offered admission) of 75 percent, close to Harvard's historical and nation-leading yield of about 80 percent.
Sabbatical Strandings
Although the Faculty of Arts and Sciences academic planning process is meant to smooth out faculty leaves and prevent gaps in course offerings, the Crimson noted that 15 members of the department of English and American literature and language—there are 35 in all—will be on leave at some time during the 2003-2004 school year. The department termed the exodus "abnormal"; attributed it to the phasing in of FAS's new, more generous leave policy; and arranged to fill holes with newly appointed faculty members and visiting professors.
Parking Premium
As the University transforms aboveground parking lots into underground parking to accommodate science laboratories in the North Precinct and new graduate-student housing at One Western Avenue, the price of commuting by automobile is soaring. Given construction costs of roughly $50,000 each for the 1,355 new spaces (some replacing surface lots), employee parkers have been notified that they will be billed up to $1,250 for a space in the next academic year, compared to the current top rate of $890; the unreserved "pooled" spaces increase to as much as $670 from $480.
Nota Bene
Benjamin M. Friedman
Laura Wulf / Harvard News Office
Terrific teachers.
The Undergraduate Council conferred its Levenson Memorial Teaching Prizes for 2003 on
Benjamin M. Friedman
, Maier professor of political economy;
Dale Winter,
preceptor in mathematics; and
Zahr Kassim Said
, teaching fellow in history and literature.
Ruth R. Wisse
Jim Gipe
Steven A. Pinker
Harry Borden
Premier professors.
Each year the Faculty of Arts and Sciences recognizes five professors for superior undergraduate teaching and rewards them with extra funding and research time. Named Harvard College Professor by Dean William C. Kirby on May 20 were:
Kathleen M. Coleman
, professor of Latin (cited in student critiques for her in-class gladiatorial re-enactments);
James T. Kloppenberg
, professor of history;
Harry R. Lewis
, McKay professor of computer science and outgoing dean of Harvard College;
James L. Watson
, Fairbank professor of Chinese society; and
Ruth R. Wisse
, Peretz professor of Yiddish literature and professor of comparative literature. (An article on Wisse appears in this magazine's July-August 1997 issue.)
New nameplate. The department of Afro-American studies in the Faculty of Arts and Sciences has a broader mission and new name to match. As the department of African and African American studies, it will accommodate appointments in African languages and literatures and facilitate interdisciplinary research. The department hopes in the 2004-5 academic year to offer an undergraduate concentration track in African studies, succeeding the current certificate program.
Malcolm Cox
Liza Green / HMS Media Services
Upstream psychologist. Steven A. Pinker
, Ph.D. '79, has accepted a professorship in Harvard's psychology department. He has been at MIT since 1982. Pinker is best known for his popular works on language and cognition, including
The Blank Slate
and
How the Mind Works
.
Teaching doctor.
Nephrologist
Malcolm Cox
, M.D. '70, has returned to Harvard as the Medical School's dean for medical education. He was associate dean for clinical education at the University of Pennsylvania School of Medicine, where he has spent most of his professional career.
Economics economics. The Law School, preparing to announce a capital campaign the week after Commencement, has received $10 million from the Olin Foundation—the largest gift in school history—in continuing support of its Olin Center for Business, Law, and Economics. 
Walter Gilbert
Jane Reed / Harvard News Office
Senior status
. Seven Faculty of Arts and Sciences members stepped down from active teaching status during or at the end of the academic year. Opting for emeritus status were
Reinhold Brinkmann
, Ditson professor of music, and
Calvert Watkins
, Thomas professor of linguistics and the classics. Choosing the "research professor" designation were:
Robert S. Brustein
, professor of English;
Richard E. Caves
, Ropes professor of political economy; molecular biologist
Walter Gilbert
, Loeb University Professor;
R. Victor Jones
, Wallace professor of applied physics; and
Gloria Pinney
, professor of classical archaeology and art.
J. Woodland Hastings
Joe Wrinn / Harvard News Office
Supreme scientists. Among the 72 new members elected to the National Academy of Sciences are two Harvard faculty members: J. Woodland Hastings, Mangelsdorf professor of natural sciences, a biologist who studies the molecular basis of circadian rhythms; and Diane J. Mathis, professor of medicine, co-head of the immunology and immunogenetics section at the Joslin Diabetes Center.
Potent authors and others.
Kennedy School lecturer
Samantha Power
, J.D. '99, has added a Pulitzer Prize in general nonfiction to the National Book Critics Circle prize for nonfiction she won for
A Problem from Hell
, on genocide (see "Brevia," May-June, page 58);
Steven Pinker
(see left) was a runner-up. NBCC runner-up
Robert A. Caro
, Nf '66, was awarded the Pulitzer in biography (his second) for the third volume of his work-in-progress on Lyndon Johnson;
Nicholas Dawidoff
'85, whose
The Fly Swatter
was excerpted in this magazine's July-August 2002 issue, was a runner-up. The composer
John C. Adams
'69, well known for the opera
Nixon in China
, won in music, for a memorial to September 11. Reporter
Kevin Cullen
, a current Nieman Fellow, is part of the
Boston Globe
special-projects team that won the public-service Pulitzer for its careful investigation of the sexual abuses committed by Roman Catholic priests. Princeton's
Paul Muldoon
won the poetry prize; "Third Epistle to Timothy," his 1997 Phi Beta Kappa poem, ran in the January-February 1998
Harvard Magazine
.
| | |
| --- | --- |
| | |
| Samantha Power | Robert A. Caro |
| Stephanie Mitchell / Harvard News Office | From the Publisher |
| | |
| Kevin Cullen | Paul Muldoon |
| Courtesy Kevin Cullen | Courtesy Paul Muldoon |
| | |
| --- | --- |
| | |
| John D. Spengler | Paul E. Farmer |
| Jim Harrison | Jim Harrison |
Heinz honorands
. Faculty members won two of the six Heinz Awards conferred this year, each accompanied by $250,000.
John D. Spengler
, Yamaguchi professor of environmental health and human habitation in the School of Public Health, was recognized for studies of air pollution and health.
Paul E. Farmer
, professor of medical anthropology in the Medical School's department of social medicine, founder of Partners in Health, was cited for his pioneering work on HIV and tuberculosis in Haiti and other impoverished, underserved locales. These awards honor "outstanding leaders in the areas of greatest importance to the late U.S. Senator John Heinz."
Accused. Alexander Pring-Wilson, a master's-degree candidate in Russian and Eastern European studies, was indicted for first-degree murder following the death of Cambridge resident Michael Colono after a late-night encounter outside a pizza parlor on April 12 and a fight involving a knife. Pring-Wilson pleaded self-defense.
Jane Goodall
Kris Snibbe/Harvard News Office
Eminent environmentalist
. The Center for Health and the Global Environment at the medical school (See "Societal Doctor," March-April, page 79) has chosen primatologist
Jane Goodall
as its 2003 global environmental citizen.
 Iraq exchequer. Labor economist Christopher Foote, an associate professor on leave while serving on the Council of Economic Advisers, has been dispatched to Baghdad as part of a team working to revive Iraq's economy. The experience promises to outstrip the "great adventures" highlighted on his department webpage, including a ticket stub from a Spice Girls concert and a "Stop Wishing & Go Fishing" bumper sticker from "Little Hooker Bait Shop & Cafe," near Burden, Kansas. 
Grades guru. Arlene Becella, registrar of the Faculty of Arts and Sciences, and therefore keeper of transcripts and assigner of classrooms, among other essential chores, has stepped down after seven years. She and her husband seek greener pastures—in Ireland, where they intend to garden and hike. The office, increasingly automated, is in the middle of converting grading records to the College's new four-point scale.
Art archivist. Harvard University Art Museums has appointed Susan von Salis as associate curator responsible for the museums' archives, a new position. The archives extend back to the Fogg's founding in 1895, and forward to evolving digital databases containing visual images of museum holdings. Von Salis moves to the art museums from the Schlesinger Library.
| | |
| --- | --- |
| | |
| Tom C. Conley | Helen Hardacre |
| Courtesy Tom Conley | Laura Wulf / Harvard News Office |
Four fellows
. The Guggenheim Memorial Foundation has awarded its coveted fellowships, in support of scholarly work, to four Harvardians among this year's class of 184 honorands. They are
Tom C. Conley,
professor of Romance languages and literatures and master of Kirkland House ;
Irene L. Good
, museum associate of the Peabody Museum; Reischauer Institute professor of Japanese religions and society
Helen Hardacre
; and
Neil Levine
, Gleason professor of history of art and architecture. Their research projects range from topography and literature in Renaissance France to the urbanism of Frank Lloyd Wright.
 American academicians. The American Academy of Arts and Sciences has elected as fellows 13 Harvard faculty members: Dennis A. Ausiello, Frederick M. Ausubel, Barry M. Brenner, and Michael E. Greenberg (biomedical disciplines at Harvard Medical School and its hospital affiliates); David L. Carrasco (religious and Latin American studies); Louis Kaplow (law); Michael R. Kremer (economics; see page 30); Andrew P. McMahon (biology); Michael J. Sandel (government); Wilfried Schmid (mathematics); Hue-Tam Ho Tai and Laurel Thatcher Ulrich (history); and Michael E.J. Witzel (Sanskrit).
Philosophical plaudits. The American Philosophical Society has inducted seven professors as members: Joseph Connors (art history, director of Villa I Tatti); Barbara J. Grosz (computer science); historians Michael McCormick and Laurel Thatcher Ulrich; Gloria F. Pinney (classics); Sidney Verba (government); and Christopher T. Walsh (medicine).
Ranking rivalries. The annual U.S. News & World Report ranking of graduate and professional schools elevated Harvard Business School and the Graduate School of Education to the top spot, besting recent leader Stanford in both categories. Harvard Medical School remained top-ranked, and Harvard Law School remained the magazine's third choice, after Yale and Stanford.  
Dental Doings
Photograph by Stu Rosner
Last year, a group organized by the Harvard Museum of Natural History's travel program went to Bhutan and spent some time studying exotic plants. The group was so impressed by the extraordinary botanical knowledge of guide Rebecca Pradhan (center), a local Bhutanese woman, that they raised $25,000 so she could study for a year at Harvard. On June 3, Pradhan joined the queen of Bhutan, Her Majesty Ashi Dorji Wangmo Wangchuck (left), who had spoken the day before at the Kennedy School, on a tour of the famous glass flowers.
You might also like
Genetic analysis reveals a culture enriched from both sides of the Danube.
Harvard researchers illuminate a longstanding epidemiological connection. 
Harvard's Faculty of Arts and Sciences broaches two tough topics.
Most popular
After "growing up in the archives," a composer makes forgotten histories heard.
Harvard installs a portrait of the late Reverend Peter J. Gomes.
Turning the Black List into a business, to modernize Hollywood's dream machine
More to explore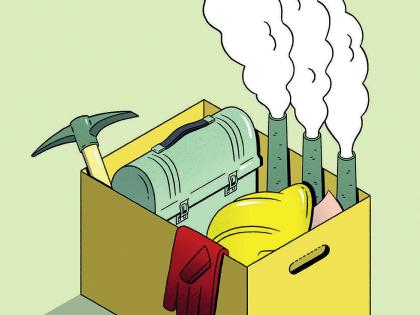 Expect massive job losses in industries associated with fossil fuels. The time to get ready is now.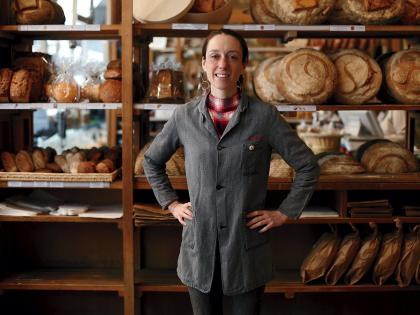 A third-generation French baker on legacy loaves and the "magic" of baking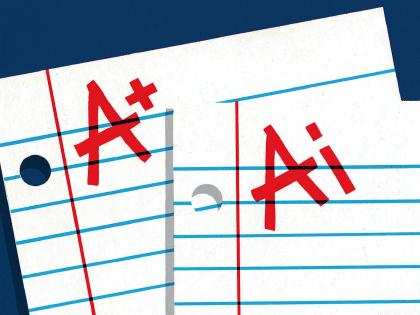 Generative AI can enhance teaching and learning but augurs a shift to oral forms of student assessment.