Musical Mentor
As a youngster, Amy Nathan '67, M.A.T. '68, sang in her school's glee club, attended children's concerts, and danced to beautiful music in ballet classes. She remembers nine years of piano lessons less fondly: "[They] somehow never gave me the idea playing piano could be fun." She quit in high school and didn't return to the instrument until she had children of her own. 
Today, Nathan is the author of The Young Musician's Survival Guide (Oxford), a winner of the Parents' Choice Award, which offers practical advice for teen musicians who deal with challenges ranging from remaining dedicated to practicing to handling pesky performance jitters. "Learning to play an instrument can indeed be fun, but it's also often incredibly frustrating, even with the best teacher," she says. "How do successful music students keep going despite the hassles? I decided to write a book for kids that would provide some answers." To avoid the "boring-practice blues," she recommends varying locations, inventing stories to accompany pieces, playing along with recordings, and experimenting with improvisation. Learning not to dwell on mistakes and holding pre-concert run-throughs for friends and family can help tame nerves.
The idea for the guide came partly from Nathan's own history, but also from a determination to create a positive learning experience for her sons, who showed an early interest in music. "I found a piano teacher who was good with kids and whose teaching style emphasized the joy over the drudgery," she explains. "My sons had such a good time that I started taking lessons from their teacher, too, and—surprise—found myself enjoying plunking away again." Both sons are still making music: Noah '09 played alto sax in Harvard's Monday Jazz Band; Eric, a trumpeter, is pursuing a D.M.A. in composition at Cornell. 
A second edition of the guide, published last October, offers suggestions about incorporating Internet tools, computer programs, and other technologies into students' practice routines. It also  features tips from accomplished teen musicians and more than 25 professionals, among them instrumentalists Joshua Bell, James Galway, and Joshua Redman '91, conductors Marin Alsop and Gustavo Dudamel, and composers Steven Mackey and John Adams '69, A.M. '72. Navigating the maze of agents and publicists to meet these musicians was tricky, but Nathan says that interviewing them was the best part of writing the book: "They were so eager to help youngsters keep on with music." 
Before becoming a freelance author (www.amynathanbooks.com), Nathan spent 15 years editing children's magazines. Her books include Meet the Musicians, about 15 members of the New York Philharmonic, and Meet the Dancers, about 16 professionals from various companies. She hopes that The Young Musician's Survival Guide will inspire kids to "play on," no matter what careers they eventually choose to pursue. "Amazing things can happen when you play a musical instrument," she writes, "…once you get the hang of how to use it."
You might also like
The Crimson springs a major upset.
Harvard officially installs Claudine Gay, its thirtieth leader.
A half-dozen symposiums feature Harvard research on AI, climate change, inequality, and more
Most popular
A profile of Harvard's thirtieth president
Life decisions en route to Massachusetts Hall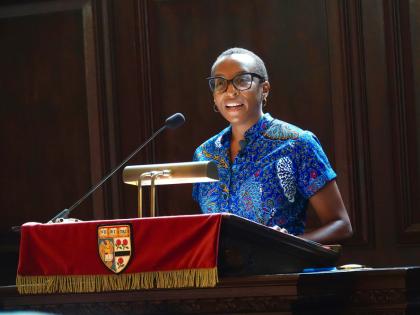 President Claudine Gay's first semester-opening Morning Prayers
More to explore
A test can identify these productivity-boosting personnel.
Ancient history professor studies coins, ceramics, and Zelda.
Anwar Floyd-Pruitt's wildly profuse art