The Harvard Alumni Association (HAA) Awards were established in 1990 to recognize outstanding service to the University through alumni activities. This year's awards ceremony took place on October 14, during the HAA board of directors' fall meeting. Six alumni were honored.
Ignacio "Nash" D. Flores III, M.B.A. '67, of Dallas, has served for more than 25 years as co-chair of the schools and scholarships committee of the Harvard Club of Dallas, which interviews more than 450 applicants annually. A past president of both that club and the local Harvard Business School Club, Flores is a former HBS faculty member who has served on the HBS Executive Council and on his twentieth reunion's gift-steering committee. He has also been a member of the HAA's nominating committee and served as regional director for Texas from 2006 to 2009.
See-Yan Lin, M.P.A. '70, Ph.D. '77, of Kuala Lumpur, Malaysia, was HAA regional director for Asia for 12 years and was instrumental in strengthening the network of clubs there. He is the founding deputy president of the Association of Harvard University Alumni Clubs of Asia (AHUACA), where he organized several important conferences. In 2002, he became president of the Harvard Club of Malaysia, where he had been deputy president since 1983. Lin has also been a leader within the Harvard Graduate School Alumni Council, serving as chair from 2002 to 2005, and was a member of the visiting committee for East Asian studies from 2003 to 2006.
Barbara J. Lukaszewicz, M.P.A. '78, of Ottawa, has dedicated countless hours to the Harvard Club of Ottawa since becoming a member in 1978. She has served as president and treasurer, and worked on the local schools and scholarships committee. She spearheaded a strategic plan to redesign club events to better meet the intellectual and cultural needs of alumni, as well as their busy schedules, and in one year, membership soared from 50 to 125 members. In addition, Lukaszewicz served as HAA regional director for Canada from 1989 to 1992 and mentors executive members of Ottawa's Harvard University Club.
Regina T. Montoya, J.D. '79, of Dallas, has served the HAA in multiple roles: as vice president (1995-1998), as an elected director (1988-1991), and as a member of the nominating committee (1991-1994). She has also been active in the Harvard Law School Association as a member of its visiting committee, reunion gift committee, and Committee of Five.
Sanford J. Sacks, M.B.A. '66, of Scarsdale, New York, is a past co-chair of the HAA's University-wide alumni outreach committee and was an HAA appointed director for the Business School (HBS) from 2006 to 2009. Acclaimed as a "star volunteer" at HBS, he has served multiple terms as chair of reunion and annual giving for his class and set new participation records in every year but one for the past 13 years. A former member of the HBS Alumni Association board of directors, Sacks is also a member of the Harvard Club of New York City and the HBS Club of Greater New York.
Nancy-Beth Sheerr '71, of Gladwyne, Pennsylvania, was a principal architect of the Harvard-Radcliffe merger and the creation of the Radcliffe Institute for Advanced Study. She chaired the Radcliffe College Board of Trustees from 1990 to 1999 and has been a member of the Dean's Advisory Board for the institute since 1999. A current member of the HAA awards committee, she was an HAA regional director for the Greater Delaware Valley from 2006 to 2010, an HAA-appointed director for Radcliffe from 1972 to 1974, a member of the HAA schools and scholarships committee, and former chair of the HAA's recent graduates committee. Sheerr is past president and current board member of the Harvard-Radcliffe Club of Philadelphia, an active class reunion committee member, and past class president.
You might also like
The Crimson springs a major upset.
Harvard officially installs Claudine Gay, its thirtieth leader.
A half-dozen symposiums feature Harvard research on AI, climate change, inequality, and more
Most popular
A profile of Harvard's thirtieth president
Life decisions en route to Massachusetts Hall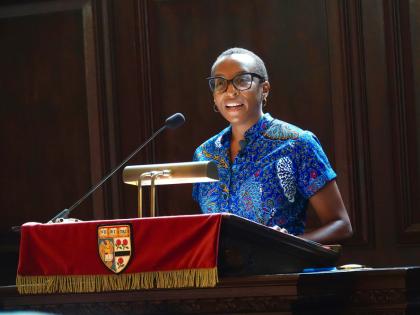 President Claudine Gay's first semester-opening Morning Prayers
More to explore
A test can identify these productivity-boosting personnel.
Ancient history professor studies coins, ceramics, and Zelda.
Anwar Floyd-Pruitt's wildly profuse art